Escape Halloween proved that it's the premier spooktacular festival in SoCal once again with its quality production, performances, and more.
---
Halloween is one of the best times of the year for those who love all of the things that go bump in the night to get their creep on, but while this year's spooky season didn't exactly feel like years past, Escape Halloween helped kick those vibes into gear. While other events that used to surface around Southern California have disappeared into the night, this annual festival from Insomniac Events has stood the test of time, over a decade to exact, and the most recent edition was another success.
Past years have seen a wide array of experiences at Escape Halloween, from good to bad and everything in between. Still, a few truths have remained constant during this time – the immersive production and high-quality lineups that it brings to the NOS Events Center. While other shows that same weekend might've turned heads, my focus was on the weekend's festivities in San Bernardino as I made the trek up from San Diego with my mind wondering what surprises would be in store this year.
Although there was a slight bump in the road on obtaining my wristband for the weekend, it was smooth sailing from then on as I made my way to the festival grounds and memories of past experiences rushed into my mind. Nothing had changed about the entry procedure this year, outside of the notable absence of COVID checks compared to 2021, and within minutes I was inside the expansive venue.
Straight in front of me was the Feeding Grounds stage, and I arrived just in time to catch The Prototypes on the decks. Getting a dose of drum and bass action was a necessity in my mind – I needed to get my blood pumping for the rest of the night. This duo had caught my ear in the past, and their recent compilation on Bassrush Records only solidified my desire to see them play. While the crowd was a tad small, I was blown away by the impressive stage design that featured giant spiders and other unique elements.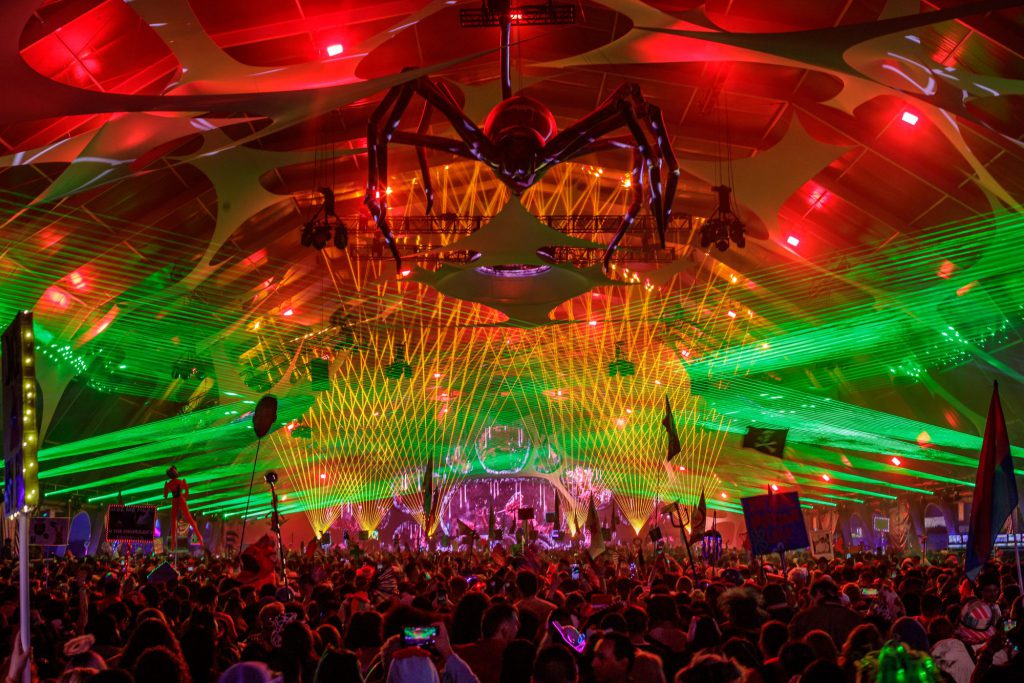 After catching most of the set, I realized that the End Overdose booth was close by, so I made my way over to check out what was happening with this new partnership that will be at all future Insomniac-hosted festivals.
As a huge proponent for harm reduction, I was excited to see this relationship fostered and was left impressed by the sheer volume of people who walked by to ask questions and receive Narcan training while I chatted with their founder and CEO, Theo Krzywicki. While Eli Brown's beats boomed from the Sewer District in the background, we talked about how the day had gone so far, and he gave me some added details on End Overdose.
At that point, End Overdose had already run out of Narcan for the day, yet plenty of people kept coming up asking for training regardless of receiving the Narcan itself – which was cool to hear. Once the dust settled from Escape Halloween, End Overdose posted that they trained nearly 2,400 people over the two days of the festival. While that is only a slice of the overall attendance, it's still a huge step forward for harm reduction at future events, and I can't wait to see that number continue to grow.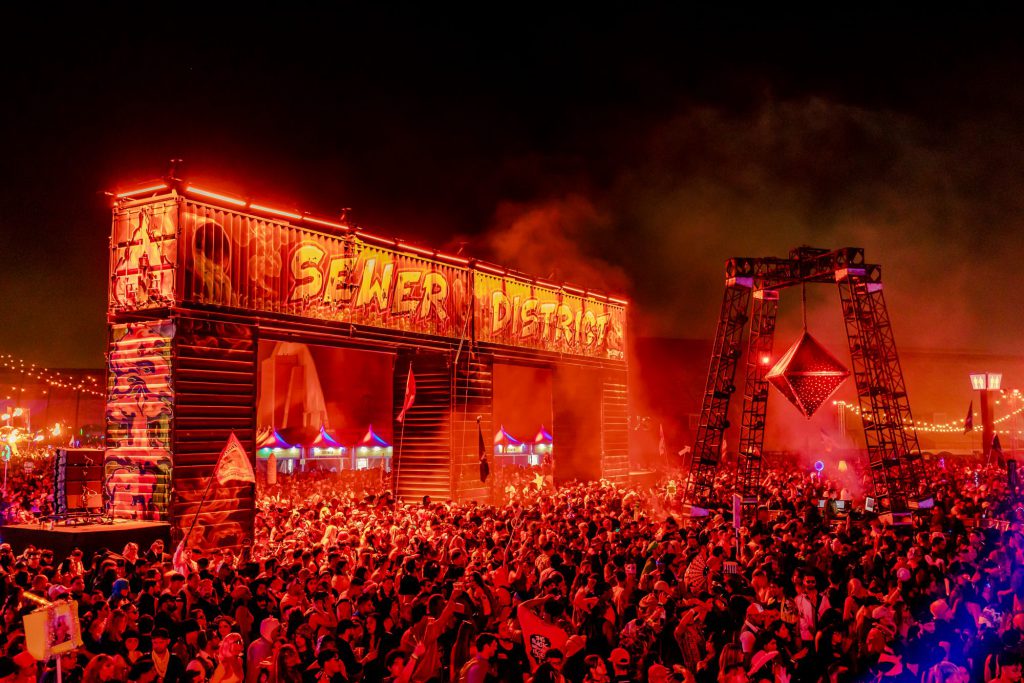 Although I could've stayed at End Overdose's booth for longer, I couldn't miss Eli Brown decimating the crowd at Sewer District.
Sewer District isn't a new stage at Escape Halloween by any means, but this year felt like a mini-circuitGROUNDS that featured a solid helping of house and techno all weekend long. Awed by the production and the tunes from Eli Brown, the energy at this stage was infectious, and I quickly realized that I'd be spending plenty more time at this stage throughout the rest of the weekend. Friday's sets from Meduza, ANNA, and Marco Carola all hit the spot whenever I swung by on my trips around the festival grounds, and Saturday's offering with artists such as Brennen Grey, Ben Klock, Anfisa Letaygo, and more was sublime.
I wasn't just a sewer rat at the house and techno stage all weekend, as the sounds of hard dance and more caught my attention.
The Sanitarium was dripping with pure energy on Friday as Basscon took control of the stage. While I can't keep up with all the high-octane beats like some of the other members of the EDM Identity team, just getting a taste of Sub Zero Project, D-Sturb b2b Warface, and Radical Redemption at different moments was enough to fill my cup.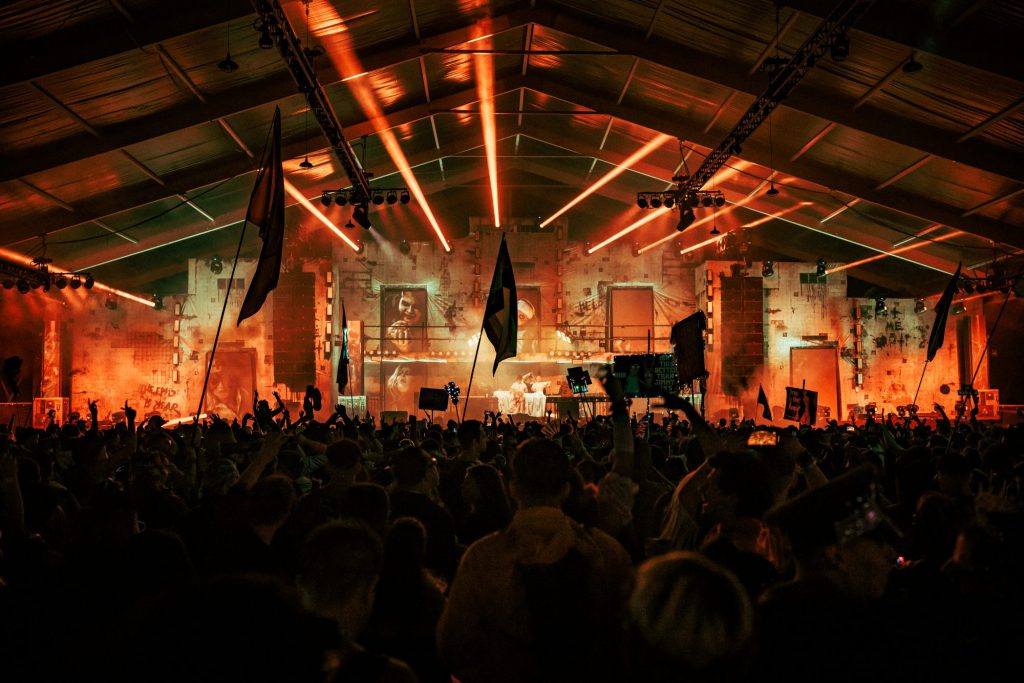 I admittedly didn't return to the Sanitarium on Saturday, but that's mainly due to what was happening at The Grimm, Sewer District, and the Danse Macabre (Silent Disco) in Crazy Town.
The Grimm felt similar compared to years past but still offered up some wicked good sets. KLOUD was a great start to the festivities, and Vintage Culture came on the decks soon after to throw down his blend of house styles that captivated the crowd. I broke from my tradition of seeing as many full sets as possible to catch some of Ben Klock before heading to Martin Garrix for a bit on my way to Crazy Town for the Aftertraxx takeover.
Danse Macabre was billed as a silent disco, but with beats booming from the stage area, it was clear that the "silent" was more of a "quiet." Carlo Key finished up his set, leading to Mark Lizaola, who has only continued to impress me each time I've seen him play. Then, a major decision needed to be made between Eric Prydz and Clawz, which was honestly the most significant set-time conflict of the whole weekend for me. I chose to stick around for some neo-acid techno and didn't regret my decision for a second. Clawz crushed her set; sorry, not sorry, Pryda fam.
Then, to close out Saturday, I opted for the Tiesto set at The Grimm instead of seeing Kayzo, Diplo, or Nina Kraviz. This was an unusual choice for me, and I hadn't seen the legendary DJ play in ages, yet I found myself having some of the most fun during the waning hours of the festival dancing to his tunes. Sometimes you need to turn off your mind and enjoy a little cheese, after all.
As for other aspects of the festival beyond the music, Escape Halloween really was what you made of it.
Insomniac has consistently done a great job at providing a number of food and beverage options at their festivals, and Escape Halloween carried on with that trend. I never waited more than a few minutes to get a drink and just a bit longer for a bite to eat. The production as a whole also remained insanely well done. I didn't spend too much time inside Crazy Town to check out the activities beyond the silent disco, but it was always bustling with people and performances.
Beyond Crazy Town, anyone looking to take a break from the madness could find their way to the Psycho Circus to catch performances from some unique artists, get their fortune read, and more. And seeing the return of El Pulpo in his new Magnifico form, along with other art pieces blasting out fire, helped set Escape's hellish ambiance this year.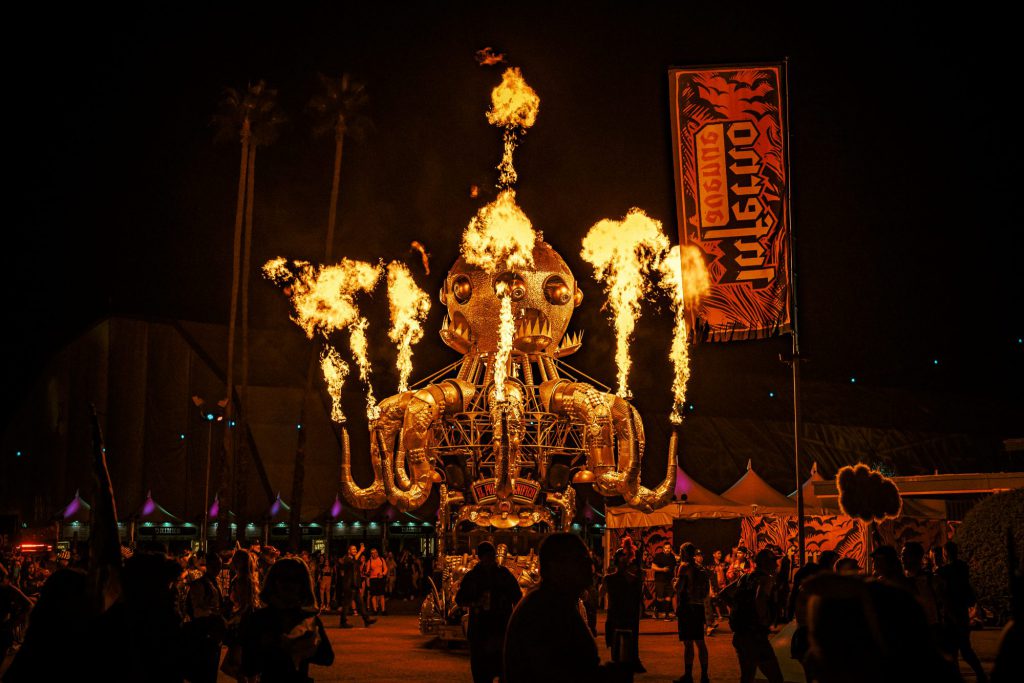 Regarding the complaints surrounding the crowd size – I once again seemingly avoided most of the problems.
I was delighted to see so many people wearing costumes and never had a negative interaction with anyone all weekend long. If someone bumped into me, they apologized, which was pretty refreshing to experience. Your mileage will vary, but something that you should take note of if you're going to a sold-out festival is that maybe you opt to miss a set that's going to be packed and explore something new instead. Most of the complaints I've seen surface regarding the crowd (and yes, pickpockets) were at sets that drew the most attendees. You're in control of your experience, so heading elsewhere or sticking toward the back will help make that a bit better.
Overall, Escape Halloween is the king of spooky festivals in Southern California, and it doesn't seem like that will change anytime soon.
There's a good reason why I've continually attended Escape Halloween over the past 12 years. Insomniac outdoes themselves with this festival, making me want to come back every time. While other events have come and gone, this two-night spooky affair continues to bring plenty of heat to Southern California. The only thing they could do in the future would be to expand deeper into NOS Events Center to include the racetrack area. Maybe that surprise will come next year, but you'll likely catch me returning to San Bernardino next Halloween for another round, regardless.
---
Connect with Escape Halloween on Social Media: