MUST DIE! utterly destroys minds with a blend of techno, dubstep, hard dance, and more on his new album, FERAL FANTASY.
---
When you imagine an artist that's had a consistent career with a fanatic fan base that absolutely annihilates their audience – MUST DIE! is a top contender. Whether it's releasing on Dim Mak, OWSLA, or Never Say Die Records, he's made his name as a bass music innovator with a personality that matches his unique style. The sonic success MUST DIE! has seen over the past ten years in the dance music world includes albums like Death & Magic and CRISIS VISION that have helped push his futuristic style of dubstep front and center – and now he's returned with FERAL FANTASY.
Those lucky enough to catch MUST DIE! over the past few months, like VR World Shelter, North Coast Music Festival, or Nocturnal Wonderland, might've heard a helping of the tunes found on FERAL FANTASY. He also gave everyone a taste of the sounds found on the album with the release of "GRAVEBLOOM," "U SHOULD KNOW," and "KEEP U SAFE," which dropped over the past few months, but now the 11-track album is available for everyone to feast their ears on.
FERAL FANTASY is a masterpiece of variability and authentic rave-centric music, something that MUST DIE! has become lovingly known for. The first track, "EAT DIRT," buckles you up for the roller coaster of genres you're about to get into. The distorted elements in its intro will immediately give you chills and transport you to the cyberpunk dystopian realm that MUST DIE! has crafted up before he pummels you with the first drop that is sure to leave anyone gasping for air.
"CREEPSHOW" entices you with its carnivalesque metaphoric hand, outreaching to you before taking you on the merry-go-round to Hell. It hits you hard and fast with an aggressive bass underlay and high-pitched peaks that'll have you screaming for more. This is one ride that you won't want to get off of, no matter how intense it gets, and it only gets harder as the album progresses.
There is no shortage of hard dance on FERAL FANTASY with tracks like "KEEP U SAFE" and "IN MY HEAD," the latter of which sees MUST DIE! collaborate with rising star Water Spirit. The aforementioned "U SHOULD KNOW" will hit you in your video game lovin', hardstyle heart and will reach a younger demographic that grew up completely online while connecting them with the older generation that started it all – a win for everyone. Additionally, his track with LIL TEXAS, "GAGGED & BOUND," is for anyone who loves 200BPM, no matter what time of the night it is. This track transports you to a stage with the loudest speakers in the company of the most devoted of fans. It's a truly chaotic union in the best way imaginable.
The most danceable track for all the shufflers out there that is sure to get rinsed out is "MOVE I MAKE." The familiar house vocals with an upbeat bassline and punchy elements make this one that should stay on your dance playlist for some time to come. Another standout on FERAL FANTASY is "NEW YORK CITY," which brings Descender into the mix. This techno track has the sexiest vibe with drops that hit in all the right spots and will quickly remind you of walking down an alley, trying to find a darkened warehouse with booming techno. It would be very hard to listen to this track and not feel its hypnotic pull with every kick that comes begging for you to find it.
And just like a rollercoaster, FERAL FANTASY ends with a sigh of relief with its title track. The death grip of dubstep loosens, and the seatbelt of nostalgia is let go during the final seconds of this ride. But if you want more, luckily, you can catch MUST DIE! on the (rat)tail end of his tour or at select stops on Subtronics' ANTIFRACTALS tour in 2023. 
Listen to FERAL FANTASY on Spotify or your preferred platform, and let us know what your thoughts are on this release from MUST DIE! on Twitter!
Stream MUST DIE! – FERAL FANTASY on Spotify:
---
MUST DIE! – FERAL FANTASY – Tracklist:
EAT DIRT
CREEPSHOW
VIOLENCE
IN MY HEAD (with WATER SPIRIT)
KEEP U SAFE
MOVE I MAKE
U SHOULD KNOW
GRAVEBLOOM
NEW YORK CITY (with DESCENDER)
GAGGED & BOUND (with LIL TEXAS)
FERAL FANTASY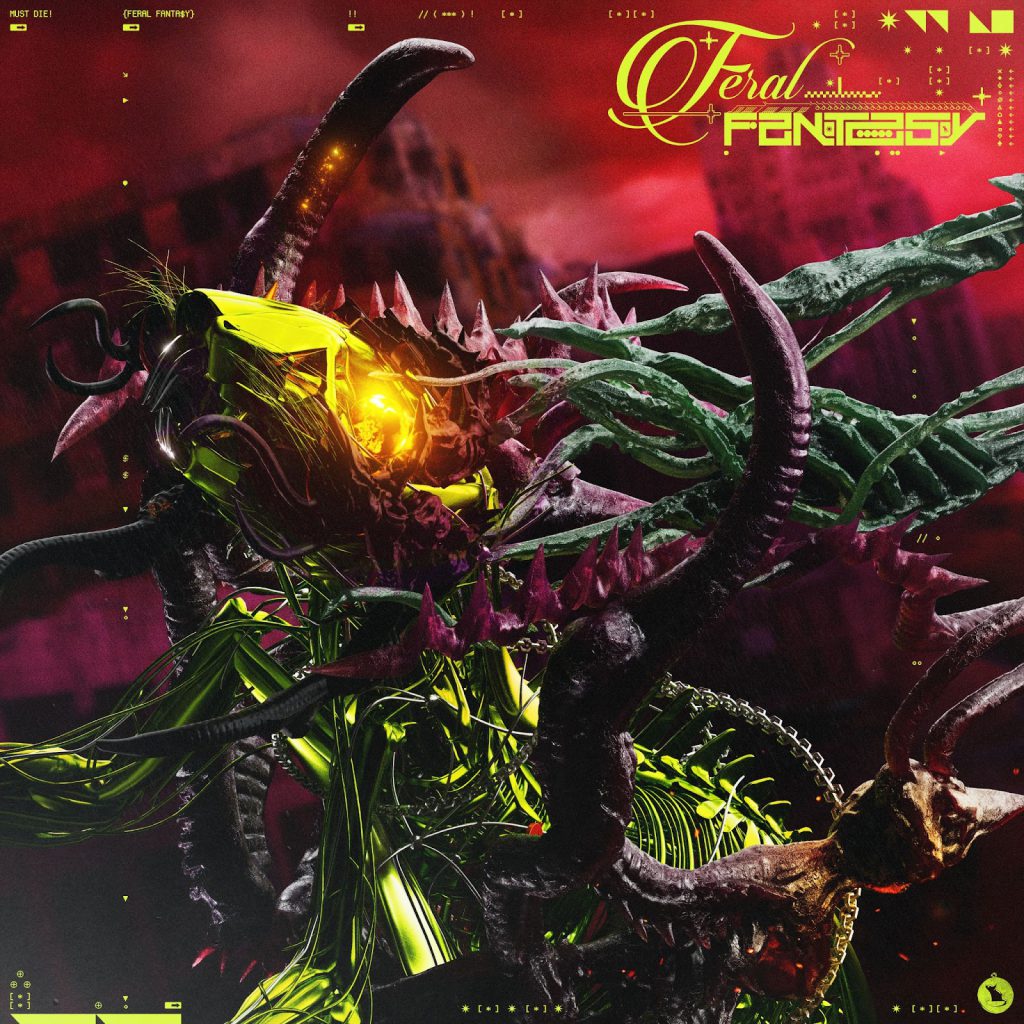 ---
Follow MUST DIE! on Social Media:
Website | Facebook | Twitter | Instagram | SoundCloud | YouTube