MUST DIE! showcases his production talent and ability to push bass music forward with his album CRISIS VISION on Never Say Die!
---
It is hard to have a conversation about bass music and not hear MUST DIE!'s name pop up. The bass veteran has been in the scene for nearly a decade and has become a fan favorite due to his cutthroat production, high energy, and absolute wildness that comes with every single track. On top of that, he's played massive festivals such as EDC Las Vegas, Tomorrowland, Lost Lands, Paradiso.
Now, MUST DIE! is adding to his grand list of accomplishments is his sophomore album CRISIS VISION, which is out now on Never Say Die and will be in your rotation for years to come. Throughout the album, he flexes his creativity and desire to explore different bass-heavy genres. There's a dynamic range across its 13 tracks as he infuses elements ranging from electro house and hard dance to dubstep and trap. Of course, MUST DIE!'s trademark sound shines through on each track and listeners will be easily engaged from start to finish.
As with all MUST DIE! releases, CRISIS VISION is one that you will continue to revisit as it ages like fine wine. Listen to the album on Spotify or by streaming it on your favorite platform, and read on for a deeper dive into its tracks!
Stream MUST DIE! – CRISIS VISION on Spotify:
---
MUST DIE!'s unparalleled attention to detail is prevalent through CRISIS VISION, starting with the intro.
The album kicks off with "NILHISM BEGINS AT HOME" which sets an evil tone from the title of the track alone. MUST DIE! does a fantastic job of creating an ominous intro filled with accent noises, glitchy elements, and a colossal build. Around the 1:30 mark is where the song drops using the lead in vocal of "infinite pain." Listeners are thrown into a guttural frenzy of demonic bass and screechy synths as the track effortlessly glides into the second tune, "LOL OK".
For this one, MUST DIE! is joined by Akeos and a true legend, Skream, on this track and it's a wild ride. All three producers' talents shine through, as Akeos' sound design and synth work make up the first drop while you can hear Skream's trademark sound on the second drop. The percussion and drum patterning on this track is superb!
Then, MUST DIES! says "FUCK UR STYLE" as the intensity is kicked up a few notches and he demonstrates his ability to step out of his comfort zone and make a track that is uniquely his – but also so different from his other bodies of work. There are trap drums and spaced-out vocal elements in the intro which leads into the drop of the track that consists of incredible sound design which is glitchy and abrasive.
"LIFE SUCK" introduces IMANU to the album for a fiery club track that is insanely energetic and keeps the bass thumping all throughout the song. It has that '90s rave feel while keeping it modern at the same time. Continuing with the variety in genres is "DON'T EVEN BOTHER" which is a collab effort with The Pom-Poms who provide vocals and production elements. The track is a bumping electro house song, which is placed almost in the middle of the album. It gets you up on your feet and bouncing around from start to finish!
MUST DIE brings it back to his massive dubstep style with "SORROW TECH."
"SORROW TECH" is a track that is unbelievable in terms of its heaviness and ability to drive energy from start to finish. While this track was a single that previously released earlier this year, it is a track that I constantly come back to due to how mind-blowing it is. It's a bass lover's paradise of a track with its colossal beat and out-of-this-world sound design. "BODY SCREAM" continues the energy from the previous track but showcases MUST DIE!'s take on drum and bass. It contains all of the standard DnB elements but breaks off into these glitchy sections throughout parts of the drop.
Then, "HELLBURST" kicks off the latter half of the album into high gear. This track takes classic elements from hard dance with its intro and drums but infuses them with distortion and switches up between full-time and half-time in terms of pacing. Next up is "ERROR", which is the perfect blend of both onumi and MUST DIE!'s distinctive sounds. The track features a heavy initial dubstep drop and then a more mellow future bass-esque one for the second.
"CHOOSE ONE" pays homage to the early rave sounds that dance music was founded on!
Last summer LAXX decided he wanted to return to his roots and began producing music under the LINK alias. Since then he has able to successfully bring a nostalgic rave sound to the masses and on "CHOOSE ONE" it is no different. The result of this collab with MUST DIE! is a highly energetic rave track that will have you up and jumping around from the moment you press play. Its hypnotic bassline paired with stabby synths makes it easy to get lost in and so catchy and repeatable. One of the surprise favorites off the album!
If there could be one song to describe the entire CRISIS VISION album in full, it would be "NERVE DAMAGE."
"NERVE DAMAGE" is the perfect culmination of MUST DIE!'s overall sound throughout this body of work. The track begins with a recurring vocal sample of "you take me higher baby" set alongside an intro melody that takes inspiration from trance tracks. It builds up impressively to the insane drop that is chock-full of bumping drums, superb sound design, futuristic accent noises, and that same vocal sample from the intro mixed in. This song alone is unbelievably impressive and shows MUST DIE!'s production prowess in its top form.
Ducky lends her skills on "DELETE IT ALL" which is a roaring beast of a hardstyle track. It wastes no time and gets right into the action with vibrant synths, the signature hardstyle kick, and vocal elements throughout the track. It's yet another track where MUST DIE! showcases his ability to produce different styles seamlessly.
Closing out this remarkable album is the emotional "WHEREVER U GO." This track gave me the chills when I first put it on after listening through the entire album. It does a perfect job of capping off this album through its airy and ambient sections that are set alongside an ominous choir in the background. MUST DIE! keeps this track relatively tame compared to the rest of the album, but it does its job as a fitting sendoff for listeners.
CRISIS VISION is one of the best albums that's been released this year.
In dance music, it can be tough to come up with a large body of work like this, especially in the bass scene, but MUST DIE! stepped up to the plate and knocked it out of the park. Through the variety of genres explored to the meticulous production that went into each of these tracks, CRISIS VISION continued to blow my mind as I was listening through these 13 tracks. The best part is that as this album sits with you, you can't help but find new songs to gravitate towards. You did a phenomenal job on this one MUST DIE!
---
MUST DIE! – CRISIS VISION – Tracklist:
NILHISM BEGINS AT HOME
LOL OK (with Akeos and Skream)
FUCK UR STYLE
LIFE SUCK (with IMANU)
DON'T EVEN BOTHER (feat. The Pom-Poms)
SORROW TECH
BODY SCREAM
HELLBURST
ERROR (with onumi)
CHOOSE ONE (with LINK)
NERVE DAMAGE
DELETE IT ALL (with Ducky)
WHEREVER U GO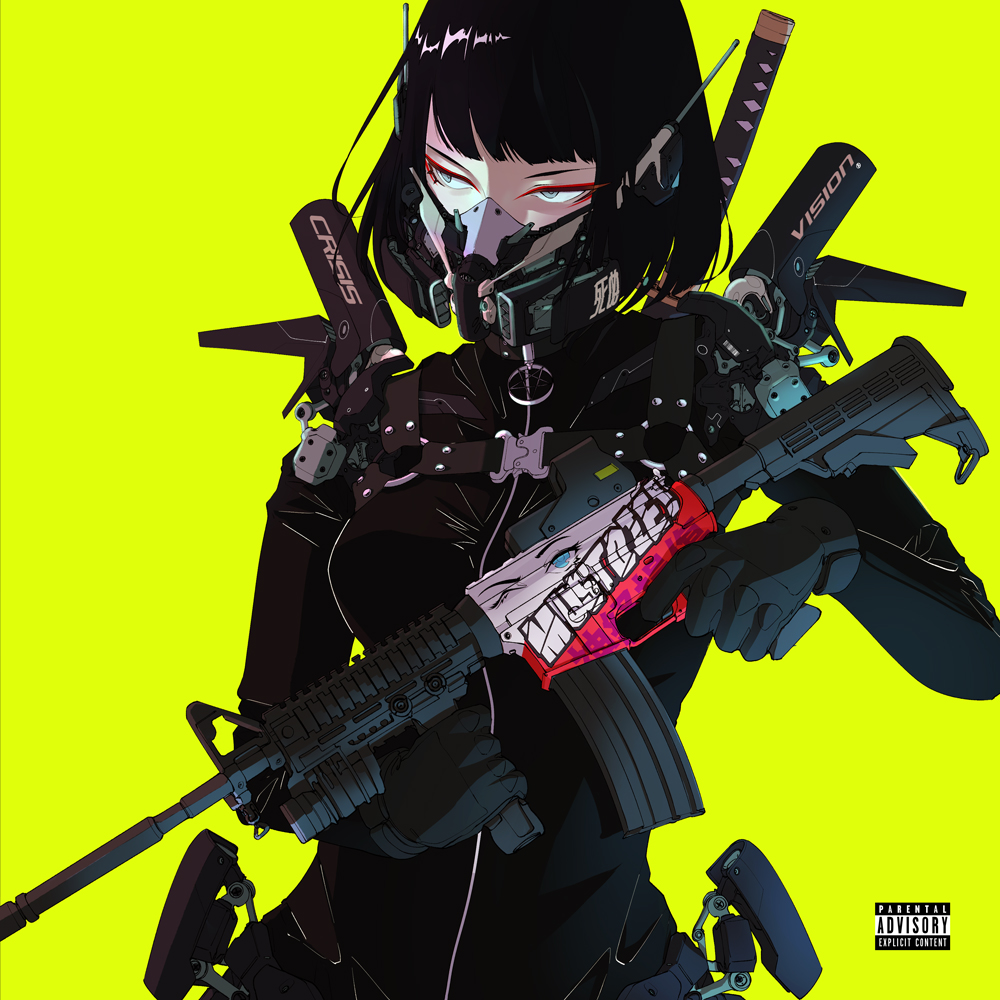 ---
Follow MUST DIE! on Social Media:
Website | Facebook | Twitter | Instagram | SoundCloud | YouTube