Despite logistical challenges, the debut edition of Goldenvoice's Portola Festival made its mark in San Francisco with standout musical acts.
---
Portola Festival generated plenty of buzz when it announced its lineup back in May. Heavy hitters including Flume, The Chemical Brothers, Fred Again.., Duke Dumont, and Fatboy Slim, as well as rising stars Young Franco, DRAMA, and DJ_Dave, made it perfectly balanced yet eclectic. At its core, Portola featured electronic-centric artists but diversified beyond DJs, with vocalists and live bands taking to the stages. Attendees also saw acts from around the world put forth their best at the unique San Francisco location. Portola was truly a choose-your-own-adventure experience with no wrong decisions.
The weather showcased the best of the Bay Area with warm, sunny days and crisp nights as the fog rolled in. The San Francisco skyline boasted its beauty north of Pier 80, where the festival was held, and to the west was a breathtaking view of the rolling hills over which the fog blanketed. It was the perfect backdrop to the main Pier Stage. Attendees poured onto the pier dressed in bright colors, ready to dance the weekend away. Y2K style, bucket hats, and disco balls were to be found everywhere.
Despite logistical obstacles faced throughout the weekend, it was clear that the music was truly the heartbeat of Portola. With unobtrusive, pared-down food and drink areas, and minimal experiential installations, the focus was rightfully placed on production and the curated lineup. This made it easier to overlook some areas of improvement because it brought forth dance legends and other acts not often seen in these parts. The music truly made Portola's debut an overall success.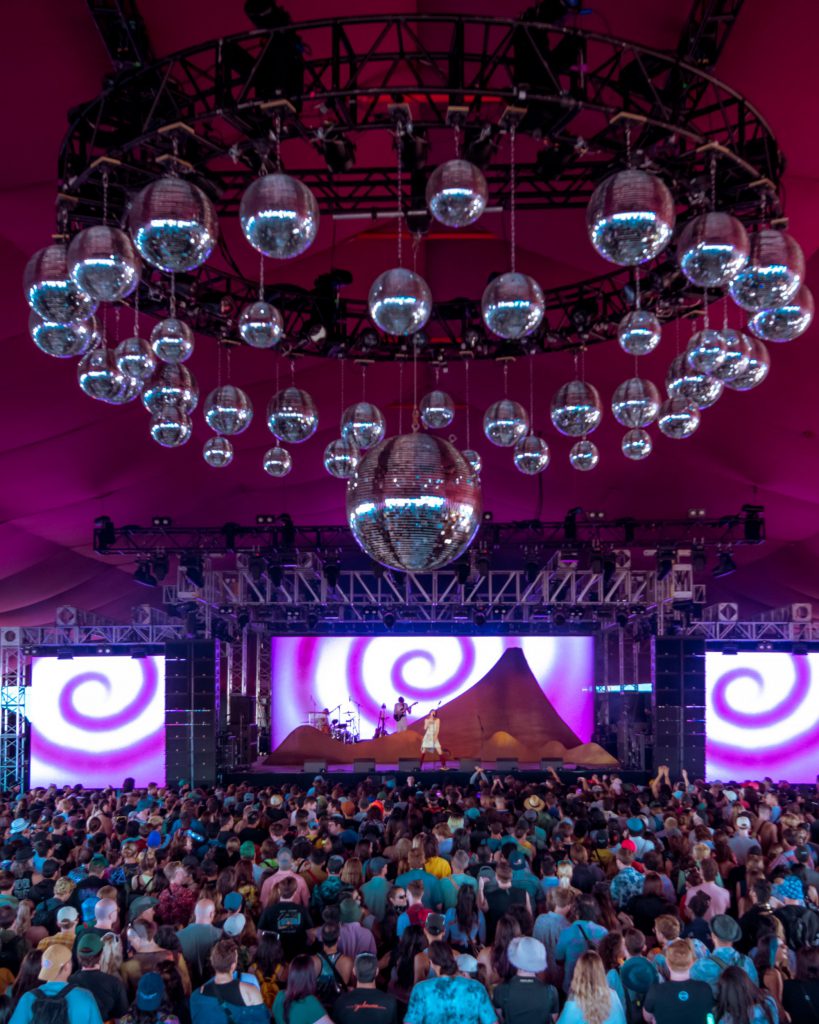 The first day kicked off the warm day with fiery sets and women-dominated stages.
The first to take the stages were Australian rising funk phenom Young Franco who was rounding off an extraordinary summer with appearances all over the US (stay tuned for our interview with him), and local star DJ Dials. Also repping San Francisco was Justin Martin, who commanded the energized crowd at the Crane Tent. Bob Moses provided laid-back grooves while the sun was still high in the sky and had people enjoying themselves from the turf laid out throughout the pier.
The most buzzed-about set, whether due to his impressive rise in the scene or to the crowd-control issues that surrounded it, was Fred Again... Massive crowds rushed the Warehouse to catch him, causing confusion and concerns for safety. But once inside, there was plenty of room. The sound was not ideal, but that didn't stop people from cheering and dancing along to each track.
The first day was a big day for women as well. There was singer-songwriter Elkka, duo Gioli & Assia, and the wonderful DJ Holographic, who recently joined Swedish House Mafia as support. Romy (of The xx), pinkpantheress, TSHA, Caroline Polachek, and Charli XCX brought a blend of genres from synth-pop and Alternative/Indie to nu-disco and mainstream pop hits. Closing out the Crane Tent was Venezuelan star ARCA, who not only captivates with her experimental sounds but brings gender-identity diversity to the field. As festivals continue to grow, it's vital to feature more women, transgender people, and gender non-conforming artists.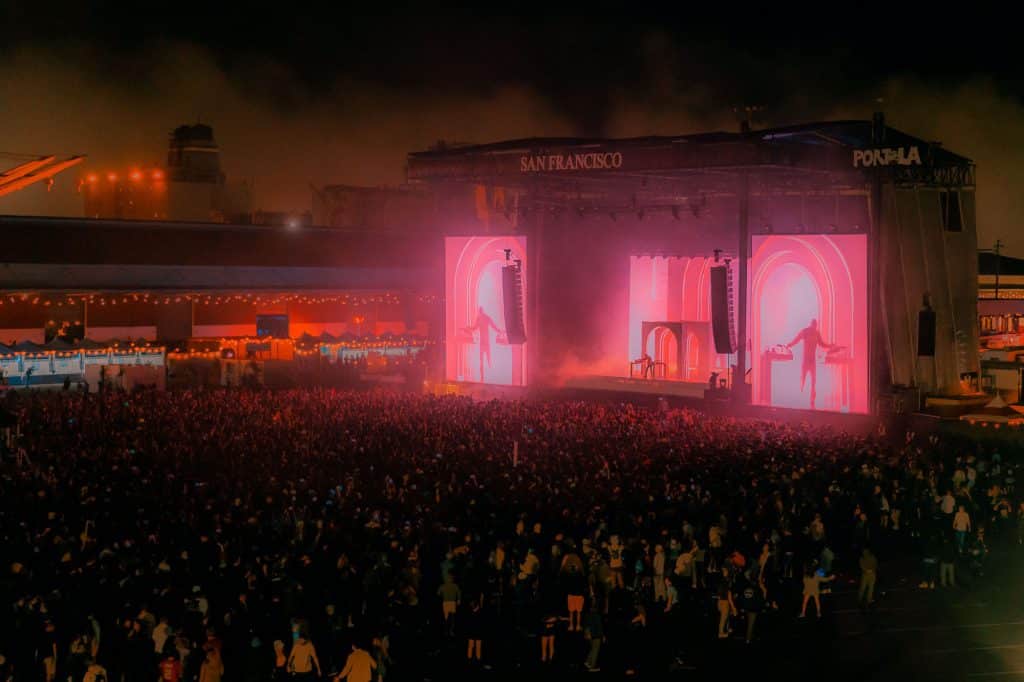 Once the sun set, it gave way for the production to shine.
Kaytranada absolutely stunned with his technicolor visuals and kept the crowd moving and grooving to his electrifying set. Everyone around us was singing, and it was impossible to stand still despite the chill that had descended upon us. Both acts closing out the Pier Stage took the cake with their production and performances. Flume presented his Palaces Tour featuring an elevated arch structure from what we had seen at Coachella. The sound was phenomenal, and his visuals and lighting interplayed so well with the arches and his tables. Live vocalists joined his performance, and singalong hits were interweaved with some of his more experimental tracks.
As for other standout performances from the first night, Jamie xx had the Warehouse packed out with fans waiting to hear their favorite tracks and opted for minimal production, letting his music speak for itself. Attendees at Jungle not only avoided the Warehouse madness but were treated to an unsurprisingly fantastic performance. To bring it all home, Fatboy Slim garnered an audience so large it didn't fit in the Ship Tent. He played his biggest hits as well as some throwbacks like Queen's "Don't Stop Me Now" and Zombie Nation's "Kernkraft 400," to which the crowd went absolutely wild.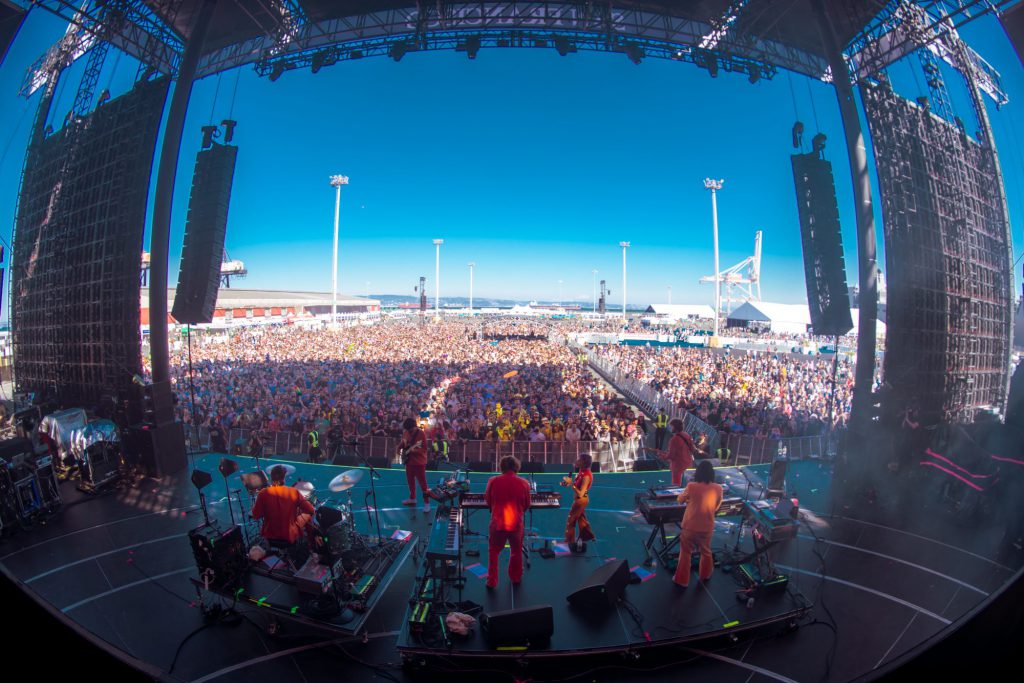 The heat didn't stop on the second day as the grooves kept coming.
French sextet L'Imperatrice set our second day off in the perfect way with their funk-infused pop sounds. Seeing live band performances was a refreshing way to break up the DJ sets throughout the weekend. Korean artist Yaeji came next and was a standout amongst other acts as she chose to sing unaccompanied on stage. The funk and disco vibes continued with SG Lewis, who featured tracks off his forthcoming album in his set. Channel Tres donned a sparkly getup and brought some serious choreography with a team of dancers to complement his signature baritone. Closing the night was a highly-anticipated headlining set from The Chemical Brothers that dominated the entire pier with their booming sound. Characters and figures within their visuals looked 3D as if they were coming off the screens. It really was a sight to behold.
There was strong female representation once again, with a third of the acts being women. This included HAAi, Kelly Lee Owens, Ela Minus, Shygirl, and Peggy Gou. The legendary DJ Shadow also represented the Bay Area and entered a complete flow state during his set, as he described in an Instagram post. We chose to close out the weekend seeing Duke Dumont live, which was so much fun, followed by Ben Böhmer, who was a must-see after a phenomenal performance at Group Therapy Weekender at The Gorge, then Lane 8. The more ambient, progressive stylings of Böhmer and Lane 8 were a peaceful descent.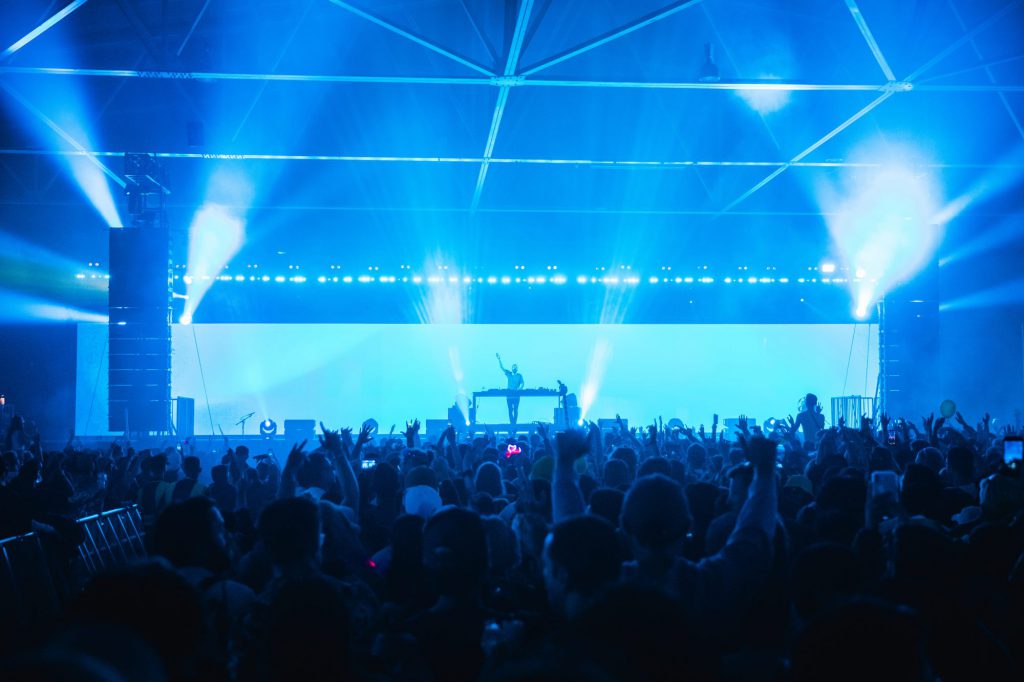 Hiccups were to be expected for the debut edition of Portola, but there's hope for the future.
Could they have managed the crowd more effectively at the Warehouse? Absolutely. Did the sound at certain stages underserve the acts? Yes. Could the GA experience be improved given how much tickets cost? Definitely. But did any of that stop us from having fun or immersing ourselves in one of the most stacked lineups we've seen to date? Not at all. We hope that as Portola continues to grow as a brand in San Francisco, they continue to make improvements but retain the level of quality for what matters most, the music.
---
Follow Portola Festival on Social Media: