Flume releases long-awaited album Palaces, featuring collabs with LAUREL, Kučka, Quiet Bison and more, just in time for summer.
---
It's a wonderful time to be a Flume supporter because 2022 has been full of many Flume-filled moments. As the year began, fans were ecstatic to hear the news of his return to the scene after a year of silence. In the early months of the year, Flume announced that a new album would surface along with an accompanying world tour.
To give his followers a peek of what would be on his upcoming album, Flume teamed up with MAY-A and released "Say Nothing," an emotive tune that will have you dancing along as the lyrics tangle you in feelings. Ever since the release, fans have been eager to hear more from the tracklist, and now the wait is officially over.
Today, Flume drops his latest body of work, Palaces. This album has all of the Flume influence listeners have fallen in love with over the years and some new exciting twists to keep you on your toes. With its many different forms of sound and unique collabs, Palaces has something for everyone.
Listen to Palaces on Spotify or your favorite platform, continue reading for our review of Flume's latest release, and let us know what you think in the comments below!
Stream Flume – Palaces on Spotify:
---
Get a boost of energy with the help of Flume and friends as you dive into Palaces.
Starting the ride with help from Oklou, Flume gets everyone feeling the inspiration as they fall into the lyrics of "Highest Building." Riding off of the high that was inspired by the airy freeness of "Highest Building," listeners are greeted by the familiarness of MAY-A's vocals on "Say Nothing," which keeps the vibrations high.
The next couple of tracks are sure to become new obsessions for many. Flume's atmospheric sound design reigns true throughout the entire runtime during "DHLC." Continuing the energy, "ESCAPE" showcases Flume meshed with the talents of Kučka and Quiet Bison. All of the glitch bass intertwined with soft wind chimes creates an escape of one's dreams.
Are you ready for an unexpected switch up?
Coming in to spice it up halfway through the album, "Get U" brings in some more distorted sounds of the underground. This track will have you wanting to start it over as you question the concoction you just heard. Once the texturalized intro ends you drift into a lighter side of airy vocals carrying you into a moment of bliss.
Uplifting spirits once more, "Go" fills the space with high energy and bursts of drums that will have you feeling ready to fly. Coming at the end of the journey through soundscapes, the title track, "Palaces," comes into focus. A calming piano melody fills your ears with its tender song giving you the feeling of an emcompassing hug. Just as you begin to fall into deep relaxation, the friendly sound of Damon Albarn's words wash over you. This moment will inspire the presence of goosebumps, creating the perfect end.
Palaces will leave listeners feeling rejuvenated and inspired after the end of its runtime. With perfectly meshed collaborations along with exploration through an array of sounds, Flume's latest album is a quintessential addition to his discography that will leave fans in wonderment and awe over his talents once more.
---
Flume – Palaces – Tracklist:
1. Highest Building (feat. Oklou)
2. Say Nothing (feat. MAY-A)
3. DHLC
4. ESCAPE (feat. Kučka) with Quiet Bison
5. I Can't Tell (feat. LAUREL)
6. Get U
7. Jasper's Song
8. Only Fans (feat. Virgen Maria)
9. Hollow (feat. Emma Louise)
10. Love Light
11. Sirens (feat. Caroline Polachek)
12. Go
13. Palaces (feat. Damon Albarn)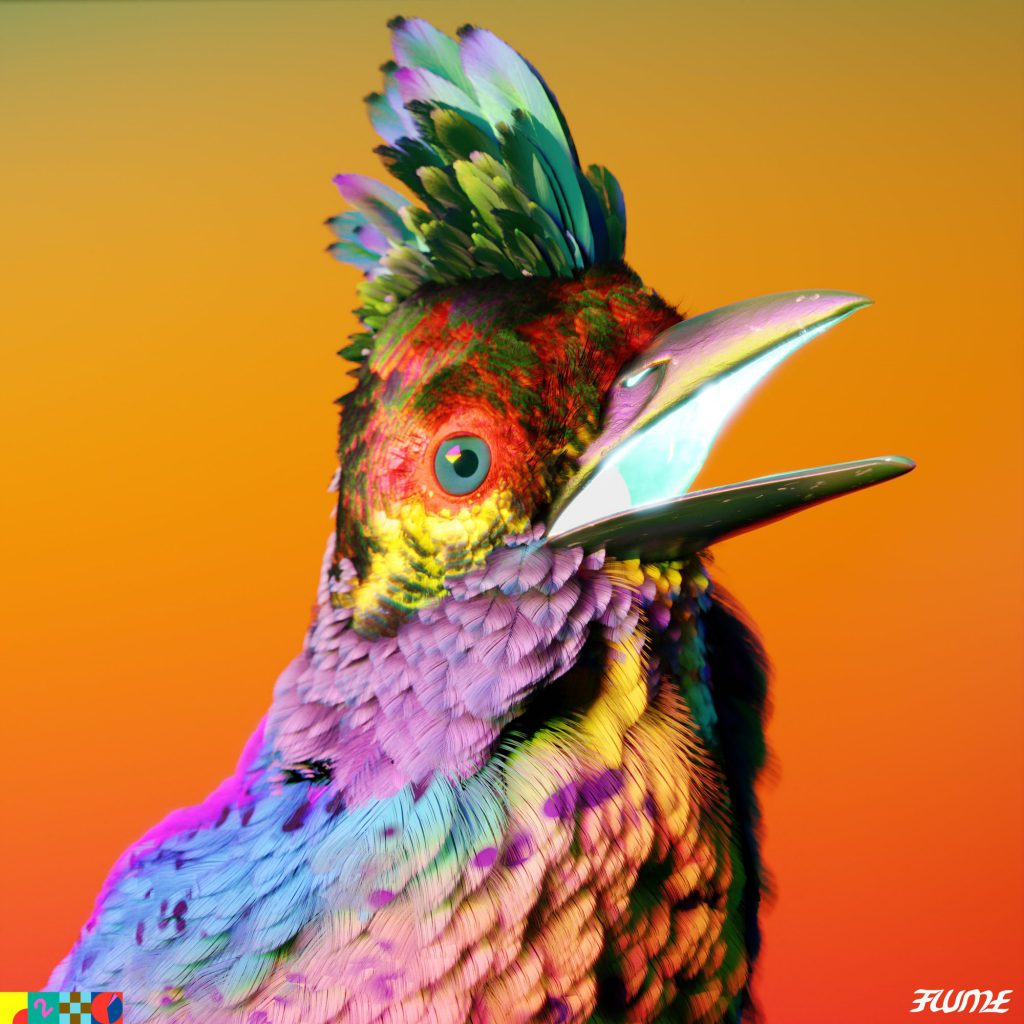 ---
Follow Flume on Social Media:
Website | Facebook | Twitter | Instagram | SoundCloud | YouTube