Missfits swung by to chat with us about her journey in the American Hard Dance scene, her future aspirations, and more!
---
Don't be deceived by Missfits' brains and beauty, as this demon on the decks isn't afraid to show the rough sounds of hardcore and uptempo. Drawing inspiration from the motherland of hard dance, this California-based artist launched this project over four years ago and hasn't looked back since. Missfits' talents and bookings have grown exponentially during this time, and her talents in these niche sub-genres are sure to help expand the hard dance scene in the US.
Over the past few years, Missfits has put her talents behind the decks on full display at shows hosted by Wasted Presents, Army of Hardcore (AoH), and Basscon, and she recently made her debut at Hardstyle Arena (HSA). Additionally, she's played events alongside heavyweights in the scene such as D-Sturb, Mad Dog, Killshot, and Bloodlust to further add to her growing legacy.
Missfits is set to take the stage at WAR Festival later this year, but before that, she swung by to chat about her beginnings in the scene, thoughts on hard dance, and more. Stream her exclusive guest mix and read on for our in-depth chat to learn more about this rising star in the hard dance realm.
Stream EDMID Guest Mix 342 || Missfits on SoundCloud:
---
Thank you for taking the time to chat with me. I'm thrilled by the opportunity to learn more about your journey in the scene and the bright future of your DJ career. Let's start from the catalyst of your career: What grabbed your interest in electronic music and what made you decide to create this project? What were some of your early major influences?
Hey! Just wanted to say thank you again for taking the time to reach out and the opportunity to be a part of EDM Identity, I love what you do for the scene and have been following for quite some time, so I was very excited when you reached out! I first heard EDM in the early 2000s. It wasn't until maybe 2010 that I really started to love it and discovered hardstyle. I also did like the more mainstream EDM in high school. I would mainly listen to Basshunter, Headhunterz, Nicky Romero, Zedd, Wildstylez, Nervo, and Krewella. 
What drew you to the high energy of hard dance, and why did you choose hardcore and uptempo?
The first event I ever went to was HARD WITH STYLE (2014), and from that moment on, I knew there was no going back. Sure, I do enjoy other genres, too, but nothing fuels my soul the same way hard dance does. I had started as a hardstyle lover and eventually saw Angerfist and Miss K8. From there, I fell in love with hardcore and finally discovered my love for uptempo.
I even started as a hardstyle DJ but soon realized hardcore was the way for me – there's just something about the high bpm, distorted kicks, and melodies that just make me smile from cheek to cheek! My favorite types of tracks that probably really won me over were 90's hip hop hardcore remixes – combining the music I fell in love with and the music I grew up on just makes me so happy!
We see "Missfits of Hardcore" all over your socials. Can you elaborate on what this means to you and why you chose "Missfits" as your stage name?
So, Missfits was the first DJ name I picked. I'm sure most people assume I love the classic band Misfits, but not so much why I picked it. So Miss K8 is one of my biggest inspirations for being an artist myself. Seeing her was what sparked my dreams of being a DJ. Also, I had an older sister who passed away when I was about eight years old – one of my favorite memories was seeing her rap and sing along to this Missy Elliot track. I knew I needed MISS in my name. The FITS part came because I feel like I, as well as everyone else in the hard dance scene, simply doesn't fit in.
Don't fit into the idea that society had for us, we are "missfits" all trying to create our own path. Missfits of hardcore was simply a way for me to try to separate it from the band, and it was also a play-off of Masters of Hardcore. Both are MOH, so just another way to tie me to the hardcore scene versus the punk rock scene, even though both are equally badass!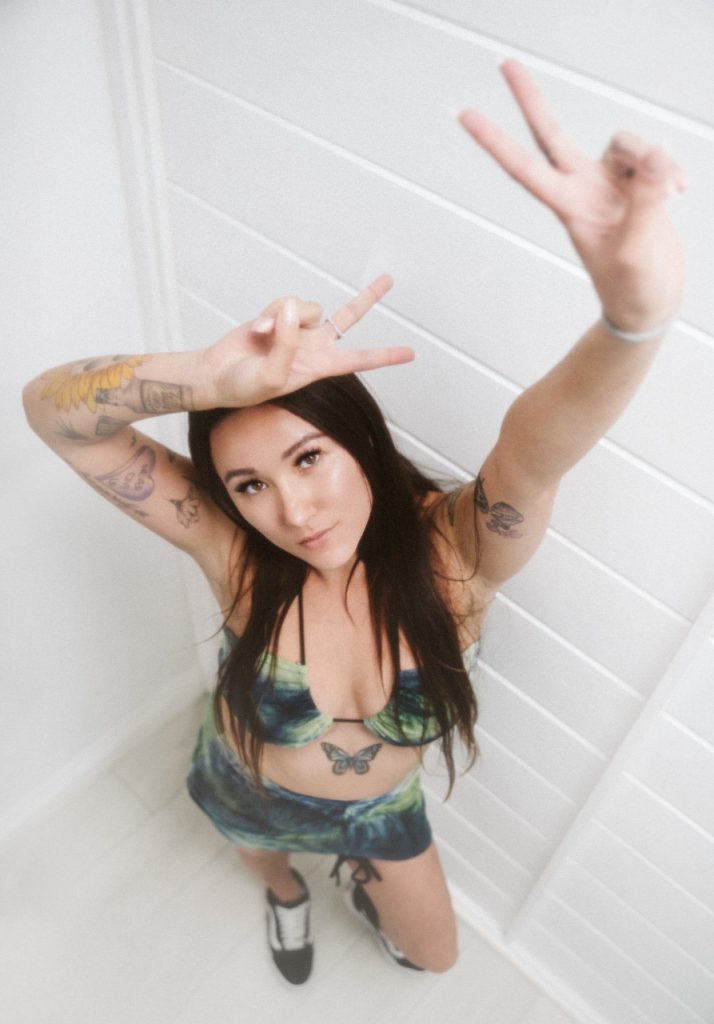 Having endured obstacles in your career such as school and the pandemic, what are some other obstacles you've faced as a new artist?
One obstacle I faced as a new artist was balancing work and family life while still having the time to pour into my music and stay on top of socials. It is a lot, and luckily I have the support of my husband and was able to make a change in my work schedule and just dedicate a lot of time to the music. Completing my goal of graduating from college and having my wedding really allowed me to move on to this music career with ease and peace of mind.
Now the obstacle I face is having no distractions and more self-discipline. 2018 was my first show and in 2019 I decided to go solo and leave promoting groups and found my way into AoH. Then 2020 happened, and I used that year to graduate and move out. Last year I had my wedding. 2022 would technically be four years of Missfits, but I feel like this is truly year one and is the first one I can pour everything into music. I am so excited to see where the next four years really land me.
From your perspective, what are some of the most rewarding aspects of being a DJ?
I am so grateful for all the opportunities. With each show I play, set I build, and crowd I meet, I just discover more love and happiness within myself that I didn't know was there. Some people say raving helped them love life again; I feel like being a DJ helped me learn how to love myself again. The happiness and smiles I see from others spark joy within me. My soul just feels at home. I don't think my parents thought this was what I was going to do after college, but to see them at my shows or to hear them say they're proud of me for doing something I love just hits differently. It is almost impossible to really put into words how happy I get from playing, but the next time you see me on stage and see me smile, you'll understand. 
Let's take a break from the serious questions. Just for fun, what's a dream festival you'd like to play and an artist you'd aspire to share the stage with?
A dream festival for me would be Dominator; even just attending is even a dream, and luckily I will be able to in 2023! But wow, playing it would definitely be #1 on my list. There are so many artists I look up to and love for so many reasons, but if I was to pick one to share a stage with, I would say Miss K8, she was one of the first female hardcore DJs I saw, and she just blew me away with her stage presence. 
In a scene with an abundance of male DJ's/producers, what difficulties do you face in the scene as a woman, especially in hard dance?
One of the biggest obstacles I faced as an upcoming female artist was I wanted to get booked for my sound as a DJ, so at the beginning of my career, I wore jeans and beanies or hats. More sporty than feminine, which is totally fine, but now that I know I am getting booked for my talents, I am pouring more into my look. As a female, I was so afraid of being ridiculed for getting booked based on looks – even now, I hear some male DJs make comments like that. So just being able to prove my worth and that I deserve each booking was HUGE for me.
Another thing that happens in probably every industry is male promoters or others in the industry try to take advantage of you for being a female, I've been lucky enough to build a team and work with some amazing individuals, but I have seen it and hope to help create a more safe environment for other female artists or just women in general.
Also must pay credit to where it's due and say that Lady Faith has really opened up that door in the states for female recognition in hard dance. I feel like there are a lot more female artists on the rise, but not as many in hard dance, at least here in the States. In The Netherlands, the female artists in this genre seem to be excelling, so I hope to get out there one day.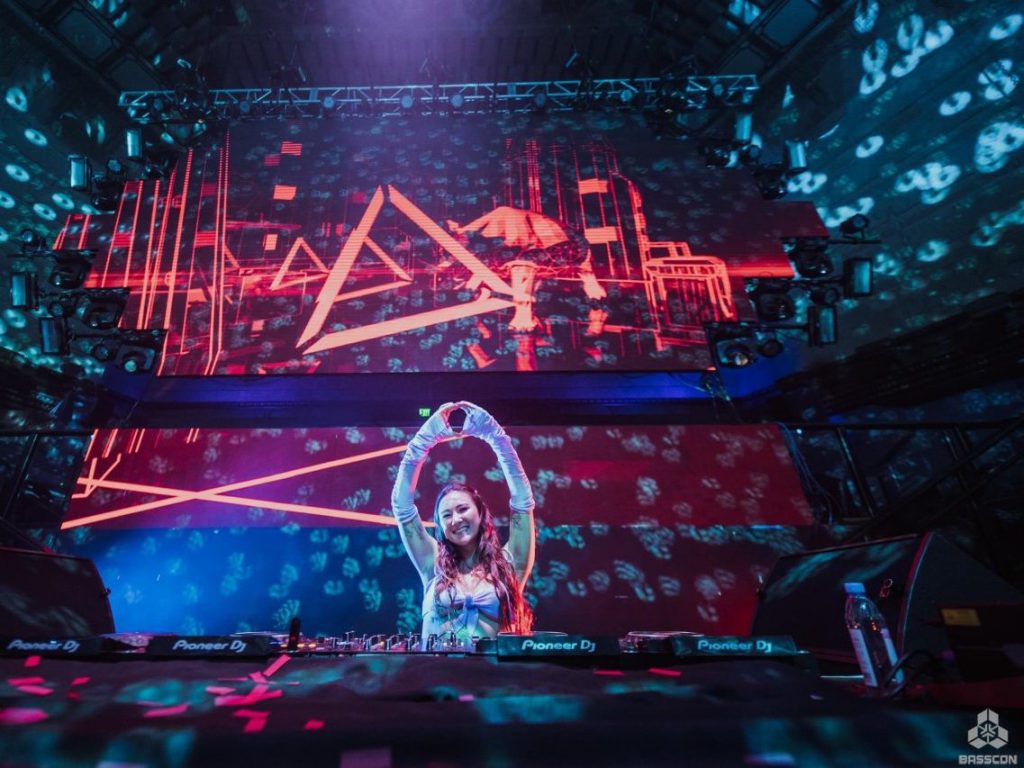 As a rising star with sets at events hosted by Army of Hardcore and Basscon, what are some of your long-term aspirations and goals as an artist?
I've been extremely blessed to be able to meet a lot of my goals this year by getting the opportunity to play another WAR Fest, Basscon, and HSA. My next goals are releasing some original tracks, playing out of state, and hopefully out of the US. Dominator, Hard Island, and the mecca MASTERS of HARDCORE are at the top of my list. I would also add to playing EDC and bring my mom on stage because that was her favorite event so far!
I noticed you don't yet have any tracks officially released. Is there anything you're working on to debut your unique talents?
Yes, I have YET to release my original tracks. However, I do have some in the works. I started looking into producing sometime in 2019. I had taken a break to finish school to get my English degree as well as have my wedding. With those goals completed, this year, I started taking producing classes and have finally figured out what I needed to complete this track. It has been a LONG time coming, but as with everything, great things take time, and everything happens when it's supposed to. So, I believe that it will be worth the wait! 
Finally, with the sophomore edition of WAR Festival coming up, what can we expect from your set? Are there any other big events in the future we should keep our eyes peeled for with your name on the lineup?
For this set I definitely will be doing an uptempo set, but probably going to throw in some classic hardcore tracks as well! I have been very blessed with some amazing opportunities this year and hitting some of my goals by playing for AOH, Basscon, and on September 24 I made my HSA debut as well. I am hoping to continue to get more bookings with these amazing companies as well as expanding to other states, and of course the holy lands of hard dance in the NL!
---
Follow Missfits on Social Media:
Facebook | Twitter | Instagram | SoundCloud | YouTube