E-force, Bloodlust, Killshot, Art of Fighters, Amada, and more are set to bring the heat to Army of Hardcore's WAR Festival in November!
---
For those unafraid of high speeds and intense kicks, there is no better place than marching to battle at Catch One in Los Angeles on November 4-5. Preparing for the sophomore edition of WAR Festival, Army of Hardcore will initiate bloodshed on the dancefloor by bringing a broad range of hard dance talents from rawstyle to hardcore to frenchcore. The lineup also displays talents from several female artists in the hard dance scene as well.
This high-tempo event will feature the USA's first End of Line Recordings showcase along with members of Hardcore Italia. The End of Line showcase will feature rawstyle legend E-force's US debut appearance and returnees Bloodlust and Killshot. These "unstoppable noise-makers" will make your battle cries heard. Hardcore Italia will also bring its talents with Art of Fighters, Yoshiko, Amada, and Unexist.
Across the festival's three stages, local talent will also deliver some chaos. Showing off California's growing hard dance talents are Stetix, Miss Fits, Distortion Code, and Eclpze. Ready your horses as Los Angeles' own Do or Die will be bringing unreleased heat. Also, apparel brand Dimension G will host "Hometown Heroes" on one of the festival's stages on the first night of madness.
Don't miss out on this event with hard dance heavyweights. Go to the official WAR Festival website for tickets to enlist for this epic battle now before Tier 1 sells out!
---
WAR Festival 2022 – Lineup: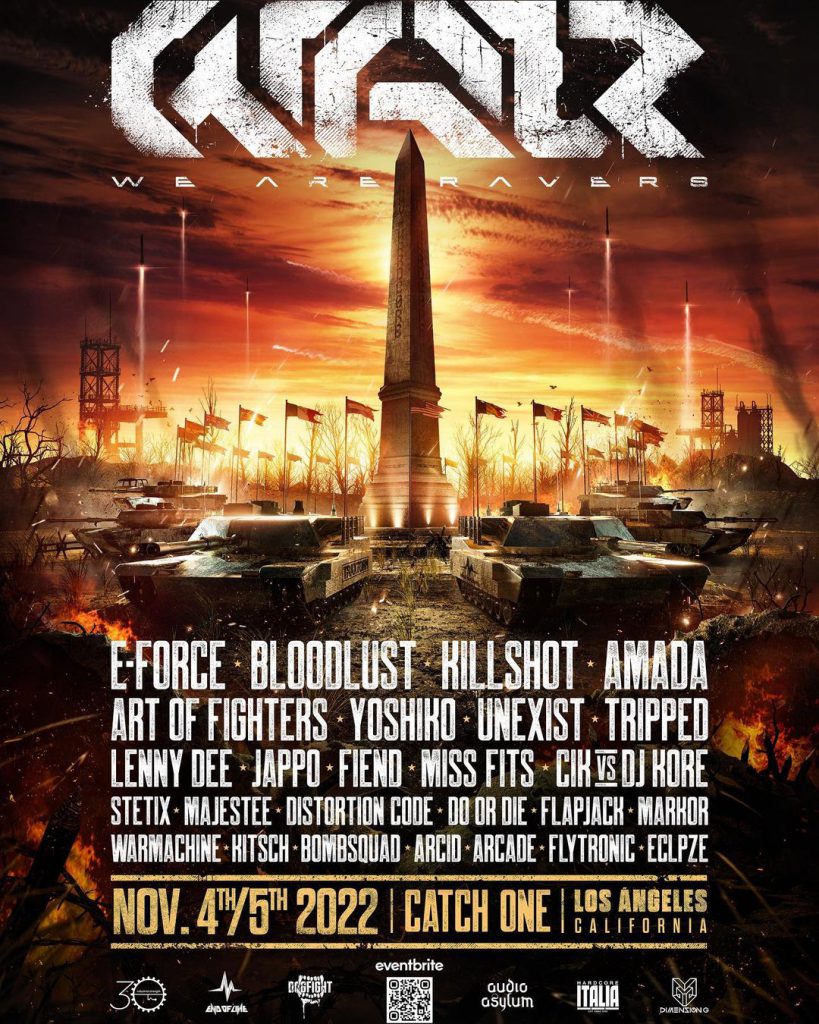 ---
WAR Festival 2022 – Lineup By Artist:
E-force
Bloodlust
Killshot
Amada
Art of Fighters
Yoshiko
Unexist
Tripped
Lenny Dee
Jappo
Fiend
Miss Fits
Cik vs DJ Kore
Stetix
Majestee
Distortion Code
Do or Die
Flapjack
Markor
WARMACHINE
Kitsh
Bombsquad
Arcid
Arcade
Flytronic
Eclpze
---
Follow WAR Festival on Social Media: