Miss K8 showcases her hardcore talents and shines in the shadow of Eclipse – her latest album that's out now on Masters of Hardcore.
---
Making an astronomical voyage after a star-studded performance at Defqon.1's the Gathering, Miss K8 has now gifted the world with her latest body of work, the two-disc album Eclipse on Masters of Hardcore. A proper follow-up to her debut hit album Magnet, she attracted listeners with singles from the first disc of the Eclipse album beginning in April such as "Legacy" with another queen in hardcore, Anime.
In June, Miss K8 dropped solo heavyweight hits "The Last Spartan" and "You Can't Stop Me" to get her fans hyped up for the madness that would ensue. Now, the rest of the tracks on Eclipse have been revealed for fans to feast their ears on and the first disc turns up the heat with all new releases such as "Lose Control" and "Don't Go."
Eclipse features two collaborations with her husband and hardcore legend Angerfist, "Act On Impulse" and "Dark Hours," for those on the hunt for powerful rides. And Miss K8 also teamed up with major artists in the scene such as D-Sturb, Deadly Guns, Detest, Nosferatu, N-Virtral, and MC Nolz for some stunners as well.
Miss K8's collaboration with D-Sturb, "Dope Sh!t" brings a "hardstyle vibe with a hardcore flow" to make it one of the album's best tracks. Combining the rawstyle kicks of D-Sturb with the high tempo savagery of Miss K8, this track reveals the strength in the unity. Though rarely dabbling in hardcore, D-Sturb is not afraid to showcase his additional talents in rawstyle intensity with high-speed BPM in collaboration with Miss K8. Premiered at sold-out events like Defqon.1 and Masters of Hardcore, this song has proved to create a battlefield on the dancefloor.
Another standout that initiated chaos on the dancefloor was the aforementioned "You Can't Stop Me." Sampling the viral Ruth Langmore line from Ozark, the Ukrainian producer closes the first disc of new tracks with this dark hardcore tune. Akin to the darkness created by the eclipsing of the sun, this track perfectly ends the album with intense kicks and screeches married to synths reminiscent of music played during horror films.
The second disc is exclusive to the physical format CD and contains 19 additional tracks. From older solo tunes and collaborations with major hardcore artists like D-Fence to remixes and refixes of tracks by artists like Tha Playah and The Satan – there's plenty to explore in its lengthy tracklist.
Miss K8 ensures you will be captivated by her dark sounds that mimic the album's title Eclipse and leaves anyone who listens in awe of the album's strong foundations of dynamism and its display of power. Make sure to stream the album on your preferred platform and catch her at her showcase at Dominator Festival and on her tour this year.
Stream Miss K8 – Eclipse on Spotify:
---
Miss K8 – Eclipse – Tracklist
Disc 1
Inspire
Dark Hours (with Angerfist)
Icebreaker (Nosferatu remix)
Legacy (with Anime)
The Last Spartan
Raiders of Rampage – 2020 Refix (with Nolz)
Cold Nights
Eclipse (with Nolz)
Don't Go
Act On Impulse (with Angerfist)
Dope Sh!t (with D-Sturb)
Bring Me Back (with Deadly Guns)
Lose Control
We Like To Slaughter (with N-Vitral)
Chopper (with Detest)
You Can't Stop Me
Disc 2
Raiders Of Rampage (with Nolz / 2020 Refix)
Bogotá (with Angerfist / 2020 Refix)
St8ment
Break Of Dawn (with Angerfist)
Elevate (with Nolz)
Get It Lit (with Angerfist)
Resolute Power (with Nolz)
Madrid (with Angerfist)
Temper
Impact (with Angerfist)
From The Depths
The Poison (N-Vitral Remix)
Santiago (with Angerfist / Tha Playah Remix)
Hardcore Generation
Generavers (with D-Fence)
Bass Journey (Furyan / Miss K8 Remix)
Battlefield (The Satan Remix)
Up In Smoke
St8ment (DRS Remix)
Out Of The Frame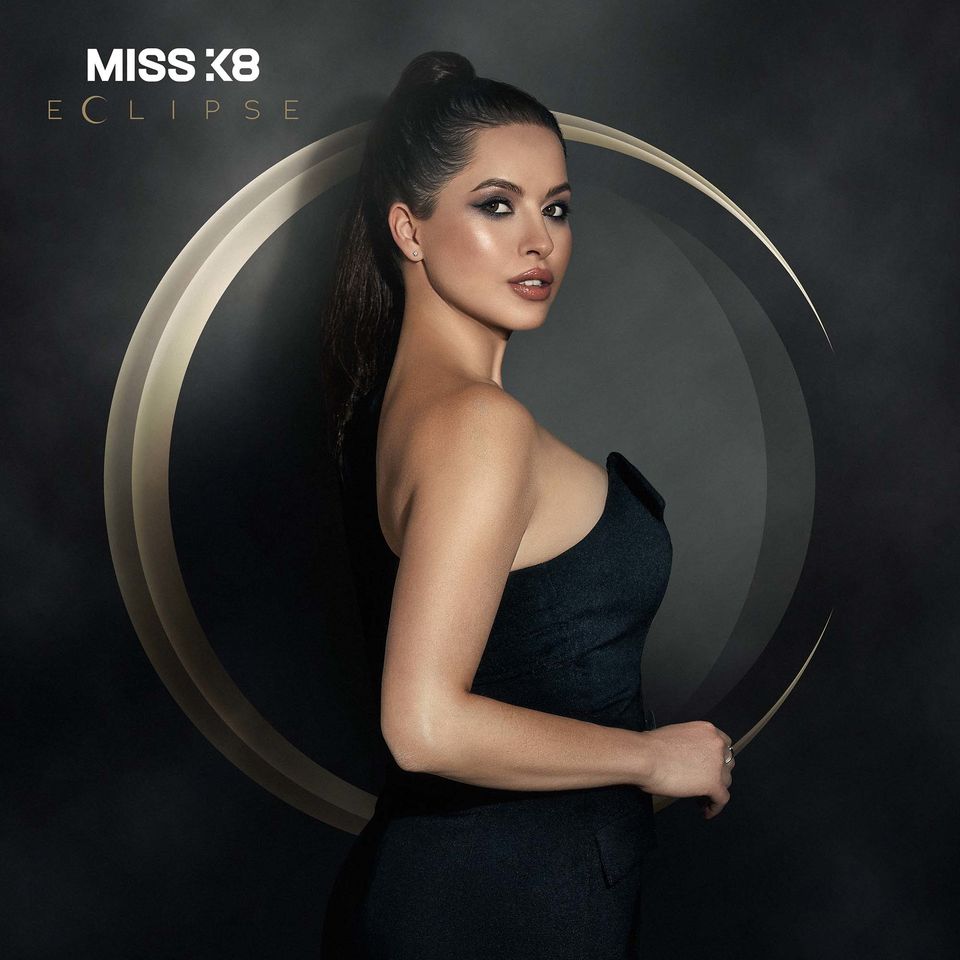 ---
Follow Miss K8 on Social Media:
Website | Facebook | Twitter | Instagram | SoundCloud | YouTube