Northern Nights was a weekend full of beautiful weather, unique experiences, and excellent music tucked in the Mendocino Forest!
---
Channeling the natural energy of the redwoods and the serenity flowing across the Eel River, Northern Nights Music Festival brought a blissful yet dynamic summer experience to the gorgeous Mendocino area. After two years of hiatus, I was ecstatic to experience my first Northern Nights Music Festival. Being an event with such a positive impact on not only the electronic music community but also the cannabis community, I was more than hopeful my experience would be something worth writing about. The drive up from the Bay Area into the lush green Emerald Triangle already had me in a state of relaxation, greeting me with a familiar cannabis aroma before an almost perfect entrance experience.
I was astounded at how well organized all the parking and camping situation was. There were options to camp under the redwoods, by the river, and across the grounds. I camped in Persimmon Grove at the top of the festival, reserved for artists and media, with copious shade and flat ground for easy setup. The only downside was it was a mission to walk to and from the main festival area from the spot, up and down a rocky hill (sorry, platform wearers).
Several showers were located around the festival, which stayed clean most of the weekend. The porta-a-potties are always my least favorite part of the festival, but there were luckily many sections put around the festival, plus air-conditioned bathrooms in VIP. The VIP section at the main stage was gorgeous, laid under a giant tree with lots of couches and a full bar. There were even VIP-exclusive cannabis vendors and free food, including mimosas, oyster shuckers, and tri-tip! I felt like I was at a high-end party.
Some other additions to the festival included a giant general store in the main festival area, which was always stocked on ice! There were also plenty of food vendors, including drunken noodles, poke, donuts, and my favorite: the Mexican fruit stand! I believe the chamoy mango on a stick I bought revived me on Saturday. Logistics-wise, security between stages was a breeze; there was easy access to basic needs like the med tent and lost and found, which lessened many of the pre-festival anxieties I'm prone to.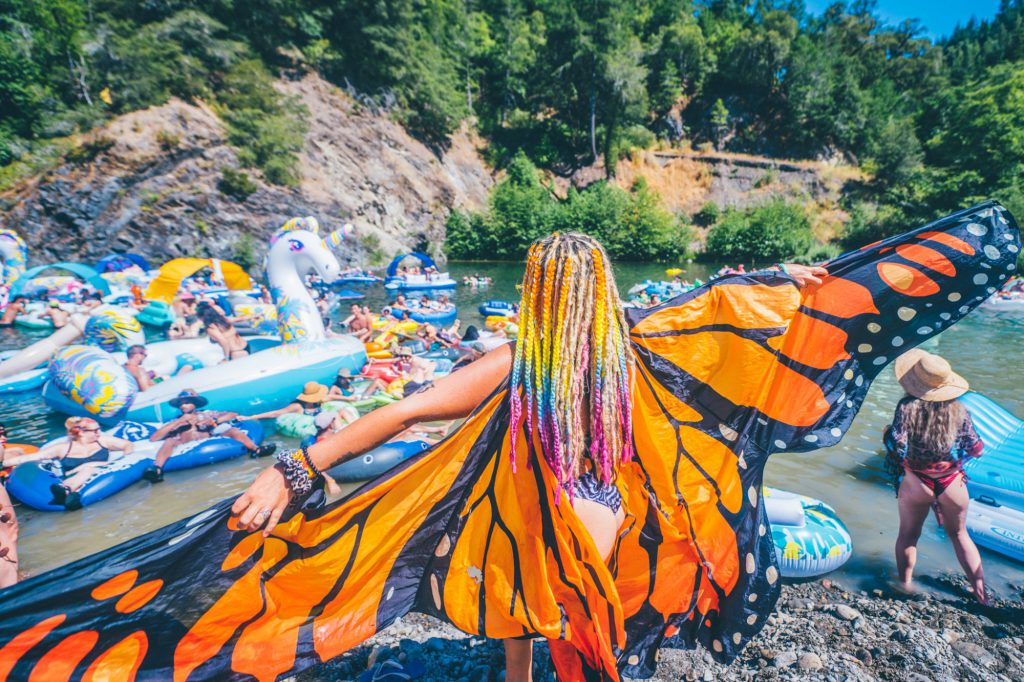 The kindness surrounding the festival from all the attendees was infectious and encouraging.
There's always been a saying that Northern Californians have an essence of chill running through their system. I felt that everyone here at Northern Nights this weekend has in a constant state of bliss and yet was always looking out for one another. People were open to offering sunscreen, free cannabis, and compliments all around. I was even offered Narcan and free drug testing if I needed it! I also believe a high factor was the prime weather and easy access to cooldowns, including free water stations, plenty of shade, and the clear flowing Eel River to dip in.
For all the cannabis connoisseurs, this had to be the Disneyland for those in love with the plant.
Not only was there an abundance of free samples, but there were also plenty of lounges, bungalows, and areas with on-site dispensaries for consultations and purchases of the best products. Deep Desert handed out slushies paired with their relaxing syrups, ABX handed out free cartridges and sunscreen by the river, and Jetty even had a grab-and-go consultation station!
The most impressive part of the festival for me was the Tree Lounge, organized by a female grower that allows farmers to sell their cannabis at whatever prices they feel are right, with no regulations or advantages taken. Here, you could meditate, take workshops, take a twerking class, and meet all sorts of vendors in a welcoming farmer's market style. All the vendors were locally owned, with the mission of organic and healthy lifestyles. It was a lovely, peaceful retreat to learn and relax before heading into the energy of the main grounds.
As someone who grew up in Northern California, I felt right at home surrounded by those who appreciated the medicine and positive attributes of the plant.
It was prevalent the organizers of Northern Nights make it a mission to promote the acceptance of all those wanting to come together as a community, regardless if you medicate or not – the music brought everyone together, all the while having to keep up with the constant changes of the cannabis industry.
It made me emotional to think that we in this state are a bit privileged to the abundance and acceptance of cannabis' presence in our daily lives, and I thought about those in other states where it's still stigmatized. I would have liked to see more presence about decriminalization and activism for cannabis users in the festival itself and not just in the workshops because although it is a party, people should be leaving with new goals and determinations in their minds – new inspirations and appreciation for what they live around.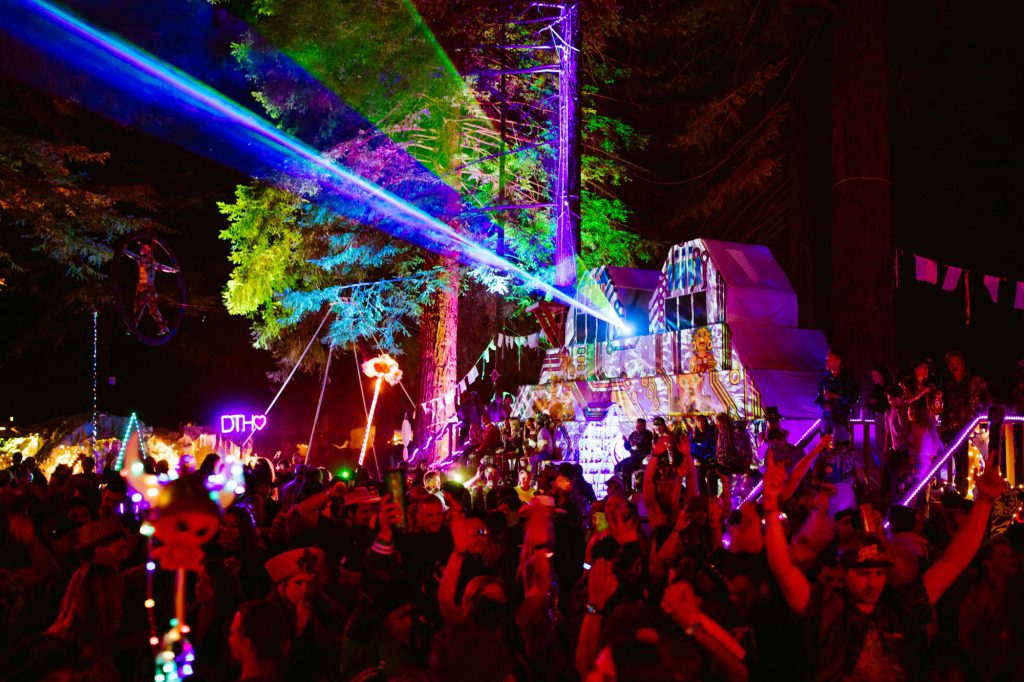 I was more than impressed by the diverse yet well-paired artist selection Northern Nights had to offer the entire weekend, with music going until sunrise every night.
My group and I started early, hitting the river as soon as we set up camp to catch Chopsjunkie's set. The river stage had outstanding sound despite being right by the water, amplifying off the cliffs that hit the area just right. I was also incredibly relieved to see actual LIFEGUARDS at the river, which has always been a concern of mine of the lack thereof at other festivals I've been to!
That being said, if you ever get the chance to hear your favorite tunes live on top of a giant sloth floatie – it's worth it. This was home to some highly memorable sets, including SNBRN's high-energy, feel-good tunes, Suds' deep bassy vibes, and the iconic, bad-bitch energy closing experience with Wreckno. The hot summer pool party essence was worth the millions of pebbles in my sandals!
The Grove was unlike any stage I've ever seen, tucked in the lush redwood forest smack dab in the middle of everything. This stage was a place to center yourself and explore with all the high energy. There were gorgeous DIY art installations representing a geode waterfall next to a tunnel made of love letters to self. A tunnel of self-love! This stage also provided steps for quality stage viewing. I loved the variety the Grove offered, including more eclectic sounds like Object Heavy, David Starfire, a late-night Qrion set, and Burlesque shows every night!
A smaller bass stage was just down the pathway next to a gorgeous pond surrounded by interactive art pieces. And let me tell you, this stage was the most fun I've ever had at a random stumble of a place – in the middle were HOPPER BALLS that people could bounce on to the beat of the bass! For the first time in my life, I finally found a dance move that genuinely fit the vibe of the wonky, wobbly basslines. I'm bringing one to every festival from now on.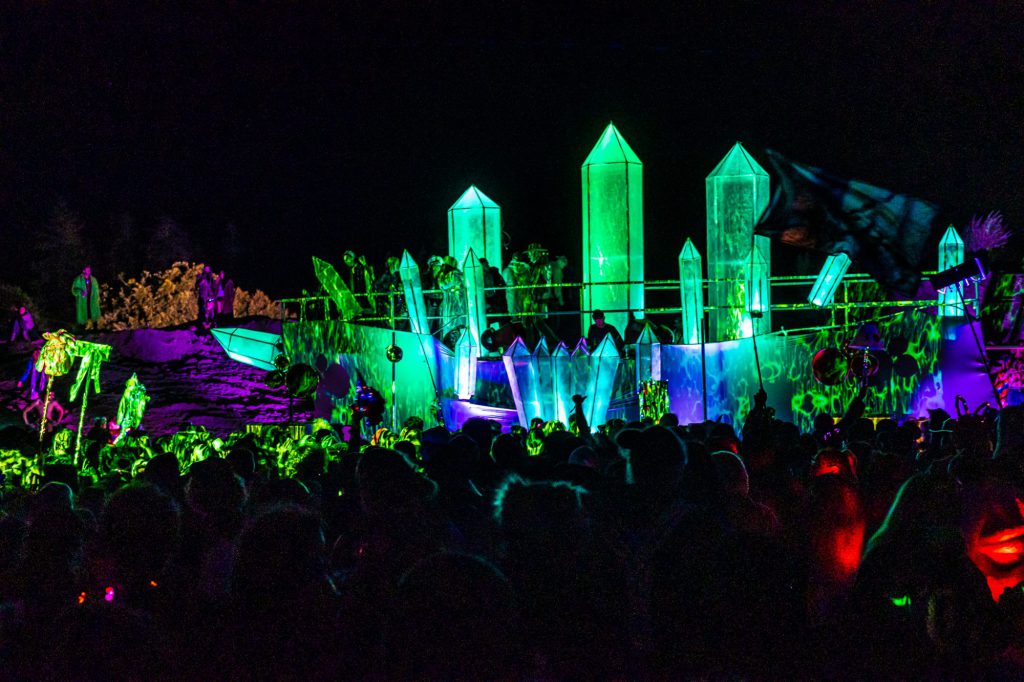 The Main Stage didn't disappoint with primo sound system setups and well-curated laser shows fit for each set.
The vastness of the field made me realize the intimacy this festival holds despite having a massive crowd – I was surprised at how packed it got, but there was still so much room to dance! Smoakland brought a blend of old-school dubstep and modern bass music, throwing some hits down for the crowd to go wild – leading into a flawless set by the iconic Claude VonStroke. If you were lucky, you could've caught his secret Barclay Crenshaw throwdown set at the late-night Bunker Stage afterward.
My favorite set of the weekend was Of The Trees, which was the most fitting hearing his gorgeous tunes among such natural beauty that it reflects. Other crowd-uniting sets included Elderbrook, ford., the old-school trap-style from TroyBoi, and a unique, heavy-hitting colorful set from CloZee, spreading a gorgeous message of positivity throughout the crowd. Although I've seen CloZee quite a bit in my life, this set was a favorite, with gorgeous lasers to match the vibrancy of her mixdowns, and all her new tracks debuted.
The night continued until sunrise, with the Bunker Stage bringing a one-of-a-kind experience with a giant neon-green crystal ship in a giant dustbowl, refracting the bass all around.
Producers like Little John, SNBRN, and Cassidy Blaze all closed out the nights with some hot tracks, with a standout being an exclusive house set from Wreckno (who mixed in some heartfelt CharlesTheFirst tunes). I felt transported into a post-apocalyptic setting, surrounded by dust (not my favorite), but the stage setup was immaculate.
Just across the field was the Submerged Stage, with clever underwater setups and mindblowing DJ sets from local producers. I found these to be the "easter egg" stages one would stumble upon unknowingly and find their next favorite producer. Despite being a smaller venue than most, I appreciated the little blessings and surprises put around for festival goers to make memories out of.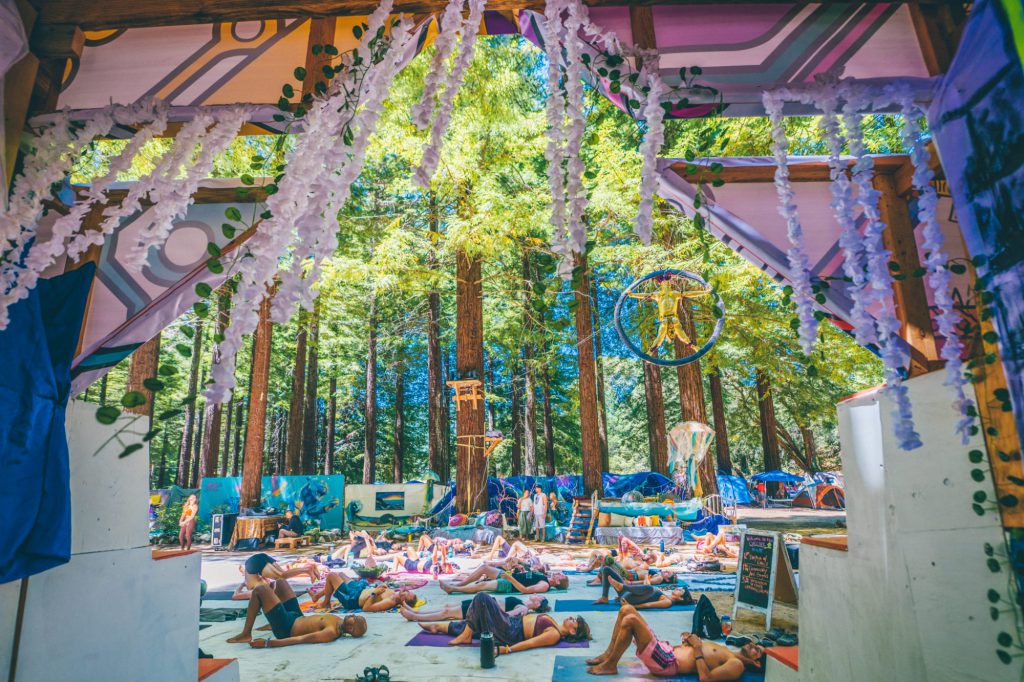 Northern Nights is a one-of-a-kind experience that quickly became a highlight of my summer festival run.
With its art walk, local vendors, and clean environment, the communal aspect of Northern Nights is what I found to be the most special. There was a lot of love put in here by all the collectives and artists involved, and it's also seen with how much respect is thrown around. I did not feel uncomfortable at once or unsafe by anyone around me. Although I thought the Monster Energy tent was a little out of place next to the crystal healing tent.
Overall, Northern Nights is a great festival for beginners and experienced festival-goers alike.
Besides the main theme of cannabis appreciation, the activites and music seemed to coincide with one another as one big, collective journey experienced by all who attended. It is hard to put in words what the feeling is like looking up at a sky full of stars hearing your favorite tracks on a gorgeous soundsystem, surrounded by people of all walks of life who are just looking for their own community. I decided the word bliss fit correctly, but I believe elation does it best – a higher consciousness and level of experience from the joy felt around us, with a little help from our friends (plant or human alike).
---
Connect with Northern Nights Music Festival on Social Media: