A beautiful night full of melodic and visual wonders await those who choose to attend Of The Trees' upcoming event at The Ogden Theatre.
---
Of The Trees has delivered plenty of new content for his followers left and right, including his latest awe-worthy The Tale of Elegos EP along with the exciting announcement of his label Memory Palace in the last months of 2021. All of the new announcements make you question what could possibly be next. It seems as if Tyler has an exciting year planned ahead for his fellow tree family and his latest announcement confirms that.
While Of The Trees is known for songs slathered with sexy melodic encapsulating sounds, picture a night when you have the visuals to match it perfectly. That's exactly what will happen when the beloved artist takes the stage at The Ogden Theatre in Denver on March 11 to host an evening not only with stunning sounds but visual enjoyment he personally created himself as well. Fans will have the chance to experience a glimpse of what he sees inside his mind when he hears the sounds he creates.
Visual artists play a massive role in the experience of events and Of The Trees plans to showcase just how influencial to the atmosphere they are.
Just when you thought the night couldn't be any more perfect, Of The Trees will be featuring other talented visual artist's content including DATA BYTE, DR01D Visuals, Glass Crane, and more! With optical candy like that, you need to have the music to match. Further, he's sure to be curating a drool-worthy list of artists to help enhance the experience, but the official lineup won't be announced until tomorrow once the regular ticket sales drop at 11am MST.
Join him at his biggest headlining event yet for a night full of firsts in Denver as he guides everyone with his own perception of what the unity of dancing within soundscapes paired with coinciding visual stimulation can create. Come see for yourself what concoctions Of The Trees cooked up for his woodland creatures to get fully immersed in.
Be sure to save the date on your calendars for this night of endless astonishment! The pre-sale for this show is happening now, so use password WINDHORSE to make your purchase. The regular sale begins February 18 at 11am MST. Both can be found on his website or on AXS.com.
---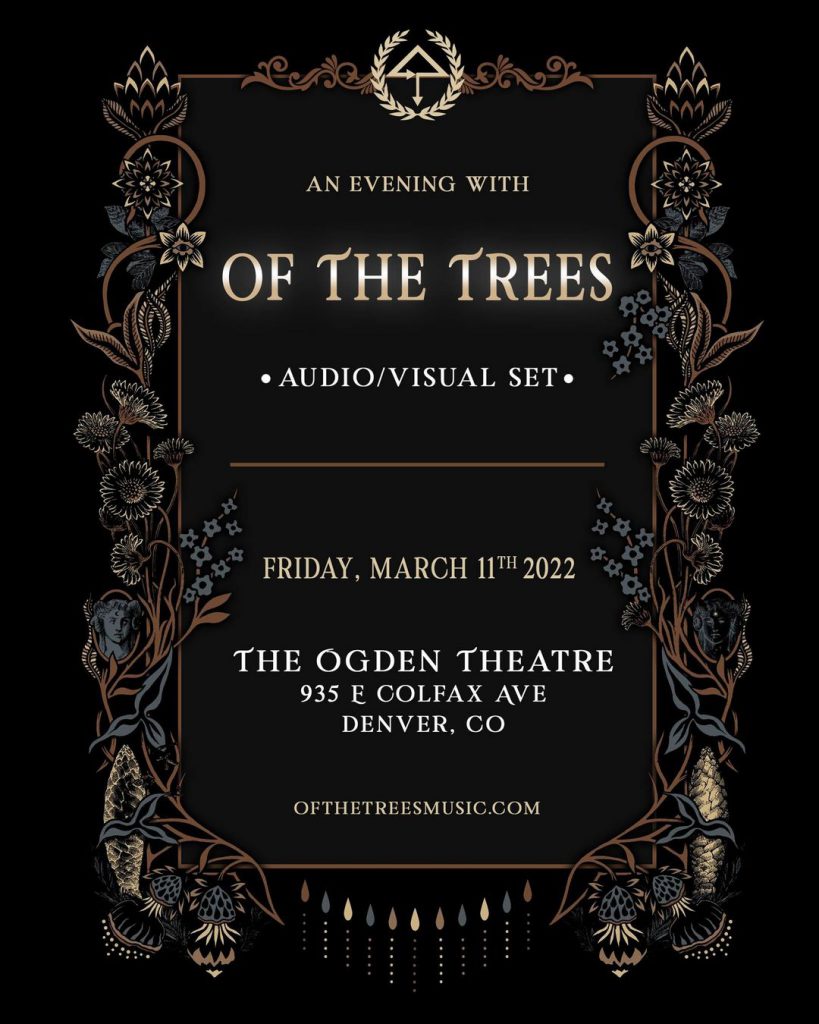 ---
Connect with Of The Trees on Social Media:
Website| Facebook | Twitter | Instagram | SoundCloud