Ferry Corsten will set off on the What The F Tour this summer with stops in London, Dallas, Denver, Los Angeles, and Chicago.
---
As one of the true legends in the trance scene, Ferry Corsten has only further built on his legacy by delivering sensational releases and jaw-dropping sets at venues and festivals around the world. One aspect that stands tall in his career is the sheer volume of aliases that are under his belt that range from the uplifting, thoughtful Gouryella to the energy-fueled System F. While Ferry Corsten has taken the stage under those aliases at different points in time, he's never had an open-to-close featuring them all, which led him to announce the What The F tour.
Speaking about the concept of What The F and its creation, Ferry Corsten mentioned he had always wanted to do an exclusive, open-to-close show centered solely on his own material. "I've been down the classics sets route, even done producer sets with specific aliases, but 'What The F' could I do with all this music together in one night?" he said. "And then it hit me, 'What would an open-to-close repertoire set be like if I re-worked all this material."
Originally slated to occur in 2020 but shelved due to the onset of the pandemic, this week saw Ferry Corsten breathe life back into the What The F tour with the announcement of its return this summer. He'll kick off the festivities on May 6 at the beloved nightclub Ministry of Sound in London before crossing the pond to play in the US with stops in cities including Denver, Houston, Brooklyn, Los Angeles, and San Francisco. While the final announced date is August 20 in Chicago, this is only the first phase of the tour to be revealed so stay tuned for more news to come.
Tickets for Ferry Corsten's What The F tour are on sale now. Head over to his website for more details and to make your purchase if you plan to catch him in a city near you!
---
Ferry Corsten's What The F Tour 2022 – Phase 1: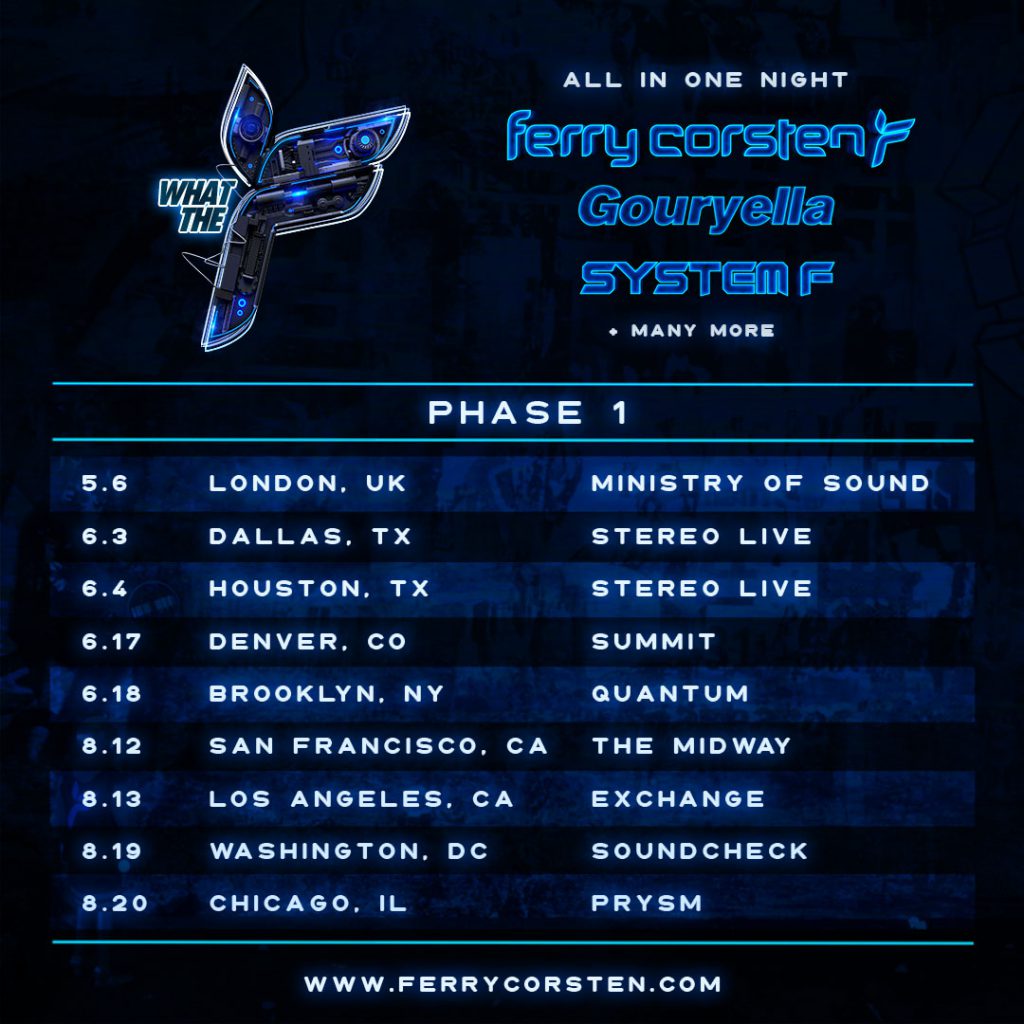 ---
Ferry Corsten's What The F Tour 2022 – Phase 1 Dates & Venues:
May 6, 2022, London @ Ministry of Sound
June 3, 2022, Dallas @ Stereo Live
June 4, 2022, Houston @ Stereo Live
June 17, 2022, Denver @ Summit 
June 18, 2022, Brooklyn @ Quantum 
August 12, 2022, SF @ Midway 
August 13, 2022, LA @ Exchange
August 19, 2022, DC @ Flash 
August 20, 2022, Chicago @ Prysm
---
Follow Ferry Corsten on Social Media:
Website | Facebook | Twitter | Instagram | SoundCloud