Infrasound dropped one of the hottest lineups of the year with Benga and Coki, Alix Perez, Two Fingers, Spor, Shlomo, and more.
---
Infrasound Festival is fast approaching, and fans have been patiently awaiting the lineup since the 11th edition was announced for May 12-15 at the beautiful Harmony Park Music Garden home in Clarks Grove, Minnesota. Known for always bringing top-notch production and sound, this gem of a festival always brings an impressive lineup and this year is certainly no different.
Headlining the 2022 bill are Two Fingers and the first-ever back-to-back set from the dubstep legends Benga and Coki, who will also each have solo sets. The heat only continues on the next line with Shlohmo, SPOR, and Alix Perez set to take the stage. Infrasound will also host a takeover from Alix Perez's label, 1985 Music.
Some favorites from last year who will return for 2022 include Ultrasloth, kLL sMTH, and Black Carl! who will play back to back with Saka. The hometown stars of Infrasound, the dubstep trio known as Ternion Sound, will have their annual performance and perhaps even a surprise additional set if fans are as lucky as last year. There's no doubt that Ternion Sound plays some of their most iconic sets here, so don't sleep on them.
Names like Scientist, MYTHM, Ahee, Smoakland, Hyroglifics, and Chmura are just a few of the sets that are sure to wow from the undercard. While Kursa, Lone Drum, and Osmetic will all have solo sets, Infrasound will also see a performance from their collaboration project known as KLO.
Infrasound was one of our favorite experiences in 2021, so we hope to see you there! Tickets are on sale now via their website with tent camping included in every GA ticket.
---
Infrasound 2022 Lineup: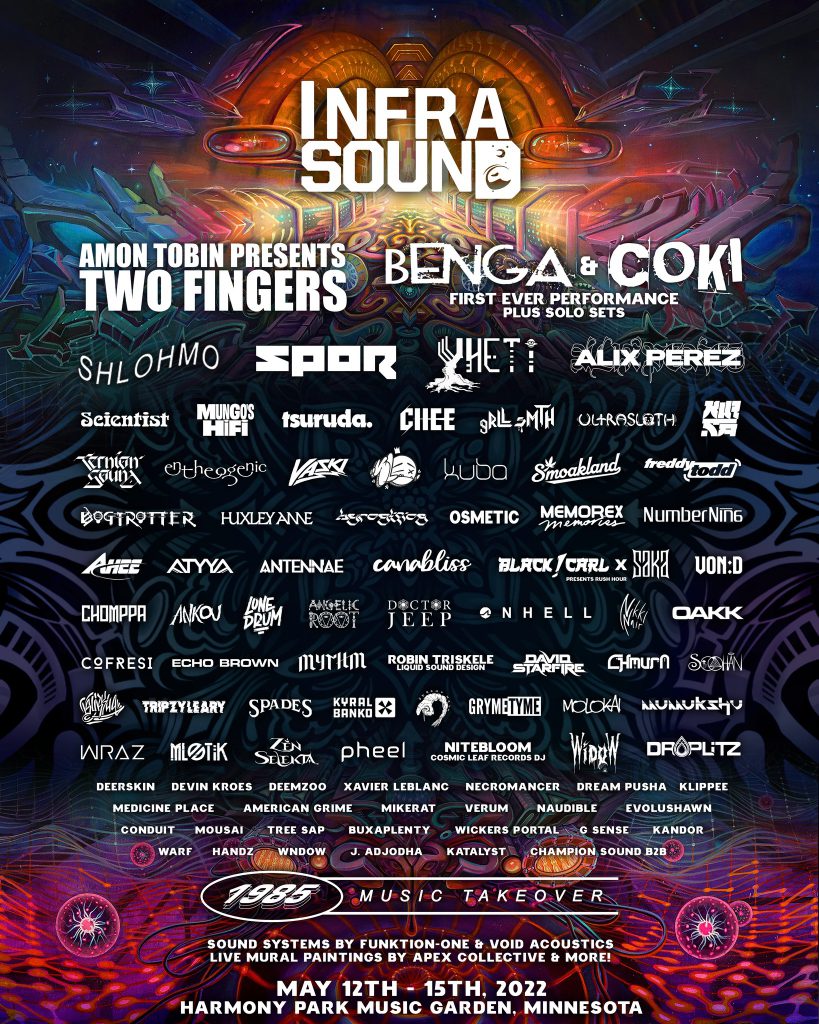 ---
Infrasound 2022 – Lineup By Artist:
Two Fingers
Benga
Coki
Schlomo
Spor
Yheti
Alix Perez
Scientist
Mungo's HiFi
tsuruda
Chee
gRLL sMTH (kLL sMTH)
Ultrasloth
Kursa
Ternion Sound
entheogenic
Vaski
KLO
Kuda
Smoakland
Freddy Todd
Bogtrotter
Huxley Anne
Hyroglifics
Osmetic
Memorex
Number Nin6
Ahee
Atyya
Antennae
Canabliss
Black Carl b2b Saka
Von:D
Chomppa
Ankou
Lone Drum
Angelic Root
Doctor Jeep
Onhell
Nikki Nair
Oakk
CoFresi
Echo Brown
MYTHM
Robin Triskele
Davis Starfire
Chmura
Soohan
Bukkha
Tripzy Leary
Spades
Kyral Banko
GrymeTyme
Molokai
Mumukshu
Wraz
Mlotik
Zen Selekta
Pheel
Nitebloom
Widow
Droplitz
Deerskin
Devin Kroes
Deemzoo
Xavier LeBlanc
Necromanger
Dream Pusha
Klipee
Medicine Place
American Grime
Mikerat
Verum
Naudible
Evolushawn
Conduit
Mousai
Tree Sap
Buxaplenty
Wickers Portal
G Sense
Kandor
Warf
Handz
Wndow
J Adjodha
Katalyst
Champion Sound B2B
---
Follow Infrasound on Social Media: