The magic of Okeechobee was felt by everyone who headed to Sunshine Grove as the portal opened for the festival's fifth edition.
---
South Florida's gorgeous Sunshine Grove came alive earlier this month as tens of thousands of Okeechobeeings flocked to the Sunshine State for an unforgettable weekend of music and art at this year's edition of Okeechobee. Excitement was higher than ever for the festival as it returned from its hiatus during the pandemic and celebrated its fifth edition since it first began in 2016. As the festival grew closer by the day, fans were undoubtedly itching for another fantastic experience from Insomniac and Soundslinger and wondered what these masterminds of immersive elements would bring to Sunshine Grove.
My own journey through the portal this year was long overdue as I'd attended Okeechobee only once previously in 2018. I was eager to see how much the event had grown, how it had evolved under its new owners, and how my favorite artists playing would blow me away when I caught their sets.
A group of about a dozen campmates and I set off on the adventure to Okeechobee and arrived at the entrance to camping in the mid-afternoon on Thursday. The entry process was as smooth as ever, just as I'd remembered from four years ago, and we were greeted by plenty of sun and that signature, Sunshine Grove breeze as we were directed to our campsite by the festival's friendly staff.
The wind offered some relief from the heat while being a friendly reminder to double-stake down everything as we set up our campsite home for the weekend. After setting up we made our first journey out, which came with the realization that our campsite was an absolute hike to the venue, almost a mile according to my parked car location. It took us getting lost on our first walk back to get our bearings, but after that one time, it didn't happen again.
Something we also realized that was a bit of a letdown was the lack of vendors in any of the campground areas. If we wanted food in the mornings from a vendor, we would have had to make the entire trek to the venue which simply wasn't happening. Having just a few options or any at all really, along the campground paths would have been nice.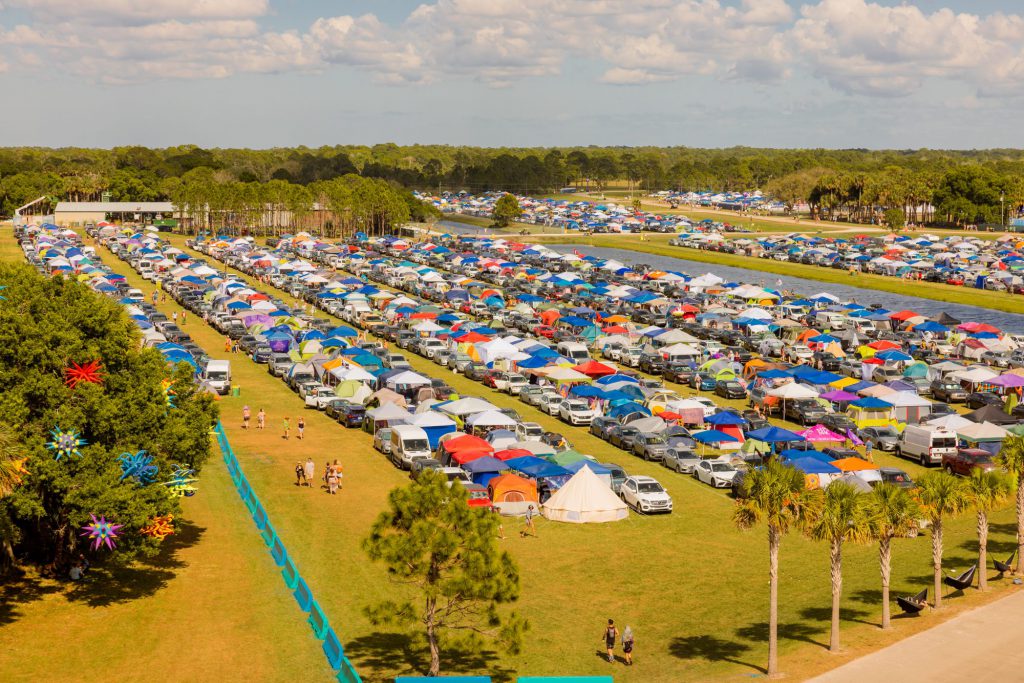 We kicked off Okeechobee beachside at the Aquachobee stage where VCTRE opened the night's bass-heavy lineup.
Chee, Tsuruda, and EPROM followed that opening set from VCTRE for an epic first night of dancing in the sand. The energy from the crowd and each performer who took the stage was simply on another level, while emotions dominated the closing set that night with a CharlestheFirst memorial set. This beautiful performance featured many of his closest friends and collaborators, but unfortunately the sound was so faint that it was difficult to hear, even when up toward the front of the crowd.
Thankfully we still had Lab Group's set to look forward to on Saturday, and the immense love for Charles was radiating from every corner of the Sunshine Grove all weekend. There were so many totems, tattoos, and tributes from attendees and artists alike, and it felt amazing to be surrounded by so many others who were touched by his art. The Aquachobee stage even had a beautiful Charles mural and I loved that the festival did so much to celebrate his life this year.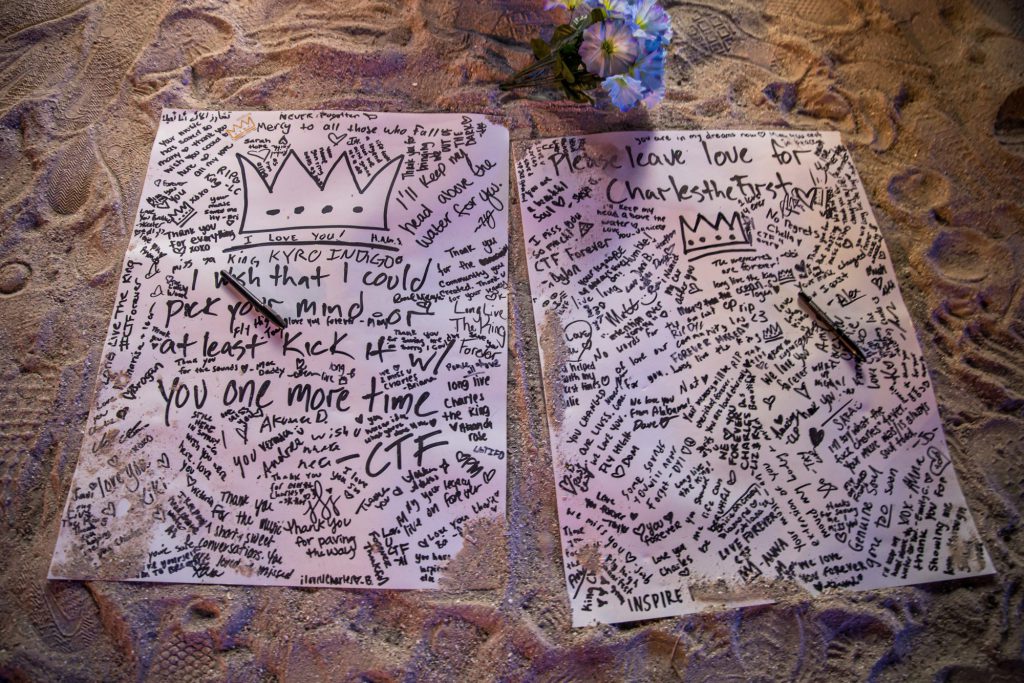 There are only a few artists I'd make a mile-long trek in the Florida heat for so early in the day, but Khiva is one of them.
After waking to the feeling of being cooked alive in my tent on Friday, I decided to begin my trek to the festival early at 2pm with the first of Khiva's two sets. Once I got to the stage I soon realized that the sound issue at Aquachobee was going to be a problem. Now that all of the other stages were booming beats on the second day, there was a horrible sound bleed in addition to the already too-quiet issue from the night before. I could hear beats loudly thumping from two to three of the other stages at all times, which was jarring, to say the least.
To say that Aquachobee was a letdown because of the sound would be a massive understatement for me. I was so excited for how stacked Friday was at the beach with so many of my favorites like Khiva, Integrate, EAZYBAKED, and Of The Trees, yet I couldn't hear a single one of them properly. Of The Trees' set was one of my most anticipated of the whole weekend, so the lack of good sound left me fairly disappointed.
After a stunning sunset on the beach, the night was still young with sets from Four Tet, Tame Impala, and so many Incendia slappers still to come.
The Incendia stage was a bass-lovers paradise, shooting intense pyrotechnics atop one of the best Funktion-one speaker setups I've heard to date. While they may have given Aquachobee the short end of the stick with sound, it was quite the opposite at Incendia. Khiva's deep sultry dubstep sounds finally rang loud and clear on a deserving sound system for her second set at the festival. She had the crowd hollering throughout her entire performance and this was certainly a top set of the weekend.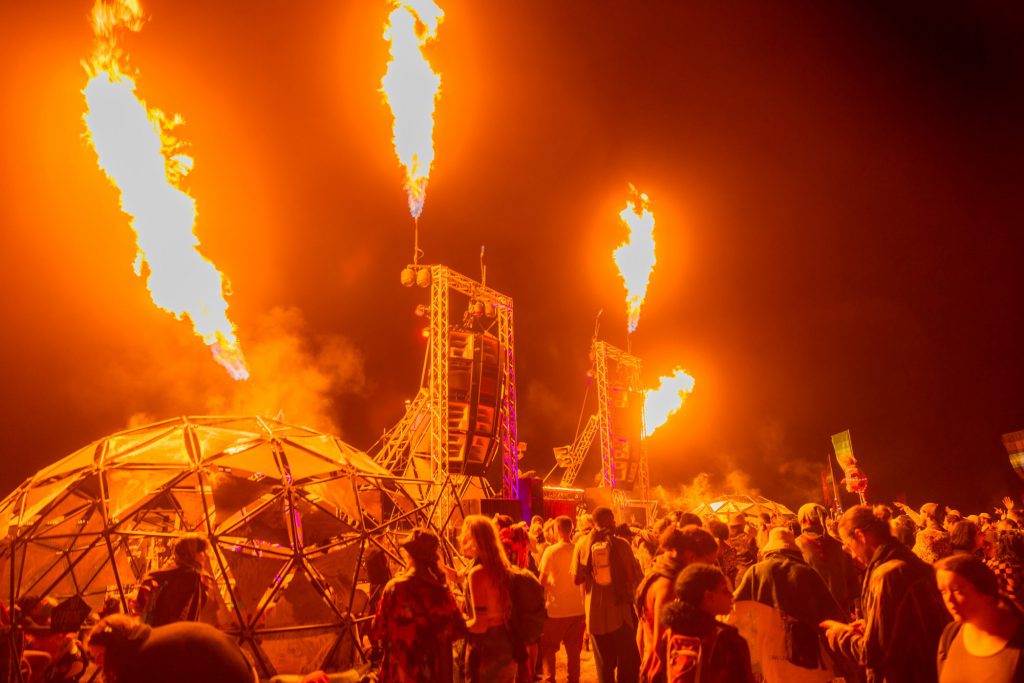 While Potions' opening track had me so tempted to stay where I was, we made a mad dash to the main stage for Tame Impala.
Okeechobee's Be stage was breathtaking and there wasn't a single bad seat in the house. It seemed like wherever you stood, the view was immaculate. My only tough conflict of the weekend was Tame Impala and Supertask so the clock was ticking once I made it to the Be stage. I planned on turning right back around to head to the Incendia stage soon after, so after a couple of blissful minutes of Tame Impala, back to Supertask I went.
We missed only the first ten minutes or so of Supertask, and I wish I'd gotten to bask in every last second of that set. I'll even go as far to say this was my favorite set all weekend. His sound is one of the most unique in bass music right now and the Incendia did it justice. Freddy Todd came in hot right behind him with filthy, smacking bass and the surprise guest to finish the night was Yheti who brought his wobbly sounds along with him.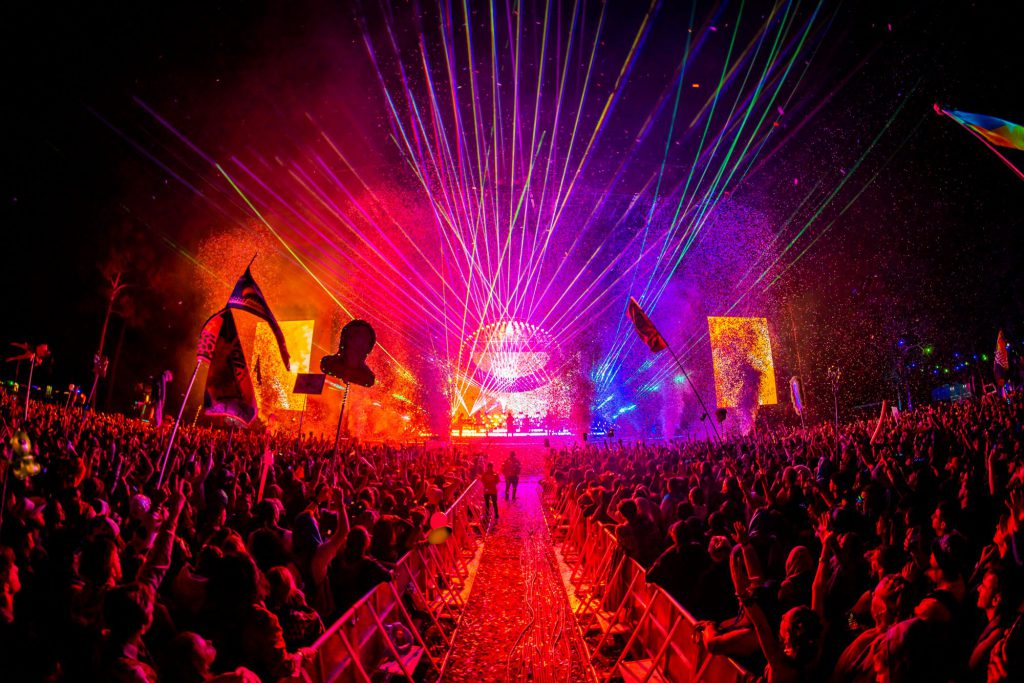 Saturday was dubbed as "Megan Thee Stallion Day" as excitement was high for her headlining set but it was more importantly "Lab Group Day" for my campmates and I.
I spent my early afternoon on Saturday attempting to catch up on some rest before heading to Papadosio at the Be stage. This set was a highlight of the weekend simply for the time spent with friends while grooving out to their sounds. The live band was vibey, my friends were flowing with their hoops, and the weather was too perfect.
It was during this set that the weird magic of Okeechobee hit in full force. In the middle of this mainstage crowd, I was approached by the couple who were my camp neighbors at last year's edition of The Untz, all the way in California. I was honestly stunned when I saw them there. Moments like that one are why I want to keep attending festivals forever.
Lab Group's set more than made up for the CharlestheFirst Memorial being too quiet as Supertask and Potions took over the decks at the Here stage and played to a huge crowd. Everyone was packed in tightly under the sparkling disco balls that adorned the tent's colorful ceiling and screaming the words to "Old Ways" with the crowd was one of the best odes to Charles all weekend.
After heading back to camp for a brief minute, even more late-night bass madness ensued from the Incendia. Abelation wowed with one of the heaviest performances all weekend, followed by Black Carl! and an insanely fun back-to-back from EAZYBAKED and friends.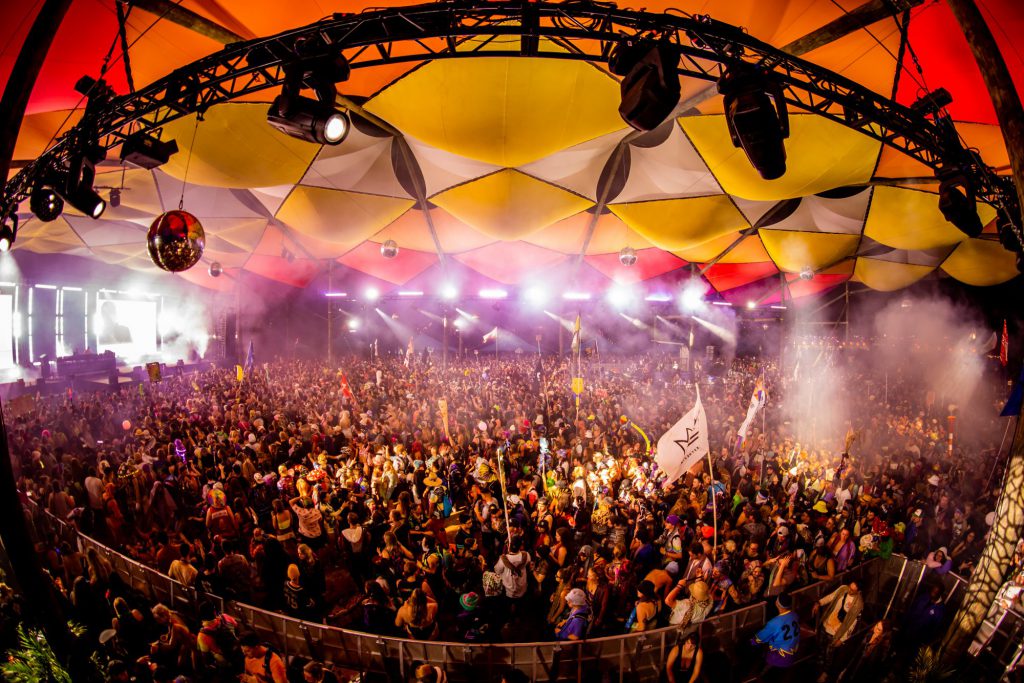 Sunday came with another early start for me as bass queens were taking over the Here stage starting with A Hundred Drums.
Given the heat of this festival, it was a shame that any set had to start as early as A Hundred Drums' did. Artists who played at noon each day would've certainly drawn bigger crowds if it wasn't so hot out because many people were still trying to rest from the previous night's festivities. That being said, A Hundred Drums still drew quite the crowd, as did NotLö and VEIL who took over from there with a solo set from each followed by a back to back. Their sets had me yelling and taking videos the entire time as I bopped around the crowd finding friends.
Like the proactive camper I am, I always try to leave directly after Sunday's festivities if possible. Planning to pack up camp during the cooler evening hours was a smart move so I was ready to begin the trek home. After I got packed up I made it back to the Here just in time for the last bit of CloZee's amazing performance. Then, I caught Porter Robinson, who closed out the Be stage to a massive crowd with an emotion-filled 90-minute set.
Sunday was finally drum and bass night at Incendia and one of our top moments of Okeechobee with Nik P, Kumarion, Delamoon, and kLL sMITH dominating the decks. I missed Kumarion due to the Porter Robinson set time conflict, but kLL sMTH closed out the weekend with a killer set that even saw him play Joe Ford's remix "Sentient" – which was one of my favorite moments from Infrasound. I only wished I had more energy to dance the entire time as it was the perfect set to close out the festival.
Returning to this absolute gem of a festival after four years was fulfilling to say the least.
So many perfect moments made my weekend at Okeechobee special, and I left feeling inspired and exhausted! Okeechobee might be a large-scale event, but it still manages to encompass the intimate vibes of a boutique one despite its size. With no phone service all weekend I got to fully embrace the mantra of "Be Here Now" and it was a refreshing recharge for my soul.
A great festival weekend usually leaves me with new perspectives and lessons, and Okeechobee absolutely did this for me and so many others. As for the magic of this festival I've mentioned, it's one you simply have to head down to Sunshine Grove to experience for yourself. I hope to see you all next year at Okeechobee!
---
Follow Okeechobee on Social Media: