The Untz Festival is heading back to Sycamore Ranch and bringing a beautiful lineup with Shades, Ternion Sound, Tsuruda, and more.
---
The Untz Festival is heading back to Browns Valley, CA this year on an earlier date, May 13-15, to help beat the heat and align with a lunar eclipse to set the whole theme as well. After announcing the initial details last year, the question of who would be taking the stage at the festival loomed on the minds of bass lovers. Today, that has been answered with a lineup that is sure to make the entire community quake with excitement.
Headlining The Untz Festival this year is the duo of Alix Perez and Eprom known as Shades. Their set will coincide with the eclipse itself, which is sure to be a treat for attendees, not to mention this is the first time Alix Perez has been announced on a US lineup since the onset of the pandemic. Along with Shades, The Untz is bringing an entire 1985 Music takeover with Tsuruda, Hyroglifics, and a solo set from Alix Perez as well.
While the 1985 takeover alone is enough to steal many bass lovers' hearts, the heat on this lineup continues with the next line. Chee, Supertask, and Ternion Sound are all making their return after last year, all of whom are Untz fan favorites. Sunrise sets are also one of the best aspects of this festival and this year will see Bricksquash and Tiedye Ky hold those coveted spots. Further, Resonant Language and The Librarian will undoubtedly throw some unique sets, while Chee and Jon Casey's side project IT HZ will make its US debut as well.
Wormhole Music Group is hosting a stage takeover with sets from artists such as Secret Recipe, Chmura, and Labrat. They're also bringing what is sure to be an insane b2b featuring sounds from underground favorites Mythm and Matheny. If that wasn't exciting enough, these two are both playing solo sets as well. Further, the undercard is full of heat too with artists like Saka b2b Floret Loret, Honeycomb, Zen Selekta, Jordanmoody b2b Ujuu, and MirrorMaze b2b Nik P.
With its flowing river and massive shade trees throughout, this peaceful California park is a perfect home to this underground oasis of bass. Those planning to attend should definitely consider the camping experiences that The Untz Festival offers. Car, RV, and Reserved camping with different amenities are all available. Those camping passes, as well as two-day and three-day tickets, are available for purchase now via their website.
---
The Untz Festival 2022 – Lineup: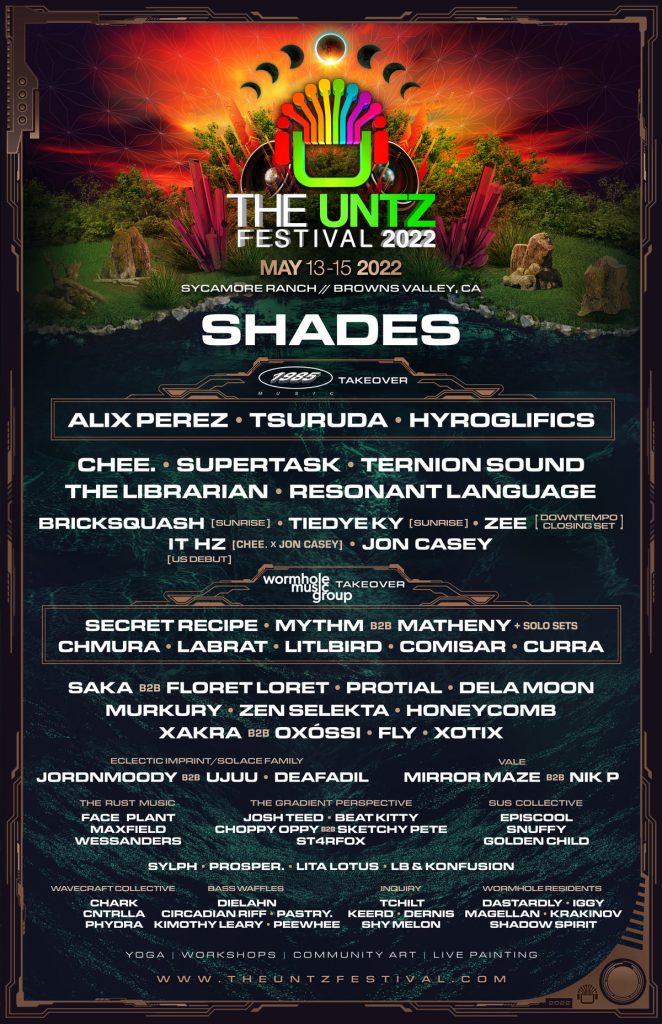 ---
The Untz 2022 – Lineup By Artist:
Shades
Alix Perez
Tsuruda
Hyroglifics
Chee
Supertask
Ternion Sound
The Librarian
Resonant Language
Bricksquash
Tiedyeky
Zee
It Hz (Chee and Jon Casey)
Jon Casey
Secret Recipe
Mythm b2b Matheny
Mythm
Matheny
Chmura
Labrat
Litlebird
Comisar
Curra
Saka b2b Floret Loret
Protial
Delamoon
Murkury
Zen Selekta
Honeycomb
Xakra b2b Oxossi
Fly
Xotix
Jordanmoody b2b Ujuu
Deafaoil
Mirrormaze b2b Nik P
Faceplant
Maxfield
Wessanders
Josh Teed
Beat Kitty
Choppy Oppy b2b Sketchy Pete
St4rfox
Episcool
Snuffy
Goldenchild
Sylph
Lia Lotus
LB & Konfusion
Chark
Cntrlla
Phydra
Dielahn
Circadianriff
Pastry
Kimonthy Leary
Peewhee
Tchilt
Keero
Dernis
Shy Melon
Dastardly
Iggy
Magellan
Krakinov
Shadow Spirit
---
Follow The Untz on Social Media:
Website | Facebook | Twitter | Instagram | SoundCloud |