Quiet Bison shares his story on his debut album, Dawn that features fluttering synths and a flurry of collaborators across its 30 tracks.
---
Portland-based producer Quiet Bison has become known for his elegant and complicated production style since first breaking onto the scene. He swept onto the scene at a young age with help from Flume and quickly gained attention from What So Not and Alison Wonderland, along with labels like Deadbeats. His breakout discography is impressive and boasts a one-of-a-kind psychedelic soundscape ready to echo through your speakers.
Since foreshadowing the release of his debut album in 2020, Quiet Bison has continued to tease fans with several releases following the mindblowing EP, Trials and Tribulations. Now, the massive 30-track LP Dawn has been released on Ultra Records and acts as a storyline of his time in quarantine and prior that highlights the emotions and struggles he's faced throughout his life. But Quiet Bison didn't set off on this journey alone as he also collaborated with a number of artists including Reo Cragun, TYGKO, Pauline Herr, Bijou Violet, and more to add even more depth.
Be sure to stream Dawn on Spotify or your favorite streaming platform, and read on for a deeper dive into some of the standout tracks on this album from Quiet Bison.
Stream Quiet Bison – Dawn on Spotify:
---
The album kicks off with "Prism," a chaotic yet pleasing introduction to the geometric soundscapes that Dawn will feature.
With echoing synths that channel Asian culture found on "Prism," Quiet Bison offers a glimpse into this monumental album as the track fades into "Goblin." He uses a unique mixture of instrumentation to bringing a chill down your spine, making this track one that stands out among the others as a testament to his sound. Especially as the chopped choral vocal blends perfectly with the staccato backbeat and glitching synths.
Similarly, "Suncatcher" utilizes a very mechanical sound with the fragmented synths in an almost industrial way with the sound of the snare drum distortedly keeping rhythm as it breaks into a turbulent drop. The track turns into a smoother rhythm before it abruptly comes to an end as "Hilt" begins with a breathy darkness paired with echoing vocals leading into a guitar riff. This one offers up a sense of wanderlust for listeners as they navigate the path Quiet Bison has embarked on before changing direction to a softer space.
"XCVI" takes on an extraterrestrial vibe as alien chimes whirl into a pounding drum and fade into a glitching rhythm.
"XCVI" intensifies its out-of-space feeling with robotic vocals fused with a wild drum pattern and heavy bass before bridging and kicking up speed. The vocals maintain their consistency as the instruments surrounding them rapidly change pattern ending with a melodic plucking of a distorted guitar echoing into a breakbeat in "26fe." This gradually changes into a strumming harp as the sound of a storm plays in the background before the track goes back to the same pattern and a female voice echoes as the song ends.
Another stunner arrives in "Myriad" which features haunting vocals from Bijou Violet, occupying the same blend of instruments with a melodic twist. The pulsating beat enhancing this songs eerie beauty before a pounding drum ends the song. Soon after, "Citrine" begins with a piano rhythm blending a fluttering with and a classical chord progression. The vocal vibrates throughout this soothing track which sets it apart from the more hard-hitting songs off the album. The album then picks up speed again with "Eos" maintaining the similar elements found in other tracks, while the instrumentation adds a subtle elegance as the song chimes out.
DAWN comes to an end in a very different way than it begins to perfectly represent the tale of its creation.
A steady clapping synth leads the way throughout "Edge" as stuttering vocals vibrate in the background. The beat remains the same throughout the song as Quiet Bison alternates instruments before pitched horns overtake the track in a somewhat modernized jazz tempo.
The backbeat drops, being led only by the vocal patches, and flickering instruments fade out before the final track, "♋︎♋︎♋︎ (696969)" enters the fray. Using the symbol for the zodiac sign Cancer, he perfectly demonstrates an ocean scenery as it whimsically glides with delicate stringed instruments almost as if stars were twinkling over the seashore.
Quiet Bison uses perfect symbolization that can be felt throughout this album as he tells his story. This album is certainly one you shouldn't sleep on and is one of the most unique electronic experiences that will grace your ears this year.
---
Quiet Bison – Dawn – Tracklist:
Prism
Goblin
Grip
Waiting For You (feat. wilo wilde)
Suncatcher
Hilt
High Like This (feat. Reo Cragun)
Spore
Blight (feat. fortune)
Excalibur
High Velocity
Sandpaper (feat. TYGKO)
Call It Even (feat. Pauline Herr)
XCVI
26Fe
Blur (feat. Dacy)
Moth
Shatter (feat. TYGKO)
Jadeexposit
Blade
Myriad (feat. Bijou Violet)
Citrine
Eos
Strike
The Tower (feat. Fio)
Windmaker
Crown
Crash (feat. Madalen Duke)
Edge
♋︎♋︎♋︎ (696969)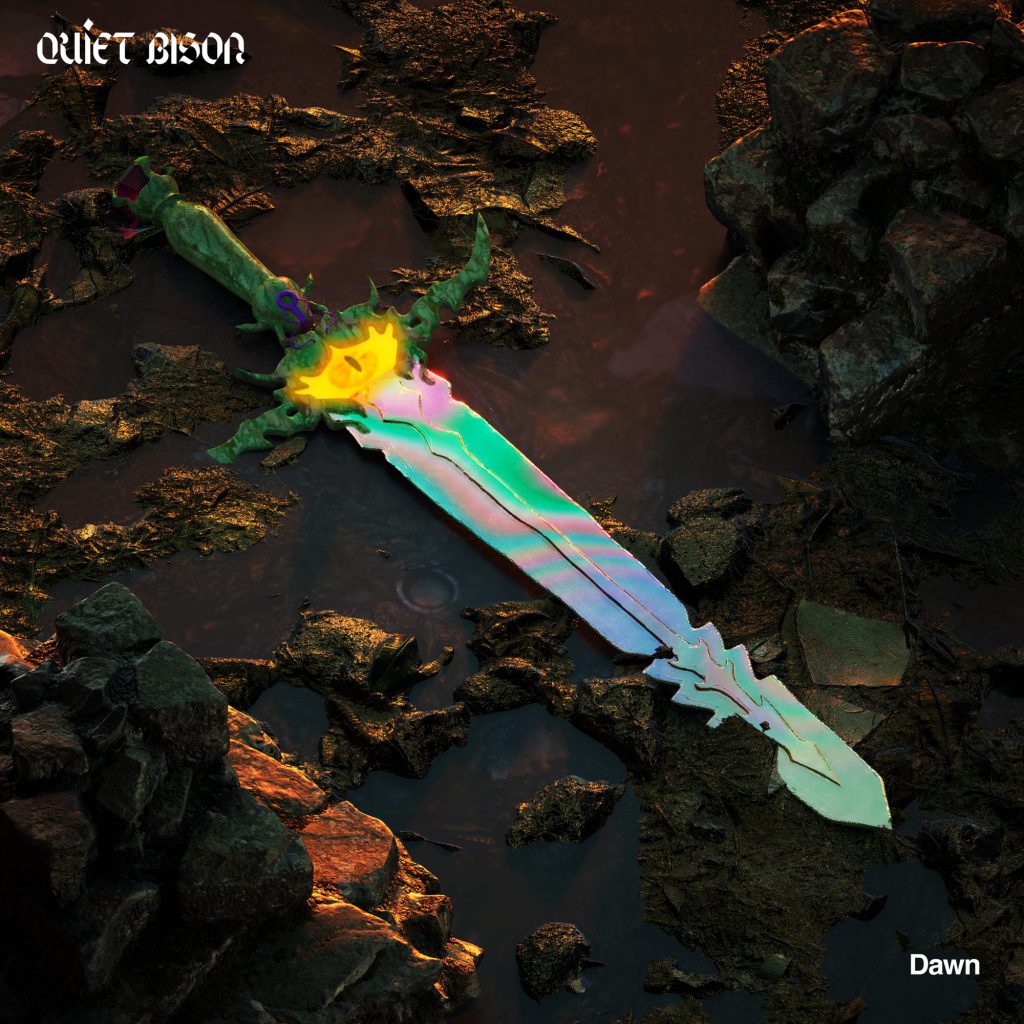 ---
Follow Quiet Bison on Social Media:
Facebook | Twitter | Instagram | SoundCloud | YouTube | Twitch