AC Slater and Tchami's imprints join forces to create Confession x Night Bass: The Album, a wicked compilation filled with bangers.
---
Two of the most beloved artists in the house scene, Tchami and AC Slater, continue to show us the rewards of teamwork and collaboration. As the founders of Confession and Night Bass, both continue to guide and mentor the next generation of producers. These two labels are known for their incredible releases and stacked roster of talent, so when the imprints announced the Confession vs. Night Bass North American tour, fans went into a frenzy, and rightfully so. Two of the hottest labels hitting the road together? No complaints to be found.
However, no one expected the labels to drop a compilation together, but they did just that with the release of Confession x Night Bass: The Album – a ten-track album full of divine tunes for all house lovers. The compilation features tunes from artists like Blossom, MASTERIA, Taiki Nulight, and a sweet remix from Habstrakt, among others. Above all, this compilation makes a big statement on behalf of Confession and Night Bass that the two labels have some tricks up their sleeve, so watch closely because they're only getting started!
You deserve a good start to your week, so download or stream the Confession x Night Bass compilation on your preferred platform, and bask in the groovy vibes.
Stream Confession x Night Bass: The Album on Spotify:
---
AC Slater and Tchami kick things off with their funky collab, "Only One," featuring Kate Wild. 
Kate Wild graces listeners with her soulful vocals as the signature sounds of AC Slater and Tchami merge beautifully together on "Only One." Anything that these two juggernauts touch turns to gold and this track is proof of that. The melody is groovy and the drops flow effortlessly, effectively starting the compilation on the right note. 
Blossom, Nostalgix, and Capozzi serve some straight heat with their tracks.
Blossom steals the show on "Need You," a fun track that gives you variety and range. This tune snatches your attention right from the start, and the sultry vocals and funky melody are impossible to resist. As the buildup begins, you know something wicked is about to happen. Then, the magnetic drop engulfs you without mercy and the outro is an unexpected treat. It's so simple yet groovy. Blossom, you did your thing on this one, so kudos to you. 
Nostalgix overflows with confidence and vigor on "Snitches." She didn't come to play with any of us and graced us with a banger. It makes you feel like your hottest self right out of the gate. The drops are bananas and will cause an eruption on any dancefloor. 
Then, Capozzi gives us something grown and seductive on "Satisfy Me." This track fits her vibe and aesthetic so well, and you simply won't be able to get enough once you hear it for yourself. The vocals and melody pack a powerful punch, and this song makes you feel fearless and bold. The drops are soulful and enchanting, and it's incredible to see how much Capozzi has evolved since 2021. She's on a roll right now and definitely an artist to watch out for this year.
Marten Horger, Shift K3Y, and MASTERIA blow the roof off with their fierce tunes. 
Marten Horger and BRANDON remind us of the power of the house with "Let's Try It." Overall, this song feels like a sensational scratch down your spine. It's overflowing with energy and will even make a wallflower groove. Shift K3Y's "Energy" and MASTERIA's "Long Time" deserve to be on your playlist. The uniqueness of "Energy" and the grittiness of "Long Time" make these two tracks stand out as something special.
As Confession x Night Bass: The Album comes to a close, three more heaters arrive in style. BIJOU and Taiki Nulight give listeners something refreshing and thirst-quenching on "Bless Up" and "Machine Gun Dub." Then, Habstrakt delivers the finishing blow with his remix of Tchami's smash single "After Life."
Confession x Night Bass: The Album is a delightful treat and helps show brighter days are ahead.
AC Slater, Tchami, and their stacked roster of artists have set the bar extremely high for future releases. If you couldn't already tell that 2022 will be an epic year for music and the scene, this compilation is a sign of the exciting things to come. The future looks bright for house lovers, so make sure to catch the upcoming Confession x Night Bass showcase when it comes to a city near you!
---
Confession x Night Bass: The Album – Tracklist:
AC Slater, Tchami – Only One (featuring Kate Wild)
Marten Horger, BRANDON – Lets Try It
Blossom – Need You
BIJOU – Bless Up (feat. Rick Hyde)
Nostalgix – Snitches
Shift K3Y – Energy
Capozzi – Satisfy Me
MASTERIA – Long Time
Taiki Nulight – Machine Gun Dub
Tchami – After Life (feat. Stacey Barthe) (Habstrakt Remix)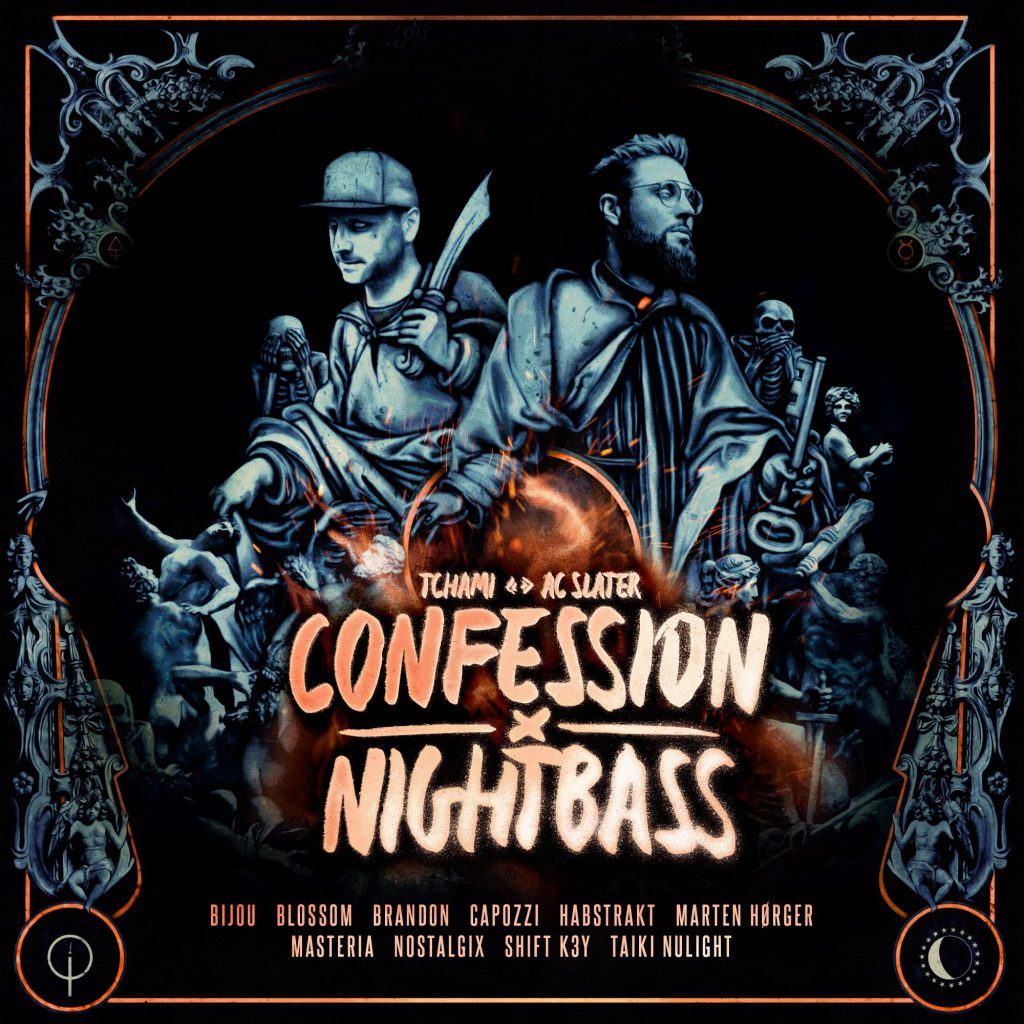 ---
Follow Confession on Social Media:
Website | Facebook | Twitter | Instagram | SoundCloud
Follow Night Bass on Social Media:
Website | Facebook | Twitter | Instagram | SoundCloud | YouTube