Mihalis Safras swung by ahead of the Relief Records US tour to chat about the upcoming stops and his experience with the label itself.
---
Green Velvet's Relief Records has easily become one of the most respected house and techno labels in the world since its inception in 1993. With party-positive releases from the likes of the industry greats like Layton Giordani, Eli Brown, Gene Farris, CamelPhat, and Eats Everything, it's crystal clear that this is a label that wants nothing more than to keep fans dancing. Come this February, happy dancing is exactly what's on the agenda as the Relief Records US Tour kicks off with the iconic Mihalis Safras and Eskuche representing the brand at every stop.
For these two, running with Relief has become quite regular as both Mihalis Safras and Eskuche have joined Green Velvet on his epic La La Land tours, helping lift the label to new heights with their electrifying presence. On the studio side, Eskuche has delivered mega energy via Relief with tunes that include "Jack" alongside Prok & Fitch, as well as what may be his biggest hit to date, "Concentrate." On the flipside, Mihalis has taken it one step further, linking up with the bossman himself to deliver a whopping ten collaborations, including "My Cheri," "Speak To Me," and "Disco Girl," helping to forge a relationship that has left them calling each other family.
Strapped with the right type of music to get all the booties shaking, this is the perfect pair to unleash on this tour. Kicking off on Friday, February 4 and running through the entire month, they will hit most major US cities including Los Angeles, Brooklyn, Miami, and San Francisco. Make sure to check out their website for a full list of dates and ticket links. But, before you go, it's time to pick the brain of one of our leading men, Mihalis Safras, and get his thoughts about the tour and his relationship with the label.
Check out the latest episode of Relief Radio featuring Mihalis Safras on SoundCloud:
---
Hello Mihalis, thanks so much for taking time out to chat with us today. First and foremost, congratulations on your upcoming Relief Records US Tour! I'm curious to get your thoughts about the tour and all that's going into it. Can you give us the behind-the-scenes scoop?
For a little bit of context, this is the third time we've tried to make the tour happen. All the previous efforts have ultimately been ruined by COVID, but finally, we have all the pieces in place and we are so happy to announce the first-ever Relief Tour in the States. Max (Eskuche) and I have been in touch for quite a while, for such a long time that I think my wife thinks we're having an affair, ha! 
Are there any cities or clubs on the lineup that you have never visited before and are there any specific landmarks you would like to explore or side trips you plan on taking during your journey together around the country?
On my end, I have been in most of the cities but not in some of the specific clubs. For example, I've been to Chicago but never played at Prysm. To top things off, it'll be my first time in Halycon in San Francisco, so I'm super excited. Obviously, in all the cities from Miami to Los Angeles, we'll be making some serious noise. I think 11 events in 25 days won't leave us much time to do much else, so time will be spent as regular DJs, jumping from hotels to clubs.
Of course, we're still in the midst of the pandemic so I want to get your thoughts on how you plan to keep yourselves and your fans protected during the tour? Anything that you would like to reach out and say to your fans in regards to safety?
I'll be traveling from Europe, so it is a bit strange to hear that in cities like Austin, LA, etc, things are pretty much like 2019 right before the pandemic. I'm excited to live like that again for some days, to be honest. That does not negate the fact that there's still a virus so we all have to be careful. Fans can have all the fun they want at our shows but in a responsible way. After all, it all depends on personal responsibility.
Acting as the ambassadors of Relief Records on this tour, what kind of pressure are you under and how do you deal with the stress of performing while lifting the reputation of a major label?
There's no pressure if you ask me. It's the feeling of joy that we'll be spreading in all these cities- a legendary label's sound. From east side to west side we'll be testing old and forthcoming Relief releases, including our very own new collab "Feeling Good" which lands this month. We already had too much stress during the pandemic so this word (stress) belongs in the trash now.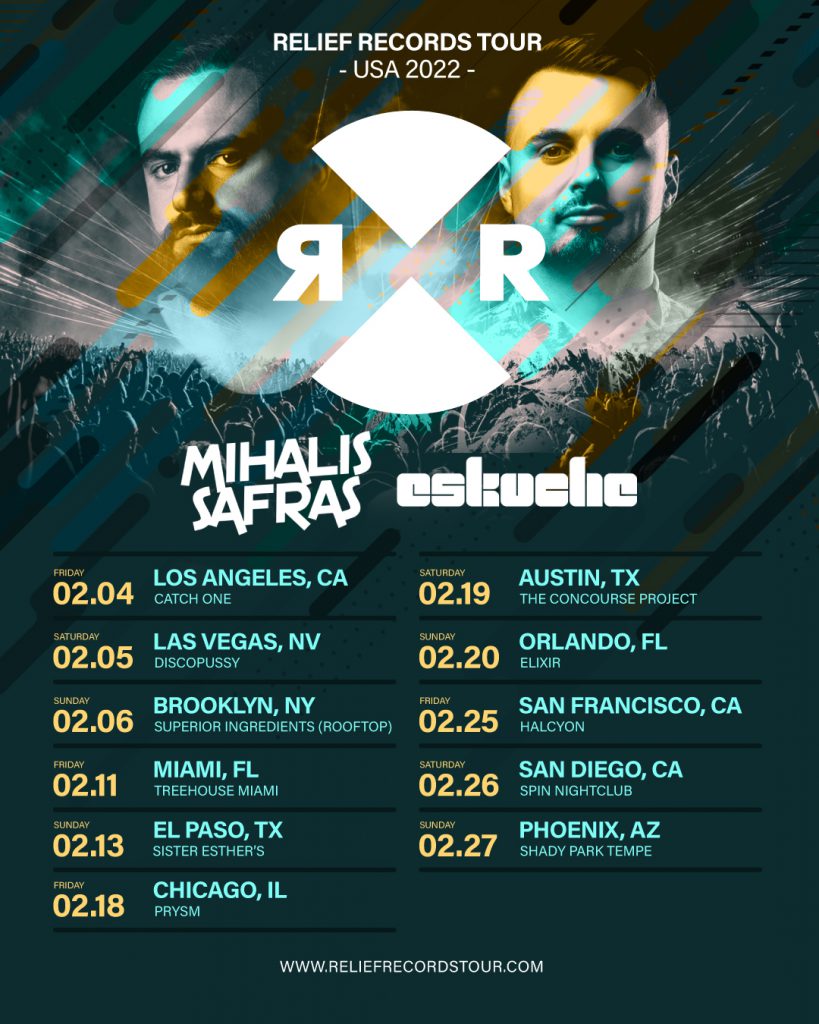 Let's go ahead and stay on the topic of Relief Records. Can you talk a little bit about your relationships with the label – an in-depth look at how you first broke out on the label and some of your major Relief highlights throughout the years?
My first appearance on the label was with Gene Farris on the track "Like This" back in 2016. Since then I had over 20 tracks released with half of them co-produced with Green Velvet. One of the strongest highlights to date was "Love Away" which topped charts in 2018. Honestly, if you ask me, the bigger track is currently being produced… watch this space as a new SafroVelvet comes in March!
In your opinion, what do you think sets Relief apart from other major house and techno labels?

A couple of years ago, Relief was the number one top tech house selling label, but what separates it is that they do not care about the sales. It's all about music. I'm exactly like that, so it's a perfect bonding.
You've brushed elbows with label boss Green Velvet on so many occasions that you have moved from a professional relationship to a bonafide friendship. Tell us, what has it been like to work with the legend throughout the years and what is the biggest thing you have learned from him along the way both personally and professionally?
Green Velvet, the owner of the label, has been a long-time friend. I would say more like a real brother. We've already done over ten collaborations together from tracks like "Shmash" to "Pez" to "My Cheri," which was released at the end of 2021. Right now we are releasing our new single, our eleventh collaboration, in March. Green Velvet was one of the few that believed in me when I was heavy-stormed so I'm blessed to be working with him. What I learned is to stay strong during hard times and never lose faith.
Finally, since we absolutely love new music over here, I'm curious to know if you guys have plans for collaborating with Eskuche in the coming months? Can you spill any details on anything that may be brewing in the studio?

We have our first single coming on Relief called "Feeling Good." We'll be dropping another nasty track by the end of the tour as we are cheating on our wives with each other, spending quite some time working together. [Laughs]
---
Follow Mihalis Safras on Social Media:
Facebook | Twitter | Instagram | SoundCloud