Alan Fitzpatrick jumps on Anjunadeep with Machine Therapy and brings a range of experiences that take listeners beyond the dancefloor!
---
There are few artists in the industry who can live up to the success and talent of the iconic Alan Fitzpatrick. Whether he's releasing hits on imprints like Drumcode or his own We Are The Brave, lifting dance floor revelers to the moon at Berghain or Awakenings, or throwing down the techno hammer on BBC Radio 1, Alan Fitzpatrick knows what it takes to rule the rave. But, the one thing that has been missing for a decade is a brand new LP from Fitzy. Fortunately, he has our interests at heart, officially releasing the grand soundscape of Machine Therapy on the one and only Anjunadeep!
For this album, Alan Fitzpatrick felt the drive to move away from his usual club rocking format so that he could express the deepest parts of his soul using hardware that he's collected over the years. The final product features a wide range of sounds including techno, house, DnB, and ambient, with an infusion of sci-fi sonics and dystopian samples, which all culminate in a breathtaking, cinematic atmosphere. Of course, he also calls on fellow musical innovators to bring the experience to life.
Related: Check out our featured interview with Alan Fitzpatrick if you want to get to know even more about this beautiful body of work!
In addition to six solo masterpieces that will leave you smashing the repeat button, he packs the album with an incredible roster of features. Lawrence Hart was the first to grab our attention when the first single, "Warning Signs," dropped earlier this year. He's a classically trained UK producer who earned a win from Pete Tong with his Essential New Tune, "Try Repeat." Also included is Bloc Party's own Kele, DnB legends High Contrast, and LOWES, a vocalist with tunes that have been spun many a time on BBC Radio 1. Finally, we have Catrin Vincent who delivers a haunting performance.
Without further ado, grab your copy of Machine Therapy on your favorite music platform, stream the album below, and continue on for my take on the tracks!
Stream Alan Fitzpatrick – Machine Therapy on Spotify:
---
Knowing that Machine Therapy has been advertised as Alan's most ambitious work to date, I entered with a clear mind and an open heart.
In order to set the mood, Alan bonds together soft instrumentals with sci-fi synth waves on "Berlin Morning Calm." He finds a brilliant balance of stirring up a mysterious atmosphere with moments of melodic bliss, preparing the body and soul for an exhilarating push/pull throughout the rest of the album.
Once "Something Wonderful" drops in I can feel the electricity coursing through my skin. There is a playful uplift that walks us straight into DnB territory and the way the drums accentuate the breezy, melodic atmosphere is enough to inspire me to vibe out. Alan even gifts us a treat with a couple of perfectly placed vocals, adding a touch of intellectual flair to this lighthearted tune.
It's time to welcome Lawrence Hart into the shuffle as "Warning Signs" pulls us into much deeper territory. This track is insanely sexy with its techy undertones and muddled lyric line. All I can do at this point is fall under Lawrence's spell as I dream of living eternally in the spicy groove. This is without a doubt, a major standout of the lot.
Now that I'm totally love-drunk, it's only appropriate that "W.A.I.S.T.E.D." would slide on in to keep me unapologetically inebriated. The track kicks off with confident synth tones and a woozy lyric presentation from Kele. As his voice rings through the airwaves the bassline character kicks into overdrive and suddenly we're shot straight into the fiery depths of the underworld for some sheer rave mayhem.
With the last four tracks confirming and clarifying Machine Therapy's broad spectrum of sound, I welcome the next batch with open arms and twitching feet!
Now, Alan had mentioned that this album would step us OUT of the club and into the cinematic world but I gotta be honest, these tracks have got me busting out my best moves – a perfect example being "Bourgeois Imagery" with High Contrast. As the bassline blast reverberates throughout the room and the spoken word titillates my brain, it's the cosmic DnB ferocity that gets my body spinning, twisting, grinding, bopping, and weaving.
"A Call Out For Love" with LOWES allows me to stay in this dancing lane. I am head over heels in love with the sparkling drive that drops out every once in a while to build the emotion. I'm enraptured by the quality of LOWES' voice and as I slide and groove across the hardwood floor, I shiver as the buoyant synth and mysterious melodic atmosphere lifts me to Cloud 9.
All of a sudden I'm snatched back down to earth by the pounding of the drums on "The Sweeper." It's time for the no-holds-barred techno energy that Alan has on lock! I turn this track up to maximum volume and feel my entire living room vibrate as the intense clap pierces straight through my ears and down to my toes. Once fully activated, the high octane tempo makes my mouth water for a late-night party in an abandoned industrial complex with a few moving heads and a truckload of strobe action.
From here it's only appropriate that we slide into some afterhour vibes and "Acid Changes Everything" just happens to be the perfect fit.
Considering the title, I take a seat, close my eyes, and meditate on the soulful lyric delivery and calming laser waves. Suddenly, I'm transported to the renegade rave, locked in the memories of vibrant flow craft, spinning and flashing before my eyes. "Acid Changes Everything" is beautifully dreamy and offers the perfect transition for the creative blast that's about to materialize.
"Cosmic Waves" pushes me even further into my imagination and I find myself on an alien planet, at the edge of a rainbow paradise, looking out at an ocean that splashes colors of pink, purple, and turquoise onto the crystalline shore. The soft bubbles of synth energy pop and fizz, flooding me with serotonin as the low octave brass details act like gravity, keeping me planted firmly to the ground.
With the appearance of a gritty atmospheric waveform, I'm sucked through a sand portal as "Came Home" featuring Catrin Vincent returns me from the edge of the universe and plops me into my humble home on Earth. This production leaves me shaken as the ghostly sound structures and gorgeously tranquil vocal delivery builds into one of the most mature and emotionally moving pieces on the album. I could live inside this track forever.
As the end approaches, the last two tracks land subtly on the heart as I reminisce about my full circle experience.
"Closing In" is soaked in a somber attitude with a dash of whimsy before it flips the script and flings me into fun town. I'm seriously blown away by Alan as he knows exactly what I need before I even know I need it. This track embodies all the emotions and is a one-stop shop if you wanna have a cry or if you simply want to get up on your feet and party.
Last but not least is "Unite" and what I love most about this production is the dominant pulse – the heartbeat of the track – that highlights the deeply spiritual spoken word. I pray that I hear this at a massive someday, as the crowd breathes and exists together as one unit, motivated by love and dedicated to the care and concern for one another.
From heavy hitters to soothing soundwaves, tunes that shapeshift, and tracks that wake the subconscious mind, Machine Therapy proved to be everything that Alan Fitzpatrick promised and more. There's something for everyone to enjoy, no matter what your musical interest. Clearly, the best work is born from allowing yourself to let go of genre confines, stretch your creativity far past its limit, and pour every ounce of your being into your craft, just as Alan always does. It may have been 10 years since his last album, but this was beyond worth the wait!
---
Alan Fitzpatrick – Machine Therapy – Tracklist:
Berlin Morning Calm 
Something Wonderful 
Warning Signs (with Lawrence Hart)
W.A.I.S.T.D (Feat. Kele) 
Bourgeois Imagery (with High Contrast)
A Call Out For Love (Feat. LOWES) 
The Sweeper 
Acid Changes Everything 
Cosmic Waves 
Came Home (Feat. Catrin Vincent) 
Closing In (with Lawrence Hart)
Unite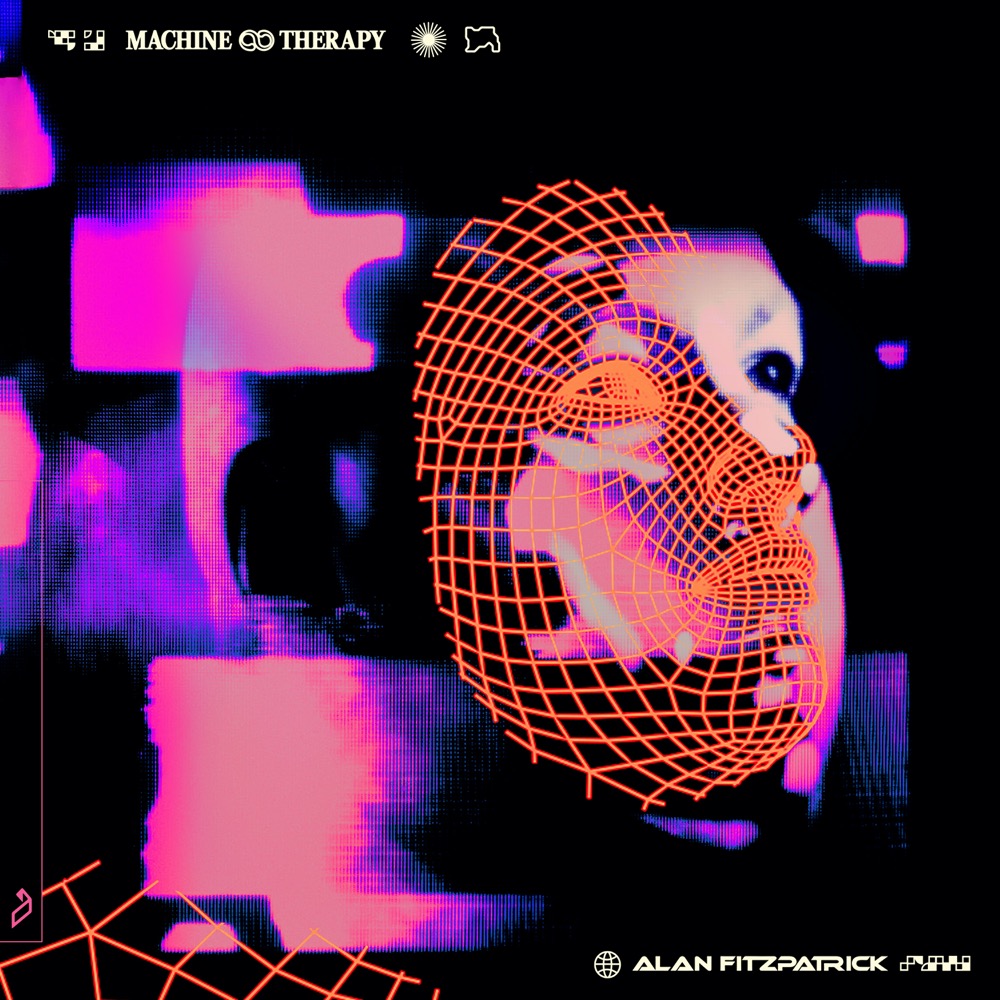 ---
Follow Alan Fitzpatrick on Social Media:
Facebook | Twitter | Instagram | SoundCloud