Drumcode continues to prove that they're the heartbeat of the techno scene with 17 smoldering new offerings on Drumcode A-Sides Vol. 10!
---
While the spring already brought us Drumcode A-Sides Vol. 9, our techno imprint Drumcode has graciously handed us over an early holiday gift in the form of Drumcode A-Sides Vol. 10! Yes, you heard that right. This marks the second Drumcode A-Sides offering in under a year, and in true form, the label has given the people exactly what they want and we just couldn't be more appreciative!
What you will find on Drumcode A-Sides Vol. 10 is nothing less than techno at its finest because without a normal touring schedule every artist featured on this album has had the time to focus and reflect. This in itself has allowed their creative vision to morph and materialize stronger and more vivid than ever before. Listeners will experience everything from angry brooding basslines, high octane tempos, whimsical tech-driven detail, and jaw-dropping melodic oddities that contain the type of magic that will lift you beyond the clouds. All of which contain that familiar Drumcode chug, of course.
The list of producers trusted with the task range from Drumcode repeat offenders like Bart Skils, Victor Ruiz, Thomas Schumacher, and Alan Fitzpatrick to some fresher faces like Lilly Palmer, Alex Lentini, STOMP BOXX, and Patrik Berg. And for the first time since 2017, the man himself, Adam Beyer has contributed to the A-Sides lot, placing his official stamp on the project with the intense atmosphere of "Changes." Through this compilation, Drumcode fans around the world get to peek inside the minds of the future-forward talent that help to push the label into a new chapter of their history.
So let's get right into the good stuff! Purchase or download your copy of Drumcode A-Sides Vol. 10 on your favorite music platform, stream it below, and continue on for my opinion of my favorite tracks on the album!
Stream Drumcode A-Sides Vol. 10 on Spotify:
---
When I ingest techno productions, the one thing I look for more than anything else is the attention to intricate detail.
In order to hit an emotional peak, I seek out sounds that are dynamic and maybe even a little bit unexpected. The type of tunes that get me to lift my brow and say, "Wow, well that was interesting." Because here's the thing. For me, techno is responsible for sitting you in the pocket of consistency from the moment the DJ hits play. For the most part, you don't have to think about major breaks in the bassline pattern or overzealous drops. I adore the centralized rhythmic reliability and when I get into the groove it has a way of taking me far outside of myself. But, the magic cannot happen without a whole lot of top-end grit and flair.
The good news is that Drumcode A-Sides Vol. 10 has delivered grit and flair for days! As I move through the album, each artist finds a way to punch me in the gut with spectacular pizzaz while allowing me to stay physically grounded to the beat with my eyes closed tight and my imagination running wild. Now, there are a handful of tracks that I find arousing, the ones that shocked my system and left me begging for more, and I would like to take the time to focus on these particular offerings.
My first picks deliver a sonic boom that drives me crazy in all the right ways!
I see you Ramon Tapia and I appreciate the bold and brash fire that you have unleashed on "Drum Control"! All I want to do is bathe in the crunchy synth lines that simmer softly before bubbling over into a full-on boil. The tempo is ferocious and keeps me sweaty and engaged while my brainwaves begin to fire among the beautiful chaos. There is a point near the end that the shadow demons come out in full force, tearing apart the melody like a glitch in the system. It's incredibly heavy and borders on terrifying. I need to hear this in the club!
Of course, a Drumcode production would not be complete without some heat from my favorite Drumcode artist Bart Skils. I seriously think this man is made of magic because whatever he puts his mind to turns into a spectacle of techno gold. On "Solid State" he infects every inch of my being with uncomfortable tones and a brilliant chug that I will feel in my sleep tonight. When the haunting vocal drops in I have my "ah-ha" moment and I am transported to a wonderland of my own design where I experience an explosive head trip while at the same time remaining completely sober.
Adam Beyer pulls back on the ferocity while SAMA delivers me to paradise.
Up next to bat is fearless leader Adam Beyer and I was expecting a lot from the Drumcode mastermind. The track is called "Changes" and what it did was move my perspective away from heavy insanity and closer to some softer thrills. The groove on this track is so exhilarating and refreshing. It moves like water, ebbing, and flowing as the hallow details keep my brain on alert, and that's what I love most about this track. "Changes" is one of the few mystical tracks of the lot and acts as a balancing frequency in a sea of hot-headed tunes.
SAMA answers back with "Into The Abyss" and picks up the fantasy where "Changes" left off. Once again the attitude begins to swell but remains faithfully atmospheric while adding a punch of ethereal whimsy. I feel as if I am pulled up into the cosmos to dance among the twinkling stars. The melody is strong and bold yet heavenly and charismatic. There is an intense progression that excites my senses at the middle point of the track and quickly I find myself caught in a crunchy cyclone of dance floor mayhem that fills every crevice of the atmosphere.
It's time to get unapologetically rowdy as the spirit of the underground is completely activated!
If I wasn't already, Patrik Berg has arrived to make sure my mind is fully "Activated" with a pounding techno behemoth that I am sure will wreck dance floors across the globe. I can feel this one in my veins, pulsing and flexing its way through each and every human fiber. I am obsessed with the simple lyrics that nod to the title, once again securing my love for weird and wacky auditory detail. "Activated" turns on the power and dials up the energy while creeping me out all at the same time. It's a glorious feeling and I find myself echoing the lyrics as I bust out my best robot dance moves.
As I continue to flail around and lose myself completely to the power of the bassline I ultimately land on a track that sends me spinning off into the great beyond. I am led there by the divine prowess of the one and only Alan Fitzpatrick, allowing him to overwhelm my headspace with the layered and mature dominance of "Rochus." This track is ferociously engaging and super heady, pushing me to experience ultimate zen as I lay back and allow the warm tones to cloak my receptive soul. I can't even imagine how great this track would be on festival quality speakers with the lasers dancing overhead. It would be an out of body experience.
As the darkness surrounds me, Veerus, Alex Lentini, and STOMP BOXX push me over the edge.
Veerus enters in as a dark horse packed with the intoxicating fumes of "I Know." Remember what I said about putting me in a pocket of consistency? Well, this is a defining track. It allows me to jump on the groove and ride it out from beginning to end without having to think about anything but the beat. It's sexy as hell and cuts deep into my emotions, fueled by a rolling bassline that refuses to disengage. Veerus has shocked my system, filling me with a passionate desire to let go of all inhibitions as sultry memories of spiraling through dark club passageways begin to flood my mind.
Staying on the spiral vibe, Alex Lentini and STOMP BOXX keep me on a drunken trajectory until I reach ultimate insanity with "Expanders." This track is incredibly trippy and that is why I am so drawn to it. It's all fun and games in the beginning but quickly begins to shapeshift. If I am going to be completely honest, I cannot stop listening to this track. There are so many unsettling details that I feel like I have been sucked into an alternate dimension. When the siren begins to blare I realize that I have been holding my breath. This track has a raw, subconscious effect on me. It's quite intense.
Drumcode A-Sides Vol. 10 is a spectacle of sound that should not be ignored.
Well, there you have it, my friends. A-Sides has impressed once again. Full of tracks that made my hair stand on end, my heart scream with elation, and my feet move with unbridled passion. While I may have only covered a few of my favorite offerings, I need to make it crystal clear that this compilation, as a whole, has enough energy to move mountains. Drumcode has offered up a platform to some of the most creative minds on the planet and I am forever appreciative of the profound impact the brand has had on the bold and beautiful techno scene.
---
Drumcode A-Sides Vol. 10 – Tracklist:
Jay Lumen – Galactic Rainbow
Ramon Tapia – Drum Control
Victor Ruiz – Love Story
Bart Skils – Solid State
Adam Beyer – Changes
SAMA – Into The Abyss
Thomas Schumacher & CAITLIN – Qadash
Ilija Djokovic–Equilibrium
Patrik Berg – Activated
Thomas Hoffknecht – Escaping
Zimmz – Tension
Alan Fitzpatrick – Rochus
Lilly Palmer – Amnesie
Veerus – I Know
Alex Lentini, STOMP BOXX – Expanders
Timmo – Reflections
Reset Robot – Distant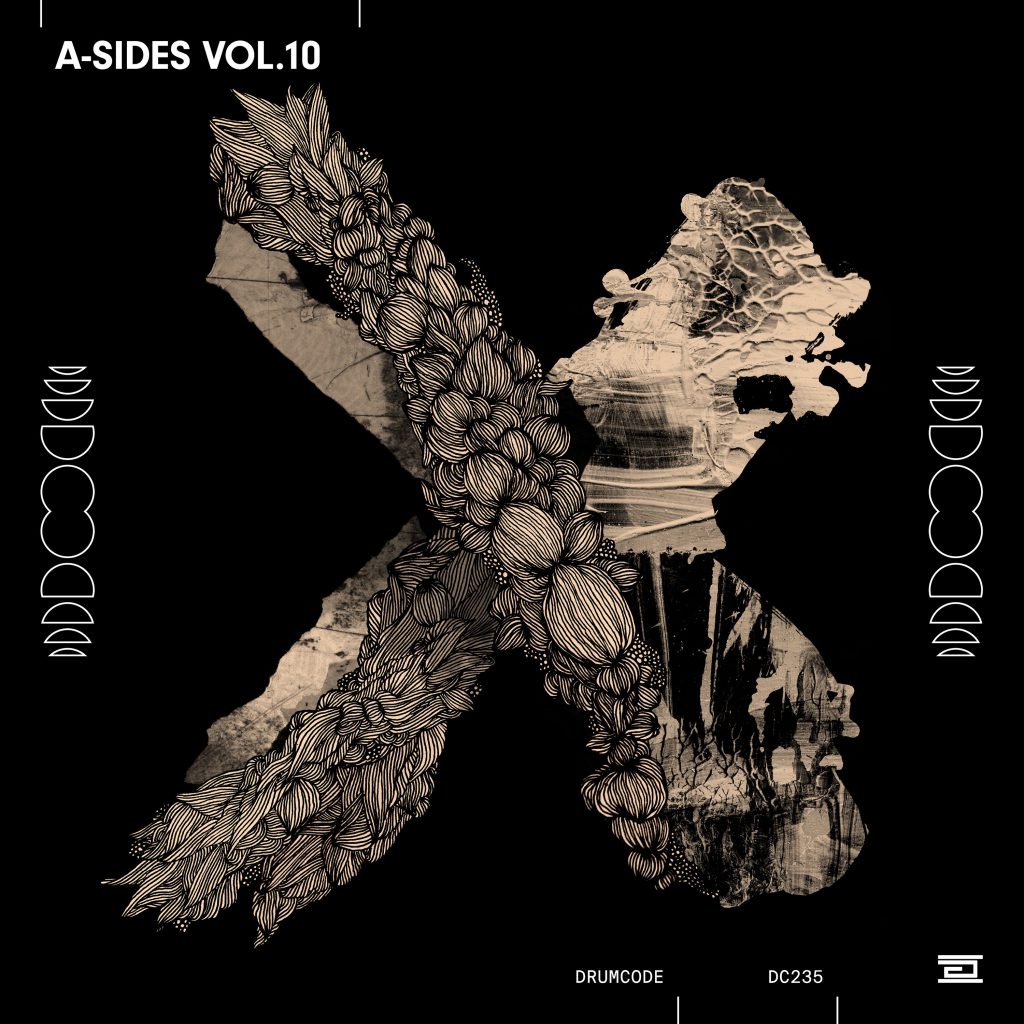 ---
Connect with Drumcode on Social Media:
Website | Facebook | Twitter | Instagram | SoundCloud | YouTube