Subsidia Records dropped the fifth volume of their Night series and it features some of the grimiest artists in the dubstep scene right now.
---
Over the years, Excision has risen to the top of the scene but has also made it his mission to put on for the underground and lesser-known bass artists. Whether it be through his Lost Lands and Bass Canyon lineups or the plethora of releases on Subsidia, a large number of up-and-coming artists have begun to earn their space in the scene. Now, he's furthered that mission with the latest volume in the Night compilation series.
Night, Vol. 5 brings listeners tunes from familiar names, such as Jessica Audiffred, Jkyl & Hyde, LAYZ, Casey Jones, and Perry Wayne. They're joined by a flurry of newer ones such as High Zombie, Kleøpatra, Shroud, INF1N1TE, and VLCN who all bring their own fantastic bass offerings as well. With this lineup of devilishly talented artists, it's impossible not to feel the hype as you press play and are transported into the bass dimension.
It's difficult to pick any favorites among the overflowing cup of artists, but some fantastic tunes really brought the heat. The shortlist of must-listens includes the soundscapes from Jessica Audiffred, CHRMNDR, and Sara Benyo, Benda and Mikey Rotten, High Zombie and Vastive, Point.Blank and ARTIX!, Perry Wayne, VLCN and Kloud30, and Casey Jones, Skudda, and INF1N1TE.
This compilation kicks off with a story-telling tune titled "Nothing's Left" by Jessica Audiffred, CHRMNDRS, and Sara Benyo. With some smooth piano keys and dreamy vocals that put a smile on our faces as they grace our ears, we're led quickly into a hectic bassline to get us going before diving into the madness.
Soon after, we come to some heavier tunes with an Excision-style of headbanging capabilities. High Zombie and Vastive enter with a flashback breakbeat style in "Backlash" before it continues into a bonkers build-up, leading into some fast-paced, machine gun bass. Benda and Mikey Rotten spare no souls in "Smoke Til I'm Dead" by bringing the heat over a mechanical drop that gets your head bobbing to the Suicide Boys-style vocals. Point.Blank and ARTIX! on the other hand, provide an interesting breather moment in their collab song "What You Need" with Spanish rap over a trap-type beat, leading to a head-bobbing build-up before an unexpected drop.
Perry Wayne also definitely understood the assignment and goes on to destroy us with another barrage of heavy bass on "Breakin' Necks." Another shining star in this master list is VLCN, who teamed up with Kloud30 to deliver some old-school vibes and take listeners to their headbanging doom on "Run It Back." Last, but definitely not least, Casey Jones, Skudda, and INF1N1TE take grace everyone with the final track on Night Vol. 5 with "Bleed." This one closes out the compilation in style with some hype vocals and an intense buildup that brings the most satisfying release of energy when the drop hits.
These tracks best exemplify the current state of the heavy bass scene and what newer artists are bringing to the table. It's also truly refreshing to see more women on these compilations, lineups, and releases than ever before – so let's hope this continues to be at the top of the priority list. The Night compilation series continues to remind us that dubstep is alive and well, so put this volume on repeat and stay tuned for the next one to arrive!
Listen to Night Vol. 5 on your preferred platform and continue below for a full tracklist. Let us know what your favorites are down below!
Stream Subsidia – Night Vol. 5 on Spotify:
---
Subsidia Records – Night Vol. 5 – Tracklist:
Jessica Audiffred, CHRMNDRS, Sara Benyo – Nothing's Left
High Zombie, Vastive – Backlash
Jkyl & Hyde – Error 1102
Fransis Derelle, YKES, Peytn – Bakin'
Benda, Mikey Rotten – Smoke Til I'm Dead
Shroud – Find This
Veros – Timekeeper
AlienPark – Back
Point.Blank, ARTIX! – What You Need
Perry Wayne – Breakin' Necks
VLCN, Kloud30 – Run It Back
FREAKY, Proxys, Vastive – The Shadows
LAYZ, Badfella – Money Runner
Brainrack, Mursa – Ride Or Die
Contakt – Ride or Die
RAZR – K.O.
Kleøpatra, PERMA-TRIP – Better Pray
Faytal – Busted
Casey Jones, Skudda, INF1N1TE – Bleed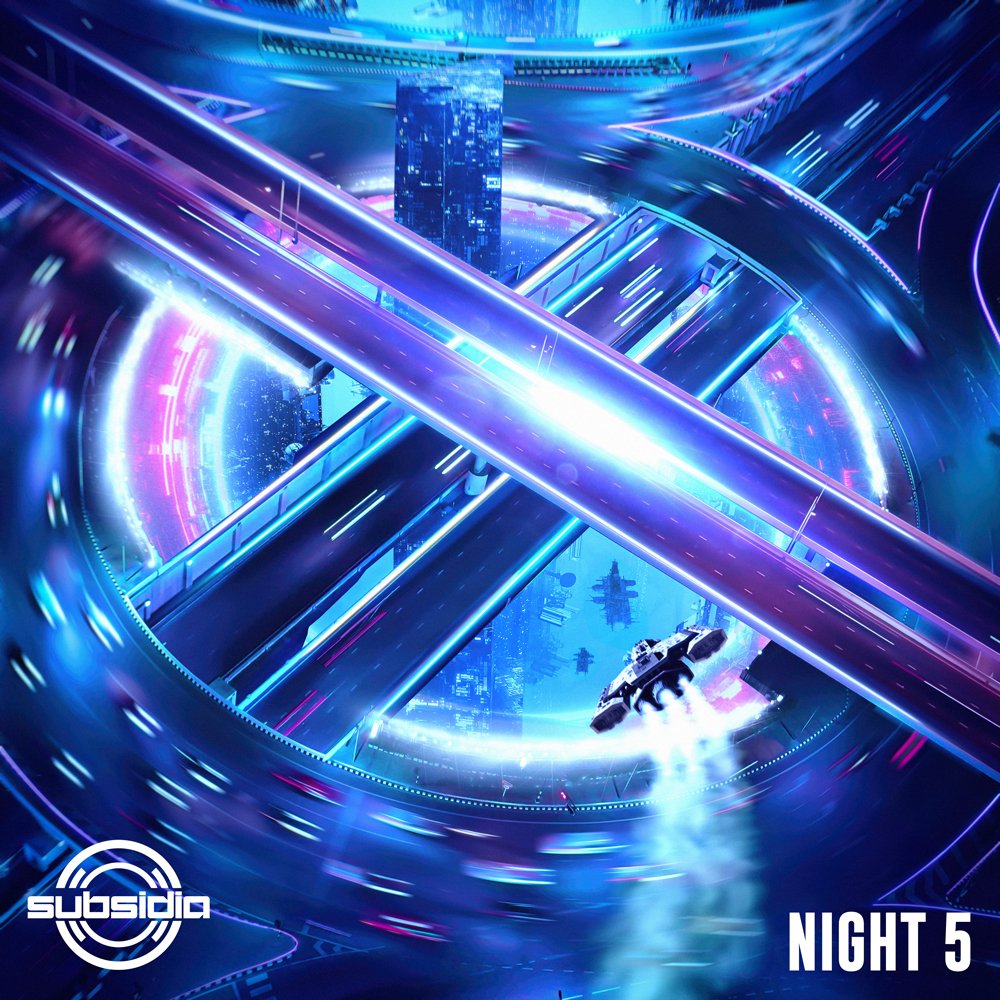 ---
Follow Subsidia Records on Social Media:
Website | Facebook | Twitter | Instagram | SoundCloud | YouTube