Kleøpatra recently started Reigning Blood Collective and we sat down with her to chat about bringing that to fruition and plenty more.
---
The underground has truly flourished over the past few years, whether it's new artists finally getting the recognition they deserve or new collectives being started. But one thing's for sure, the underground is where it's at. One collective that was started recently is Reigning Blood Collective, which was founded by rising artist Kleøpatra. Last year she graced fans with a set on GRLFST and this year is making even bigger splashes with the hope of giving a platform to smaller artists from a plethora of genres, Reigning Blood is not just specific to electronic music.
Whether it's alternative, hip-hop, or electronic, Kleøpatra's vision with Reigning Blood Collective is to bring people together from all over. There's such a wide variety of talent amongst these genres and now many will have a platform to have their creativity heard. As well as having her own music on the collective, other artists featured include Ghost in Real Life, Interkon, Zubah, and Jaysx – all of whom are incredibly talented and bring something fresh to the table from their unique genre.
Kleøpatra is really doing something special and different, and we had to pleasure of sitting down to chat with her and get the inside scoop on Reigning Blood Collective. So take a deeper dive into the backstory of the collective, and more by reading on for the conversation, and stream the curated playlist of the collective's artists while doing so. We can't wait to see what the future has in store for Kleøpatra and the Reigning Blood crew!
Stream the Reigning Blood Collective Playlist on Spotify:
---
Hey Alexis! Thanks so much for taking the time to chat with us. To start things off, tell us a little about yourself. What got you into the scene and when did you decide you wanted to start making music? 
Thanks so much for having me! I've had an interest in music since I was pretty young. I played piano, clarinet, guitar, and violin all by the time I was 12, then lost interest when I was 14/15. I first got introduced to the scene when I was 16 and a friend of mine asked if I wanted to go see Zeds Dead in Salt Lake City with her. Her parents were fine with it and I thought mine wouldn't be so I told them I was having a sleepover at her house instead of telling them what we were actually up to (which my parents found out, of course).
Then I started making a ton of friends in the industry when I was 18-20 and then one day it just hit me that, that's what I wanted to do with my life. I dropped out of the University of Utah and began attending Salt Lake DJ & production in 2016 and graduated in 2018.
Pigging backing off the first question, what made that lightbulb go off that made you want to start your own collective? 
Ever since I got into music production/ DJing, I had set some pretty big long-term goals. One of them being eventually throwing my own shows and donating a certain percentage of profits to charities. I honestly didn't really have a set plan on when or how I was going to go about doing it and I just woke up one day and pulled the trigger. 
The name 'Reigning Blood' seems like a play on words for 'raining blood.' What's the backstory of why you chose this name?
I actually wanted to find a name that played off of my artist name Kleøpatra and had something to do with royalty, so that's something my team and I came up with we thought fit.
We love that you have given a platform from artists across the board to have their music heard. What drew you to want a multi-genre collective?
I have friends that produce all genres so I didn't want to limit my collective to only EDM. I wanted to create a community for everyone that shared a passion for music. Which ends up working really well being you can mix pretty much any genre in with EDM. It's helped connect a lot of talented people together from all over the United States.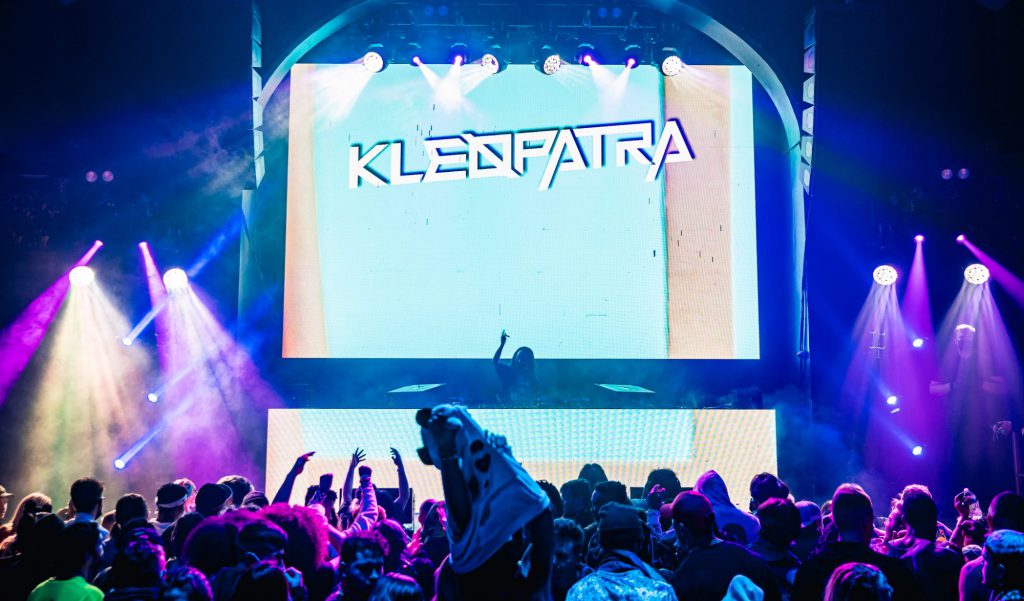 In a scene that's forever growing, what's one thing that you feel makes Reigning Blood really stand out?
I think the fact that we are a multi-genre collective really helps us stand out. I know tons that are just for EDM but I don't know of many others that are for all genres.
Though the collective was announced fairly recently, can we expect to see you on the road anytime soon? If not, where are some places you'd like to have yourself + your artists play in the future?
We are about to start our monthly guest mix series, which will take place the first Tuesday of every month, starting August 3 with Blaqout! Listeners can find us on SoundCloud to check these out! We also have our first takeover planned for this October in Salt Lake City. For anyone wanting to attend, head over to our socials and keep your eyes peeled for more details coming soon! As for any other city, I'd absolutely love to have takeovers with my collective in the future. 
It's inspiring seeing our fellow peers following their dreams and making moves not just within the scene, but in life in general. What are some goals you have set for yourself + Reigning Blood in the next few years?
My goals over the next several years would be to eventually do stage takeovers at festivals, throw my own festival, and also in the near future, I plan to sell merch to the public which we will also donate a percentage to charities like Suicide Prevention and Abuse victims. 
For those who are just discovering the collective, what's one thing you want the world to know about it and the artists on it?
This collective was made up of a lot of very hard-working people that all believe in being kind to one another, helping each other out, and building each other up. Anyone is welcome to join our discord which they can find an invite in our Instagram bio! 
To wrap things up, if you could give one piece of advice to someone looking to take that next step and pursue their dreams, what would it be?
My advice would be to always stay consistent with how hard you're working, always believe in yourself, and never give up! It's going to get hard sometimes but if you keep going, you can achieve anything you set your mind to. 
Thank you so much for chatting with us today, hope to connect in person soon!
Thanks so much for having me, and likewise!
---
Follow Reigning Blood on Social Media:
Facebook | Twitter | Instagram | SoundCloud