12th Planet, Ganja White Night, Liquid Stranger, Subtronics, and more have been announced by Excision to play Bass Canyon 2021.
---
After announcing that Lost Lands and Bass Canyon would be making a grand return in 2021 (assuming it's safe to do so this year), Excision has clearly been hard at work to get these festivals back into high gear. Already delivering details for Lost Lands earlier this year, news surrounding Bass Canyon surfaced earlier this week, and now a lineup has been unveiled to the delight of headbangers near and far.
Bass Canyon will return to The Gorge for another round on August 20-22 and is packing a lineup filled with some of the hottest names in the bass scene for the upcoming edition. Immediate standouts include the likes of Liquid Stranger, LSDream, Ganja White Night, Dion Timmer, SVDDEN DEATH, Subtronics, and SLANDER, but that is just a small taste of the sounds that will permeate the festival as it goes deeper from there.
Other artists who have been announced that will be throwing down some heat include everyone from Space Laces and Spag Heddy to Sullivan King and Dieselboy, and you won't want to miss out on the drum and bass set from Downlink either. And a closer look will see others like Inzo, DMVU, Au5, SWARM, and Hex Cougar towards the bottom of the bill. Of course, Excision will be performing multiple times throughout the weekend with his standard set, Detox set, and a b2b with ILLENIUM as the cherry on top.
Tickets and camping passes for Bass Canyon 2021 are on sale now. Head over to their website for more details and let us know if you plan to attend in the comments!
---
Bass Canyon 2021 Lineup: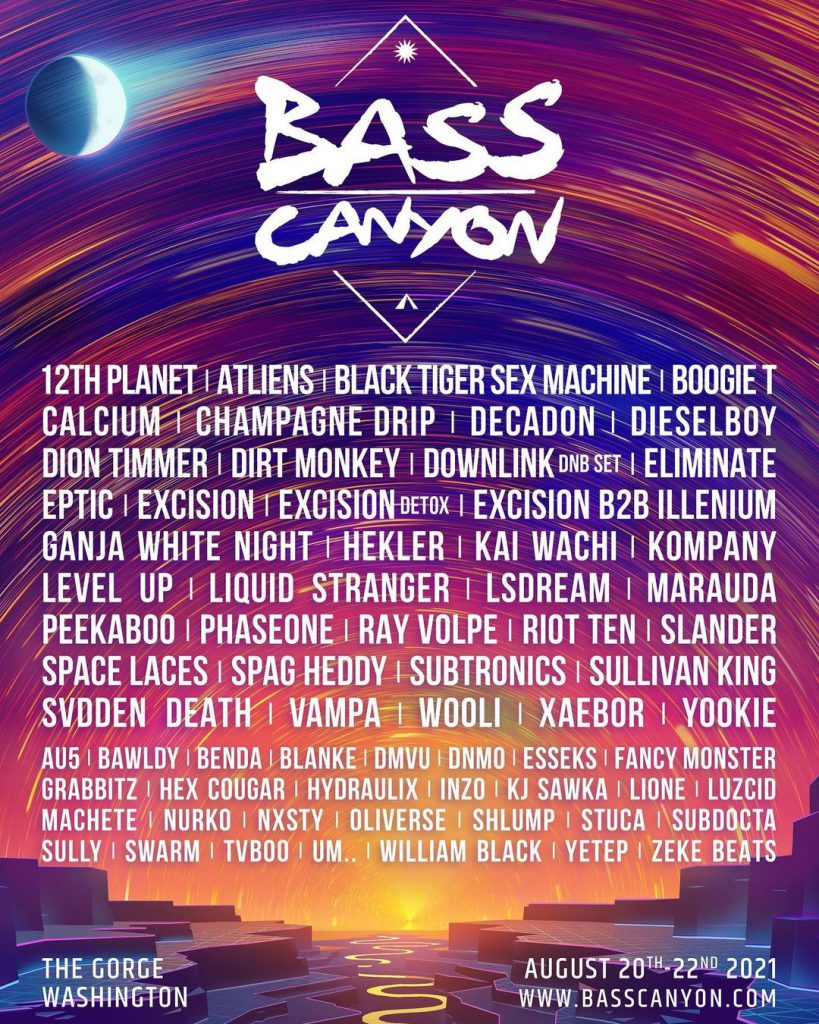 ---
Bass Canyon 2021 – Lineup By Artist:
12th Planet
ATLiens
Black Tiger Sex Machine
Boogie T
Calcium
Champagne Drip
Decadon
Dieselboy
Dion Timmer
Dirt Monkey
Downlink (DnB Set)
Eliminate
Eptic
Excision
Excision (Detox Set)
Excision b2b ILLENIUM
Ganja White Night
Hekler
Kai Wachi
Kompany
Level Up
Liquid Stranger
LSDream
Marauda
PEEKABOO
PhaseOne
Ray Volpe
Riot Ten
Slander
Space Laces
Spag Heddy
Subtronics
Sullivan King
SVDDEN DEATH
Vampa
Wooli
Xaebor
YOOKiE
Au5
Bawldy
Benda
Blanke
DMVU
DNMO
Esseks
Fancy Monster
Grabbitz
Hex Cougar
Hydraulix
Inzo
KJ Sawka
Lione
Luzcid
Machete
Nurko
NXSTY
Oliverse
Shlump
Stuca
SubDocta
Sully
SWARM
TVBOO
um..
William Black
Yetep
Zeke Beats
---
Connect with Bass Canyon on Social Media: