Graydient Collective's Gallery Sessions Series is bringing JANPAUL, Viligir, Spectral Friends, and DeFacto. for sets throughout September.
---
Julian Gray and the Graydient Collective have been on a roll all year long with the Gallery Sessions series on Twitch. A plethora of talented artists have taken the virtual stage to showcase their unique stylings behind the decks each Sunday, with some special treats surfacing as well for those who have tuned in. Now, as Graydient Collective continues to drop singles ahead of the release of their latest Colors compilation, they're putting a focus on their own artists in the month of September.
Sunday, September 5 will see rising sensation JANPAUL take control of the stream for a set you simply won't want to miss. He's been dominating with a flurry of releases including his debut EP on Elliptical Sun and just unveiled his track "Hacienda" for the masses to soak in as well. Then, Seattle-based artist Viligir is due up to deliver some sublime melodic house and techno soundscapes on September 12.
Related: Did you miss out on past editions of the Gallery Sessions series? Head over to Graydient Collective's YouTube channel to dive into the archived performances.
September 19 will see another fresh face in the scene, Spectral Friends, showcase his house and techno style while donning his LED mask. He recently collaborated with Bad Disk on the spacey track "Flick" and we can't wait to see what he brings along for his set. And last, but certainly not least, is DeFacto. who left us impressed with his performance during the Gallery Sessions back in January. He's dropped some techno heat that will grip your soul, so make sure to check out his set this month.
Make sure to follow Graydient Collective on Facebook and Twitch so you know the moment they go live, watch each episode below, and stay tuned for more from this fantastic group of artists in 2021!
Tune in to Graydient Collective's Gallery Sessions series on Twitch:
---
Graydient Sessions – September 2021 Schedule: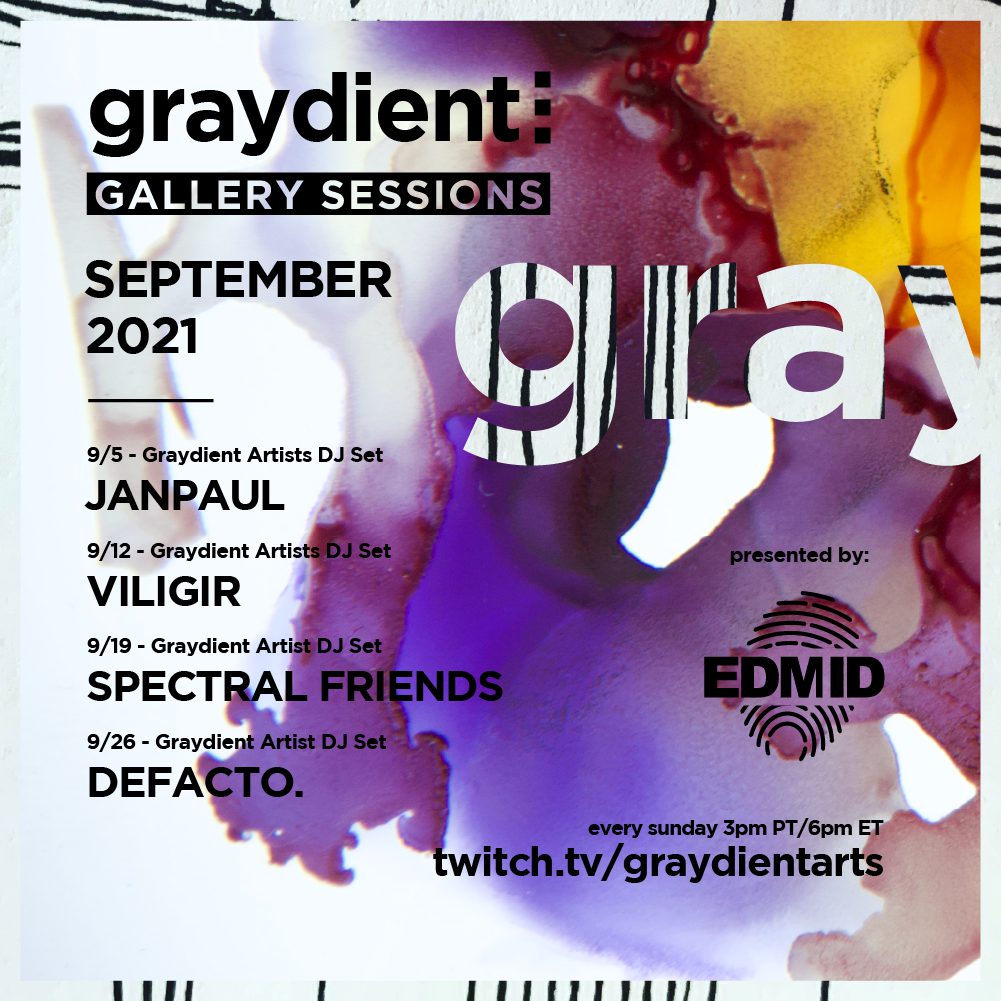 ---
Follow Graydient Collective on Social Media:
Website | Facebook | Twitter | Instagram | SoundCloud | YouTube | Twitch