Yoji Biomehanika, Gabriel & Dresden, Alpha Portal, Paul van Dyk, and more have been announced on the lineup for Dreamstate SoCal 2021.
---
As with many festivals, the 2020 edition of the beloved Dreamstate SoCal festival was unable to take place due to the COVID-19 pandemic. Thankfully, this year festivals are back in full swing and Dreamstate SoCal is no exception! Dreamers and trance families from around the world have been waiting with bated breath to travel to the largest trance festival in North America. Finally, they will reunite at the NOS Events Center on November 19-20 for a weekend that is sure to be more memorable as Dreamstate celebrates its 6th edition.
Now, after teasing artists doon the lineup over the past few days, the wait is finally over as Dreamstate announced the full lineup for their upcoming edition and they've delivered as they bring an eclectic mix of artists from around the globe. Major artists in the scene like Giuseppe Ottaviani, Aly & Fila, Andrew Rayel, Paul van Dyk, and Andrew Bayer are among the final artists announced, along with live shows from HALIENE and Elysian that will surely tug at heartstrings.
Something that always stands out about Dreamstate is how they capture the entire trance landscape over the years, and for 2021 they managed to bring a little bit of everything so there is truly something for everyone! If you like it hard, there are amazing acts such as Renegade System, GVX, and Nicholson. Maybe you're more into progressive and want to check out Dezza, Gabriel & Dresden, and Matt Fax or immerse yourself in the sounds of Anjuna with Myon, Jerome Isma-ae, Genix, and Sunny Lax. Or perhaps you enjoy some weird soundscapes and jaw-dropping production and will be placing yourself at the psy stage for the sites and sounds of Khromata, Alpha Portal, and Liquid Soul.
There are also quite a few artists such as Billy Gillies, Nifra, Darude, and Fehrplay who are sure to impress, along with some tried and true favorites such as Solarstone, Craig Connelly, Bryan Kearney, and more. So check out the full list of who's playing below and let us know you you're most excited to catch!
The remaining tickets for Dreamstate SoCal 2021 go on sale Wednesday, July 7 at 12pm PT via their website. Make sure to sign up by 11:59pm PT on July 5 for priority access!
---
Dreamstate SoCal 2021 Lineup: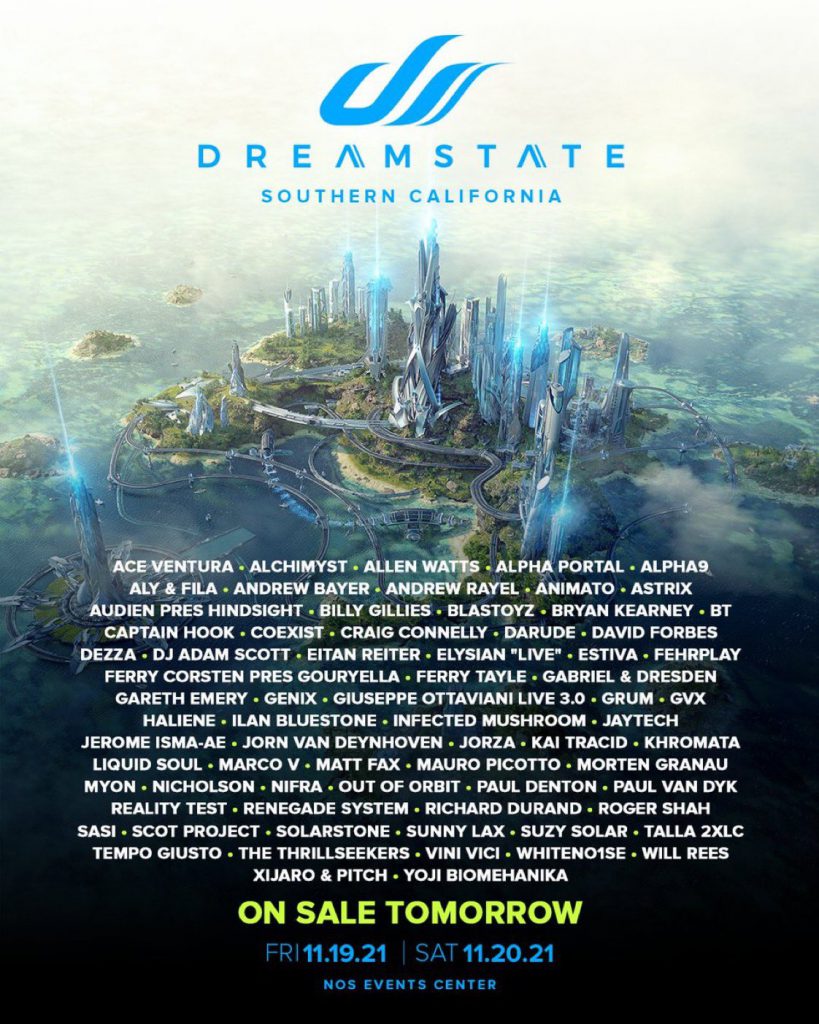 ---
Dreamstate SoCal 2021 – Lineup By Artist:
Ace Ventura
Alchimyst
Allen Watts
Alpha Portal
ALPHA9
Aly & Fila
Andrew Bayer
Andrew Rayel
Animato
Astrix
Audien Presents Hindsight
Billy Gillies
Blastoyz
Bryan Kearney
BT
Captain Hook
Coexist
Craig Connelly
Darude
David Forbes
Dezza
DJ Adam Scott
Eitan Reiter
Elysian (Live)
Estiva
Fehrplay
Ferry Corsten Presents Gouryella
Ferry Tayle
Gabriel & Dresden
Gareth Emery
Genix
Giuseppe Ottaviani Live 3.0
Grum
GVX
HALIENE (Live)
Ilan Bluestone
Infected Mushroom
Jaytech
Jerome Isma-ae
Jorn van Deynhoven
Jorza
Kai Tracid
Khromata
Liquid Soul
Marco V
Matt Fax
Mauro Picotto
Morten Granau
Myon
Nicholson
Nifra
Out Of Orbit
Paul Denton
Paul van Dyk
Reality Test
Renegade System
Richard Durand
Roger Shah
Sasi
Scot Project
Solarstone
Sunny Lax
Suzy Solar
Talla 2XLC
Temp Giusto
The Thrillseekers
Vini Vici
Whiteno1se
Will Rees
Xijaro & Pitch
Yoji Biomehanika
---
Connect with Dreamstate on Social Media: