Three years after the success of his first artist album, San Holo has released bb u ok? – an emotional ode to finding himself.
---
San Holo is one of the most creative artists in the electronic industry and continues to prove that with his sensational beats, guitar riffs, and meaningful lyrics. His live performances and vibrant spirit has invigorated audiences throughout the globe as he's taken the stage at some of the biggest festivals and venues around the world. Since the release of his debut album, Album1, in 2018, fans have been patiently waiting for his sophomore album and now, the time has come with bb u ok? seeing its full release.
Since this past December, San Holo has been teasing tracks off the album. First revealing its title track, which was followed by "find your way" with Bipolar Sunshine, and his collaboration with Chet Porter, "you've changed, i've changed," the hype surrounding his latest body of work continued to grow. It became clear upon each passing single that he was stopping at nothing to make this album truly one of a kind.
Out now on bitbird and Counter Records, this masterful and emotional album was well worth the wait. In fact, it's the masterpiece his fans have been waiting for. San Holo tells a story over the span of twenty tracks as he channels his positive message of togetherness and checking in on one another, and understanding the emotions many feel. It also as a message to live in the present and being in touch with your own emotions. And to help further prove his abilities as a collaborator, he looked to artists including Rivers Cuomo from Weezer, American Football, The Nicholas, and Mija and Mr. Carmack, to work with as well.
bb u ok? is available now on all streaming platforms, so be sure to listen to it and read on for a deeper dive into the tracks on the album.
---
Stream San Holo – bb u ok? on Spotify:
---
The album starts off with San Holo's iconic guitar in the intro track, "i am thinking of you."
The solo riff on this tune leads into a spectacular melodic drop, which sets the tone for the rest of the album. This dramatic track channel's elegance evokes emotions that have captivated his fans around the world. "IT HURTS" arrives next and is a true testament to the story behind the album as he begins to explore the understanding of complexities of love and life. Though the introduction feels transcendent, the rest of the tune breaks into a lullaby-style guitar riff which evokes the feeling of sorrow. The song conveys the message of feeling lost and recognizing pain can be healing, and his personal vocals help add extra emotion.
The solo pieces on bb u ok? show off how immersive San Holo's production skills truly are. These tracks make up the core of the album with soft tones found within "lonely in LA," "i get lonely around people, too," and "ewing street." Others that definitely deserve a mention are "heal (↑%)," "black and white," and "MY FAULT," which showcase his dynamic nature.
Bipolar Sunshine lends his voice for songs for two of the more optimistic tracks off bb u ok? and the blend of their unique styles to create a positive message through both.
First appearing on "new one" he helps initiate a positive message of not reliving the past and emphasizing new experiences are inevitable. The track has an optimistic message and upbeat tempo, and Bipolar Sunshine's voice brings a unique quality to it as well. San Holo's guitar riffs and melodic synths add variety, which sets "new one" apart from other songs from the album as a perfect anthem for summer. Then, Bipolar Sunshine returns later in the album for the previously released single, "find your way," which is a colorful fast pace anthem with a message of encouragement.
The tunes featuring The Nicholas, American Football, and Rivers Cuomo also stand tall among the 20-tune collection.
With a message everyone can relate to, "i just wanna fucking cry" features vocals from The Nicholas that pair perfectly with the deep synths and lowered guitar riffs that San Holo produced. The song is a powerful nod to accepting crying as a necessity in the healing process. The Nicholas offers a unique voice and powerful lyrics which truly convey the emotions of mending a broken heart.
"thoughts and chemicals" brings rock band American Football into the mix for a track that tells a story about love and second thoughts. With a blend of dynamic lyrics and powerful synths "thoughts and chemicals" bears a deeper meaning that hits home on an emotional level. It also brings the perfect atmosphere for getting back on the dancefloor and feeling the music once again along with it as well.
Weezer's Rivers Cuomo appears on "wheels up," which also has a blend of rock-style guitar and alternative synths. This song provides a more hopeful message behind its lyrics as they portray the encouragement of moving on and continuing to flourish as someone on their own. Rivers Cuomo offers the perfect vocals with his rock background and the electric guitar accompaniment as this upbeat track carries the album forward with a new outlook on hardships we all face.
The final track that stuck out on bb u ok? was "one more day" with Mr. Carmack and Mija.
"one more day" is an emotional piece with compelling backbeats and tempos as the three artists come together to create some magic in the studio. The song brings back the same melody as the intro track, which offers a proper ending to this journey of an album. With contrasting vocals between San Holo and Mija, it brings out a deeper meaning through what feels like a conversation with a touch of nostalgia.
bb u ok? is an ode to the beauty and emotive nature of San Holo's music, bringing more experimentation with instruments and his own vocals. Each song brings a relatable message from struggles to triumphs which evokes a unique variety of emotions. Each track is sentimental to San Holo's story, which he shares through his art and his passion for the message he wants to convey to others. bb u ok? follows San Holo as he reminisces on shared experiences and understanding the complicated relationship between love loss and life.
---
San Holo – bb u ok? – Tracklist:
i am thinking of you
IT HURTS!
new one (feat. Bipolar Sunshine)
bb u ok?
black and white
i just wanna fucking cry (feat. The Nicholas)
heal (↑%)
lonely in LA
the great clown Pagliacci
i get lonely around people, too
thoughts and chemicals (feat. American Football)
MY FAULT
make this moment last
find your way (feat. Bipolar Sunshine)
do you see me?
FEELS RIGHT
ewing street
wheels up (feat. Rivers Cuomo of Weezer)
you've changed, i've changed (feat. Chet Porter)
one more day (feat. Mija and Mr. Carmack)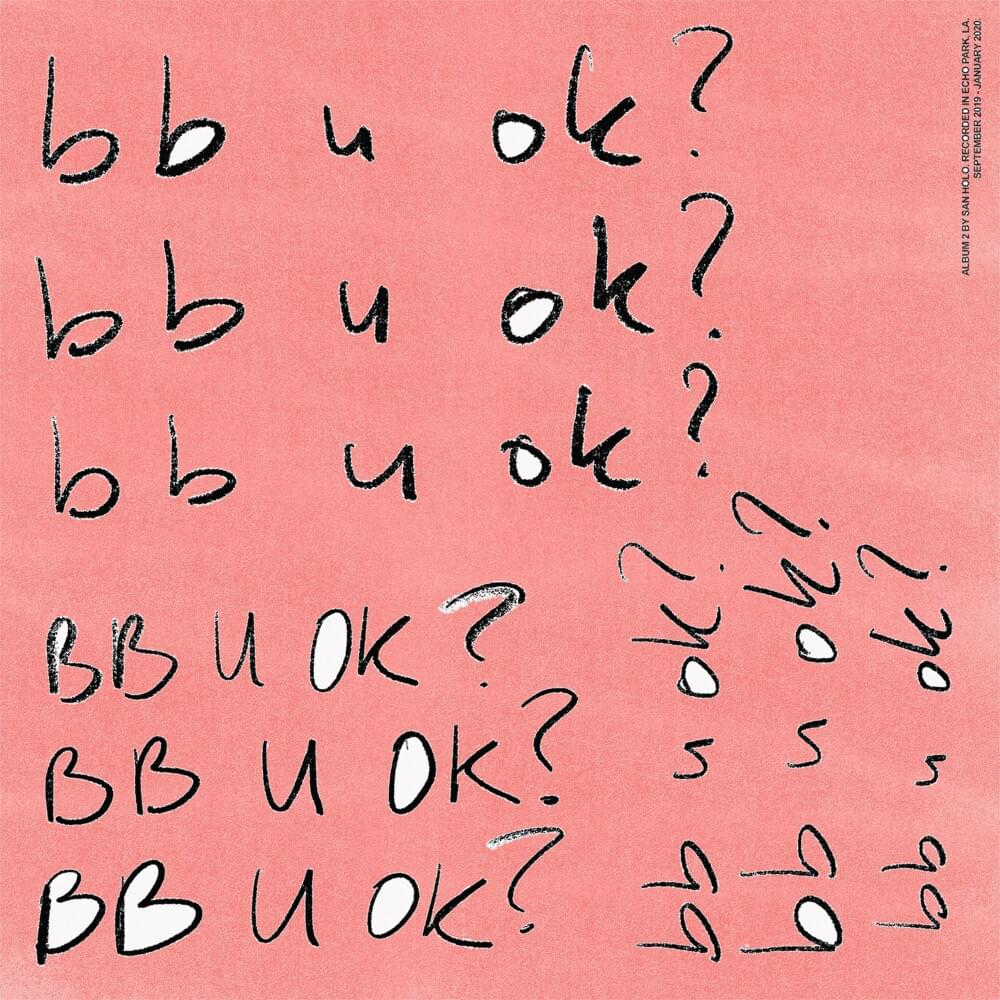 ---
Follow San Holo on Social Media:
Website | Facebook | Twitter | Instagram | SoundCloud | YouTube | Twitch