We caught up with this master of beats after his massive HARD Summer set about his new tunes, label, & more! 
---
San Holo has been on everyone's radar since his hit "Light" dominated electronic music in 2016, but he's so much more than just one incredible song. The Dutch musician and producer has made huge waves in electronic music, with his label bitbird putting out some of the most soulful tracks today. San Holo himself is changing what it means to be a DJ with his unbelievable live elements.
Getting his start with his tracks like "Fly" and "We Rise" blowing up on SoundCloud, San Holo has made leaps and bounds in recent years. He's now playing main stages at world-renowned festivals like Tomorrowland and Electric Forest and is on the way to releasing his very own debut album! A genuinely talented producer and an all-around good guy, San Holo deserves every bit of fame and recognition he's received, and there's only more to come.
A few weeks ago he released two singles from his upcoming album1, "worthy" and "lift me from the ground," both of which were received with love and awe by fans and peers alike. This past Friday, the newest single off the album, "brighter days," dropped, and we couldn't be more impressed with this absolutely amazing track filled with pop, rock, and electronic influences. Read on for our full interview with San Holo, where he shares his thoughts on these new tracks, the album1 tour, and more!
Listen San Holo's New Single  "brighter days" on SoundCloud: 
---
The first two singles off of your debut album, "worthy" and "lift me from the ground,"  are exquisitely beautiful, evoking such heartfelt emotion. Is there a story that you are telling with these tracks, or something that inspired you while writing them? 
Thank you so much, really means a ton! "worthy" is the first song I wrote when I got to LA where I wrote the album. It's also the first song where I felt like I had finally found a way to incorporate my guitar playing into my electronic productions. It's still one of my favorites from the album to this day. "lift me from the ground" started out as a little guitar melody which you can still hear in the first drop. I wrote this song to describe the feeling of meeting somebody that makes you feel like you're floating.
What can we expect from the rest of album1? Are there any tracks you can talk about that are yet to be released? 
It's hard to put into words, but it's very different from anything I've done before. I wanted to incorporate a lot more guitar into my productions and I think I found a good way to do that with the album. It really means a lot to me that the first two singles have done so well so far. I hope people can appreciate the album as well. But that being said, I'm really happy with the album!
The lyrics to your songs foster such hope and love in listeners, especially in euphoric tracks like "Light." Do you usually write the lyrics before or after producing a song?
It usually happens during the writing process. I usually start singing melodies and phonetic words just seem to pop out. I really rely on those phonetic words because I think they unconsciously mean really something to me at that moment in time. Once I have the structure for the song down, I will work out the full lyrics either by myself or with the artist I'm working with on the song.
We've been loving your tunes since your "Fly" and "We Rise" days, and your career has skyrocketed since then. What have been some of the most memorable moments on your journey to where you are today? 
I've had a lot of amazing experiences. I get to travel the world and make music for a living, which is amazing by itself. But I think the most memorable and intense one so far has been making the album. That journey of discovery and creating was so much fun! It was like re-inventing myself and it was something I really needed at that time.
You've played some massive festivals this summer, like Electric Forest, Tomorrowland, and most recently HARD Summer. How did it feel to play to such a huge main stage crowd at HARD, and how did you go about crafting that set? 
Two years ago, I played the Green Tent at HARD and to be back again this year to play the main stage was mind-blowing! I aimed for it to be almost 100% original songs. I actually didn't know I had that many songs to play out, so it was really cool to do that!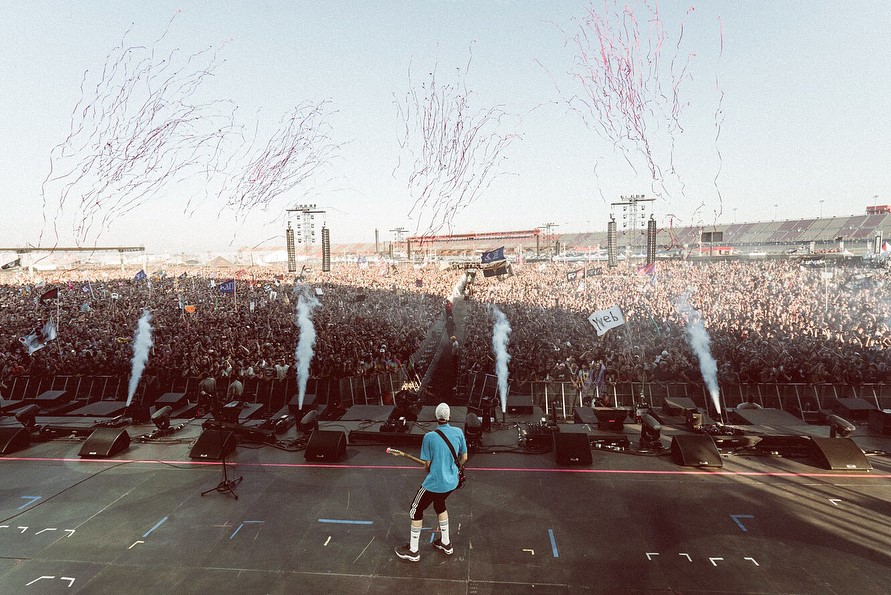 Your bitbird label is home to some talented artists like DROELOE and Taska Black. Are there artists or upcoming projects on the label that you're particularly excited about right now? 
Definitely! We have some amazing releases coming up from BeauDamian, Analogue Dear, Duskus, many more. Also, some really cool new artists that are joining the family soon. Also, some of the bitbird artists on tour with me soon! 
What direction do you see electronic music moving in the next few years?
Ooh, tough question! But I think it's growing to be more organic and real instrument driven. Like a hybrid almost between acoustic and electronic elements. I can't look into the future of course, but I know it's what I see with bitbird and what I try to achieve with my own music.
We can't wait for your album1 tour, set to hit over 30 cities this coming fall. What's your vision for the shows on this tour?
I can't wait either! It's gonna be something new again. I'm constructing a new set right now, so I can't get into detail too much yet. But there is definitely gonna be more guitar, more singing, new visuals, new lighting, new stage design, etc. And of course, a lot of new music from the album!
Lastly, if you could have one superpower, what would it be?
Not necessarily a superpower, but would love to trade lives with a bird for a day. To just fly around and chirp for a day haha!
---
Connect with San Holo on Social Media:
Website | Facebook | Twitter | Instagram | SoundCloud | YouTube