From his latest single with Le Youth to a remix of "Remember" from Gabriel and Dresden, OCULA has used 2020 to produce emotional music.
---
A relative newcomer who has only been active in the scene since 2017, OCULA was off to an auspicious start with the help of deadmau5 and early releases on mau5trap. Since then his music has graced several notable imprints as he began to turn heads with his stunning soundscapes including Colorize and This Never Happened, as well as both Anjunabeats and Anjunadeep.
In 2020, OCULA took the year by the horns and truly made the most of what has been a challenging journey. He has released more music this year than his previous three combined – and by a notable margin at that. OCULA's originals included two singles and the Summit EP, while he also collaborated with other artists such as Jerro and Le Youth while remixing the likes of Lane 8 as well.
While he hasn't maintained his own presence on Twitch like some other DJs, his music has been featured on many others throughout the year. OCULA even curated a playlist to help us "Remember" during the earliest days of the pandemic to keep our minds centered. He's been a busy artist, and we are thankful for all that OCULA has given us this year while also super excited about what is still ahead for this rising star in 2021.
As the final days of 2020 wind down, we're proud to have OCULA as the final Artist Spotlight of the year. He brings us an emotional guest mix and some terrific insight into his background, so check it out below!
Stream EDMID Guest Mix 252 || OCULA on SoundCloud:
---
Hey OCULA, thanks for taking the time to chat with us today. How have you been holding up this year?
OCULA: No worries at all, thank you guys for having me. I've been holding up well, all things considered. It's sucked not being able to head out and finally perform live but I'm safe and well, and I've been working on a bunch of new music that I don't think I would've had the time for during any normal year!
Did you have any personal moments through the pandemic so far that became a catalyst for change or forced you to change your focus?
I think it was just the moment I realized and actually accepted that this year isn't going to go as planned. It was sort of a moment where I said 'okay so I'm not going to be able to play live this year, so what exactly am I going to do? At the end of this year, what will I have to show for it?'. Having a game plan in place for when shows are permitted has really helped keep me focused and on track so that as soon as the gates open, we're ready to go.
You seem to be very grounded in your environment including time with nature and pets. Has this helped keep you on track this year? Have these passions played a part in your highly productive year of releases?
Oh definitely, I'm not a big fan of the 'grind 24/7, work harder than everyone else' kind of attitude, I personally think it has a huge effect on your creativity and just overall mental wellbeing. I've done the whole 'awake until 4am every night just working on everything at once' but, for me, it's not the way.
I remember when I straightened out my sleeping schedule and started working in the morning after breakfast and coffee, and I found my creativity was just at a different level compared to when I was sitting at my desk until sunrise. So now I always make sure I have a solid start to my morning and I find it really helps with productivity for the rest of the day. One of my favorite things to do is walking the dog early in the morning, just as the sun is coming up and it's still pretty cold outside – it wakes me up in such a great way and always leads to creativity in the studio.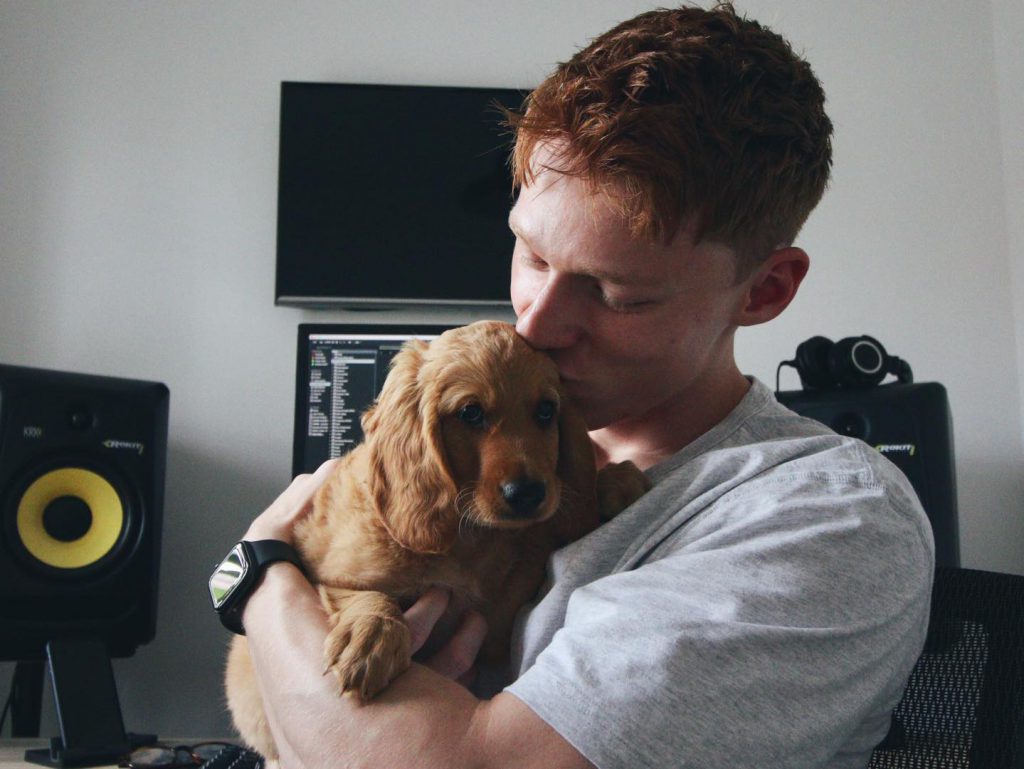 Despite the madness of 2020, you've had many notable releases running the gamut from solo originals to collaborations, and even some remixes. How do you treat these productions differently? Would you prefer to do more of one over another?
So I had my first collab with Jerro this year and it was definitely a different experience in comparison to working solo. Aside from having to deal with hundreds of audio stems getting passed back and forth, it was so much fun sharing the creative process with someone else and seeing how they work.
With Holywell, it started as a rough draft that we both kept adding to until the final product was ready, whereas my latest collab with Le Youth, was pretty much fully fleshed out before Wes heard it, so I was really interested to see how exactly he'd add his stamp to it but oh man, I was blown away when he sent me his additions over – what I thought was an already finished track, was just transformed into this absolute beauty.
Remixes are always so much fun, especially when they have a vocal. I can't remember where he said it but, I'll never forget deadmau5 talking about how a remix should be a completely new take on a song, and that's what I love doing. Starting with a strong vocal and then just building an entirely new feel around it. Remixes are my top way of getting out of that creative rut where you're just staring at a blank project.
Your latest release is Home Away From Home is a collaboration with Le Youth and Karra. It's a very emotional track that feels to me like a soothing summary of 2020. What went into the making of this track and what does it mean to you?
This was a big one for me; I can't remember exactly when I started the project, but it has been a long time coming. It actually just sat on my computer for a while because I just didn't know what to do with it! So I sent it to a friend just for some thoughts, and he happens to be friends with Karra, so suggested getting her thoughts on it too. Obviously, she was down to work on it, and a couple of weeks later we have this insane vocal on top.
At the time, I was listening to a lot of the latest Spinnin' Deep releases, so I sent it over to them for their thoughts and they suggested bringing Wes in. Thankfully, Wes was down to work on it and, like I said, he took the track to another level! The only part that sucks, is having to wait so long to play it out to a crowd.
Not only did you release every kind of new track this year, but you did it across a number of notable imprints including Colorize, This Never Happened, and Spinnin' Deep. How have these labels each contributed to your rise as an artist in the scene?
I've been really lucky to work with labels that aren't just invested in the one song that you release, but you as an artist. This Never Happened will always be home for me, the support and guidance that they've given me; both from the team and Daniel himself is absolutely invaluable. Exploring different labels this year was a goal I set after realizing live shows weren't going to go ahead – I wanted to try and reach as many new people as possible while being forced to stay in my house.
What has drawn me to all the labels I've had the pleasure of working with is the sense of community, both at live events and online – I think it's so awesome seeing familiar faces and names engaging in every Anjuna post or listening and sharing every Colorize release, and even seeing a guy at my local gym sporting an Anjuna tattoo on his leg! For me, it's incredible to be able to be a part of these families and communities.
As DJs shifted to livestreaming, many have established their own Twitch channels. You've been well received on channels like Club Quarantine, Anjuna, and others. What's your livestreaming philosophy? Will we be seeing more of you soon?
It's been great seeing so many DJs getting onboard with livestreaming, and not just up and coming DJs but legendary ones too. I think it would be awesome to see it continue even when live shows are back and incorporated into events more than it has been in the past, but also would love to see platforms like Twitch and YouTube step up and make it easier to stream freely and not a huge copyright controlled mess.
It's been awesome seeing people get creative with their streams, like Lane 8's sunrise set at Grand Lake, and Marsh's set at Natural Bridge State Park. I'm a big Twitch fan anyway and there's always a tab open in the background while I work, whether it's some Call of Duty pro playing Warzone, or a DJ set from Gabriel & Dresden.
Turning back the clock really quick, when did you decide that your passion for music could be your career? Was there a point at which you simply knew this would be your profession?
I think it was probably the time my friends applied for University. At my school, you were told to at least apply for a place, so I had to. I was accepted by a couple to study business but while others were ecstatic that they were accepted, it just did nothing for me. That's when I realized I was going to make this music stuff work. It's been incredibly hard, with this year being one of the hardest, but I have to pat myself on the back for taking the leap and sticking through it; and I urge anyone else having similar thoughts to me, it is hard… very hard, but man is it worth it.
What are your hobbies outside of music? Do they influence your music, or are they more of an escape from the process?
A big one for me is fitness. My hour at the gym before lunch is an escape from everything, while also being a free hour to listen to new music. There are too many times to count where I've been in a real creative block but after going to the gym, maybe listening to a random playlist or some old deadmau5 albums, I feel completely refreshed and full of ideas.
Just thinking about it now actually, a lot of important stuff has happened at the gym for me which is weird – I listened to Lane 8 for the first time with his remix of "Strobe," "Immunity" was signed to Anjunadeep, This Never Happened offered me a remix opportunity for "Visions," and I was asked to support Daniel on his Brightest Lights tour. So yeah, the gym is my happy place!
As this crazy year draws to a close, what are your hopes and desires for 2021? Obviously performing live and seeing groups of people in person. But what do you want to take away from this year and how will you shape 2021 with that in mind?
The big one to take away from this year is not taking anything for granted. While it's going to be awesome to get out and visit the world, spending time at home with friends and family will always be the most important. It goes without saying that I am itching to get on stage –  2020 was meant to be the year I finally got to tour as an artist, so for that to be written off was a heavy hit in the gut, but I'm thankful that I have a huge folder full of songs written in 2020 that I can play out in 2021.
---
Follow OCULA on Social Media:
Website | Facebook | Twitter | Instagram | SoundCloud