The Dirtybird Couchout Compilation is making waves and featuring fresh tunes from VNSSA, Mitch Dodge, Arnold & Lane, and plenty more!
---
While Dirtybird Couchout continues to rage on throughout the weekend, fans were gifted an extra special treat to compliment the festival shenanigans. It was the official Dirtybird Couchout Compilation and when it comes to defining what the Dirtybird imprint is all about, this album hits the nail directly on the head.
So, what does that mean exactly? For starters, you cannot call this 14 track musical journey a one-trick pony because the experience takes us through multiple genre formats including breaks, techno, and deep house while staying true to the quirky house style that has helped to shoot Dirtybird into a league all its own. To bring the multi-genre vision to life, Claude Vonstroke has turned to some of our favorite Dirtybird players, industry tastemakers, and stars of the future.
We have newcomer Mike Kerrigan teaming up with the leader of the flock after his demo sparked some serious intrigue and six brand new label faces including Mitch Dodge, E.R.N.E.S.T.O., Codes, Truth x Lies, Dutch Dannis, and Nikki Nair. We also have label staples DJ Glen, Bruno Furlan, and VNSSA on board to turn our experience inside out. And how about Arnold & Lane, an exciting DJ duo from L.A. that lit the Couchout livestream on fire over the weekend. The list goes on with a group of beat makers hand-selected by Claude to carry Dirtybird's legacy into the future.
Like a breath of fresh air, these selections have reinvigorated the soul of the brand. But more importantly, the release has given us hope. It reminds us that while we may be in the eye of the storm, there is still so much to appreciate. Creativity is flowing stronger than ever before, dreams are coming true for blossoming stars, and the flock remains forever unified and supportive.
Purchase your copy of Dirtybird Couchout Compilation on your favorite music platform, stream the compilation below, and then continue on for my personal take!
Stream Dirtybird Couchout Compilation on Spotify:
---
It's time to shine a light on some of my favorite tracks on the album, beginning with the sounds that made me fall deeply in love with Dirtybird Records.
Let's get weird! First to get me moving is Claude VonStroke who paves a straight path to crazy town with newbie Mike Kerrington. The track is called "I Caught A Vibe" and it is the perfect choice to represent the overall feel of the album. As touched on earlier, this tune caught the attention of Claude who then connected with Mike to tweak the vocals and bassline. The resulting tune comes in hot, piercing straight through the brain with distorted notes and funky fresh lyrics.
But it is "Popo" by Sam Shelby that really gets the hilarity flowing through my veins. This track is out of control. Between the choppy lyric bites and the swirling melodic overtones, I am spun into sweet insanity. It makes me think of the unbridled mayhem that unfolds at Dirtybird Campout every year. The moments full of colorful delusion and intoxicating personal interactions that make our tribe stand out from any group I have ever encountered. 
After the first two tunes I'm feeling loose as a goose and ready for more sideways insanity!
Just when I think I have reached the pinnacle, "No Work" comes in as a phenomenal dark horse. To be completely transparent, Dutch Dannis is not a name I am familiar with and I was not expecting to be so affected by this track. It has a chilling edge to it but also remains faithfully strange. The lyrics seem to have been dreamt up while Dutch Dannis was enjoying a Squirt, which is totally hilarious, and the most interesting part of all is when the free-flowing breakdown shifts the vibe when least expected. 
Nick Siarom keeps the freak flag flying high with a perky treat called "Living My Life". It's a wonderful dance floor anthem that expresses the desire of every human on this planet, the freedom to just live your life. The lyric delivery adds to the impact of the track as we humans are no strangers to the struggle. In contrast, the synth details are effervescent and they are counterbalanced with sounds that seem plucked straight out of a crazy carnival. All in all, "Living My Life" definitely has my attention.
It's time to change gears and explore Dirtybird's musical diversity. These are the tunes that got me dancing to the beat of a different drum.
Dirtybird is not only focused on wild and wacky house music as they are also very bass-driven and open to some pretty cool niche styles. As expected, the soundscapes make quite a few detours throughout this album. I was very impressed with Newcomer Nikki Nair who plunges us into breaks territory on "Three Sixes," showing off his musical flavor with crisp drum kicks and intoxicating wubs. I really enjoy the lyrics on this one as it adds an urban edge and acts as a bridge between the evolving sound expressions. 
My next accolade goes to VNSSA who stays in control with the sultry sounds of "3am." This track dives deep yet retains a playful and uplifting tonality. I really love to see this side of her as I am most familiar with her rowdy side seen on tracks like "Animal" and "Word." There are many intriguing layers that allow this piece to stand proud among this eclectic body of work including floating atmospheres, punchy synth stabs, hypnotic lyrics, and a groovy rhythm. VNSSA truly knows how to make life feel great again. 
Did I mention diversity? Let's continue to cleanse the pallet.
Sure enough, the surprises just keep on coming as I land on "What I Lived For" by Robot Love. This track is by far the most interesting selection. It's the polar opposite of all that have claimed a spot on this compilation and I am thrilled to have experienced the meditative calm that flows from beginning to end. The sound elements feel incredibly organic and the soft clinking of the chimes adds a dash of electricity to an otherwise chill production. 
I can't say enough about the quality that runs through the work of E.R.N.E.S.T.O., the Miami based genre smasher that unleashes magic in the blending of breakbeats and tech house. For this compilation, E.R.N.E.S.T.O. serves up his style with swag on "Caracas," and sets an intense mood with laser-like bleeps and blips, brooding undertones, and a strong break foundation. To round things out we have some spicy lyrics to land our ears on, giving us everything we need to get down on the dance floor.
As my bonus pick, there is one that inspired me to jump in my spaceship and head off on a cosmic adventure!
The final track lifts me off into galaxies far from our own and I can assure you that Arnold & Lane may in fact be aliens from another planet. These guys can abduct me and take me up to their UFO anytime they want if "BayBay" is what's playing on board. Freaky, outlandish, unsettling, and dissonant. While these adjectives might sound like they are describing an awful experience, they are the traits that make this tune sparkle and shine.
While we may not be together right now, the Dirtybird Couchout Compilation gives us the emotional boost we all need!
Between putting together an outstanding livestream event and unleashing the multifaceted Couchout Compilation, Dirtybird remains intensely focused on curating a roster full of musical visionaries. They look for the artists who aren't afraid to go against the grain, are forward thinkers refusing to be locked in a bubble, and embrace the unconventional. Once again, Dirtybird has delivered what the people want. This compilation reminds us to let our unique personalities take front and center while we celebrate our love for the scene, just like we do at our beloved Campout. Stay freaky y'all.  
---
Dirtybird Couchout Compilation – Tracklist:
Claude VonStroke & Mike Kerrigan – I Caught A Vibe
Nikki Nair – Three Sixes
VNSSA – 3am
DJ Glen & Bruno Furlan – What's Going On
Sam Shelby – Popo
JYNX & Missy – My Wig
Robot Love – What I Lived For
Codes & Truth x Lies – Stand Clear
Dutch Dannis – No Work
E.R.N.E.S.T.O. – Caracas
Mitch Dodge – Body Breaks
Nick Siarom – Living My Life
Mancodex – Rezzonate
Arnold & Lane – BayBay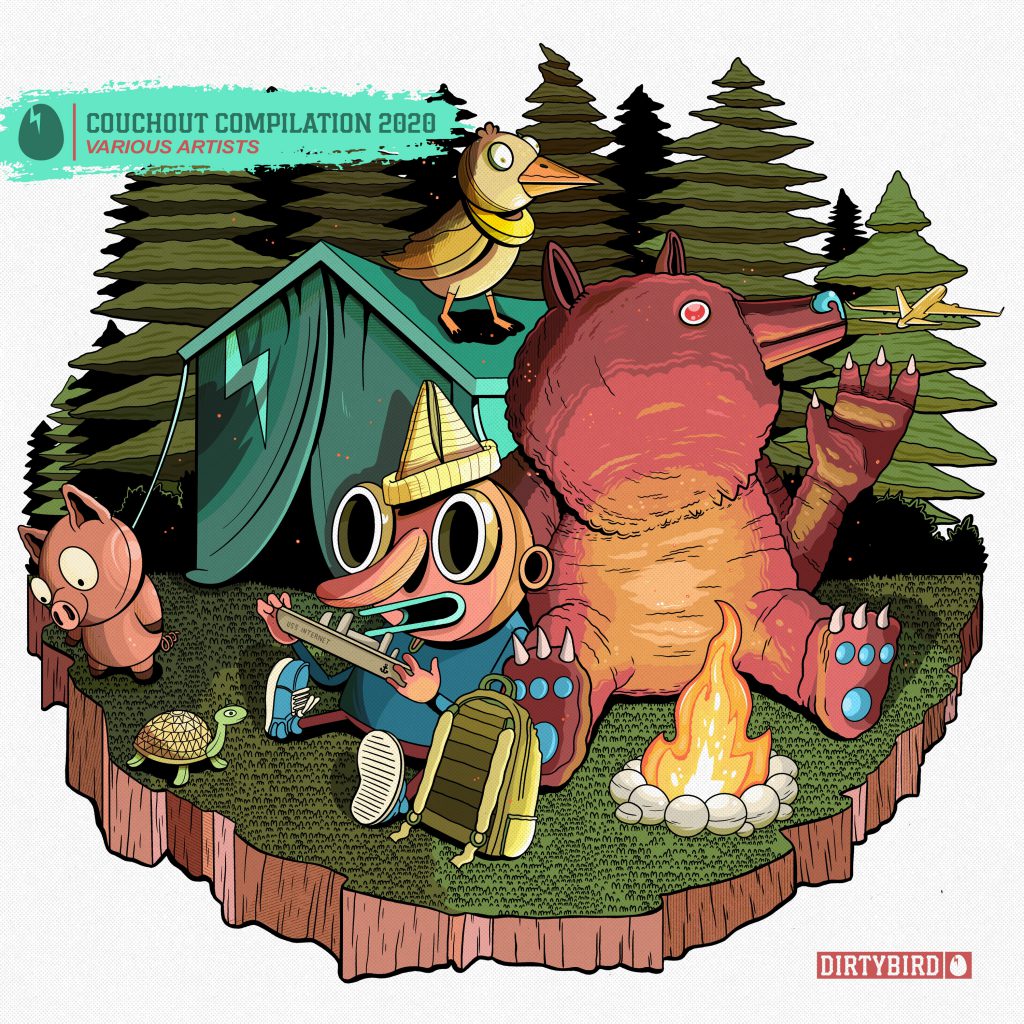 ---
Connect with Dirtybird Records on Social Media:
Website | Facebook | Twitter | Instagram | SoundCloud | YouTube | Twitch