After the release of his latest single "Saajaeni (Sacrifice)," Aadysi swung by to discuss how he's built a world for his music and his artistic growth.
---
If you're someone who loves to be immersed in soundscapes to explore when listening to bass music, Aadysi is an artist who should be on your radar. This ICON Collective graduate has continued to carve out his space in the scene with stunning tune after stunning tune, and now he has his sights on gaining even more ground with his forthcoming EP, Enter Sontaeries I.
Having already delivered some fantastic releases with EPs like Searching along with tracks like "Deity" and "Oblivion," our ears perked up when Aadysi announced he had a new EP in the works. Leaving a lasting impression with the lead single "S'Llatnae (Slave)" that saw him team up with Jordan Michaela, he's since unveiled the second part of the journey "Saajaeni (Sacrifice)" to give fans the opportunity to peer into his world.
Looking to gain more insight on Enter Sontaeries I, we caught up with Aadysi for a chat after he dropped his latest single. Listen to "Saajaeni (Sacrifice)" on Spotify or your preferred platform and read on to explore the mind of Aadysi as he touches on the recent singles, where he plans to take listeners with his upcoming EP, and how he's remained motivated during the pandemic.
Stream Aadysi – "Saajaeni (Sacrifice)" on Spotify:
---
Hey Aadysi, thanks so much for taking the time to chat with us today. Let's start off by chatting about your upcoming EP, Enter Sontaeries I. What's the story and inspiration behind this journey? Where do you plan to take listeners?
So the overall story of the EP derives from Aadysi's home planet of Sontaeries. This is really the first time where my intention was to truly incorporate various pieces from the world of Aadysi into a project. I wanted to take this EP in a direction that I really haven't gone into before, to immerse my listeners in Aadysi's world, and to give them a visceral feel of what it is like to be on this planet. I even tried to take the project a step further by choosing to curate each track title in a way that reflects Aadysi's native language of Kraenaa. 
I feel like I haven't really been able to present a work of art that truly gets people to see what Sontaeries is all about. This EP will give people a more authentic view of the sights, textures, sounds, and dialects that are found on my planet. The world is really inspired by medieval, fantasy, and sci-fi aspects, and I think with the art and instruments used I've definitely portrayed those aspects to my audience. 
I wanted to take my listeners into an unknown world and to really give them a story. Every great compilation of music in the past has always had a unique story attached to it and that is what I'm after with this project. My goal is to take people on a journey through Sontaeries, to really put them in a world or universe that they have never encountered before. To give them something that they can hold onto and completely lose themselves in. 
Last month saw the release of "S'Llatnae (Slave)" with Jordan Michaela. Can you share what first brought you together with Jordan and what the production process was like on that track?
Yeah, we initially connected through a mutual friend. I sent her a rough draft of the track along with some lyrical ideas, she sang over it and sent me back her recording. I then proceeded to arrange what she sent me and polished it up afterward. It was pretty fluid and Jordan really killed it, this is also the first time I've worked with a female vocalist on an original track. So happy she agreed to help me out with it and lend her talents to the project, it turned out to be something truly special. 
You just dropped the second tune off the EP, "Saajaeni (Sacrifice)" as well which puts your hybrid, bass-infused style on full display. What do you do to put your mind in the right space to create these dynamic, stunning tracks?
I appreciate that you enjoy them! I feel like I can get pretty weird and off-kilter with my style sometimes but then again I think that's important as an artist. If you're not making music that feels unique and authentic to you then what really is the point? I always go into a project not knowing exactly what I want to make, I never really specify the genre beforehand. I like to let my instincts and taste take over. 
I hate thinking in terms of genres while creating music, although it is important when marketing it. I feel like that's what adds to my uniqueness as an artist though, I don't want to be confined to a "box" I am really trying to present something that is truly genuine to me. I approach tracks in a way that will shock people and I want to give them something that they aren't used to hearing. This can be a good and bad thing sometimes being that I don't think I always come through with the most straightforward of sounds lol but yeah I usually always approach my music in the way it deserves. I like to be governed by feeling above all else and that is what music is all about. 
The last time we spoke was back in 2018 after the release of your EP, Searching. How do you feel you've grown as a producer since then? 
I feel like I've grown immensely from that time in so many different ways. First off since the release of that EP I've gained a lot of new musical knowledge and skills, having graduated from ICON in 2019. I've definitely stepped up my producing and engineering chops also along the way. I feel like I've come to know what I want to create even more and have worked hard to make sure that I continue to level up. I still have a ways to go but I'm definitely growing which is really the only thing that matters to me. You always can improve, you can always get better. You're only as good as your next song is how I like to look at it.  
Aside from the loss of revenue, one of the big topics of discussion among artists throughout the pandemic has been surrounding experiencing swings of motivation and creativity. Have you felt this as well over the past few months? How have you remained driven to produce?
I've definitely felt a little off every now and then. Not gonna lie, there have been periods since this pandemic started where I've definitely felt pretty down. It's hard man, the world today seems so complicated and chaotic, and maintaining creative energy on top of all that can be a real struggle. 
But I think I've been dealing with it fine for the most part, I've continued to create even when I don't feel completely up to it and I've tried to maintain a positive outlook. Music is a key part of me so even with what's been happening I'll still always be creating because that's what I love to do. I definitely have had my bad days but I believe there are still good ones ahead for all of us despite the current state of the world.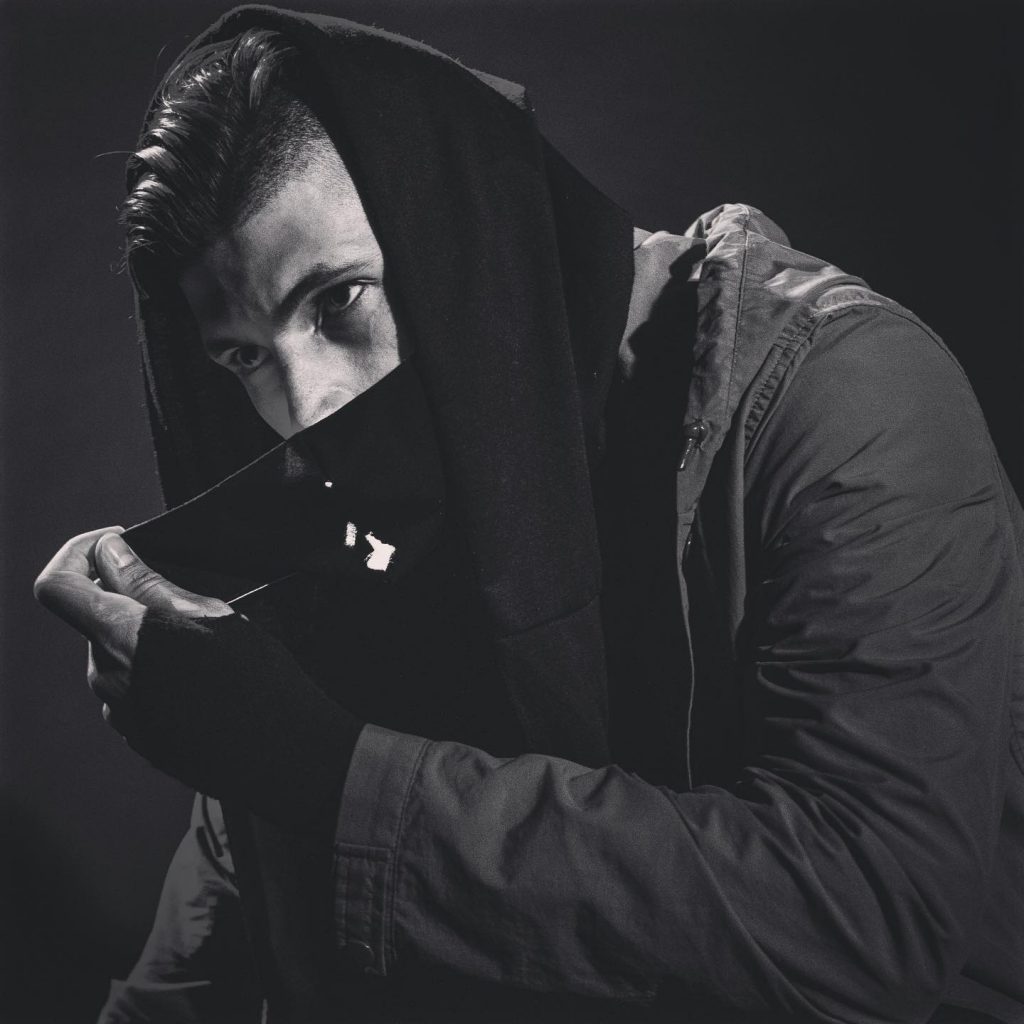 If you could offer a piece of advice to other artists or electronic music lovers right now who are trying to keep their heads up, what would it be?
I would say just continue to create, stay busy, do something, and keep reminding yourself of why you've gotten into this scene in the first place. Yeah, it sucks that we can't all connect with the music physically in a concert setting at the moment but we can still look out for each other and continue to listen to the music we love. Try not to let things get to you too much and don't fall into the trap of overthinking constantly.
Also just try to get outside as much as you can, I realize for most of us we still have a lot of restrictions but nothing helps calm an uneasy mind more than being out in nature. Go for a hike, sit in the park, whatever you enjoy. Do anything that really makes you feel happy and just keep going. It will get better. 
Many artists, including yourself, have taken to platforms like Twitch to remain connected with their fans as festivals and many live events have been paused. What has your experience been like in the virtual realm?
I really enjoy streaming, I've been on Twitch for a good amount of time now although I haven't been able to stream much recently. I think it's a great way for artists to connect with their fans. It can really help people see what's going on behind the scenes, it's an upfront and personal way of connecting with an artist. 
I usually have done production streams on my channel which has been a lot of fun, it helps to have people there to experience your music-making process. I've been wanting to get more into video game streaming though, hopefully, I can set that up soon! There's just so much opportunity with streaming and it's great to see so many people use it in positive ways. 
Finally, while the future remains uncertain, what goals do you have for the remainder of 2020 and the new year? 
I honestly just want to make sure that I'm keeping up with my releases. I need to continue to put out quality music that is authentic to me as an artist and continue to reach new listeners. I would also love to get on one of my dream labels such as Deadbeats, Jadu Dala, or Quality Goods but we'll see. I do have a lot of unreleased music that I've been working on which I will probably send out to some of these labels. 
But yeah, again, I just really want to make sure that I can maintain my creativity and output, that's really my main focus and always has been. Obviously, shows aren't a thing right now otherwise I would say that I'd really like to perform at a major festival but I guess we'll just have to wait to see what happens in 2021.
---
Follow Aadysi on Social Media:
Website | Facebook | Twitter | Instagram | SoundCloud | YouTube