This was my fourth time at Dirtybird Campout West and each year it just keeps getting better and has truly become a family reunion I look forward to.
---
After having an absolute blast last October, my crew and I were excited as ever to be returning to the Modesto Reservoir for another edition of Dirtybird Campout this year. Looking to arrive as close to gates as possible, we set off on the road at 4am from San Diego. Gates for the event didn't open until noon, but we needed the extra time to go shopping and grab any last-minute items we forgot.
We had already heard of the long wait when we arrived in line around 3pm and in total it took us three more hours to get into the campground. Although the sun was quickly fading from the sky it actually felt shorter due to some friends we made in line, and once we were inside we quickly unpacked and began to set up our tents and campsite.
Thinking that we had found our home for the weekend, a very confusing situation arose as someone with a clipboard came over and told us we would be having a group meeting soon. We weren't really sure what he meant, but shortly after that a girl came up and asked if we were CITs (Counselors In Training). It was then that we realized at some point we had been directed to the wrong place to camp.
My group tried to figure out where the signage was and how we could have possibly messed this up, but there wasn't anything that stood out that was clear enough. Most of the CIT volunteers understood our plight and were fairly kind about the mix-up, but one was clearly annoyed by our presence and made it known to anyone who would listen. There was nothing we could really do in the dark at that point, though. Instead, we opted to head down to the pre-party and deal with the issue in the morning.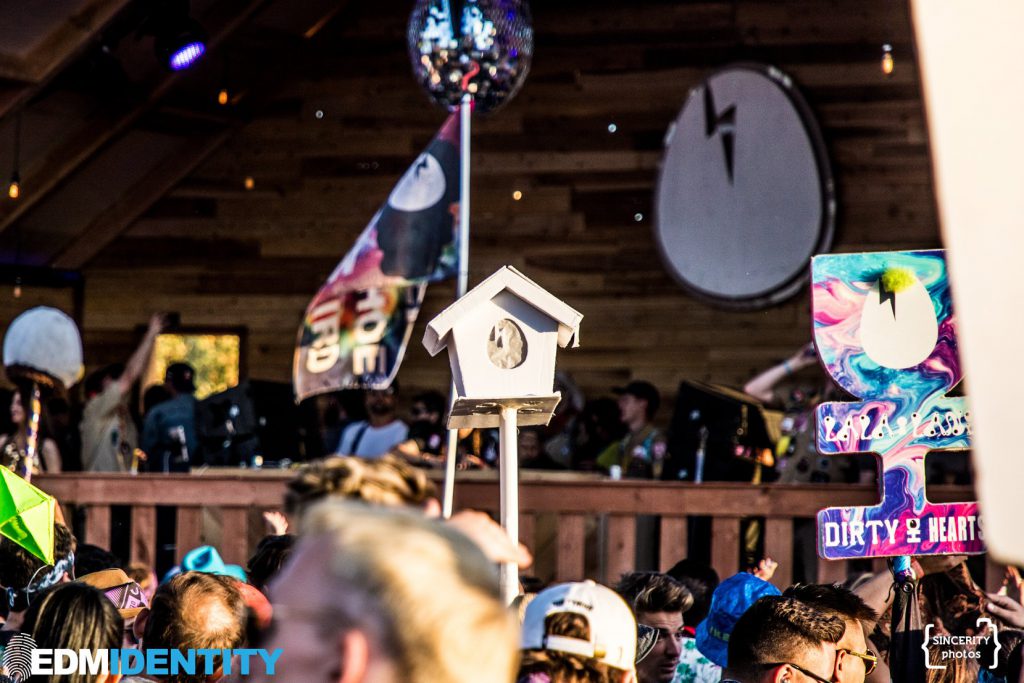 Walking down to the pre-party was a shorter walk than last year but there was now a security check before you could enter the festival ground.
When we first got there, the security search was very intense with a full bag search and body pat-downs. Security told us they were just looking for alcohol, and although this change did result in lines into the festival the longest time we experienced was 15 minutes.
The Bass Lodge was now located behind The Birdhouse and off to the side was a glowing weeping willow. The tree's willows were bright green and soft with hidden swings all around it and if you climbed up to the top there was a ship's helm. The tree also had a face and was very entertaining to watch or sit by throughout the weekend.
We had arrived just as Claude VonStroke was ending and the announcement was made that they would be setting up Silent Disco soon.
Barricades each night would turn the Bass Lodge into a thriving Silent Disco and with three different channels going there was a little bit of something for every music taste. Opting to wander back to the campground, we began to realize just how many renegade stages there were this year. It seemed like every camp area had at least one and some even had four or five.
The only issue that seemed to present itself was that some were literally right next to each other which created a weird noise conflict, but overall it was really special to see the love for house and techno thriving everywhere we went. Of all the festivals I've attended, Dirtybird Campout has brought some of the best I've had the chance to dance at.
Sometimes it's important to remember that patience and understanding can go a long way.
The next morning we were up early. At that point, our group had reached the limit of negative interactions with this seemingly frustrated CIT member. She was not shy about letting us know how much of an invasion we were and continued to cause a scene even though she knew we would be leaving. She made us feel entirely unwelcome and acted in a manner that we felt wasn't representative of what Dirtybird is all about.
As we had planned once it was daylight again, we packed up all five cars and moved to a proper location which was only about 500 feet away. When we arrived, we actually found more space and even friendlier neighbors which allowed us to welcome so many more people into our Dirtybird experience.
We all wanted to catch Steve Darko so we got ready and made our way toward the festival grounds.
My group got water and signed the waiver for games and then found out that The Birdhouse was running an hour off schedule. Some of us got food while the rest of us walked over to catch Justin Jay's set. In the daytime, it immediately became apparent that the Bass Lodge had a dust problem as every song that got us moving also billowed up dirt.
That didn't stop us from grooving away, though, and I love the sets from Justin Jay because they're always fun. Dropping songs like "La Macarena" brought a smile to my face and it was incredible to see everyone actually dancing to it, including Justin!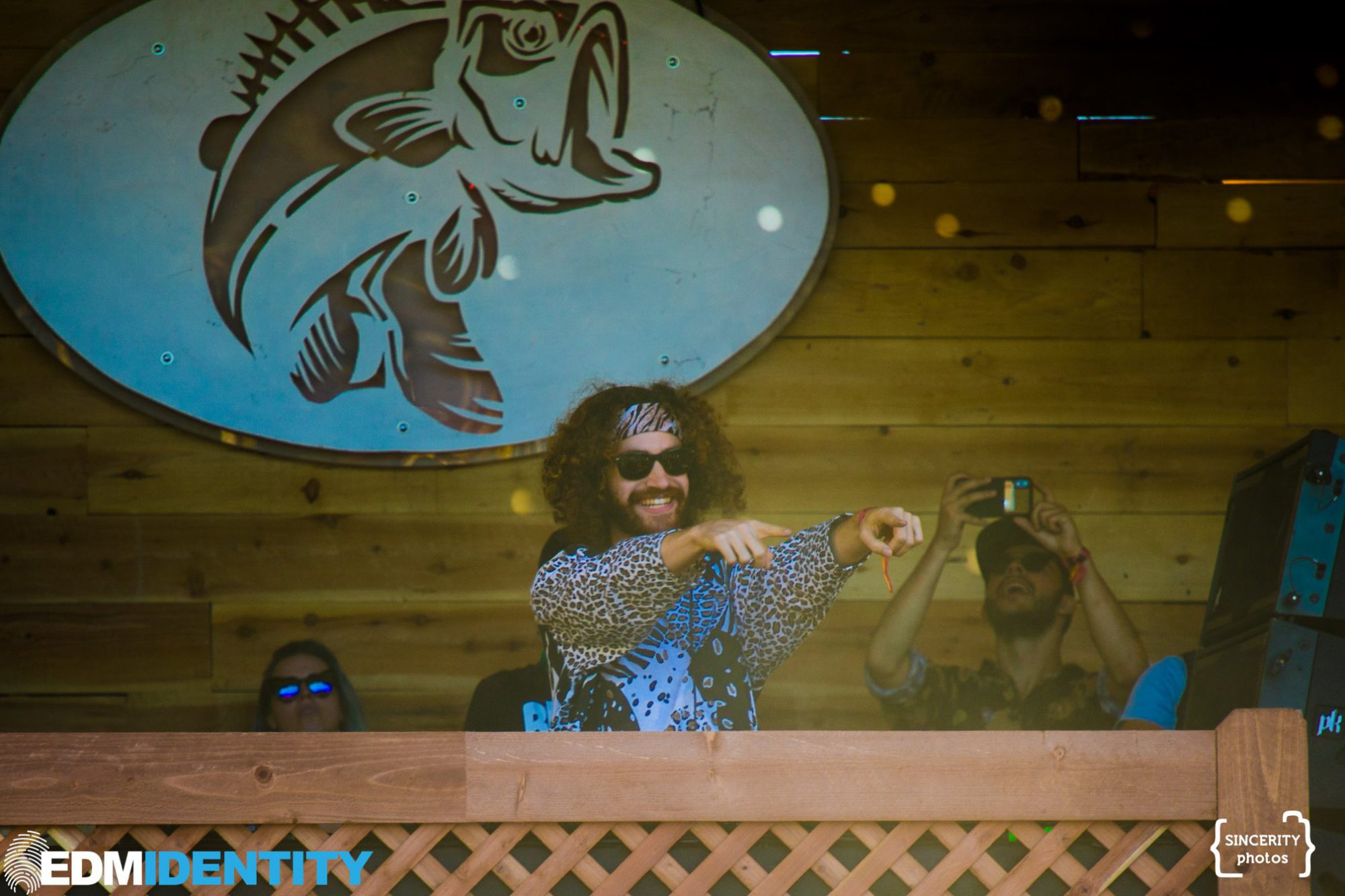 A favorite discovery of mine was the staircase that went straight from the Bass Lodge to the Birdhouse.
We spent the rest of the night bouncing back and forth between the two stages and danced the rest of the day away. After Justin, we caught the tail end of VNSSA which was also a great time as well and full of jams. Other notable sets we caught that day included Bob Moses, Redlight, and Walker & Royce. All the sets were vibey and so many played tracks we hadn't heard before. One of my favorite aspects of Dirtybird is all the fire tracks that won't be released until later this year.
My one regret from the first day was that I didn't catch the Eprom b2b Barclay Crenshaw
I was tired and hungry and needed to put on something warmer but my friends that did go were kind enough to tell me how much I missed out. It ended up being a handful of people's top set of the weekend, so I definitely won't miss it again if I get a chance to. The rest of the night we spent going to different renegades until we watched the sunrise before finally going to bed.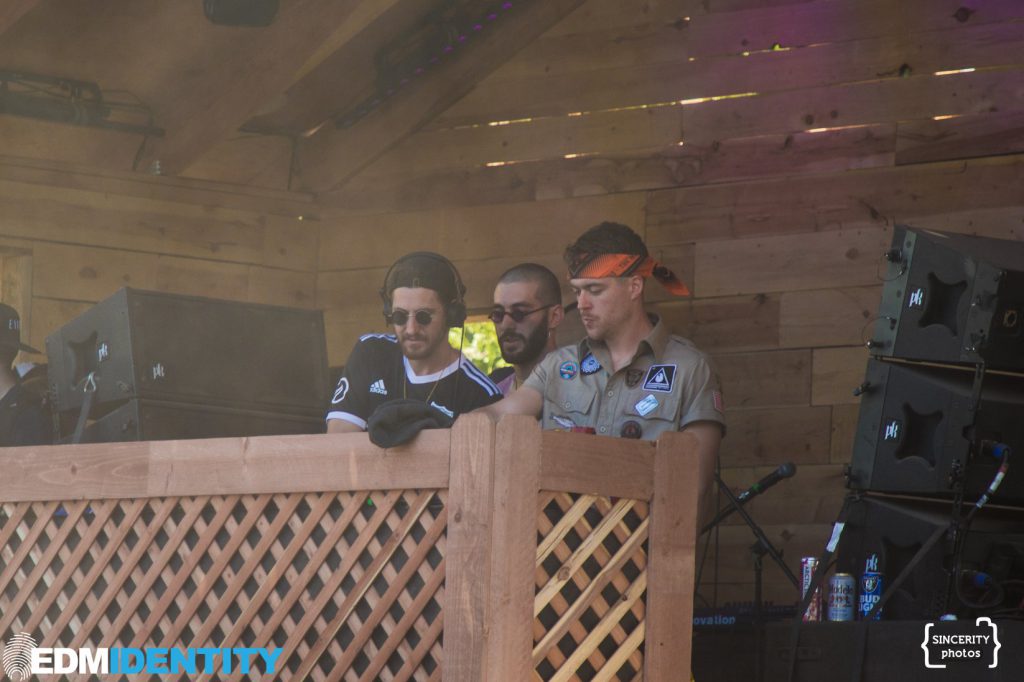 Saturday was a busy day that was full of fun but the highlight for me was catching the Q&A with Claude.
I woke up a little after noon and knew I had to get going pretty quickly. Showered, changed, and ready in about an hour I made my way to the back of the Bass Lodge for the Q&A. We all gathered around as Claude VonStroke began to answer questions about Dirtybird, gifts he's received, music, and many others.
I think my favorite response was when he was asked what he would do if he had an unlimited or billion-dollar budget. His response was very quick and simple: "I'd make it free." His biggest regret is that he can't make this great party free for all of us. That answer is probably the most humble, thoughtful, and caring response I've ever heard from a festival creator.
Among other topics, he talked about the upgrade to PK speakers which we all agreed was not only noticeable but very enjoyable. The sound system really made a big difference in the dynamics of where we wanted to stand to hear the music.
Claude also commented on the history of the BBQs, starting in Golden Gate Park with eight people and growing into what we know and love today. He ended by letting us know his strangest gift from a fan was a gold plated butt plug with his face on it from The Cougar Experience – I really think that memory speaks for itself.
The second day was full of unreleased tracks, some bangers, some melodic, but all full of love!
I went back to camp to get ready for the day. Almost all the sets I wanted to see were at The Birdhouse starting with Worthy, Kill Frenzy, and Sacha Robotti. It felt like each set just kept getting better and better. Sacha Robotti dropped a song about clacking fans on beat and we all about died from the accuracy. Ardalan ended his set with, "I Can't Wait," a track from his upcoming debut album in November. It was not only beautiful but multiple times throughout the weekend I heard it was people's favorite.
We, of course, stayed through Justin Martin and Claude VonStroke's sets and heard bangers we couldn't figure out the titles for. Although hearing someone ask for the title of "Jolene," and someone remarking, "I'm not sure, but if I really had to guess, the title is probably Jolene," made my night.
Toward the end of Claude's set, I had gone to fill up water but when I got back I realized how crowded it really was and I was not really in a mood to push back into the crowd.
I texted my friends letting them know I was just gonna hang out in the back where there was space to dance. It was then when I looked behind me just in time to see a guy save this girl's life after almost being stepped on by people leaving the stage. She was laying down without any lights on her, at first even I had missed her.
It was a nice save, so I struck up a conversation with him and we immediately clicked. It was his first festival, while Sonia and her friend Patrick had actually met at Dirtybird Campout in 2017 and went to Desert Hearts together. I joined their group for the night and we headed over first to check out Claude's Cabin and then to the silent disco since the cabin was in between events.
They were all so friendly and the time really flew while I was with them, and the entire experience of meeting new friends reminded me why I love this event so much.
It was early morning by the time I left them but we exchanged numbers before I started walking back to the campsite. On my way, I happened upon Claude's newest game show: How Long Can It Last.
The game show was hilarious. Basically one or more people volunteer to do something, an action, a movement, in one case spitting into each other's mouths and then the audience bids on the amount of time they think the person do the task on stage.
No bids can be repeated and the person closest to the actual time they last on stage wins a hilarious prize. One prize was a 1998 game boy while another was an old school Simon Says game. All of this took place on stage with Claude VonStroke wearing a blue suit, wig, and visor, it was a great way for me to end my night before heading home.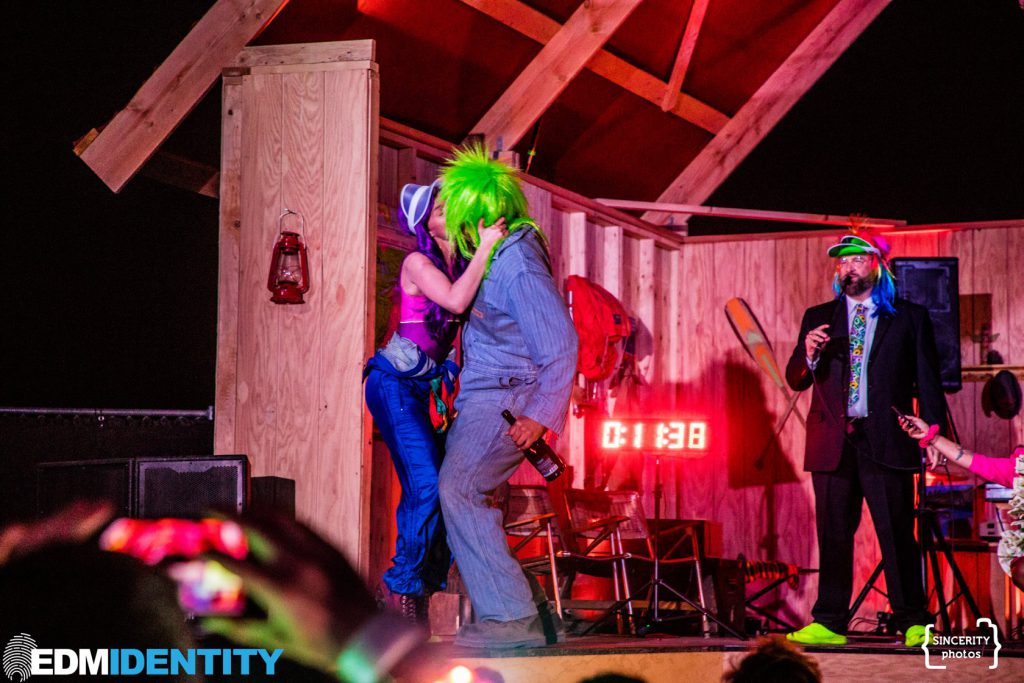 The last day was the best day, but also the hottest day, so it was time to make it down to the water to cool off.
We're always moving a little slower on the final day and since it was hotter than we had expected most of the group went down to the water to cool off. We finally headed in to catch Bruno Furlan and Will Clarke, who both were fantastic and really got the party moving. The dance floor was slowly filling up and the crowd was getting very hyped up to dance the final hours of Dirtybird Campout away.
I realized that I hadn't gotten my BBQ meal yet and decided now was as good a time as any.
I wandered off and made my way over to the BBQ. The wait wasn't more than 20 minutes and we were eating BBQ Chicken, mac and cheese, coleslaw, and Hot Cheeto elote – I was extra excited as I was eating my first cooked meal at the festival. I'm glad I saved the best for last. We ate our food as we watched the sun dip below the horizon by the lake for the final time that weekend.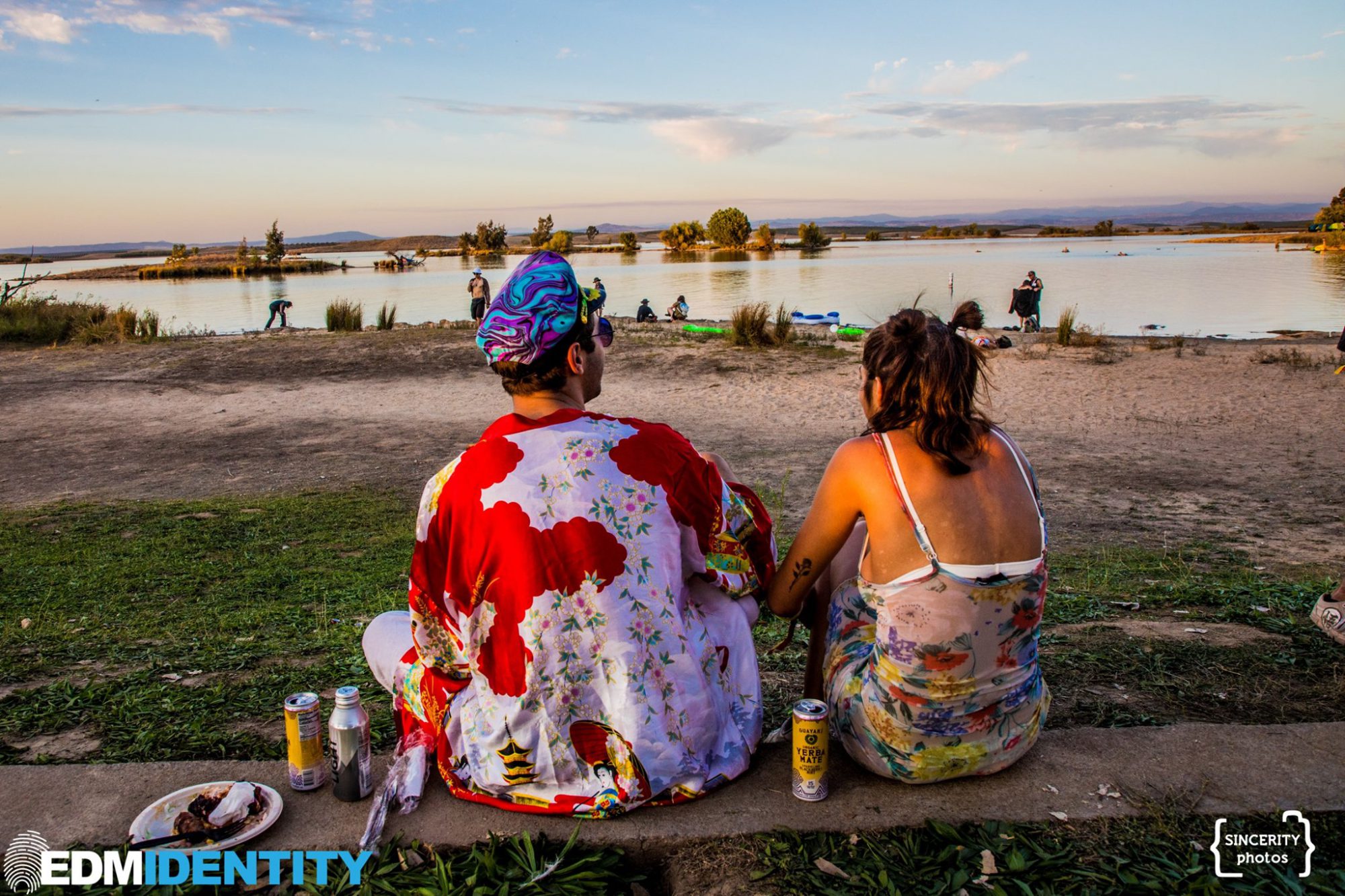 After filling our tanks with some food, we went to go see Mija at the Bass Lodge for some epic drum and bass action.
It was a nice break from the house music that dominated the rest of the weekend at Dirtybird Campout. We stayed a little longer for Honeycomb's sick beatboxing that literally had us wondering how he is able to do that with his mouth. By the time we got back to The Birdhouse, the middle of the stage area was almost fully occupied by chairs, blankets, and people sitting. It was very odd but didn't stop us from moving up close while we watched the end of Shiba San and waited for my favorite part: The Family Set.
Each artist came up and played one track for the family set and it was beautiful to see how well everything blended together. It had been a long weekend of partying, making new friends, and of course embracing new music. A bunch of my friends who were there for the first time didn't understand what the family set was at first, so it was great to see them experience that tradition for the first time. It's one of the sets that truly brings everyone together and is an aspect that makes Dirtybird Campout stand out the most to me.
Every year I love this festival more and more, and I can't wait to see how they continue to improve in future editions.
Dirtybird Campout is full of activities, weirdness, strange events, and some very lovely people. As Claude got on the mic to say thank you to everyone and that he'd see us next year, I really got into feelings and extra emotional. I was sad it was over, thankful that it happened, and so very excited to be reunited with this Dirtybird family in 2020.
Be sure to check out my full Dirtybird Campout photo gallery over on Facebook. There were so many stories I couldn't include them all, if you have a story you want to share, let us know in the comments below!
---
Connect with Dirtybird Campout on Social Media:
Website | Facebook | Twitter | Instagram | SoundCloud | YouTube