The schedule is out for Graydient Collective's Gallery Live showcase on Twitch and you won't want to miss any of the action!
---
The hype surrounding Graydient Collective's Gallery Live has been steadily building since the lineup dropped just a week ago. Set to dominate the digital stomping grounds of Twitch on Saturday, August 1, the highly curated showcase will bring some of the most progressive minds in the dance music scene together to celebrate the arts.
Kicking off the show at 3pm EDT is Ashe, who will set the stage with his melodic sound that will surely sweep you off your feet. Tydrous takes the reins next and if you haven't heard what this fresh face in the progressive realm has to offer then there's no doubt you should be checking him out. And if you were in need of a solid dose of beats to get your body moving then have no fear because monstergetdown will satiate your cravings at 5pm EDT.
From there, 28mm will kick into gear with an offering of gems that he's worked on throughout quarantine. Arriving at the 7pm EDT slot is one of the freshest faces on the lineup, Dex Machina, who will be taking viewers on a trip to a realm of his own creation with his impressive sound. There's no better artist to carry the showcase into its peak hours than Sysdemes who has already become renowned for electrifying techno beats and stunning sets that will revitalize souls in no time at all. Then, at 9pm EDT the melodic stylings of Porth Nole will keep the energy high but inject some emotion into the mix that will have everyone lost in their feelings in no time at all.
Just after that performance, Kyle Coleman will offer up some poetry to soak in and set the stage for Graydient's founder Julian Gray at 10pm EDT. If you've caught Julian spin before then you already know how fantastic his track selection is, and if you haven't… well you're in for a treat as he always finds a way to tug at your heartstrings while also delivering his signature progress-o sound. BlindSpider is set to bring the penultimate performance with some house grooves to keep the vibes strong in any rave cave before deFacto takes everyone straight to the techno underworld to close out the night.
Make sure to RSVP to the Facebook Event for the latest updates, follow Graydient Collective on Twitch so you know the moment the show starts, and check out the gallery below for thoughts on the showcase from each artist performing!
Catch all the action during Gallery Live on Twitch:
---
"Feels great to be a part of a collective like Graydient. Music and visual arts have always been synonymous with 28mm. Can't wait to showcase the tracks I've been building these past few months."

"I'm pretty excited to have to opportunity to play along such great artists and friends. I'll be playing some unreleased stuff w/ some classics. Tons of music and what a wonderful outlet our friend Julian has created for us to express our art in its purest form. No strings!"

"I'm excited to have the opportunity to make people dance from the comfort of their homes or where ever they may be during these times. Thanks to Julian for setting this up as there was a few months of planning to make this happen. "

"Stoked to be streaming a melodic set for Graydient Arts this weekend! I'll be playing lots of personal favorites and will be showcasing a bunch of new music I've been working on. Looking forward to sharing this journey with you!"

"I'm really grateful, and excited to be a part of this event! I hope that my set will peak people's interest in exploring the dark and hard hitting world of techno."

"As the world changes around us, and hope diminishes, there is no more important time than now for creativity and art to lift our spirits. I created Gallery Live to celebrate art in these challenging times, pushing music, design, and creative writing directly from creatives directly to those we hope to inspire by it. I hope we can make you smile."

"Hyped to play some of my favorite music for you guys in my first live stream set with the homies"

"Recording a set for Gallery Live was one of the most exciting things I've done lately. I spent a bit of time reworking a few songs of mine, so they could fit in the context a little better. I included both melodic and heavier music plus some unreleased music."

"With the state of the industry, any chance to showcase some art is a great opportunity for creatives."

"Looking forward to sharing the stage with all of these amazing artists Saturday. This will be my first ever public DJ set and I can't think of an event I would rather do that than Gallery Live. I love Graydient's focus on art of all forms and I'm so happy to be a part of the family!"
Gallery Live: A Livestream Festival by Graydient Collective – Set Times: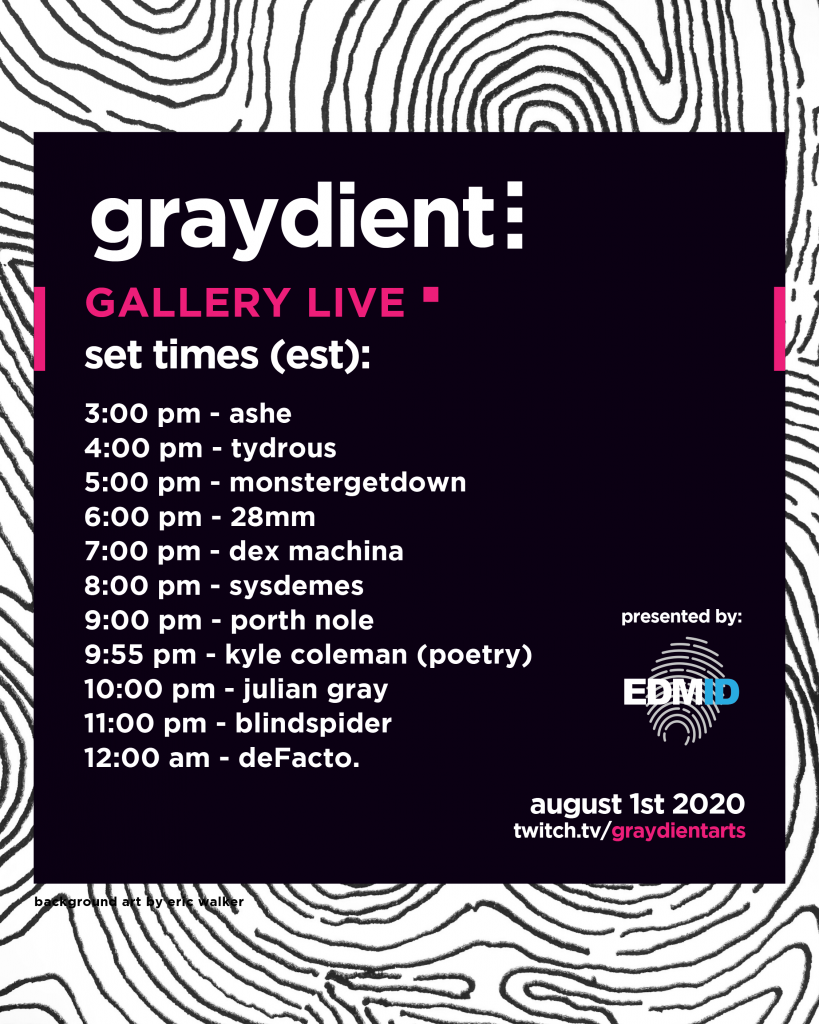 ---
Follow Graydient Collective on Social Media:
Website | Facebook | Twitter | Instagram | SoundCloud | YouTube | Twitch