Even though much of the dance music scene has slowed due to the pandemic, Julian Gray has made a splash in 2020 with fresh releases and more.
---
If you've been on the hunt for fresh faces in the dance music scene who have been unleashing fantastic releases and making crowds move with their beats then Julian Gray is an artist who should be on your radar. Over the past few years he's been ascending up the ranks quickly with releases on labels like mau5trap along with sets at festivals like Okeechobee and EDC Orlando.
In fact, while much of the industry has been wondering where to go or what they should be doing during the pandemic, Julian Gray has had his eye on the prize the entire time. He dropped a fresh EP on mau5trap dubbed Eventide back in March and recently unveiled one of his biggest releases yet, "Static," that marked his debut on Anjunabeats. Additionally, he's played a number of sets in the digital realm on Twitch for Anjuna as well as Groove Cruise.
As we dive deeper into the second half of 2020 it's clear now more than ever that Julian Gray is an artist who is up to some great things so when the opportunity to chat with him arose we simply couldn't pass up the chance. Check out his latest tune below, download or stream "Static" on your favorite platform, and read on for our full conversation!
Stream Julian Gray, Zashanell – Static on Spotify:
---
Hey Julian Gray, thanks for taking the time to chat with us today. How've you been holding up during the quarantine and the past few weeks of protests?
All things considered, I've been doing pretty well. The first month of quarantine I was bunkered up at home in LA. That was pretty rough. Even as an introvert who thrives in isolation, the loneliness really started to set in so I decided to head back home to Maryland for the duration of the quarantine, which I've found to be a very rewarding decision. I've been spending a lot of time with my family that I normally wouldn't have gotten. Taking some time away from the constant grind that is a career in music has been really refreshing as well. Still working on music and creative projects every day, it's just given me a different perspective on my priorities.

The protests were and continue to be scary at times, but I've come to terms with the fact that they're a necessity in moving society forward as a whole. I'm excited to see that for the first time in my lifetime, it appears that everyone is on the same page on a political issue. I stand with all the protesters who are bravely voicing their opinions all over the world right now. It takes so much courage to do that.
One of the bright spots amid the madness of the world was your debut release on Anjunabeats, "Static." What were the first feelings you processed when you found out that the track got signed to the label?
Zashanell and I have both been fans of the label for years. I had been in chats with Anjuna for almost a year about a release, it was just a matter of finding the right song that clicked with their sound and checked all their boxes. They have a very particular process when choosing music for their imprints, which I think shows in the quality of every release.
Earlier this year, when Zash and I finished working on the track, we pitched "Static" to Anjuna and to my surprise was very well received by the A&R team there. (Shoutout to Gareth Jones, James & Jono Grant, and Amy Wiles for making this possible!) We are so excited as this was a bucket-list achievement for both of us, and we're very excited to become part of the Anjuna family!
Can you walk us through the production process "Static"? What drew you to Zashanell for vocals on the tune and how did that collaboration come about?
Zashanell and I have been chatting for a while about a possible collaboration after we connected a few years ago when I heard her work with No Mana, a fellow mau5trap signee. It just took finding the right song to work on to get the collaboration rolling. Zash sent over the original idea as a demo of her singing the song, which I then wrote the arrangement around.
This is one of my favorite methods of songwriting. I think it really allows the message of the song to shine when I've got a clear vision of the story the songwriter is trying to tell already in my head when creating the arrangement. To me a song is only as good as it's simplest version, if you can't translate it back to an arrangement of just a piano and voice, It may be too complicated, too manufactured. That's my philosophy anyway.
"Static" wasn't the only fantastic offering to come from your studio this year as you also delivered Eventide back in March. One of your main inspirations on that release was a flight you took from SF to LA. Do you typically channel life experiences into the music you create?
Indeed! While Eventide earlier this year was based on a very visual experience, which inspired the writing of that EP, this project was mostly inspired by Zashanell's incredible songwriting, and the emotions I attached to it, and the moments that I could relate to it. I always try to channel the things I experience in life into my music. It creates an unparalleled engagement with your listeners when they can feel what you felt in a visceral way. Most of my favorite albums follow that rule, and It's something that's really found its way into my music as I've grown older.
You, along with many other artists in the scene, have transitioned from playing live shows to ones that exist in the virtual realm. How does the experience of playing a set during #AnjunaUnlocked, for instance, differs from a set you might spin at a festival or club show?
Playing online is such an interesting thing actually! We can read what people are thinking about our set as we play in the form of comments, which is something that you don't get when playing at festivals or clubs. That's just one of a myriad of reasons why it's a totally new and different experience.
There's no 'stage fright' that usually goes along with being in front of a crowd, but by the same token, it often doesn't feel like you're performing to 1,000 people even if you technically are. Though different, I will say I quite like playing like this. I hope this trend carries on even after the quarantine inevitably comes to an end.
Speaking of live shows, you actually played one of the only festivals that moved forward this year, Okeechobee. What was it like playing a set during that festival? Was there any sense that it was going to be the only one for the foreseeable future at the time?
It's funny you should say that! Okeechobee was a blessing. The other artists and I had a great time playing, but because it took place right as the corona pandemic was unfolding here in the states, there definitely was an ongoing Joke (at the time) that we might be playing the last festival of the year between all of us. Not so funny now, but it's interesting that we saw it coming. It's definitely become a very real reality for all of us touring artists.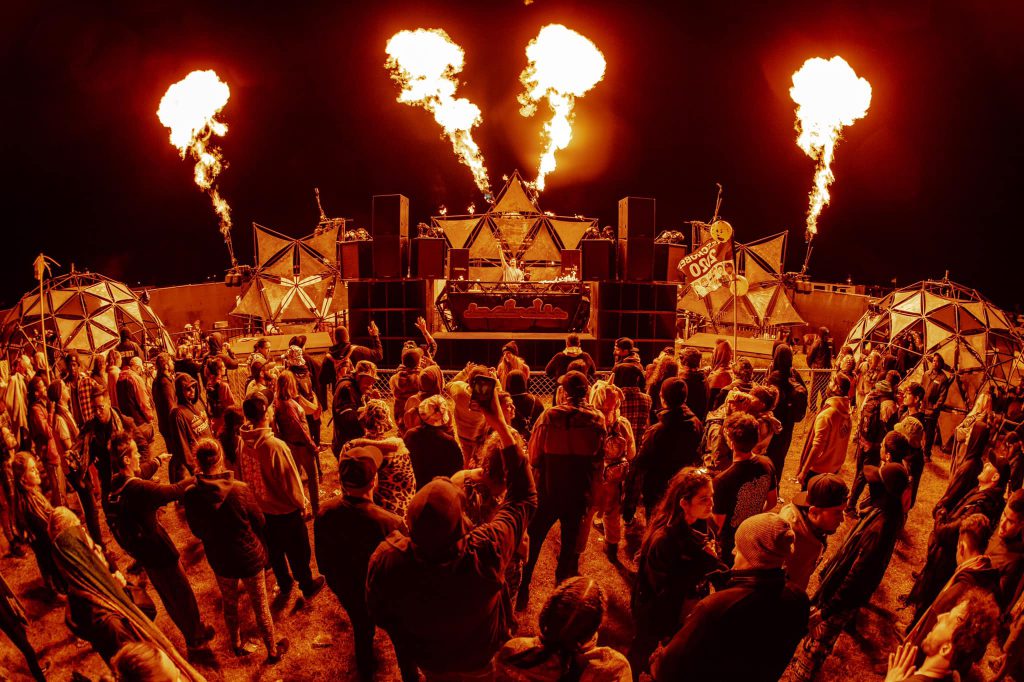 The past few years have seen you continue to grow exponentially with releases on some of the world's most renowned labels. While things might feel fairly stagnant for much of the industry right now, what are some of the next steps you plan to take as an artist to continue that?
I think the only thing to do in a time of uncertainty like this is to revisit the roots of why we all started doing this in the first place. I write music because it's what I love to do, and will continue writing music regardless of what is going on in the world. I firmly believe that art is one of our only escapes from this unfortunate reality, and I'll try my best to continue inspiring my listeners and provide that escape. People will listen to music they love even in the darkest times if they find it inspiring, and that's what i'm banking on.
You also recently relaunched the JG Podcast and recorded the first episode of Season 2 with your friend Malcolm. What led to you bringing it back, and do you have specific goals you hope to achieve with it in the future?
My best friend Malcolm and I live right up the street from one another. We both moved out to LA from Maryland pursuing music. He's my closest childhood friend, and as you do with any old friend, would chat for hours about music, technology, videogames and more upon every visit. He brought up the great idea of recording our conversations in podcast format, so I decided to revive my podcast and feature him as a co-host. I find the conversations we have to be pretty rousing, so I'm excited to get the new season started! The first episode is up now, you can find it wherever you stream your podcasts. "Julian Gray Podcast"
Finally, can you share a message for other artists in the scene or your fans who might be feeling down due to the current state of the world?
I think the best thing we can do as artists is to continue to create. The world needs the light that is art right now to enrich the lives of those who are feeling down. We are the light at the end of the tunnel for some people, and that's a way we can really make a difference.

To all the fans, support the creators that you love and cherish them during these challenging times. Many artists are fighting to survive right now amidst this pandemic, and small commissions, donations, streams, or even simple words of encouragement can brighten up our day.

To everyone else, stay strong, healthy, and keep creative, we'll get through this thing in time, and when we do I believe the world will be better for it.
---
Follow Julian Gray on Social Media:
Website | Facebook | Twitter | Instagram | SoundCloud | YouTube