Out of the Blue, Ferry Corsten announced: "What The F" a tour set to fuse his Gouryella, System F, and Ferry Corsten music in one audio-visual spectacle.
---
With festival season on the way and an onslaught of music events announced, your wallet in 2020 might be looking light. There appears to be no end in sight on the news train as Ferry Corsten made a huge announcement and revealed that he will be uniting three of his biggest aliases: Gouryella, System F, and Ferry Corsten for special open-to-close What the F shows around the world.
The Phase 1 dates and locations were just posted and the first show takes place in March at the legendary UK venue, Ministry of Sound. From there, Ferry Corsten will travel to the USA to perform in Atlanta, Houston, Chicago, Washington DC, Brooklyn, San Francisco, Los Angeles, and Denver. There's no telling when the next phase will be announced but for those in North America, the time to plan is now.
These club shows will bring a more intimate vibe while taking crowds on an incredible musical journey.
If you love how he makes music come to life with so much beauty in sound that lifts you to the heavens, take some time to go through tracks under his Gouryella alias. Looking for music that is more "punchy" with a party vibe, check out the System F discography but make sure "Out of Blue" is the first song you start with when going through that catalog.
As for Ferry Corsten albums, start with his first-ever album release, Right of Way. If you start from the beginning, it'll be a fun musical journey through the musical evolution of this incredible artist. With so many years of amazing productions under his belt, we're sure that these shows will be a fantastic opportunity to lose yourself to trance this year. Don't miss out!
Tickets go on sale February 7 at 10am local time on Ferry Corsten's website so mark your calendars and let us know which show you'll be attending in the comments!
---
What the F Tour 2020 Phase 1 Announcement: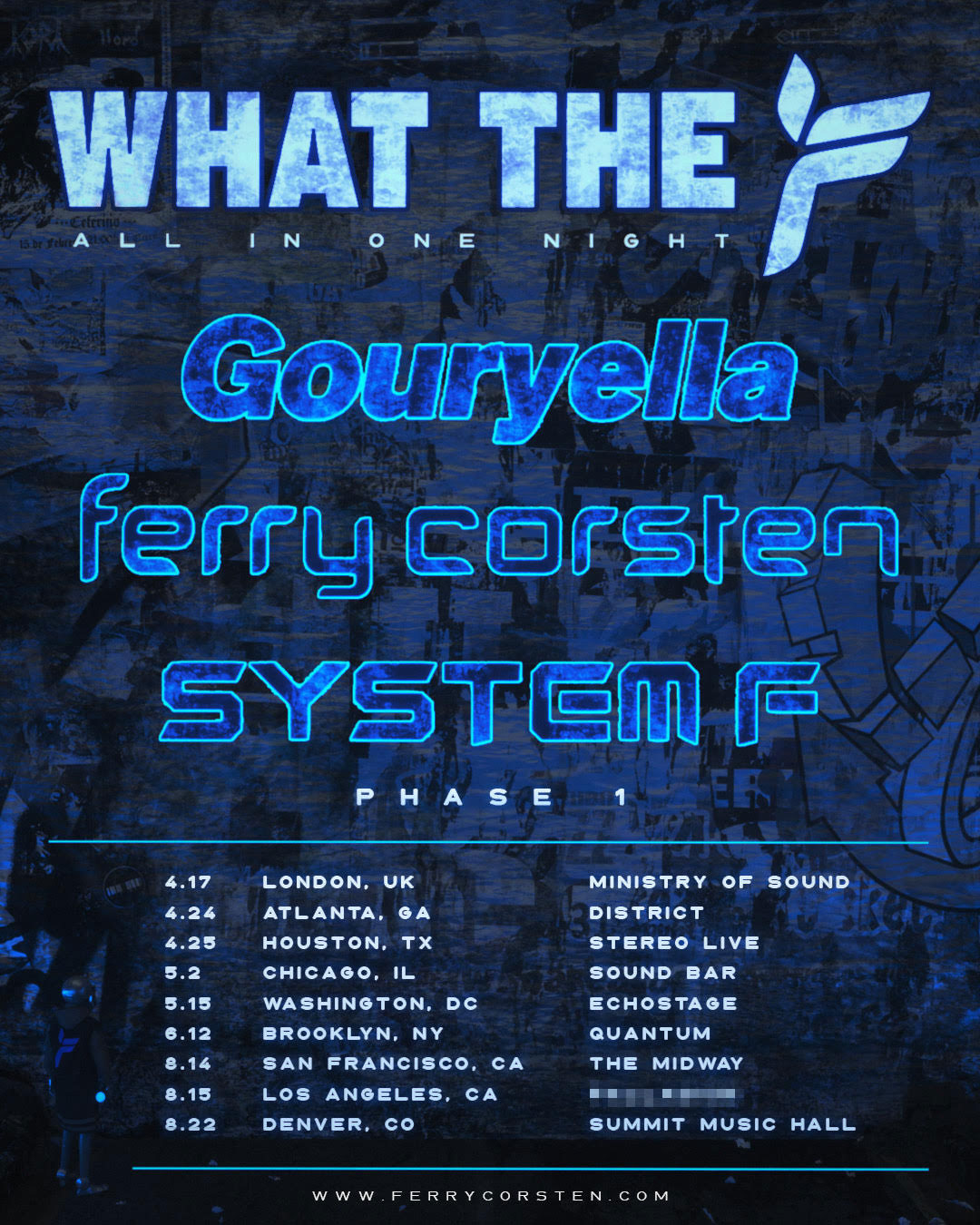 ---
What the F Tour 2020 Phase 1 Tour Dates & Venues:
4/17 – London, UK, Ministry of Sound
4/24 – Atlanta, GA, District
4/25 – Houston, TX, Stereo Live
5/2 – Chicago, IL, Sound Bar
5/15 – Washington, DC, Echostage
6/12 – Brooklyn, NY, Quantum
8/14 – San Francisco, CA, The Midway
8/15 – Los Angeles, CA, TBD
8/22 – Denver, CO, Summit Music Hall
---
Follow Ferry Corsten on Social Media:
Website | Facebook | Twitter | Instagram | SoundCloud