Cold Blue's debut album, Winter, is a deeply introspective, emotional affair that solidifies his place as a trance luminary.
---
Every so often there's an artist, song, or album that completely overtakes you and speaks to you on a different level. The beauty of trance music is that there are so many emotional pieces of work that have the ability to move listeners, from the beautiful melodies to the gorgeous build-ups and breakdowns. However, though there were many albums released from talented artists such as Solarstone and Robert Nickson in 2019, the debut artist album from Cold Blue, Winter, was the one album that touched me the most.
You might be wondering why in February 2020 I'm writing about an album that was released in November 2019. The last few months of the year were very difficult for me. Without going into too much detail, I was covered with a blanket of sadness and with each month that passed by, it got harder and harder to shake the feeling. Though Dreamstate SoCal – my favorite US trance festival – was coming up, I still wasn't feeling any excitement. But when this album was released on November 15 I can wholeheartedly say that it helped me escape my depression and become myself again.
Tobias "Cold Blue" Schuh is one of the revered artists on the Music First Agency roster and is known for his enchanting, uplifting tracks as well as ones that are deep and dark. Ask any fan of his sound and they will surely tell you that it truly seems like everything he creates, whether an original piece or a remix, is gold. The beauty of his more recent tracks is that there almost always seems to be an emotional element to them, which gives the songs the ability to connect with fans and supporters in a different way.
As Cold Blue shared recently, music is the way through which he expresses his emotions, which must be why many pieces seem like an extension of himself and what he was experiencing at the time of their creation. With Winter he raised that emotional bar higher than ever before and delivered what will go down as a true trance masterpiece.
Listen to Winter on Spotify below, download or stream the album on your favorite platform, and read on for my review of the album!
Stream Cold Blue – Winter on Spotify:
---
After just one listen it is clear that Winter is not just a collection of tracks, but an album that truly tells a story. 
A trend I've noticed over the last few years in the scene is that a number of albums consist of individual tracks that don't have much to do with one another. This is why I feel that many trance fans much prefer sets over albums, as sets are more innately designed to take them on a deep journey.
When Cold Blue appeared on ASOT 940 he shared that Winter is about a hero's journey through a dark period, and perhaps this is why it spoke to me as deeply as it did during my own darker period. I highly recommend listening to the continuous mix over individual tracks to get the full breadth and depth of the message he conveys.
With 11 tracks spread across an album that runs a little over an hour, Cold Blue expresses sadness, darkness, hope, and resilience, among other feelings. What I loved most about the album is that it is undeniably an expression of him and his emotions. As the tracks do not feature any other artists and there are no lyrics, Winter represents Cold Blue's musical expression in its purest form.
"In Peace" sees Cold Blue delivering beauty right out of the gate. The way this track begins, you know it's setting up for something magical.
The track is nothing short of fantastic and its ethereal vibes make for a perfect opening to the album, priming listeners for the journey they are about to take. It is one of the few tracks to include any sort of vocals, but rather than words and lyrics they are breathy and alluring. The ambient sounds layered with piano and vocals, among other elements, drew me in. It turns out that "In Peace" is quite the tease, too, as about one minute in it begins to pick up speed and crank up the tempo before ending just as suddenly.
"Shine" continues that more up-tempo feel and starts right where "In Peace" left off, but at about three minutes in the music just stops and only the essential aspects remain. This beautiful pause seems very reflective, and there's something very hopeful in the way Cold Blue reintroduces each layer of music, returning with a more forceful, determined flavor before bursting into a delicious potpourri of sounds. Though the track is euphoric and positive, that burst also feels overwhelming and I get a beautifully chaotic feeling in the way the sounds are brought back together.
Listeners are then taken down a different path, with "Winter Gates" bearing a different feel from the first two tracks. Whereas "Shine" acted as an extension of "In Peace," "Winter Gates" breaks out of that mold. It continues on with the chaotic feel and in its core it feels darker, deeper, and a bit manic or tempestuous.
Cold Blue then transitions to "Golden Leaves," which is one of the album's best tracks. 
Around two minutes in the track gives a very hopeful feeling, with an absolutely beautiful buildup, and with the melody and piano bringing it together. The first time I listened to the track, I didn't want it to end. Though it clocks in at a little over five minutes, I would love to see Cold Blue release an extended version so the "Golden Leaves" experience can last even longer.
With "November Rain," Cold Blue presents a more somber mood. The track has more of an ambient style with a light progressive touch that tips its hat to the classic trance sound. The heavy focus on the piano toward the middle of the track ties the separate sounds together. The feelings the track evokes are fitting of its title and as someone who does not like rain but understands its importance, this certainly spoke to me.
"November Rain" then flows perfectly into "Frozen." It's an ironically named track, as it has a sound that's initially very warm and inviting. But halfway through it becomes very melodic, as though he was watching ice glistening and twinkling. "Frozen" could also refer to the freezing of emotions as one gets ready to face their fears, which is a perfect transition to the next track – which happens to be the most controversial one on the album.
As many have said, "In Madness" sticks out considerably as it doesn't sound like it belongs with the rest.
As a single track, "In Madness" is very popular but some have stated that its placement on the album threw off its otherwise cohesive feel. I'll admit, I too felt that way the first time but as I listened to the album over and over, I began to realize how it fit perfectly into the album's overall story arc as the heavy bass reflects the madness Cold Blue was contending with. To me, this is a personal analysis of understanding what the madness is, facing it, and then realizing there will always be madness in life and the most important thing is to find a way to cope despite that.
To then flow into "Colors" signifies that coping; emerging from the cocoon and admiring the colors that reveal themselves as winter is nearing its end. It's about simply just appreciating the literal and metaphorical colors that you can now see once getting out of the dark place. With a gorgeous breakdown and absolutely magical outcry of emotion in the middle, it is clear why this track is the album's fan-favorite.
The too-short "Recovery" serves as a particularly great transition, as it continues from where "Colors" leaves off and flows so effortlessly into "Ode to the Sun" that you don't even realize the tracks have changed.
"Ode to the Sun" is a beautiful, uplifting masterpiece that incorporates aspects from the first two tracks and is also similar in structure to "Once in Time" a previously released Cold Blue track. This song represents a complete circle, perhaps signifying Cold Blue becoming himself and returning to what he once was after making that "Recovery." However, as its not simply an exact replication of the first two tracks it signifies that things were learned and progress was made.
As Cold Blue admitted that winter is not his favorite season and signifies darkness, "Ode to the Sun" can certainly be interpreted as a metaphorical salute to happiness and brighter times returning after the tumultuous experience that was the "cold season."
"Generally I find the winter season to be more of a challenge. Something to be 'gotten through,' a necessity before spring and summer are back around. So as much as this album is a 'celebration' of winter, it's also dedicated to periods when we experience retreat and introspection. It's a tribute to the ups and downs of life. During every downtime there are important lessons to be learnt for the next rise. To my mind, in spring we grow, in summer we shine, but in winter we learn."

– Cold Blue
We finally arrive at the last track and it is a fitting close to the album's narrative.
On Winter, Cold Blue metaphorically traversed through a dark period and "Reflections" sounds like a breakthrough, as though the sky is opening up and flooding the world in sunshine. This track feels like you've finally gotten through that dark period and are ready for spring to arrive. It's at that point when you reflect on what transpired before and realize that things are going to be okay. I definitely experienced a range of emotions listening to the album but when I hit this point in "Reflections", it's hard to describe but I felt hopeful, uplifted and at peace.
Music is a very subjective thing and I hesitated multiple times as I tried to dissect this wonderfully emotional and personal album.
However, as it left such a lasting impression on me and became a journey that reflected what I was going through at the time, I thought it would be fitting to share how Winter became deeply personal for me. With every track, sound, melody, and bassline, artists share a bit of themselves with anyone willing to listen and I'm grateful that Cold Blue shared this touching work of art with us.
---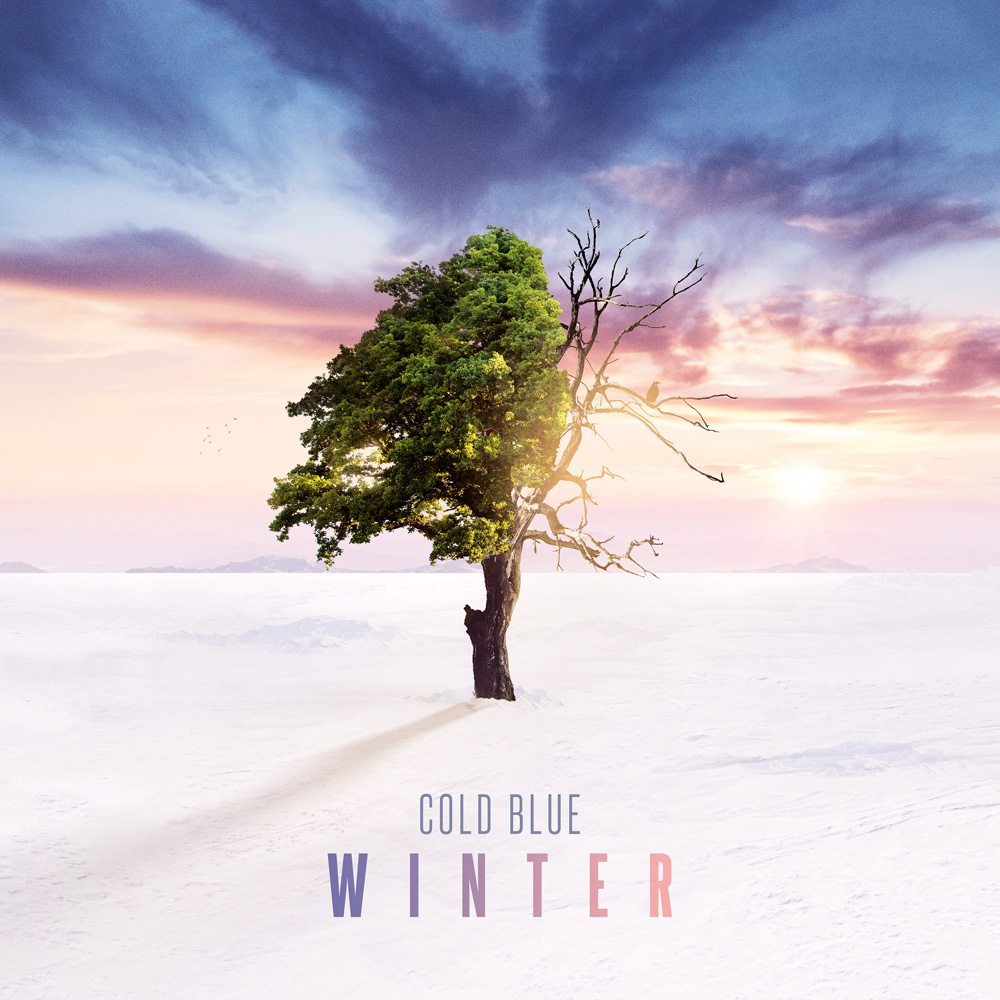 Tracklist: 
 In Peace
 Shine
 Winter Gates
 Golden Leaves
 November Rain
 Frozen
 In Madness
 Colors
 Recovery
 Ode to the Sun
 Reflections
---
Connect with Cold Blue on Social Media:
Facebook | Twitter | Instagram | SoundCloud