With support from labels like Psycho Disco, Arkade, and Country Club Disco, Zendlo continues to climb the ranks of the house music scene.
---
Salt Lake City-based artist, Zendlo is quickly making a name for himself in the world of house music. During the past decade, he made some waves with his performances before truly hitting his stride in 2018 when he teamed up with The Sunday Club (VNSSA and Eric Mark) for a collaboration called "Heavy Metal."
From there it was off to the races as Zendlo found support from labels like Psycho Disco, Insomniac Records, Country Club Disco, and more where he graced us all with some amazing tunes. Two of his standout tracks were also included on Kaskade's Arkade Destinations Iceland in September of 2019 before closing out the year with a remix of King Arthur's "Friday" on Martin Garrix's STMPD Records.
Riding the wave of these releases into the new year, there's one thing for certain: Zendlo and his unique brand of house music cannot be ignored. Take a listen to his mix below and read about his interesting backstory and beginnings in the world of electronic music.
Stream EDMID Guest Mix 203 || Zendlo on SoundCloud:
---
Thanks for chatting with us today, Zendlo! Growing up in Salt Lake City, you first fell in love with the electronic music scene at age 18 and quickly realized it was something you wanted to pursue. What led to this decision? Did you have a background in music before this? 
I was going to UVU (Utah Valley University) at the time and planning on doing something in the medical field as my career. During my second semester, I was venting to my roommate about how I didn't think I could do all the years of school required to become a doctor. My roommate happened to be an audio engineer major and asked, "You love dance music so much, why don't you just learn how to make it?"
Honestly, at the time, I didn't even know what a synthesizer was. I played piano for a few years growing up, and trombone for two years in middle school, but that's all the music experience I had. So he gave me his copy of Propellerhead Reason 4 and I got addicted. I started staying up way too late watching YouTube tutorials and was skipping most of my classes because I was so obsessed with learning how to make music.
You first gained traction in the scene when Toolroom's Strangelove Recordings picked up "Heavy Metal" in 2018. What were the years like between first choosing to pursue music and this career-changing single release?
My day job in college was audio post-production and I was making music pretty casually during college, to be honest. Fast forward to July 2015, I decided to take this career seriously and I moved to Los Angeles. I started working at a post-production studio called Hacienda Post. There I helped with sound editing and re-recording mixing for cartoon shows on Cartoon Network, Nickelodeon, and Disney Channel. Here's my IMDB if you're curious which shows I worked on. During this time, I was working non-stop with either my day job or making music.
The next major point was right before Dirtybird Campout 2017, I met Eric Mark who then introduced me to VNSSA. Those two make up The Sunday Club, who I collaborated with on "Heavy Metal." None of us had released on a label before, and we were all doing our own thing at the time. We figured that if all three of us collaborated on a track, we would have a much higher chance of making a song good enough to be signed.
It wasn't until maybe the fourth or so song idea when we made "Heavy Metal." We wrapped that one up as fast as possible and sent it to Walker & Royce in October of 2017. They played it in their set that next night and tagged us on their Instagram story. We were freaking out, to say the least. Then they kept playing it in all of their sets and tagging us! Other artists started reaching out asking for the song so they could play it, and the song started to build some hype behind it. Eventually, we got it signed to Strangelove and it was released on June 1, 2018.
Last year you turned heads when Kaskade featured two of your tracks on Arkade Destinations Iceland. What was your reaction when you first heard that Kaskade wanted to support your music?
I was surprised to be honest. I feel like my music is very different than his, but I think that's what he likes about it. He's a legend so it's an honor to have his stamp of approval.
You have also played several events thrown by Golf Clap and they released your latest single "Bring It Back" on Country Club Disco. How did you first start working with them, and what makes you such a good fit within that community?
They hit me up on Facebook after I released my B.F.B. EP on Psycho Disco saying that they really liked it and that I should send them some unreleased music. The following week we were in Vegas at the same time, so I stayed an extra day to go see them play. They even gave me a shout out on the mic when they played my song "I'm Just Like."
I think it was only a couple weeks later that they were in Los Angeles, so we got to hang out a lot that week. From there, they really just took me under their wing and helped me get my career off the ground. 
I feel the reason I fit within the community is the fact that we get along really well and so we find ways we can play shows together and hang out. We like each other's music, obviously, but with how saturated the dance scene is, I really think the major factor to success is how you connect with people.
Martin Garrix's STMPD label just featured you on the remix EP for King Arthur and LoKii's Friday. When working on a remix, what are some ways in which you put your own spin on the track? What do you think makes a Zendlo track unique?
I think the most important thing for me is trusting my intuition and keeping myself from getting in the way of that. When I start to overthink a remix, I get writer's block. So really, I just do what I want on a remix and it usually works out somehow. I'm not trying to hit a certain mold or sound, and I think that's what helps me be unique. I've found what resonates with me the most, which is hearing new sounds and grooves I've never heard or felt before. That's what makes tech house so addicting for me.
You've played several shows in Salt Lake City alongside artists like J. Worra, Golf Clap, and Bijou. What does it mean to you to play shows in your hometown? Do any specific shows stand out as being a particularly memorable night?
It's the only time I get nervous about shows, to be honest. My parents came to my first show in SLC this last year when I headlined a small basement club called The Void (it's closed now). They don't like vulgar language, so I had to really pick my songs carefully while I played. I've also never seen them in a bar before because they don't drink. So I would say that was the most memorable SLC show for me. [Laughs]
Can you share what the scene is like in SLC compared to other cities you've played in for those who haven't had the chance to experience it yet?
I'll split the scene up into downtown SLC and Provo. Downtown SLC is a lot more club nights and the community that come to these shows are all friends. The scene is very friendly and welcoming. To me, it blends in with the majority of the cities I've played. The Provo scene, however, is different because there aren't really any clubs here, but these parties are some of the wildest parties I have ever been to. Most of the kids at these Provo parties are sober too!
Who are some artists (in any genre) that you feel have made the biggest impact on you both on a personal and professional level?
I share a studio here in Provo, Utah with Mr. Tape, Lipless, and Finn Bjarnson (of Late Night Alumni). These guys are the coolest, most genuine group of guys I've ever met in the industry. I freaking love these dudes, and they're insanely talented. So I'm constantly learning from them every day and improving so much quicker because of them.
Kaskade is another big one. Hanging out with him and the whole Arkade crew for a week in Iceland this past year was easily the best week of 2019, and one of the best highlights of my life so far. He is one of the most humble dudes you will meet, and he has every reason not to be. I learned a lot that week watching him interact with people, and of course from all the advice that he gave me throughout the week.
VNSSA, LondonBridge, Walker & Royce, Golf Clap, Treasure Fingers, OMNOM, J. Worra, Matthew Anthony, and so many others. They all really helped me get my career off the ground in the beginning. There's also the artists I've collaborated with and so many other friends in the scene. I'm just grateful to be part of such a cool pocket in the dance community where everyone is supporting each other and cheering each other on.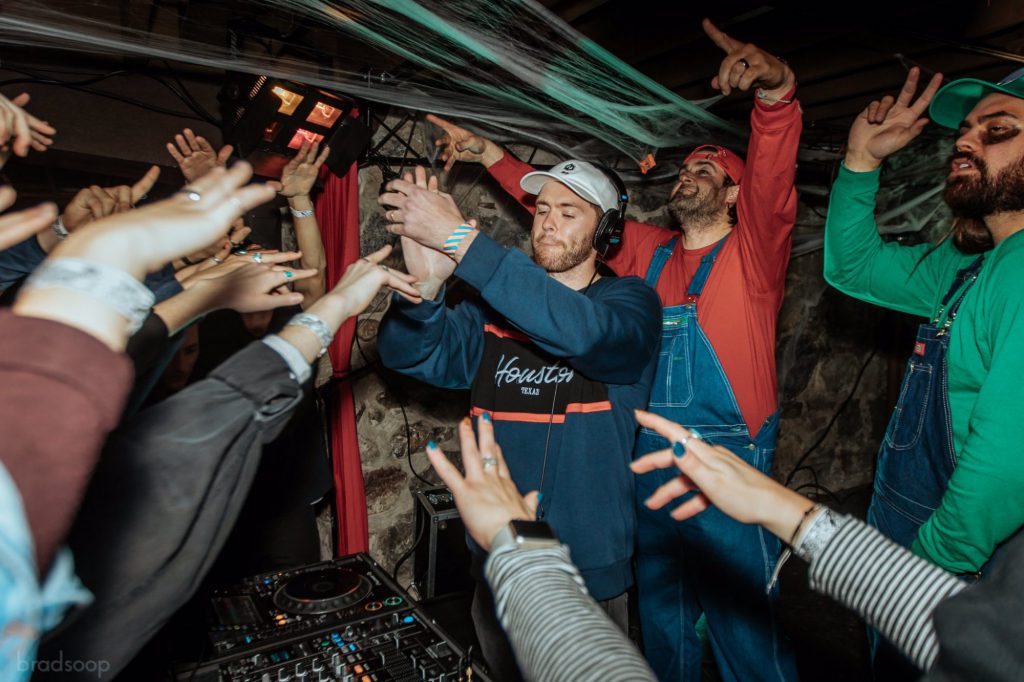 Looking towards the new year and new decade, what lies ahead for Zendlo? What are some of the goals you hope to achieve?
I have some big releases lined up for this year that I can't wait to share. I've also learned how to work smarter and more effectively, which means less studio time and more family/me time. I'm finishing more music, making better music, and working fewer hours than ever before and it feels amazing!
One of my main goals for this year is that I really want to play a festival. I'm also hoping Kaskade wants to do another Arkade Destinations trip because that Iceland trip was one of the best weeks of my life. I also want to release an album eventually, because I'm sitting on a lot of tracks that don't necessarily work in a club, but I think people would like them too.
Lastly, what's a message that you have to other music lovers who are following their dreams?
Be your biggest fan. Make music that YOU love, and don't worry about what other people will think of it. Once I started making music for me, that's when things clicked.
---
Connect with Zendlo on Social Media:
Facebook | Twitter | Instagram | SoundCloud