Awakenings is celebrating its 20th Anniversary in style with a lineup featuring amazing artists like Charlotte De Witte, Jeff Mills, Carl Cox, Richie Hawtin, and more!
---
How would you celebrate two decades of techno's flagship festival as Awakenings? You curate the best and brightest stars, and then challenge the norm by offering more live acts than ever before! Announced today in special YouTube video, Awakenings Festival is set to knock its 2020 festival out of this world with talent that breaths the spectrum of techno.
The festival has plenty to offer you over the two days it occurs. So what is in store for fans? Well, if you like deep, dark techno, curate something by Richie Hawtin or Len Faki. If you fancy the massive beats of someone like Carl Cox, Adam Beyer, and Joris Voorn or would rather get groovy with ANNA, Amelie Lens, Kölsch, or Tale Of Us – – they got you covered!
Related: Want a taste of what Awakenings Festival has to offer? Check out the livesets from 2019 and see for yourself why this is a dream for any lover of the underground!
Maybe you need something outside your norms to refresh yourself into the new decade? If so, gravitate to Avalon Emerson, Park Hye Jin, or Under Black Helmet for different experiences. There is also a bevy of live acts on the lineup that include Function, Lövestad, Planetary Assault Systems, Reinier Zonneveld, Stephan Bodzin, and 999999999.
In keeping the spirit alive, Unsurprisingly, Awakenings pushes the energy to a fever pitch in their lineup video by including "Forever Ravers" by ANNA and Kittin as the driving soundtrack for the announcement. Check it out below, read on for the full lineup, and head over to their website for ticket info!
Watch the Awakenings Festival 2020 Lineup Announcement on YouTube:
---
Awakenings 2020 Lineup: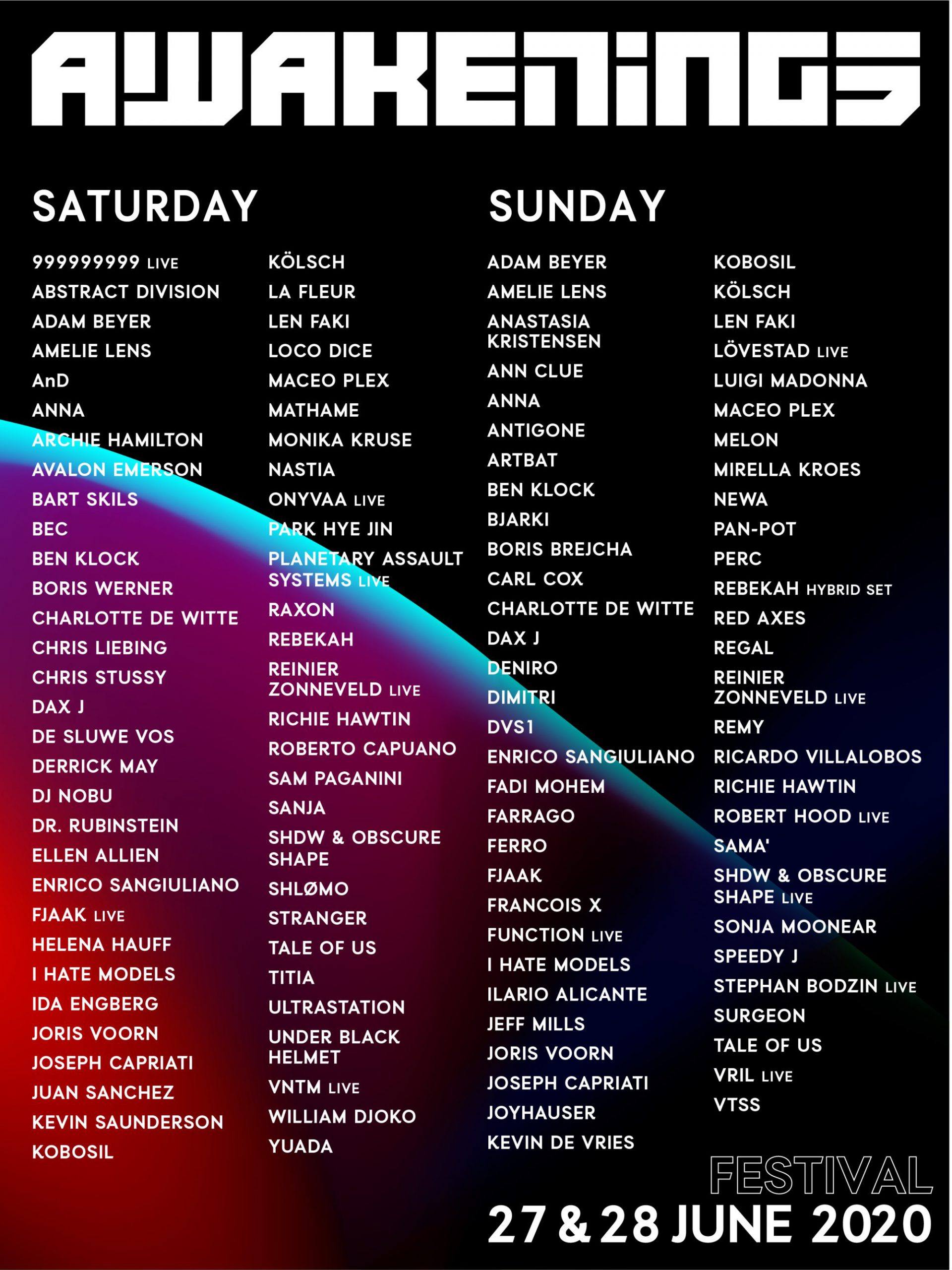 ---
Awakenings 2020 – Lineup By Artist:
999999999 (Live)
Abstract Division
Adam Beyer
Amelie Lens
Anastasia Kristensen
AnD
Ann Clue
ANNA
Antigone
Archie Hamilton
ARTBAT
Avalon Emerson
Bart Skils
BEC
Ben Klock
Bjarki
Boris Brejcha
Boris Werner
Carl Cox
Charlotte de Witte
Chris Liebing
Chris Stussy
Dax J
De Sluwe Vos
Deniro
Derrick May
Dimitri
DJ Nobu
DR. RUBINSTEIN
DVS1
Ellen Allien
Enrico Sangiuliano
Fadi Mohem
Farrago
Ferro
FJAAK
Francois X
Function (Live)
Helena Hauff
I Hate Models
Ida Engberg
Ilario Alicante
Jeff Mills
Joris Voorn
Joseph Capriati
Joyhauser
Juan Sanchez
Kevin de Vries
Kevin Saunderson
Kobosil
Kölsch
La Fleur
Len Faki
Loco Dice
Lövestad (Live)
Luigi Madonna
Maceo Plex
Mathame
Melon
Mirella Kroes
Monika Kruse
Nastia
Newa
ONYVAA (Live)
Pan-Pot
Park Hye Jin
Perc
Planetary Assault Systems (Live)
Raxon
Rebekah
Red Axes
Regal
Reinier Zonneveld (Live)
Remy
Ricardo Villalobos
Richie Hawtin
Robert Hood (Live)
Roberto Capuano
Sam Paganini
SAMA'
Sanja
SHDW | Obscure Shape (Live)
Shlømo
Sonja Moonear
Speedy J
Stephan Bodzin (Live)
Stranger
Surgeon
Tale Of Us
Titia
Ultrastation
Under Black Helmet
VNTM (Live)
Vril (Live)
VTSS
William Djoko
Yuada
---
Follow Awakenings on Social Media:
Website | Facebook | Twitter | Instagram | SoundCloud | YouTube