Steve Aoki's iconic Dim Mak label celebrates the new year with 22 of 2019's best tracks on Dim Mak Greatest Hits 2019: Originals.
---
Starting all the way back in 1996, Steve Aoki's Dim Mak Records has been a dominant force in both EDM and the music scene as a whole for several decades. Known for their impressive selection of tunes that cover a variety of genres, 2019 was yet another successful year for the label.
To celebrate Dim Mak's accomplishments over the past year, Aoki and friends have given us a greatest hits compilation. Titled Dim Mak Greatest Hits 2019: Originals, the selection of tunes is well worth a listen. With house, bass, rap, pop, and more styles covered, get ready to revisit some of the best Dim Mak tracks of the year.
Listen to Dim Mak Greatest Hits 2019: Originals on Spotify below, stream and purchase on all platforms, and read on for more info on the compilation!
Stream Dim Mak Greatest Hits 2019: Originals on Spotify:
---
While you might think of Dim Mak mainly for their mainstage music, Greatest Hits 2019: Originals proves that Dim Mak is a force to be reckoned with in virtually all electronic genres. 
The album kicks off with "Send It", a futuristic electro tune by Steve Aoki and Melbourne bounce legend Will Sparks. Along with "Jump Up" by Henry Fong, these two tracks from some of the biggest players in the EDM scene can't be missed.
Somewhere in between the realm of electro house and bass house fall "Swag" by BROHUG, "True G" by Matroda and BRUX, and "Flip It" by Curbi. These three genre-bending tunes bring together several styles and will definitely be played in sets well into 2020. The compilation also features a super catchy house tune from Black Caviar and G.L.A.M. titled "Alright, Alright, Okay".
Dim Mak delivered tons of bass music in 2019 with contributions from QUIX, Luca Lush, Riot Ten, PIERCE, Tisoki, Bear Grillz, Tisoki, Godlands, and Blanke.
Fans of smooth, pop-leaning sounds will also enjoy several tracks on Greatest Hits 2019: Originals. "Let Me Take You There" by Max Styler & Laura White and "Dollar Menu" from Two Friends & Dani Poppitt are some of my favorites. Other artists featured include Party Pupils, MAX, Prince Fox, ARMNHMR, and KRANE. Rapper Smokepurpp also makes an appearance alongside trap star Ricky Remedy on "Body Bag."
Lastly, we can't forget one of our highlights of 2019: "Soundboy Burnin'" from Otira, the title track from his EP released earlier this year. Along with "Hood Anthem" from Bok Nero and Shizz Lo, these two tracks showcase a seriously unique take on electronic music.
Dim Mak Greatest Hits 2019: Originals is worth checking out to re-listen to some of the year's best tracks and discover some you may have missed.
With another successful year in the books, Dim Mak Greatest Hits 2019: Originals will be in my rotation for a while. Let us know your favorite Dim Mak tracks in the comments and follow their socials to catch all the new releases!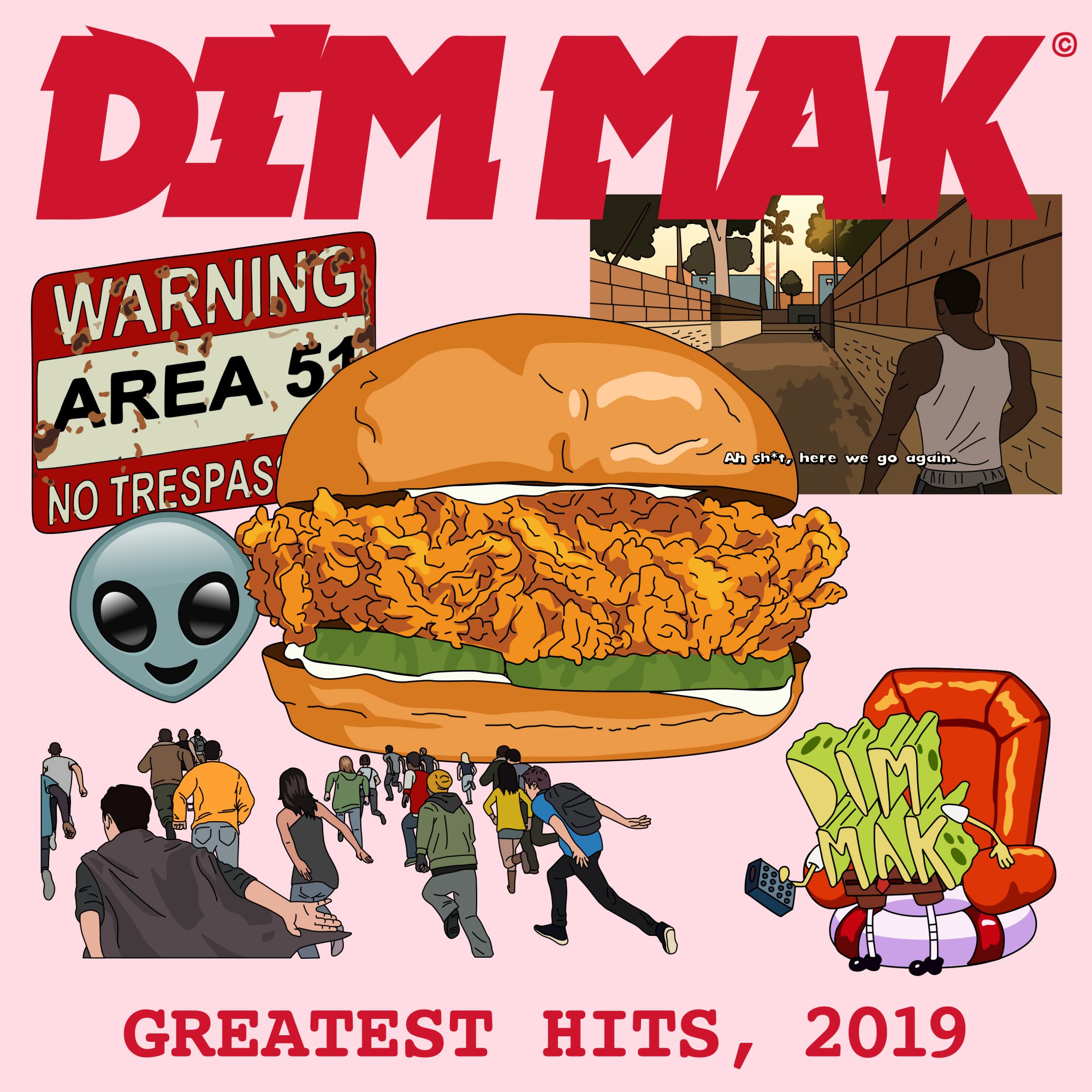 Tracklist:
Steve Aoki & Will Sparks – Send It
Max Styler – Let Me Take You There (feat. Laura White)
BROHUG – Swag
QUIX & Luca Lush – Berserk (feat. Yung Bambi)
Riot Ten & PIERCE – Ain't Scared (feat. Hashu)
Bok Nero & Shizz Lo – Hood Anthem
Ricky Remedy – Body Bag (feat. Smokepurpp & Zay27)
Matroda – True G (feat. BRUX)
Curbi – Flip It
Henry Fong – Jump Up
Black Caviar – Alright Alright, Okay (feat. G.L.A.M.)
Party Pupils & Louis Futon – One Two Things (feat. TOBi)
Prince Fox – Rock, Paper, Scissors
Two Friends – Dollar Menu (feat. Dani Poppitt)
BRUX – Belong
Godlands – Valour (feat. BOI)
ARMNHMR – Save You Now (feat. Rico & Miella)
Bear Grillz – Stay (feat. Micah Martin)
Tisoki & Watgood – Relate
Blanke & Godlands – Hellraiser
Otira – Soundboy Burnin'
KRANE – Tell Me Why (feat. Malika)
---
Connect with Dim Mak on Social Media:
Website | Facebook | Twitter | Instagram | SoundCloud | YouTube