Following a main stage set at Spring Awakening, we sat down with Two Friends to learn about their new single, the latest Big Bootie Mix, their summer plans, and more.
---
Two Friends are a Los Angeles based dance music duo consisting of Matt Halper and Eli Sones. Originally meeting in middle school, these two have been close friends since childhood brought together by their love for music. After years of hard work, they've made a name for themselves in the mainstream electronic music community.
The duo has been on a meteoric rise the last few years, selling out shows in Chicago and across the country, and are focused on even bigger things in the future. Initially gaining attention through countless SoundCloud remixes, the duo has gone on to release tracks on some of the biggest labels in dance music. Their most recent release, "Dollar Menu" featuring Dani Poppitt, came on Dim Mak Records and is an absolute jam.
We caught up with Matt and Eli after their set at Spring Awakening in Chicago, the first stop of their summer 2019 Dollar Menu Tour. The tour will bring them to some of the biggest festivals and cities in North America. Read on to learn about just how impressive their rise has been in the scene, how they measure success, funny stories from their childhood, and more!
Stream Two Friends – Dollar Menu (feat. Dani Poppitt) on Spotify:
---
Thanks for taking the time to chat with us today! What do you think of Spring Awakening so far and what was the crowd's vibe like?
Matthew: Really cool. We've heard great things from some of our friends who have played it before. The weather was perfect! We got dropped off behind the stage right before our set not knowing what to expect, and it just kinda became a zoo out there. It was great.
Eli: Awesome crowd! Chicago always shows us love, and we love playing here.
You recently performed in Chicago earlier this year at Concord Music Hall, as well as last year's North Coast Music Festival. What's it like to perform in this city?
M: It's great being here multiple times a year. Our last one was Concord, which was amazing because that was our biggest headline show yet in Chicago. It was crazy! A festival set is a different vibe because it's a lot of people that know you and a lot of people that might not. You almost have to win them over in a way.
E: Chicago's been one of those cities where we feel like we've worked hard to build up our reputation from the beginning. Five years ago, we did some small shows where almost no one came. About a year and a half ago, we had a really fun show at Bottom Lounge which sold out. Then we come back and play North Coast, Concord, and now Spring Awakening. It's great to see these shows get bigger and better each time and to see some familiar faces as well. Hopefully, we'll be back in the winter for the next step up.
Today is the first stop of your Dollar Menu Tour, which will take you everywhere from Honolulu to Toronto before wrapping up in September at Red Rocks. What are you most looking forward to on this tour?
M: This tour is cool because it's a little more all over the place as opposed to just focusing on one region or area at a time. It's more spaced out, and there's festivals, nightclubs, and outdoor day parties. Each set is different and brings a unique vibe. Instead of a tour where it's the same type of venue every night, it's something different every day. We're really excited to visit some places that we've never played!
E: Summer also tends to be a little less hectic for us. This tour's gonna be super fun, and it also gives us a lot of time back in the studio to make progress on some songs. Sometimes, on a more intense tour, it can be hard to jump back in the studio for a day or two before hopping back on the road. This summer is a great balance of awesome shows & festivals, cool cities, and getting ahead on some music. We have a lot of music coming!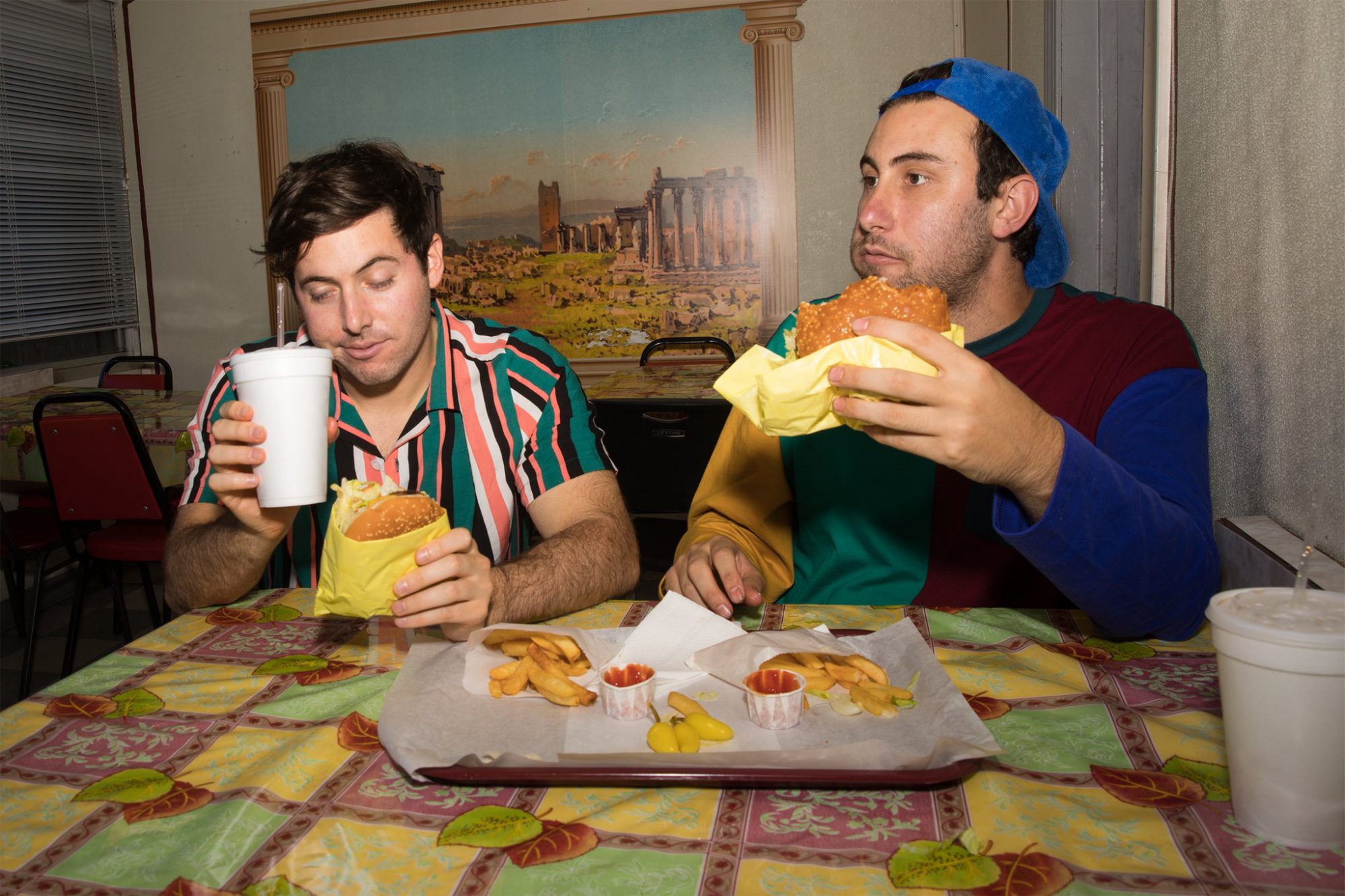 Tell us more about your most recent single, "Dollar Menu," and what it was like to work with vocalist Dani Poppitt.
M: We previously wrote a song with Dani that never came out and really loved working with her. We've actually written a bunch with her but this is the first to be released. She's awesome. We wrote it in mid-2018 and we're stoked with the result. It's not a straight dance record, so sometimes, you'd be concerned playing it live. But that song just works so well, and it's great for everyone to sing along. It's always one of my favorites to play.
"Dollar Menu" is your first single on Dim Mak, and in the past, you've released on Armada and other labels as well. What has it been like to get such a positive reception and support for your productions from these imprints?
E: It's been cool. To be totally honest, sometimes it seems like we take it for granted. It's important to remember that when we first started out, we circled labels like Armada, Spinnin' and Dim Mak. We told ourselves that if we kept working hard enough, we'd be there. Now we have friends at these labels, and we work with them often. It's important to remember where we came from.
M: That said, a few years ago, you really needed to have your song on one of these labels. But now, as you start getting your own momentum, that's when the labels want you! It's a funny catch-22. At the end of the day, it's important to just stay focused on your music, push it how you can, and if you work hard enough. The labels and other help will come.
That reminds me of your "Mr. Brightside" and "Cool Kids" remixes since they're self-released on SoundCloud.
E: We can't even get "Mr. Brightside" on Spotify since it's unofficial. We've kind of stuck to the mindset of making what we like and trying not to get too caught up in the politics of it all. If it's good enough, even if it's only gonna be on Soundcloud, it can still be huge.
The remixes that you guys have put out have also been amazing with reworks of tracks like Red Hot Chili Peppers' "Otherside" and Dua Lipa's "IDGAF" really standing out. How do you decide which tracks to remix, and who are some artists or songs you'd like to put your spin on in the future?
M: Great question, we think about it a lot!
E: There's not really one formula. When it comes down to it, we just have to like the original song. A lot of times we'll get emails or inquiries asking us to do a remix. If it's something we don't click with, it can be hard to feel inspired.
M: But there are other rules too. There could be a song I really like, maybe even for an official remix, but maybe our crowds just won't be familiar with it. Remixing a track takes a long time, and we'll want to play it at shows. We really want to remix songs that connect with people. Oftentimes, that's old songs, but it can be new songs too.
E: I think that's the magic formula. Finding songs that resonate with people, and making sure you're putting a fresh spin on it that can live up to the hype. It can be scary. With something like "Mr. Brightside", there'll always be some haters that are like, "you can't touch a perfect song"! We always try to keep some elements from the original that make people feel a certain way and then hit them with our own twist.
M: For example, on that remix, we knew from the beginning that we'd have to keep that iconic guitar lick or it just wouldn't work. That was tricky – we had to do a lot of gymnastics on how to make it work chord progression wise.
Aside from your work in the studio you also have been dropping the Big Bootie Mix series that recently reached its 15th installment. What the selection process like when you're digging for tracks on the mix?
E: Believe it or not, a lot of it is based on what we can find! When it's time to start the next volume, we'll search all over the Internet and download as many instrumentals and acapellas that we can get. Then, we start messing around and pairing one with another. Just because we found the acapella doesn't mean we always use the song. We decide if we think people will know it and whether or not we think it's right for our mix. There have been those days where we'll be deep on some forum, click on a weird link, and get the acapella from one of our favorite songs from middle school. When we find a big one like that, we always work extra hard to make sure we do it justice.
We last spoke back in 2016. How do you feel you've both grown as artists since then, and what's a recent accomplishment that shines brightly and stands out as special?
M: It's weird – we don't always notice those things until we look back. For us, we've consistently tried to stay true to ourselves and do what we like. As a whole, it feels like people have kind of caught on and are continuing to catch on.
E: From the past few years, I don't think that there's one moment or thing that comes to mind.
M: It's more the little victories.
E: Exactly. On a day to day basis, it seems like things aren't really changing. We're just working hard, doing our best. Then, I'll see a picture on Facebook of a show from years ago and realize how much we've grown.
M: The most notable stuff was our first big venue tour was in 2018 and that sold out completely. Then, we did it again in bigger rooms in 2019 and that sold out as well.
E: Right, 2018 was Bottom Lounge, which is about 700 people. Next year, we're in a 1,400 person room at Concord. That's a clear measuring stick – basically doubling the number of people at our show.
M: There's a lot of things that we can't really measure too. All we can do is keep the faith, keep working hard, and good things will come.
E: We've learned that there are so many things in this industry where there's nothing you can control in order to make it happen. For example, if a goal of yours is to play Ultra Music Festival, you can't game the system. Instead of trying to figure out the game, just don't think about it, work hard, and make them call you!
M: Then, once that happens, other people will be calling you at the same time. So focus on yourself, your team, and your fans.
always fun to walk down memory lane— lotta fun times and long nights at this set-up, back when it was just a fold up table in the basement with a random piece of acoustic foam behind us. sometimes you don't really see progress until you look back far enough to see whatsup pic.twitter.com/5Nbsl1WQ26

— Two Friends (@twofriendsmusic) June 23, 2019
Since you guys have been friends since middle school. Can you share a funny story you guys have about each other from back in the day?
E: Matt was in the choir in high school. There was a school-wide assembly where they were performing a song.
M: It was from Les Miserables, so it was in like an opera format. I was one of the worst ones in the choir too.
E: Our group of friends had no idea that this was happening. I'm in the bleachers sitting with five of our best friends. The choir's in a straight line with like twenty people standing next to each other. There's one microphone in front of all of them, and next thing we know Matt is walking up to the microphone for his solo. It's kinda a long walk and before he could even sing, the thought of Matt doing his solo in front of the school just makes us go crazy.
M: I'm not a good singer, and I'm about to sing in front of like 500 people. I see my friends in the corner crying, they were so obnoxious. That was so scary. I think I did okay though!
E: You did! I have one that's similar to that…embarrassing myself in front of an assembly. Remember the basketball game "Knockout"? The school had a tournament for fun, and they did it during lunch. It was lowkey at first. We would just go downstairs and play on like four separate days. The winner from each day made it to the finals.
I won one of those days, again, with no one watching and no pressure. Then, they took the winners and put us in front of an assembly, again with like 500-600 people! I was SO nervous. We all were. I don't think any of us expected to do that in front of so many people. I remember, no one wanted to go first. I was the youngest, so eventually, I got pushed towards the front.
So, I go, airball my first shot, the second guy swishes it, and I'm out. I lasted four seconds in the tournament, had a walk of shame to under the basket, and then just waited there for like ten minutes while the rest of the tournament went on.
M: Knowing our friends, we probably booed him. There's a lot of stories!
Finally, as your career continues trending upwards, what are some goals you have for your project in the next few years?
M: It's not really a tangible thing, but things are always getting busier for us so it's important for us to manage our time. We're on the road a lot and we also need to be in the studio. We also try to have normal lives! We're focused on getting more originals out, which is going to be fun.
E: Going back to the idea of controlling what you can and not worrying about what you can't, we've got a good system down. We have a routine and know what our individual strengths are. A lot of it comes down to keep doing what we're doing! We've seen it build gradually and we're gonna stay disciplined and keep improving our songwriting, producing skills, and live shows. Then in a few years, we'll chat again about what has changed since 2019.
Hopefully, that interview will come at Aragon Ballroom with another sold out crowd!
M: Yes! That's the dream!
---
Connect with Two Friends on Social Media:
Website | Facebook | Twitter | Instagram | SoundCloud | YouTube