The Polish Ambassador, LSDream, and The California Honeydrops have been announced as the headliners on the Lucidity Festival 2020 Lineup!
---
Although California may be brimming with music festivals all year long across the entire state, one of the true standouts in the scene is none other than Lucidity Festival. Renowned for their efforts of being at the forefront of the conscious and ecological festival movement, they've continued to deliver a memorable experience with each passing edition.
Carefully curated by their team, this family-friendly festival blends music, art, and educational experiences together to make an impact on all of those who pass through their gates. Now, after releasing that this year's theme for Lucidity Festival would be Regeneration Earth, there's even more exciting news as the music lineup has been unveiled.
Related: Want to explore the immersive nature of Lucidity Festival? Check out our post highlighting the Elemental Avatars you'll meet while at the fest this April!
While artists like The Polish Ambassador, LSDream, and The California Honeydrops sit atop the bill, the lineup for the upcoming edition of Lucidity is one of their deepest yet. A closer inspection of the lineup allows for artists like AN-TEN-NAE, Russ Liquid, sumthin sumthin, and Lauren Lane to appear.
The addition of Tara Brooks, Cofresi, Balkan Bump, and The Librarian are also a welcome sight to see as well as they'll all bring their unique stylings to the stage. Rising stars like AHEE, Luke Andy, Arnold & Lane, and Ocean Roulette also stick out as performances you simply won't want to miss.
Read on to explore the highly curated lineup for the upcoming edition of Lucidity as there are plenty of surprises on the flyer below. Stay tuned for more details as we head closer to the festival itself this April and let us know who you're most excited to catch this year!
Tickets for Lucidity Festival 2020 are available now via Eventbrite, grab them soon as this year's edition of the festival is sure to be one of the best yet!
---
Lucidity Festival 2020 Lineup: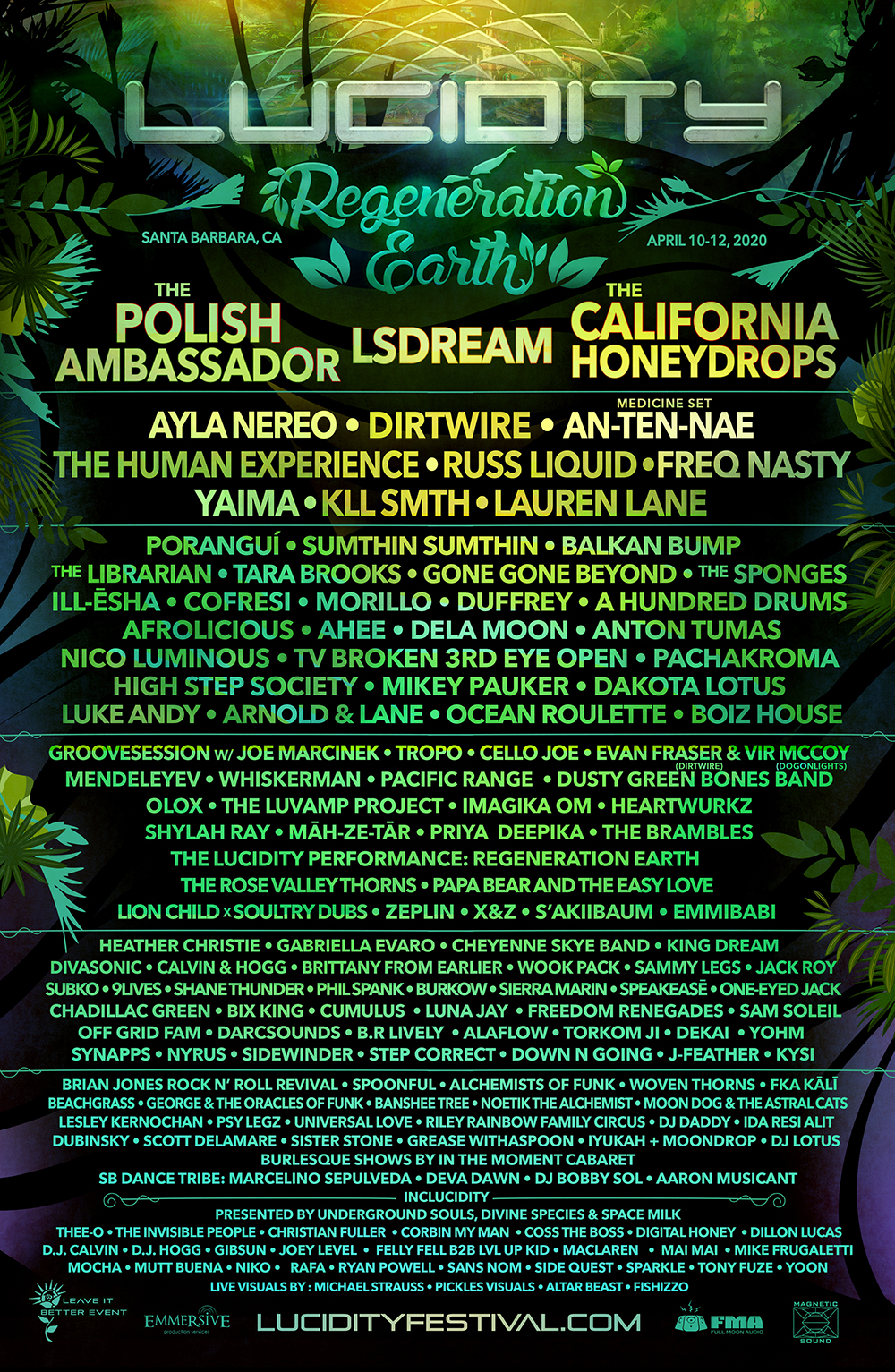 ---
Event Info:
Dates: February 10-12, 2020
Ages: All Ages
Venue: Live Oak Campground, Santa Barbara, California
Facebook Event Page: RSVP HERE
Tickets: Purchase HERE
---
Connect with Lucidity Festival on Social Media: