M3F kicked off festival season in Arizona with some unforgettable sets from NoMBe, Sunsquabi, and more!
---
McDowell Mountain Music Festival aka M3F has become a staple event in Arizona and yearly adventure for me. Being from San Diego the conflict of CRSSD Festival is usually present as both events take place the same weekend, however, after attending my second edition of M3F this year there is no looking back. The combination of electronic music and jam bands is everything I look for in a music lineup and I fully support their vision and mission of giving back to the community.
There is no doubt the passionate nature of the event seeps into every aspect of the festival. As the weekend got underway, there were so many things that continuously put a smile on my face that made it a truly unforgettable experience.
One of the first things you see upon entering the festival is The Marketplace.
Nestled between the Rattlesnake and Saguaro stages, vendors welcomed attendees to explore their unique creations. Each stall had something beautiful to share and all the social engagement created a vivacious and high energy environment. No matter how many times you revisited the marketplace there was always something new to catch your eye.
Whether it was a Third Eye pine cone pendant, sequins cloak, funky hat, or gemstone The Marketplace was an energy hub for the festival and provided a wonderful platform for people in the community. You could truly get a feel for the vendors' passions and dive deeper into how they got to where they are. Anytime I had to go from Saguaro to Rattlesnake, or vice versa, I would walk through The Marketplace to check out what was going on and with staggered set times, I found myself making that short walk often.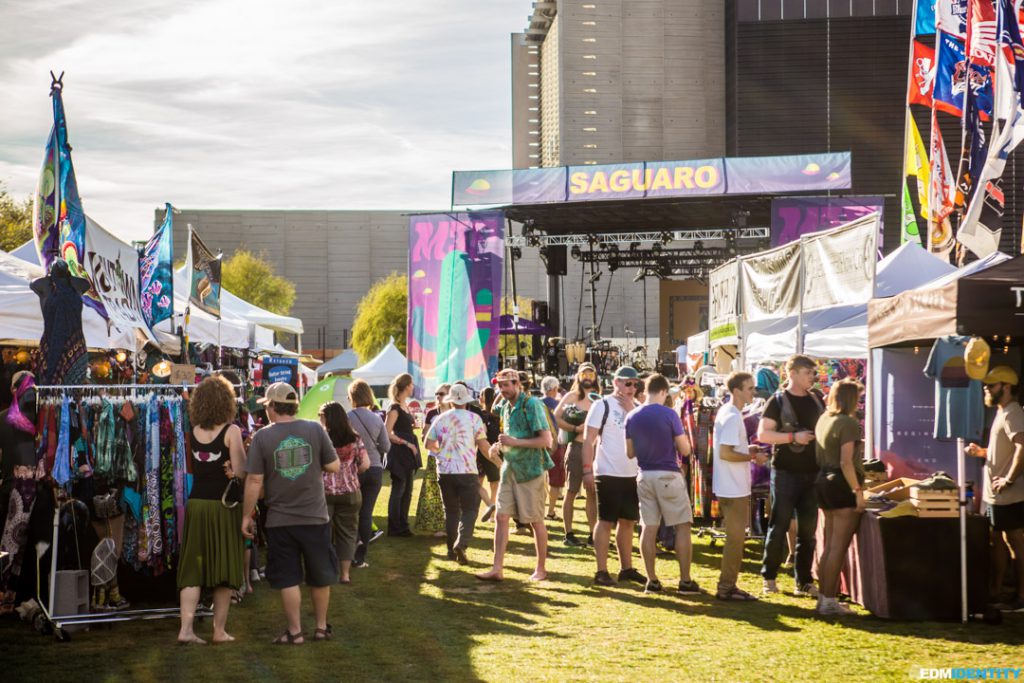 Staggered performances eliminated all the stress of set time conflicts.
At larger festivals set time conflicts can pose difficult decisions, but M3F eliminates those conflicts by having staggered set times. Between the two main stages, Rattlesnake and Saguaro, you could see every set and still catch a few breaks for water and the restroom. Friday and Saturday were noticeably busier and attracted a younger crowd, but navigating the festival was still a breeze. Headliners ODESZA, Empire of the Sun, and Umphrey's McGee all put on spectacular shows, but my favorite sets of the weekend were the ones that came on earlier in the day.
Seemingly out of nowhere, SunSquabi became my favorite set of the weekend.
It was another one of those musical moments where I had never heard of the group, but it was everything I needed and wanted to hear at the time. The set was seamless and carried insane energy from start to finish. At one point, I had to put all my belongings down and fully committed to the experience unfolding before me to get wild to their set.
The two frontmen would masterfully incorporate their unique influences into the jam. The guitarist would fire off some heavy metal riffs then transition into classic rock and blues measures/solos. The bass player would match it then drop some deep analog bass notes. I definitely didn't know much about SunSquabi before M3F, but I sure as heck am going to listen to more of their music.
My second favorite set of the weekend was NoMBe.
The LA-based producer brought a full band to Arizona and played an incredible set that included tracks "Freak Like Me", "Wait", and "Summer's Gone". NoMBe hypnotized the crowd with his sensual lyrics and commandingly assumed front, right, and center stage to engage the crowd and show everybody some love. His set oozed of swooning energy and made me completely forget about the initial Empire of the Sun conflict.
Other music highlights from me over the weekend included Lettuce, The Knocks, and OPIUO.
Lettuce: The jam band/electronic fusion group played two different sets over the weekend. The one thing they did have in common was actual lettuce being thrown around during their sets. You don't get much better than jamming out to Lettuce while tossing lettuce in the air.
The Knocks: The knocks debuted their new live band and had the crowd bouncing all night with their hits "Classic", "Kiss The Sky", and "Brazilian Soul". I wiggled my way to the front where there was more than enough room to dance freely and I snapped some of my best pictures of the weekend.
Opiuo: Opiuo closed the Coyote on Sunday. Not only does he have some seriously heavy-hitting bass beats, but he was also very interactive with his fans. He played until the sound was cut off, and then came to shake hands and take selfies with everyone at the rail.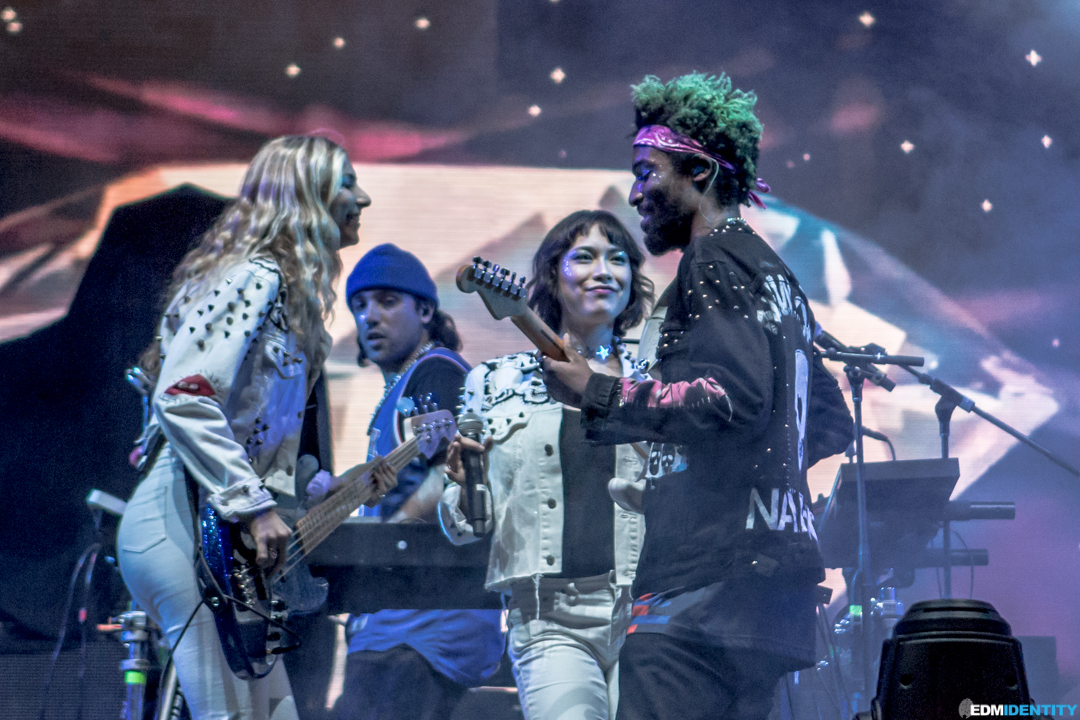 Aside from the music at M3F, I also met so many amazing people over the weekend.
It's amazing how music consistently brings people together. Everyone at the festival was so genuine, and after OPIUO's set, I actually made some new friends from Denver that I explored some bars with after the festival.
I didn't just make new friends at the festival though, as I bumped into some familiar faces too. I have been lucky enough to attend festivals across the states and it baffles me how often I run into the same people. I met Pam at last year's M3F when I snapped a photo of her in her natural element. Hooping to the music and teaching interested attendees about the art of flow. Honestly, our interactions have been mostly about me telling her how cool her hooping style is and where I can send the pictures I take, but she really exudes amazing energy.
Every time I have crossed paths with her she is hooping, teaching someone, smiling, and enjoying the moment. Something I truly admire and try to incorporate into my life. It makes sense the last picture I took of her at this year's festival she was wearing this shirt. Cheers, Pam!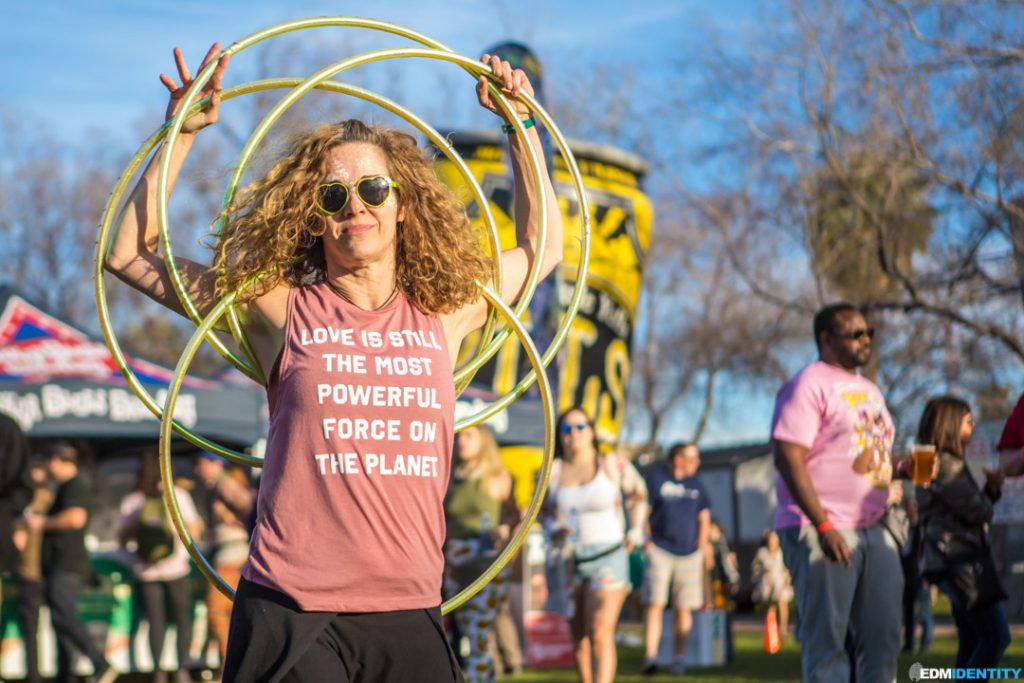 After 16 years, M3F has really dialed in the logistics of the event; however, there are always things a festival can improve on.
One of the first things I noticed was there was only one entrance to the festival for all ticket holders. On Friday and Saturday, it didn't seem like there were enough volunteers to effectively manage the huge influx of people with just one entrance and four lanes. I feel if the festival created additional entrances for general admission, VIP, and media it would relieve the congestion and wait time that builds up when certain headliners draw larger crowds.
There was art throughout the festival, but I would love to see more interactive or conceptual installations. Most of the art was off to the side and not really incorporated into the festival. Having attended Life is Beautiful and Lightning in a Bottle where the art is truly front and center, I wish that M3F can bring something similar in the future. Being able to physically interact with an art piece makes the experience more visceral and I feel that would make the art stand out more.
Overall, I had more fun at this M3F than ever before and can't wait to return!
The M3F team have created something special with this festival and I've absolutely fallen in love with it. Each year I go back I gain a deeper appreciation for the work that goes into it and the product that comes out.
In 2018, the festival donated $65,000 to local charities and I have no doubt the years to come will continue to be successful. The festival is founded on the principles of charity, community, and culture with a genuine mission, and to me, the music, art, and cheap beer is just a huge bonus to supporting their cause. See you next year M3F!
---
Connect with M3F on Social Media: