Life is Beautiful is a dynamic and entertaining festival that allows us to escape everyday life and remember the beauty of the small things.
---
This was my third Life is Beautiful and I was so excited to return to Downtown Las Vegas for this epic festival. Each year thousands of attendees come together to enjoy this mixed arts festival. They not only host an amazing array of artists that span a variety of genres, but they also include phenomenal food, comedians, and interactive art.
Last year they began incorporating Sin City staples like the Blue Man Group and the Cirque du Soleil shows for an even more heightened festival experience. I was excited to see what new and unreal things I'd be able to see at the 2018 edition of the festival.
The temperature was high and we were arriving shortly after gates opened. We had just gone to the official pre-party, a pool party with Elderbrook at the Downtown Grand. The pool wasn't very big but it was definitely a great way to kick off our day and just a short walk to the venue. The GA line was moving fast despite its length. The metal detectors, now standard at most festivals, helped speed the process up.
There are so many innovative possibilities for using technology at music festivals and Life Is Beautiful showed that off proudly just past the security and wristband scan with a giant LED board. Big lettering or cut outs are expected but this is the first time I'd seen such a technical display as a photo backdrop!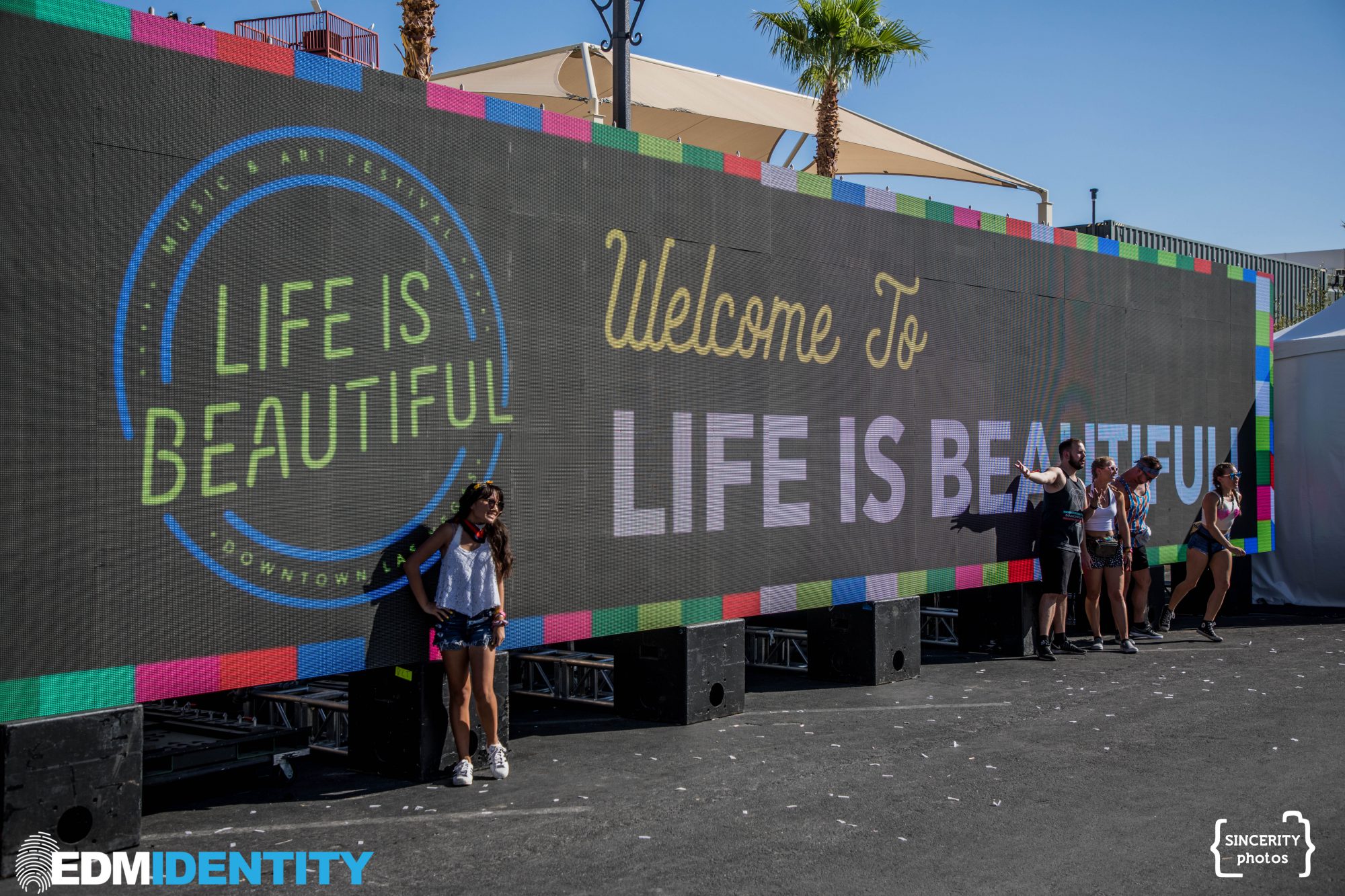 Upon entering, we wandered around taking in the art, murals, and of course, the wide variety of IPAs they had available.
We arrived at the Downtown Stage in time to see Poolside, one of the first live bands we would take in this weekend. From there we went to see Elohim, an artist I hadn't seen since she opened for Alison Wonderland. Her visuals were a vivid mixture of abstract art, cartoons, and phrases. She's fun to watch because she has fun on stage, dancing around. Live mixing is clearly her passion and she imparts her infectious energy on the crowd.
It wasn't just the production that made the sets incredible, it was also the crowd.
After Elohim was Lane 8, a personal favorite of mine. His set was packed making it hard to move but everyone was so friendly. His set was everything we all needed – deep, progressive, and vibey. When he dropped his remix of "Innerbloom" the whole tent erupted into hugs and singing; it was beautiful. He walked around to the front thanking everyone as we all applauded. We were drenched in sweat from the hot tent, but it completely worth it! We ended the night with RL Grime, a trap king! It was full of pyrotechnics, visual storms, fireworks, confetti, and streamers.
The blend of live instruments alongside a mixed set adds something very unique.
The next day we arrived a little a later but just in time to see Sam Feldt's Live Set. I've seen Sam Feldt a few times but never have I seen him like this. An electric guitarist, drummer, saxophonist, and trumpet player adding incredible melodies to his mixing. The crowd all around me erupted into a dance party as he played classic EDM songs with that unique Sam Feldt sound. As he closed out his set he brought out Jeremy Renner (yes, Hawkeye from the Avengers) to sing his latest song and it was incredible!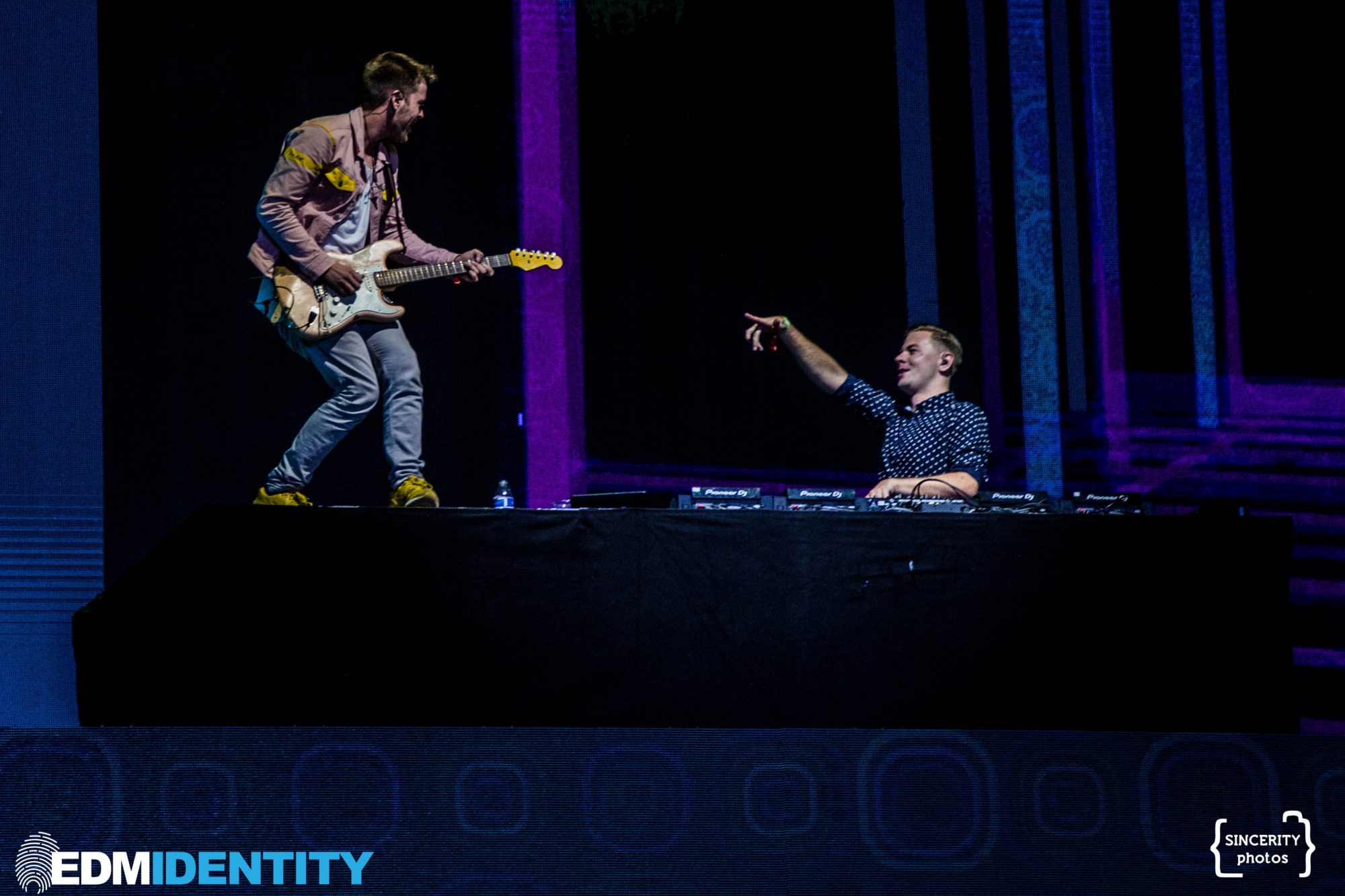 Incorporating Vegas shows into Life is Beautiful really sets this festival apart.
We wandered for a bit, taking in the different art pieces, enjoying the tacos, pizza, and various versions of Dos Equis being offered by the vendors. As we walked toward Foster the People we passed the fire ski ball, which was by definition, lit, as well as a long waving line of white string lights. Foster the People were rock stars who were just phenomenal to experience live! They closed their set with "Hey Jude" as the Beatles Cirque du Soleil came out and performed and a dancer armed with an umbrella flew up into the sky as Mark Foster belted out the Beatles classic.
Lauv is a performer that really knew how to pull on our heartstrings.
The final day arrived so quickly and we were determined to get to the festival even earlier. We arrived just after Lauv had started. He was in my top picks and I was ecstatic to see him live. He commented that the weather made singing a challenge but we honestly could not tell the difference. His love songs spoke to the crowd and you could see many tears of happiness and catharsis equally in the crowd. He said he wasn't a good dancer, but his energy and moves brought a smile to our faces.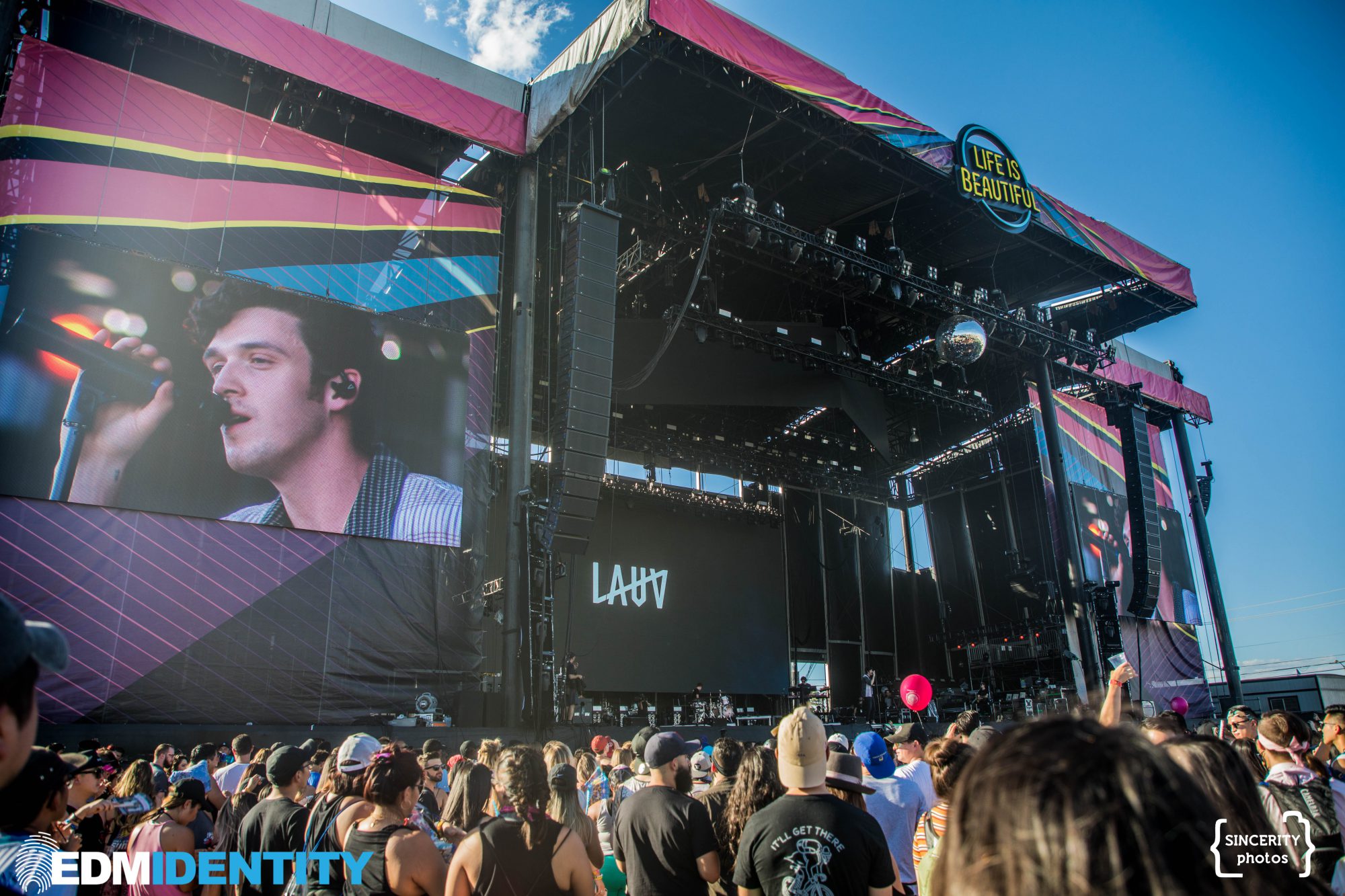 The Blue Man Group doesn't speak but the sounds they make are otherworldly.
I was just telling my friends that every time I've seen 3LAU he's had a family member with him. The last time was at Hakkasan and it was his mom's birthday. Well, today was no exception as halfway through his set he had us wish a happy birthday to his father. As he began to close out, he brought out the Blue Man Group! Their percussion set was played over his bassline and the whole tent once again became a dance party. 3LAU then brought out his Vegas team and family to throw and slingshot shirts into the crowd. The Blue Man Group held streamers over large fans to fly over the crowd before moving to the side to play drums with mutli-colored paint flying everywhere.
When passion meets harmony the results are beautiful and moving.
We closed out the last day by seeing Bastille and Odesza. Bastille was moving; you could literally see the passion that Dan Smith brings with his voice. He walked down the stage and through the center of the barriers touching hands and singing his heart out. Then, he crossed over to the side of the stage grabbing a rainbow flag waving it high. He closed his set reminding us to love each other as he sang "Pompeii".
I've now seen Odesza more than ten times in the last year and their set is always harmonic and uplifting. Their songs bring an almost involuntary smile to my face and that night was no different as they brought yet another truly memorable set.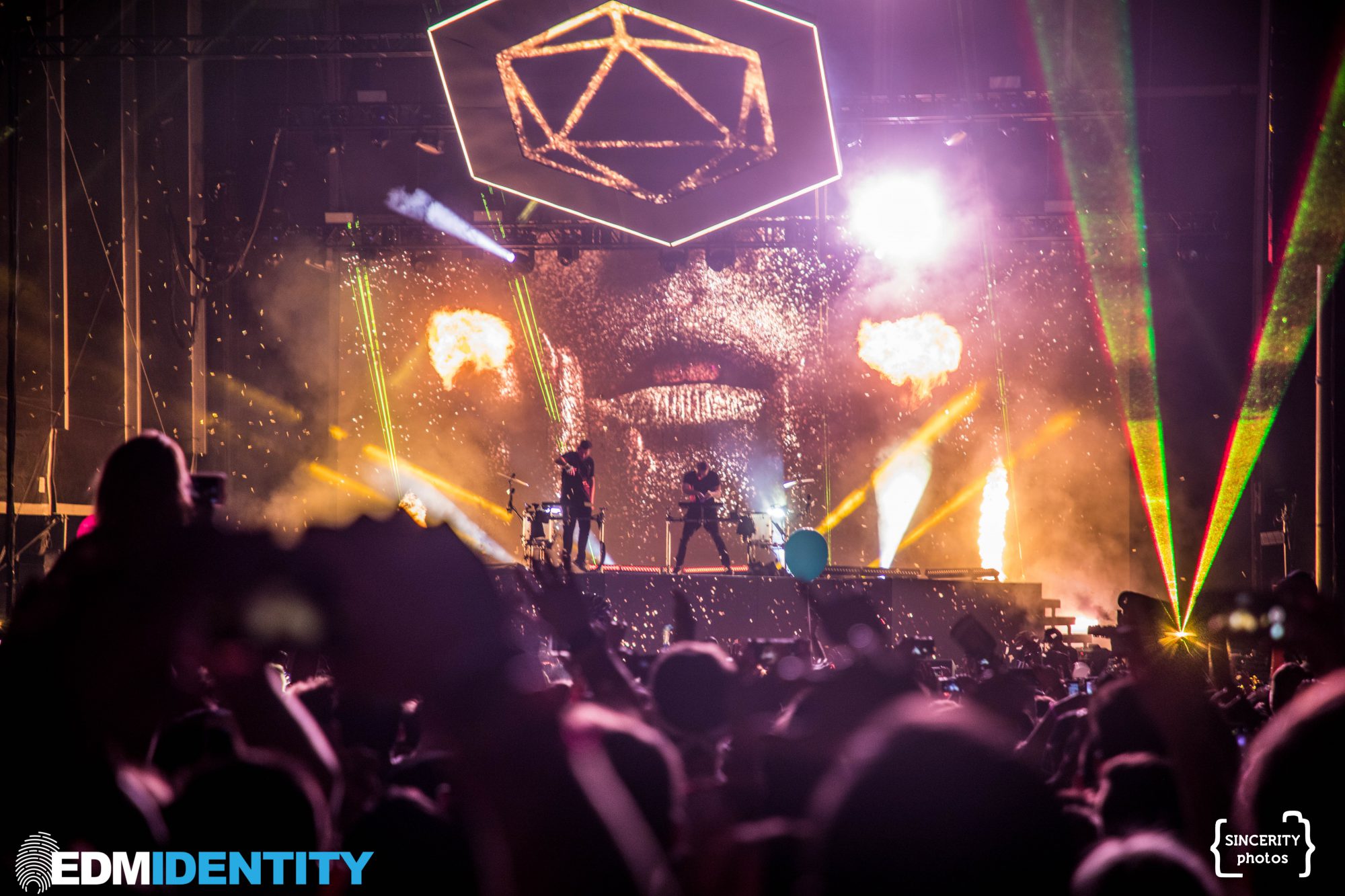 My third Life is Beautiful was a wonderful success and a perfect reminder of what really makes life beautiful.
Life is Beautiful was once again a beautiful way to spend a weekend in Las Vegas. They spend time and money on art and interaction but are functional when it comes to water stations, layout, and service. Their focus on the attendee experience is palpable and it definitely makes it one of my favorite festivals of the year. The mixture of arts really sets them apart from other festivals and I can't wait to go back next year!
Be sure to check out my photo album on Facebook! Also be sure to check out Zach's review of Life is Beautiful!
---
Connect with Life is Beautiful on Social Media: