Following the announcement of his upcoming show at Red Rocks and the release of a new single "Ginger Lizard", Opiuo took some time to chat with us about his exciting plans for this year.
---
Thump-funk kiwi artist Opiuo has a lot in store for his fans in 2018. Already releasing some quality music this year with brand new single "Ginger Lizard", it isn't just the studio production side that he intends to dominate. While his upcoming show at Red Rocks on April 21 was announced last year, just today he officially announced the Syzygy 01 Tour as well.
Set to take him across North America, the Syzygy 01 Tour will make its way from coast to coast. Kicking things off in Philadelphia and closing things out in Vancouver, he'll hit a variety of cities like Salt Lake City and San Francisco. Tickets for the tour go on sale starting Friday, February 16 at 10am, so make sure to grab them via opiuo.com!
Looking for some insight on his work and more, we sat down with Opiuo to chat about the upcoming show at Red Rocks, a look at the backstory behind "Ginger Lizard" and its unique music video, and more. Listen to "Ginger Lizard" below and read on for our chat!
Stream Opiuo – Ginger Lizard on SoundCloud:
---
First of all, I was personally very stoked to see the announcement about your upcoming 

show at Red Rocks. I know I'm not the only one who's excited so you certainly must be as 

well. Is there any reason why you're hitting this one solo rather than with The Opiuo Band?
I won't go into it too much at this early stage, but all I will say is it is definitely not a solo show. The Opiuo Band played last year, and this year I wanted to do something different, something I've never done before, keeping it fresh. I'm all about challenging myself and giving everyone who comes to see me something new every show. That's all I'll say!
Is there anything special in store for this event that you're willing to share with us, and can 

you tell us about the other artists on the lineup and why they were chosen for this event?
Like I said, I can't go any further into my show, that's a surprise just now. But in terms of the other artists, absolutely!
Sunsquabi have become very good friends of mine over the past few years. Their ability to morph jam band-esque funk with electronica is awesome. They have their own sound and it's powerful, to say the least. I'm stoked and honored to have them on this show.
I don't know Flamingosis personally, but I know his music extra personally. It's the perfect blend of feel-good vibes. I absolutely love it.
Anomalie is a good friend and literally one of the most talented piano players I know. We met years ago while he was on tour with Gramatik. He shreds harder than anyone I've seen in years. He's playing with his band at Red Rocks, which I've never seen before, so I'm fucking excited for that!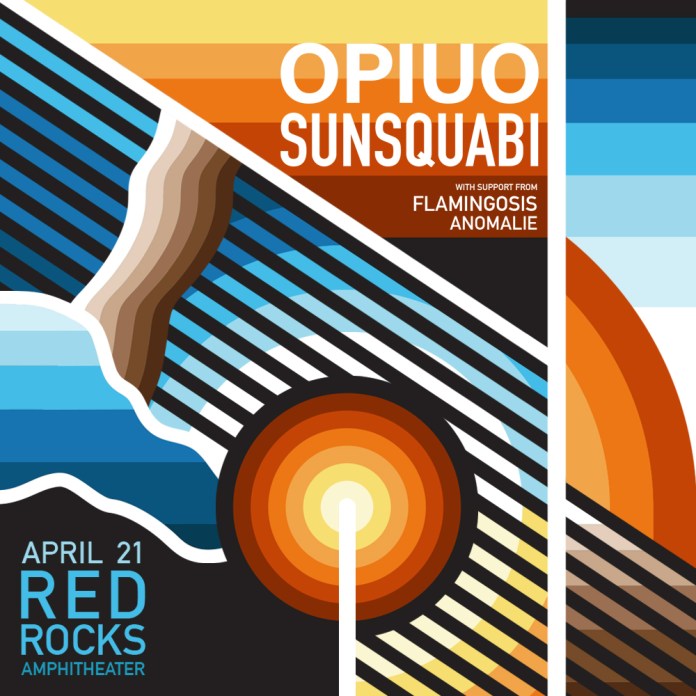 You've also announced a busy North American tour with 20 stops all over the country 

including Vancouver and Toronto. Are there any specific cities you're excited to hit while on 

the tour?
I couldn't pick any favourites. They all are. Truly. All shows add something to my life. Whether it be big or small, flawless or fucking strange. It's about taking it ALL in. We hitting both east and west coast cities so I can't pick any one show in particular as my love for this continent has become like a second home.
You recently released a stomping new single called "Botrok". It's reminiscent of "Robo 

Booty" but a touch grimier. Is this an homage or nostalgic of a previous time, and are you 

keeping this sound in more of your future tracks?
I didn't know it was like "Robo Booty", but that's cool you think so. It wasn't a specific decision to make something like this, it just flowed one day and I went with it. I love the slightly industrial feel, loud snare, dark 80's sound design was definitely a conscious decision though. It's always a moment in my set when I play it, people definitely put their heads down and dance.
Do you feel your creative process has evolved during your journey as a world-touring artist?
Absolutely. I take the moments of inspiration seriously and get as much as I can done. Being this busy doesn't give me as much time in the studio these days, so I now write on the road more as well. But I feel playing this much inspires me endless amounts so when I do have the opportunity to create I always come out with something I'm stoked on.
Speaking of which, your latest single "Ginger Lizard" has that unmistakably classic jazzy, 

funky electric Opiuo sound. The title also has that playful assonance of some of your other 

memorable tracks like "Wiggle Sticks", "Spuzzle Bucket", and " Axolotl Throttle". Does the 

title have any sort of backstory? Can you tell us a bit about the track itself?
The name is literally something that came to me one day. I guess it's kinda like the flow of the song in the form of a lizard. Slipping and sliding and morphing through space and time all the way to the ginger kingdom… [Laughs] I don't know.
But the song was inspired by a few things. I bought a Prophet 6 after I completed my last album, and made nearly the entire lot of synths in the song with it. Bass, leads, pads, everything. Then I was in New Orléans with my good friends Russ Liquid and Andrew Block and we started recording some parts for some of my latest songs, then this one came up. Russ got Benny Bloom of Lettuce fame, his homie TJ Norris, and they all shredded the horn line on it. Andrew Block killed the guitars throughout the song.
Then, when I was on tour with GRiZ, I was playing it a lot but it needed something just a little more to totally round it out. So I asked Muzzy Bearr to record on the breakdown at a hotel room at like 4am and it was done. So yeah, it has been a wild song. Almost 12 months to make. But I'm really glad I took my time and didn't put it out until I was completely happy.
"Ginger Lizard" also has an awesome music video that feels like a wacky combination of 

modern dance, Alice in Wonderland, and Beetlejuice. What was the inspiration for the video?
The inspiration came entirely from the wonderful mind of Kyrian Okane, the director. We've been friends for years, he is the man behind The Fungineers (think Space Party). I'm so happy how it came out too!
I always particularly enjoy your album art. The Red Rocks poster is super visually pleasing 

as with Meraki, Omniversal, and others. Is there a single artist you use or is it your own 

style?
I've worked with a few artists over the life of Opiuo but mostly Otis Chamberlain. He did Meraki, Omniversal, and some others. And the most recent song covers are done by one of my favourite in the world; Beastman. I feel very fortunate to work with people who are willing to work to align and collaborate on my vision while sticking to who they are and utilize their absolutely incredible talents.
Have you ever had a chance to connect with other artists from the Australasian region that 

have a similarly funky glitchy style like Slynk, Staunch, Nick Thayer, and others? I love these 

artists and am genuinely curious. 
I know all of them well. Lovely humans and great producers. Australia and more importantly funky glitchy music is only so big, so if you're doing something similar you're never too far off from becoming good friends.
Your sound is not really bound to any particular genre though you certainly have your 

unique touch. How did SUN:MONX, your collaborative project with Austero, come to be?

Are there any other side projects in the making?
We met at Rainbow Serpent Festival in 2008 and thought "fuck we have to make some music together". No one knows this but the very first song we made together was some super gangsta progressive trance. Haha. He then played some guitar on an Opiuo song I was working on at the time, and we thought we should also make some slower stuff, so we did, and the rest is history.
We made music for years then both got busy with our own stuff and had to focus on that. He is smashing it as Austero, and his new music is fucking incredible – look out for an album this year. In terms of side projects, I have a lot of collaborations on the go, loads actually, with some very very talented legends from all corners of the globe.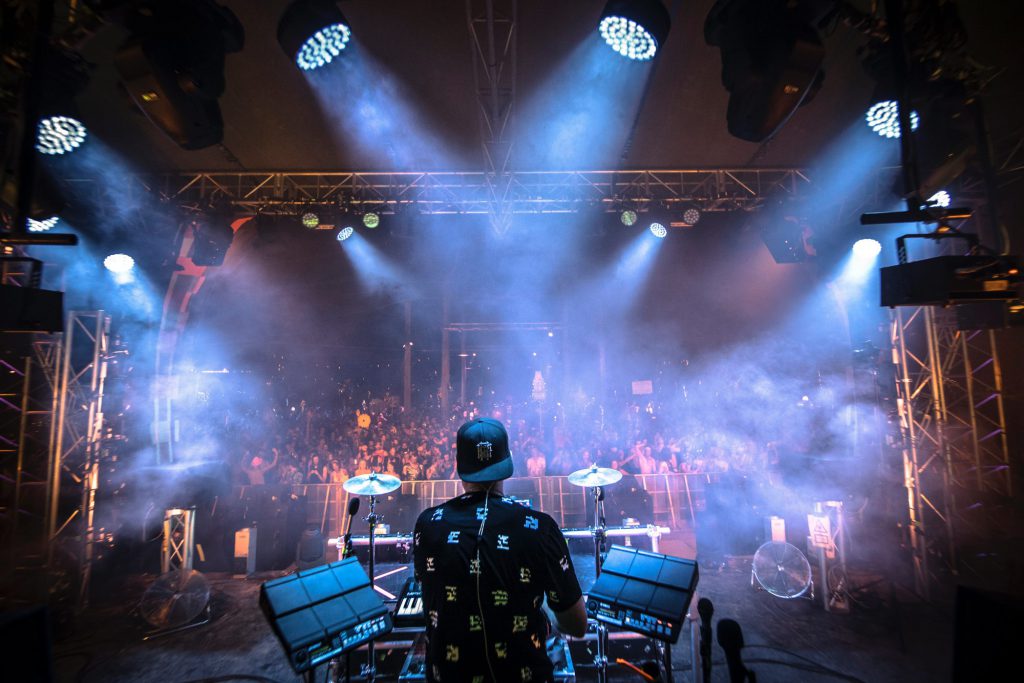 What's a fun fact people may not know about you?
Not that fun, but I'm half deaf. Have been for years. I had cysts grow behind my left ear and had so many operations to remove them and stop them from coming back. I've literally lost count how many times I was put to sleep.
I'm super happy as it has been stable for years now, and I've fully accepted being this deaf on one side as I feel it forces me to make music differently. I have more appreciation for the entire reality of hearing. The concept of particles of air moving to make pleasurable aural treats is still wild.
In addition to the tour, the new single, and the show at Red Rocks, are there any other 

interesting plans brewing for 2018?
Loads and loads, but I honestly cannot mention them right here right now… you'll just have to wait.
Catch Opiuo on the Syzygy 01 Tour this Spring!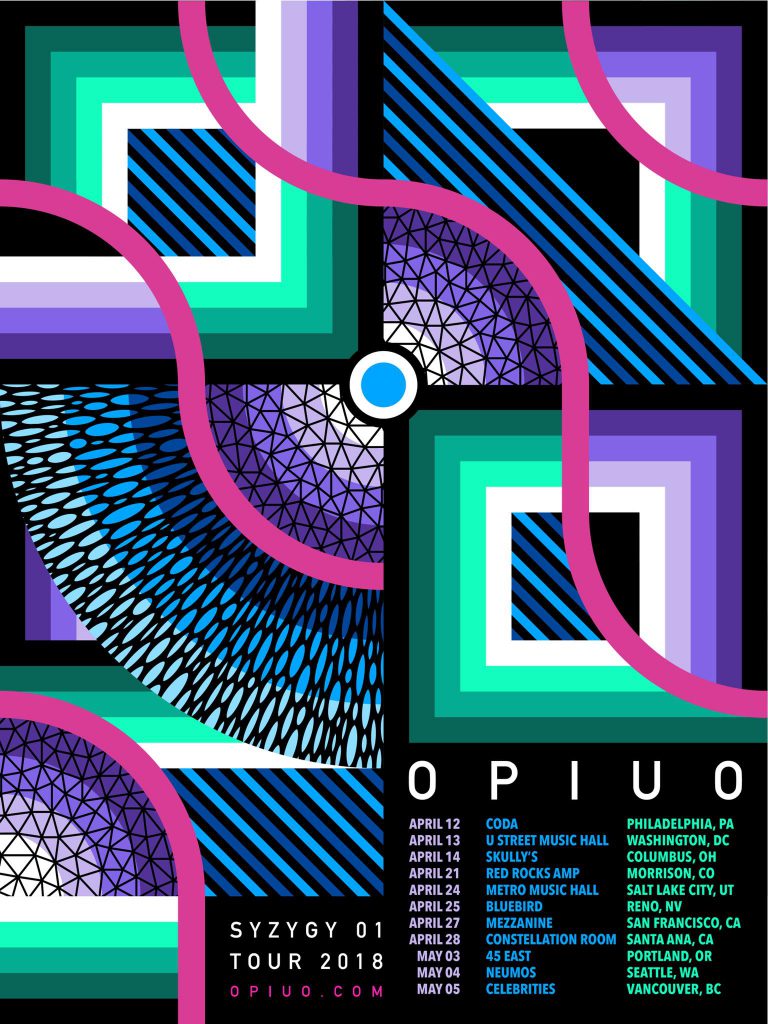 ---
Connect with Opiuo on Social Media:
Website | Facebook | Twitter | Instagram | SoundCloud