Lightning in a Bottle is way more than just a music festival…
---
There are so many aspects of Lightning in a Bottle that continue to bring flocks of people to Bradley, CA for an unforgettable weekend. You can only really feel or understand it if you attend, but I'll try to break it down for you. Over Memorial Day Weekend, around 25,000 genuine souls flooded the rolling hills of San Antonio Recreational Park to escape the stresses of real life and be in an environment where their love of music, self-expression, sustainability, and inclusiveness of diversity would unite them.
After attending my first LiB last year I couldn't wait to return, and this year was better than I could've ever imagined. From the music to the vibe to the lake and art The Do LaB really outdid themselves on this one.
Like most events, one of the main reasons I attend is for the music.
Unlike other festivals I've attended, Lightning in a Bottle is different because I don't know many of the artists on the lineup. Between the four main stages (Thunder, Lightning, Woogie and Grand Artique) and the other smaller stages (Favela, Pagoda, and Amorí) there is no way you can know everyone who is playing. That's what I love so much about it. LiB has always been known to book more obscure and up and coming artists which creates the perfect environment to discover new music. For me, that new music discovery was StéLouse (pronounced "Stay Loose").
I listened to a few StéLouse tracks before heading out to Lightning, but there was nothing I could've done to prepare for the set they threw down on Friday at the Thunder stage. The best way I can describe it is it was everything in music I never knew I wanted to hear manifesting right in front of me. Every sound, every song, every cover. The group had an unwavering energy sustained throughout the whole set that kept the crowd juiced. It was a completely unreal and magical experience.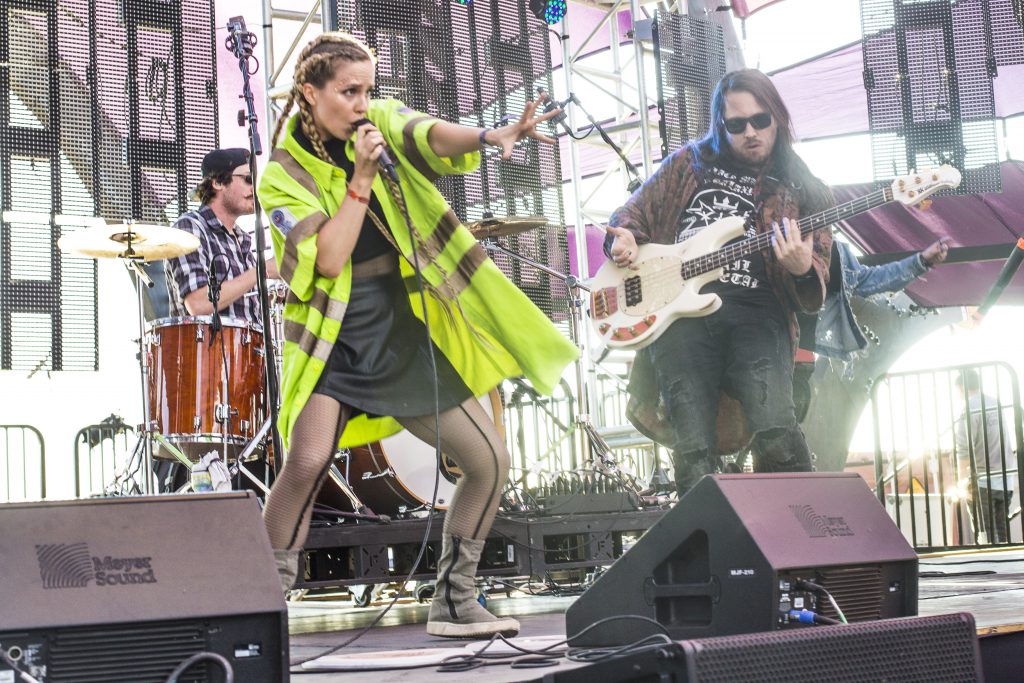 Ross Ryan and the band opened with "Artery", the first song off his self-titled debut album, StéLouse, that begins with a subtle lifeline beep that transitions into a heart-tugging synth build up accompanied by a drumline beat.
It was the perfect way to get you emotionally invested in the set. Even with all the electronic components, Ross was jamming on the bass and the drummer was going off. Strae performed vocals for a number of songs including an incredible cover of one of my favorite electronic songs "Latch" by Disclosure, but "Latch" wasn't the only cover they played. They also covered "California Love" by Tupac, "Sad Machine" by Porter Robinson, and "Say My Name" by Odesza all with this crazy rock influence and hard-hitting electronic drops.
There was no point in time where I didn't have a smile plastered on my face or stopped dancing. I knew within the first 5 minutes this would be my favorite set of the weekend. The bar was set so high and I would feel selfish if I didn't share this nugget of a find in StéLouse. If you are a fan of Porter Robinson you will definitely love "Come Home."
The Grand Artique was also one of my favorite musical spots of the weekend.
The western-themed stage located in Frontierville was host to a number of talented artists that topped my musical performances of the weekend. My favorite from the Grand Artique was definitely Vokab Kompany. Unbeknownst to me, Vokab Kompany is from San Diego where I also live, and that made me vibe with the set even more.
The San Diego-based duo seamlessly blends hip-hop with rock and electronic elements that translate extremely well to a live performance. On top of their diverse beats, Vokab Kompany has a really vibey flow and their delivery of lyrics was on point. Later in the set, Robbie Gallo's daughter performed the vocals for their father/daughter collab, Lately. You could tell it was a special moment for him and she rocked the vocals!
Other music highlights for me throughout the weekend were Big Wild, Rüfüs Dü Sol, Bob Moses, Brasstracks, Kaytranada, and NoMBE. I could go on forever about the music, but as I said earlier…There is just too much to get into.
There is something really special about the vibe and environment The Do LaB creates. It is unlike any other festival I've been to and it is one of the main reasons I keep coming back.
When you have so many people in the same place with a similar mindset of open-mindedness, acceptance, love, and compassion you create a synchronicity of energies where moments manifest solely because of the vibe. It happens. For example, one of my campmates missed a workshop he was excited to catch because we were at a set. It was the Mushrooms and the Mycology of Consciousness workshop lead by world-renowned lecturer/scientist Paul Stamets.
After getting separated for some time, we regrouped at camp and my campmate told us he had met Paul Stamets on his journey back. He was at Thunder stage with his wife just listening to music, so my friend was able to meet and express his gratitude to the man himself. Out of 25,000 people to see how awesome is it that my friend ran into the guy that lead the workshop he missed earlier. You just can't script that stuff.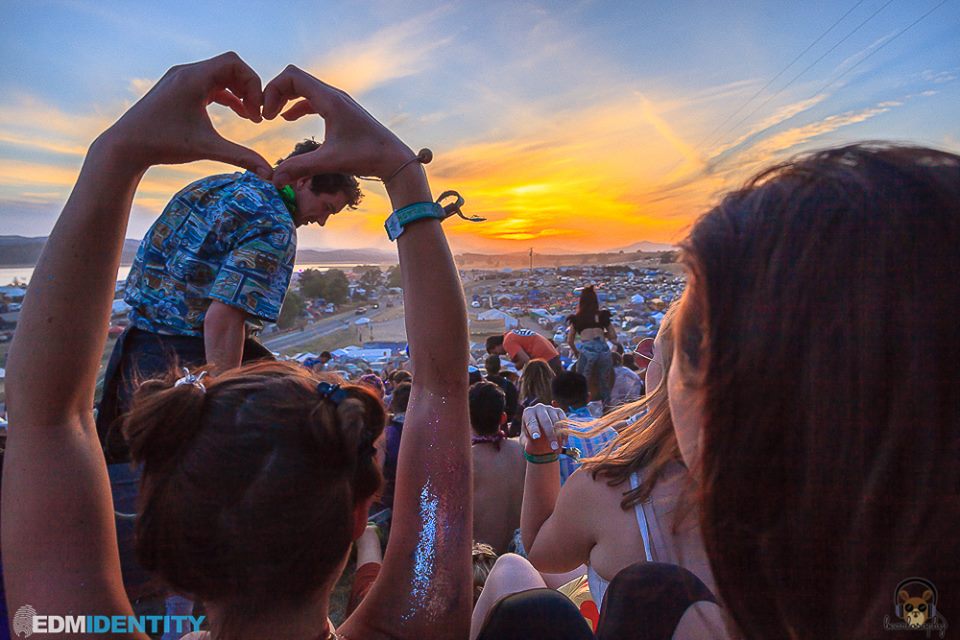 Beyond the moments that don't make sense until after the fact I met tons of amazing souls and unique personalities. I wore a penguin onesie with a mullet and people were acting like it was normal, and that's the best part! There is no other place where your self-expression is so welcomed and that's how you get the best out of people. Now to address the giant lake in the room…
There hasn't been a lake at San Antonio Recreational Park in 25 years and it definitely made all the difference.
Especially after experiencing my first LiB with no lake last year the presence of a lake was immediate. From the minute you drive onto the festival grounds you could see the lake in the distance with the Do LaB structures scattered across the horizon. Once everybody set up camp, the floaties were inflated, and people were in the water in no time.
Our camp neighbors brought a huge silver inflatable jack that must've been at least 7 feet tall and set sail each day. I remember hanging out at camp midday Saturday watching people try to climb to the top of the jack and conquer it. One gentleman succeeded and everyone watching burst into a cheer. It became one of the weekend goals for many people.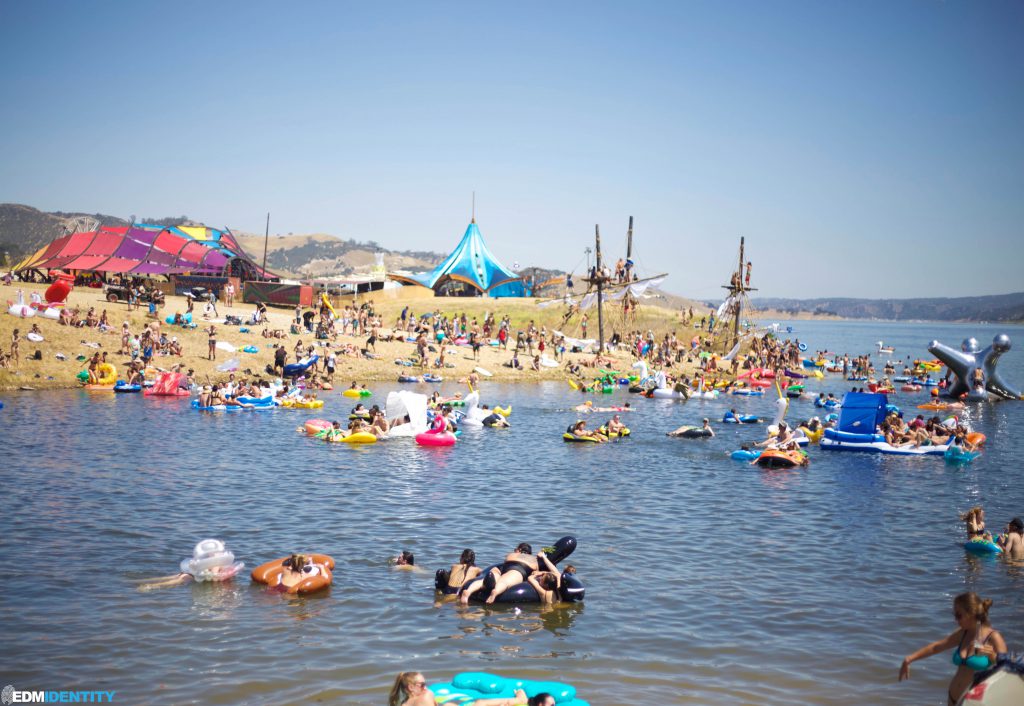 Not only was the lake refreshing to swim in, but it was stunning to look at.
It was a beautiful backdrop to many amazing moments throughout the weekend. Every sunset was a spectacle and I was lucky enough to catch a sunrise. In the morning when people were sleeping the lake was calm and you could see the reflections of the different structures in the water. There was also a cool breeze that came off the lake throughout the day and at night so it was easy to maintain your temperature.  All the bridges that were crossing small dips in the hills last year were now floating bridges. Every aspect of the festival was positively impacted by the lake and I hope there is one next year.
Another one of my favorite parts of the festival is all the art and structures the Do LaB creates and hosts.
I have a huge amount of respect for the Do LaB team that designs and brings these structures to life. Having early arrival on Wednesday allowed my crew and I to set up stress-free and wander the festival before most of the people were there. The final touches were being set on the main stages and some of the art structures were still being built like the Pulse Portal. The Pulse Portal was a geometric arch made of clear plastic triangle panels that looked like the entrance to a disco ice cave. There were 3 disco balls hanging inside the arch and the whole thing would glow with, bright yellows, greens, purples, pinks, and blues.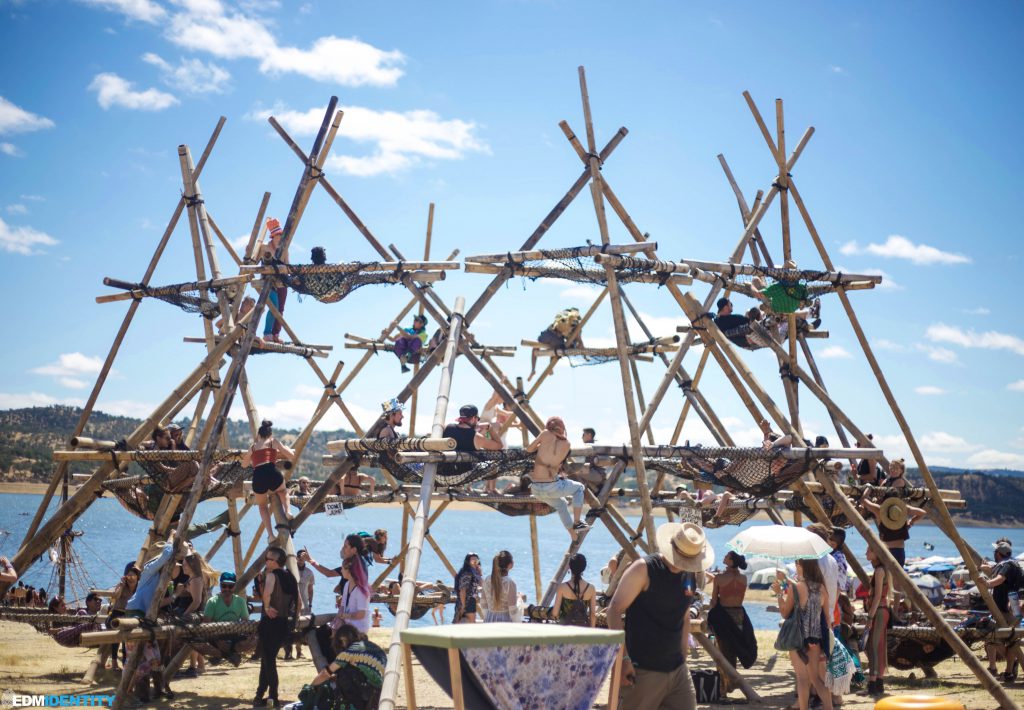 There were also a handful of interactive structures you could climb and, naturally, the kid at heart came out of everyone.
There were bamboo tepees you could climb with strategically placed cargo nets to lay in. The highest cargo net was suspended about 25 feet in the air and gave you the perfect perch for a midday nap or sunset gaze. Another structure was the globe near the Pagoda that you could climb, but it also spun. People would climb the structure while others spun it and that globe got spinning really fast. One of my friends was hanging on the side and people were spinning it so fast he was nearly horizontal, that is pretty crazy!
Unfortunately, someone fell from the globe while it was spinning early in the weekend and the team responsible chained the globe in place. Thankfully the person wasn't critically injured and the structure was still climbable, just no more spinning allowed after that.
There is only one suggestion I have, which is to allow early arrival with car camping to camp anywhere.
Upon early arrival with a car camping pass, we were directed to High Grounds. My group and I were under the impression that with early arrival we could camp at any of the camping locations. We were continuously waved toward High Grounds when we really wanted to be in Onion Patch where we told the rest of our crew to set up Thursday. Maybe early arrivals with car camping are directed to High Grounds for a reason, but it was definitely a wildcard situation and we ended up making it to Onion Patch anyway. It was just a little tricky.
With only one baby hiccup it is safe to say it was another successful Lightning in a Bottle. I danced my butt off with all my friends and made a ton of new ones. I saw some really great music and discovered one of my new favorite artists. Got to detach from real life and camp in paradise where there was a beautiful lake that hasn't been there in 25 years. I usually don't come back from festivals energized with a more focused outlook on life.
Lightning in a Bottle is different. It's inspiring. Transformational through and through. Thank you, Do LaB for another great year. See you again next year!
---
Connect with Lightning in a Bottle on social media:
Website | Facebook | Twitter | Instagram
Featured Photo Credit: Christopher Rivera