Desert Hearts is back for round three on their Family & Friends compilation series and this one has got us ready to hit the festival circuit with invigorated passion!
---
Have you ever been to a Desert Hearts party? Are you dying to know what to expect from the label that takes pride in their next level house music stylings, expressive art, and tight community bonds? For a glimpse into everything that the label exemplifies look no further than their Family & Friends compilation series now in its third chapter! With 19 tracks chosen to represent the vision of Desert Hearts, there is no stone left unturned as fans of the house and techno genres have something extra special to focus their eardrums on.
Plucking the essence of their live events and dropping it into this multidimensional compilation of dance floor inspired beats, it is time to throw out all inhibitions. For this one is going to get you primed and ready to make your way over to one of the best parties on the planet! So, come with me as I explore Desert Hearts Records – Family & Friends, Vol. 3!
Purchase your copy of Desert Hearts Records – Family & Friends, Vol. 3 on Beatport and grab your tickets for Desert Hearts Festival 2019, on sale now!
Stream Desert Hearts Records – Family & Friends, Vol. 3 on SoundCloud:
---
Nothing is more important than a strong opening track and on Family & Friends, Vol. 3 Andreas Henneberg delivers ten-fold.
With astounding grit the appropriately titled "Desert Hearts" welcomes us with a level of energy that sets the pace for the coming tracks. Now, I have reviewed many an album in my time but this track from Andreas Henneberg stood out as one of my favorite album openers of all time. Why? Because it epitomizes everything that I love about the house genre all the while using the intro spot as a platform to implant the brand deep into our brains with a classy yet playful repetition of the label name.
Without skipping a beat we enter the domain of RYBO and Wyatt Marshall. In this very moment, I realize that this is an album that will keep me locked in for the duration as already I am naming "Constellation 303" as my favorite track of the lot. With an out of this world musical dynamic, I come in contact with my inner alien, a pleasurable sensation as I have always found myself drawn to the unusual and ethereal.
While "Constellation 303" allows us to make first contact, there is a slew of tracks that allow us to join hand in hand with our interstellar counterparts.
While Piem's "Be" offers a quick glimpse into the vast beyond with funky details that seem born from minds unlike our own, it is Lex & Wood X Dead Space that shoot us straight beyond the known cosmos on "Cali Crooks". Soon, visions of the unexplored begin to flood our senses. What is fantastic about this track is the bubbling detail in the middle of the track that resonates as a figurative trip session. And as the vocal detail insists, it's time to keep movin' as we push even further into our celebration of sound.
Jay de Lys' "Pop Culture" and Mad Villians' "Oscillate" offers even more alienistic sound bytes and as I whirl and twirl among a frenzy of intricate cosmic detail I feel the boundary between man and extraterrestrial become a little less defined. As the lyrics from both pieces resonate throughout my conscious state, I find myself drawn to the soft drum details that add yet another fantastic layer to my journey beyond the stars.
Mitch Dodge even dabbles in the realm of out of the box stylings and while "Got A Feelin" may not bring me face to face with alien beings, it is worth the mention because the quirky essence is everything that I live for when it comes to house music with sideways character.
Family & Friends, Vol. 3 unleashes a festive aura with tunes that inspire you to look at the world around you.
More Than Friends brings the festivities to the forefront with "Voodoo", a track designed with the sounds our natural world as the backdrop for a wild romp under the star-splashed sky. It's almost as if we were dropped right into the rainforest as birds, mammals, and natives alike flex their vocal cords on this stunner of a track. Out of all the creative avenues that Family & Friends, Vol. 3 has to offer, there is something so mystical and welcoming about this tune.
I was equally enthused to hear NiQW follow up "Voodoo" with "Wave File", playing off the environmentally inspired vibes with a track that runs like crystalline water through a dense forest of sound. And oh my goodness that breakdown! For a fleeting moment, all that remains is the ebb and flow of crashing waters, making way for a deep dance break that builds and simmers with mysterious intonation.
Make room for the dark side of life as we drop down deep into the underground.
Sacha Robotti's "It's Our Time" is the dark delicacy selected to make an impression on Family & Friends, Vol. 3, and is easily one of the most memorable tracks on the album. You can almost feel the lyrics resonate through your soul as we stake claim to the here and now. Yes, Sacha, it truly is our time. Our time to follow the call of Desert Hearts straight to the precipice of musical freedom and expression!
Clyde P's "Nothing Left" feat. Floyd Shakim represents one of the more laid back tracks on the compilation but is welcomed with open arms as house music doesn't always have to get us acting wild on the dance floor. There is something to be said about the immaculate groove that inspires us to grab a mimosa and sink down into auditory bliss, with the chill vibes of "Nothing Left" to set us in a pocket of peace.
Lubelski's "At The Edge" and Daniels Jack's "Aphrodisiac" strip away the need for all the extra bells and whistles, laying out a techy platform for the counter culture to get whisked away by simple bass lines. Now, don't let me fool you, while these tracks are minimal in their production elements, they still find a way to grab us tight as we explore the deeper reaches of Desert Hearts.
In between the more stylized offerings, we find that Desert Hearts has a strong passion to deliver music with soul. These are the tracks that simply make us want to get off of our seat and bust a move!
Cut Snake's "Chocka Block", Rich Pinder's "PAC92", and Sydney Blu's "Get Over Yourself", prove to be the pack of party pumping beats that drip with raw swag, festive kicks, and unadulterated Desert Hearts character. Speckled throughout the album, these are the tracks that reel us in as we travel up and down an emotional rollercoaster of styles. Desert Hearts would not be what they are today without tunes like these to carve the path and if you desire music with consistency, well these guys (and gal) have got you covered!
Rounding out the compilation we end on a high note with Morpei's "2DPHUNK", Matt Ossentjuk's "Not Just A Groove", and the aforementioned "Got A Feelin" by Mitch Dodge. Once again, throwing us out on a limb where nothing else matters but riding that sweet beat! Boasting sonic joy and unbounded love, these three tracks represent the true heart of Desert Hearts!
Well, that is all for now! Desert Hearts Records Family & Friends, Vol. 3 provides everything you could possibly need to make your experience on the dance floor one full of beautiful memories and unmatched connections between the souls that make this industry so spectacular. Here's to many more years of success!
---
Desert Hearts Records – Family & Friends, Vol. 3 Tracklist:
Andreas Henneberg – Desert Hearts
RYBO & Wyatt Marshall – Constellation 303
Piem – Be
Sacha Robotti – It's Our Time
Lubelski – At The Edge
Dead Space, Lex & Wood – Cali Crooks
Kevin Anderson – Procrastinator
Clyde P – Nothing Left
Cut Snake – Chocka Block
Jay de Lys – Pop Culture
Rich Pinder – Pac92
More Than Friends – Voodoo
NiQW – Wave File
Sydney Blu – Get Over Yourself
Mad Villians – Oscillate
Daniels Jack – Aphrodisiac
Morpei – 2DPHUNK
Matt Ossentjuk – Not Just A Groove
Mitch Dodge – Got A Feelin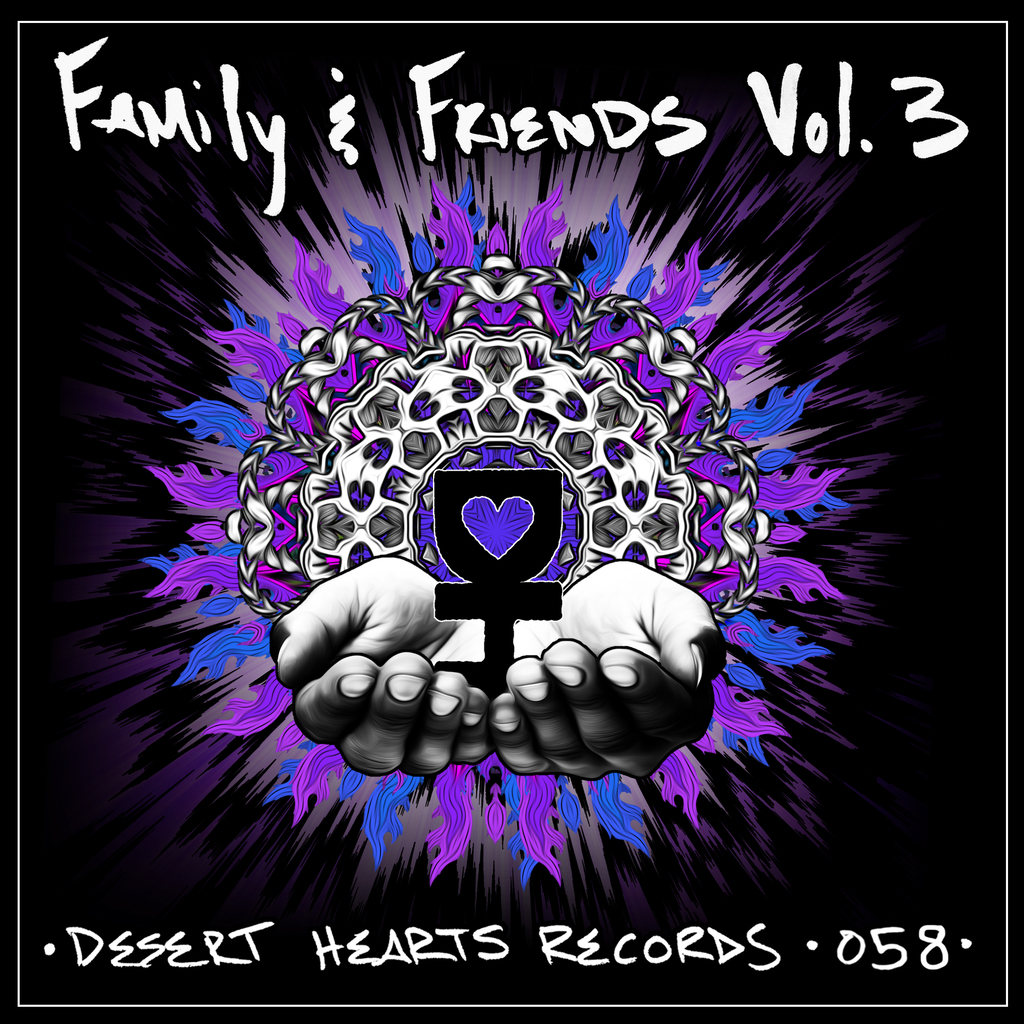 ---
Connect with Desert Hearts on Social Media:
Website | Facebook | Twitter | Instagram | SoundCloud