The Desert Hearts Festival once again united us, showing everyone that we are all one family with house, techno, and love in our hearts.
---
While heading to Desert Hearts Festival, our GPS took us a little off course. Around the second mile on an unpaved road, a truck with a trailer rolled down his window and told us the road we were on would take us nowhere. With some frustration, we turned around and headed back to the paved path. A few minutes back on the actual road and suddenly there were flashing red and blue lights behind us. I slowly pulled over wondering what rule I had broken, however, the Sheriff instead pulls up next to me.
"Let me guess, you are guys are heading to Desert Hearts? Well, you are super lost. Don't worry though, I'll take you there."
We were equally surprised and thankful for his words. He was literally going to escort us to the festival. When he finally took us down the main road to the grounds he rolled down his window once more. He told us to have fun, and that the road we had been on was a place that they had just recently found a girl who had gotten lost for 3 days. We were definitely counting our lucky stars as we approached the check-in.
The line to get our wristbands went by fast, the line to park our car, on the other hand, was moving extremely slowly. They were only allowing a few cars at a time and once you actually got into the grounds you could only move at five miles per hour. As they directed our car to the parking spot it was clear that they were using every inch of the grassy area. They even explained that in order to unload we would have to pull forward and then back up again just to get things out of our trunk.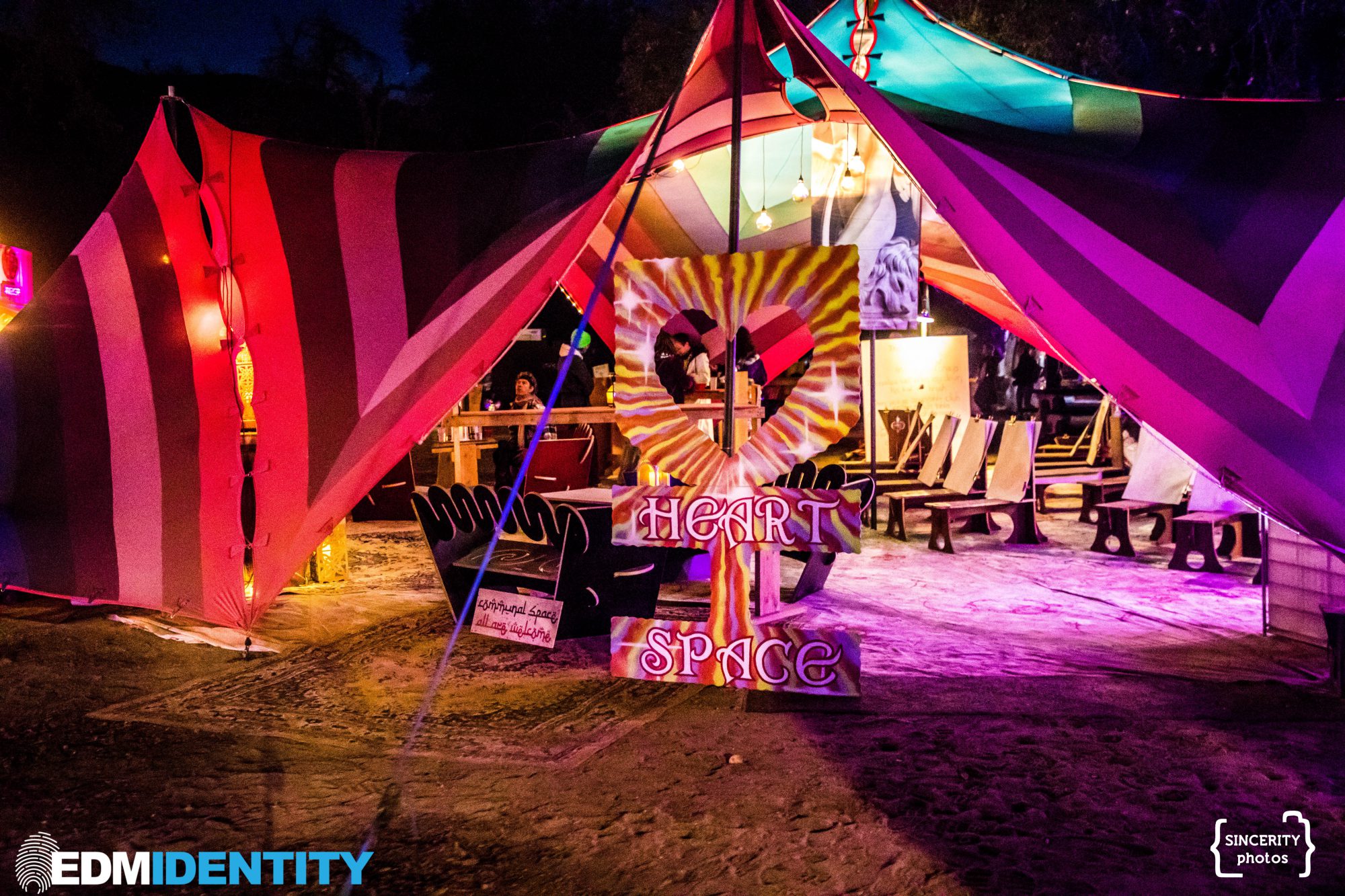 We unloaded, got dressed for a colder night, and started walking toward the music.
The layout hadn't changed a whole lot from last year. There was a corridor of vendors that lead to the single stage. Vendors of food, coffee, an elixir bar and of course retail booths selling a variety of clothes, accessories, and Desert Hearts merchandise. There were also a couple of interactive art pieces that we would use throughout the weekend to break up the walk.
All of our friends reunited at Pile Palace. It is a place full of couches and pillows to sit comfortably while still enjoying the music. Moreover, it was next to the open bar, where all you had to do was bring your own cup to enjoy the house choice libations. The first night it was your choice between a rumchata and some other whiskey option. Throughout the weekend it would be a variety of drinks and the line was never very long.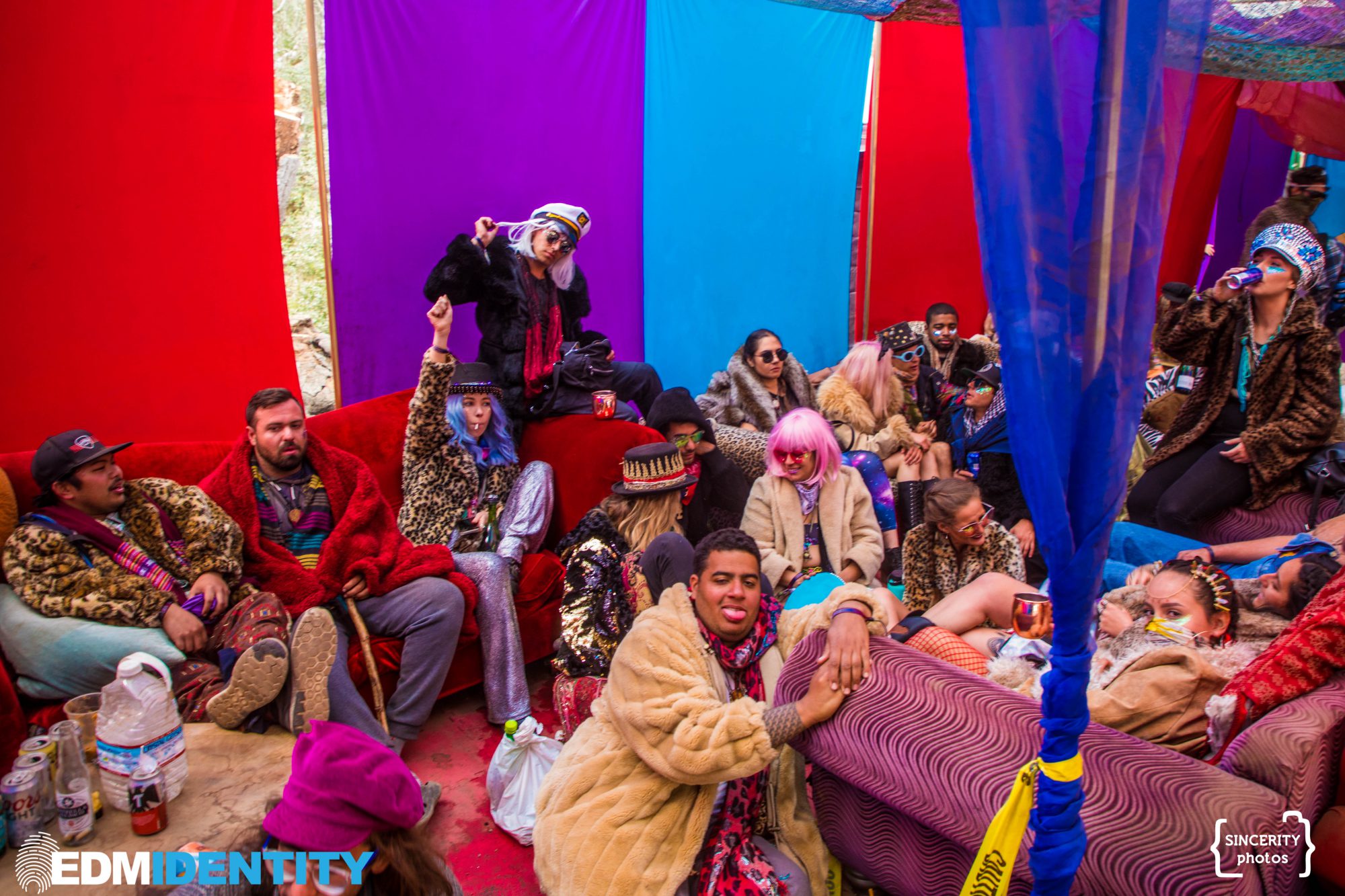 The single stage was the same beautiful configuration that we have come to recognize from other Desert Hearts events.
A heart encircling a disco ball hung above the deck and ambient lights made the whole thing glow softly in the night. Toward the back, there were pillars for aerial dancers and next to a small wooden stage area. The stage area would play host to some of the most amazing fire performers. The music was non-stop and the artists transitioned so seamlessly there was never a break in the sound.
While all the artists were amazing and I could spend days talking about them there were a few that really stood out. I had never heard of Kenny Glasgow before but his set was entrancing and led straight into Sacha Robotti who played techno so dark some people told me they weren't sure what they were listening to. I would say that Andreas Henneberg's set was the most surprising to myself and everyone I spoke with. It was my first time hearing him but I'm officially obsessed. His mixes were unreal and combined music I had not heard before. Multiple times in the crowd you just heard, "who is this!?"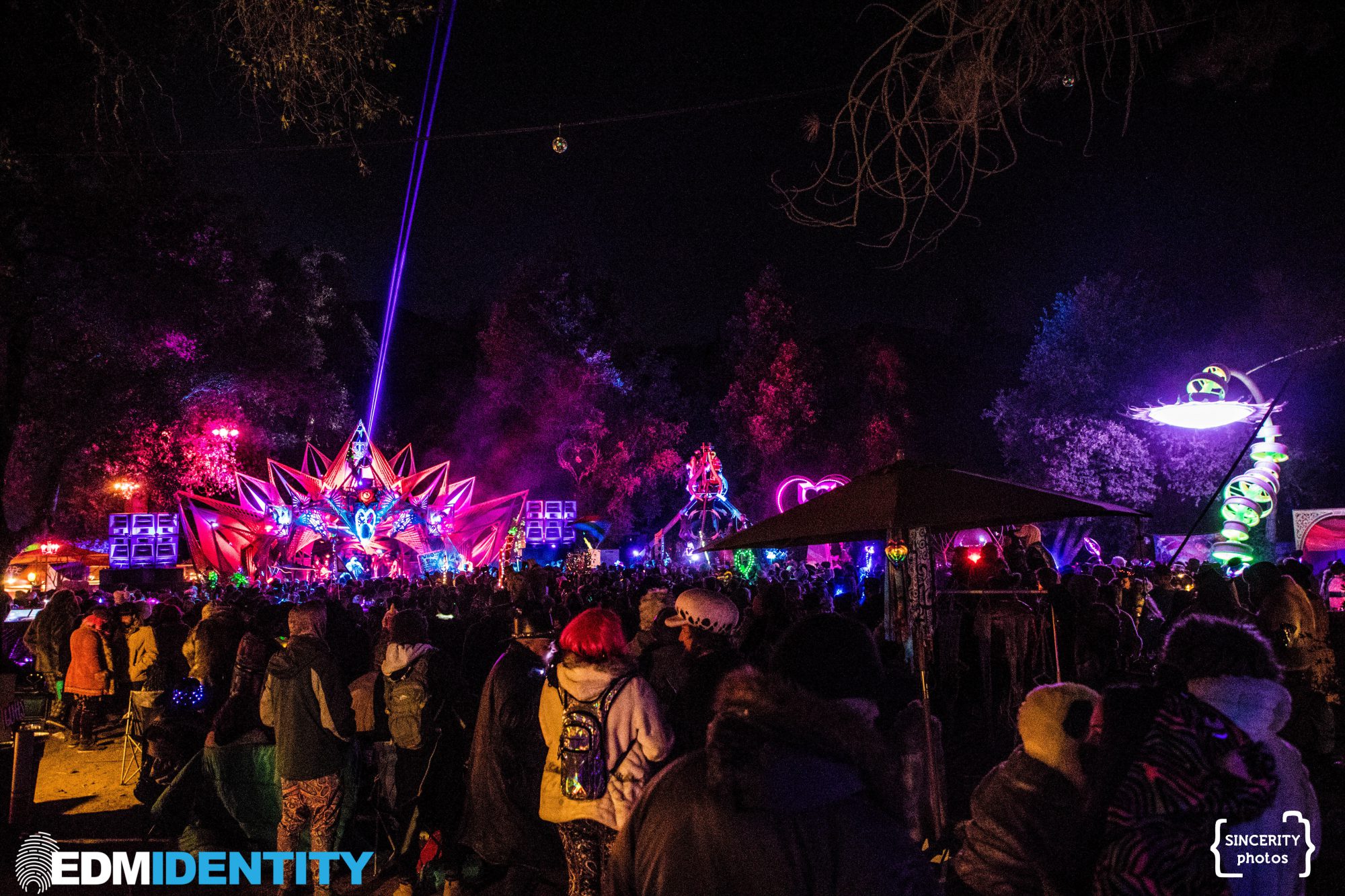 All I ever I wanted, all I ever needed is here in my arms. Words are very unnecessary…
Probably my favorite streak artists were the Desert Hearts family on Saturday night. Starting with Mikey Lion into Waff, Porky to Lee Reynolds to Marbs and wrapped up with a four-hour set by Damian Lazarus. All the sets were amazing and fun, and you could see it on all the producer's faces. The stage was constantly full of attendees and producers, supporting each other and loving each other's music. Damian Lazarus dropped a mix of Depeche Mode's Enjoy the Silence that will forever be etched on my heart and mind. A mix that I haven't been able to find, but trust me it was stunning.
Every area of the festival just felt like it could have been your living room.
Throughout the sets the sets there were live painters and performers that really combined the experience of music and art on a level uncommon to other festivals. Additionally, there was an endless supply of areas to sit and take breaks between sets. Couches, carpets, pillows, and even rocking horses were always available. Not to mention the openness of the festival allowed us to see inflatable couches, pools, giant inflatable rafts and even tents being brought to the main stage.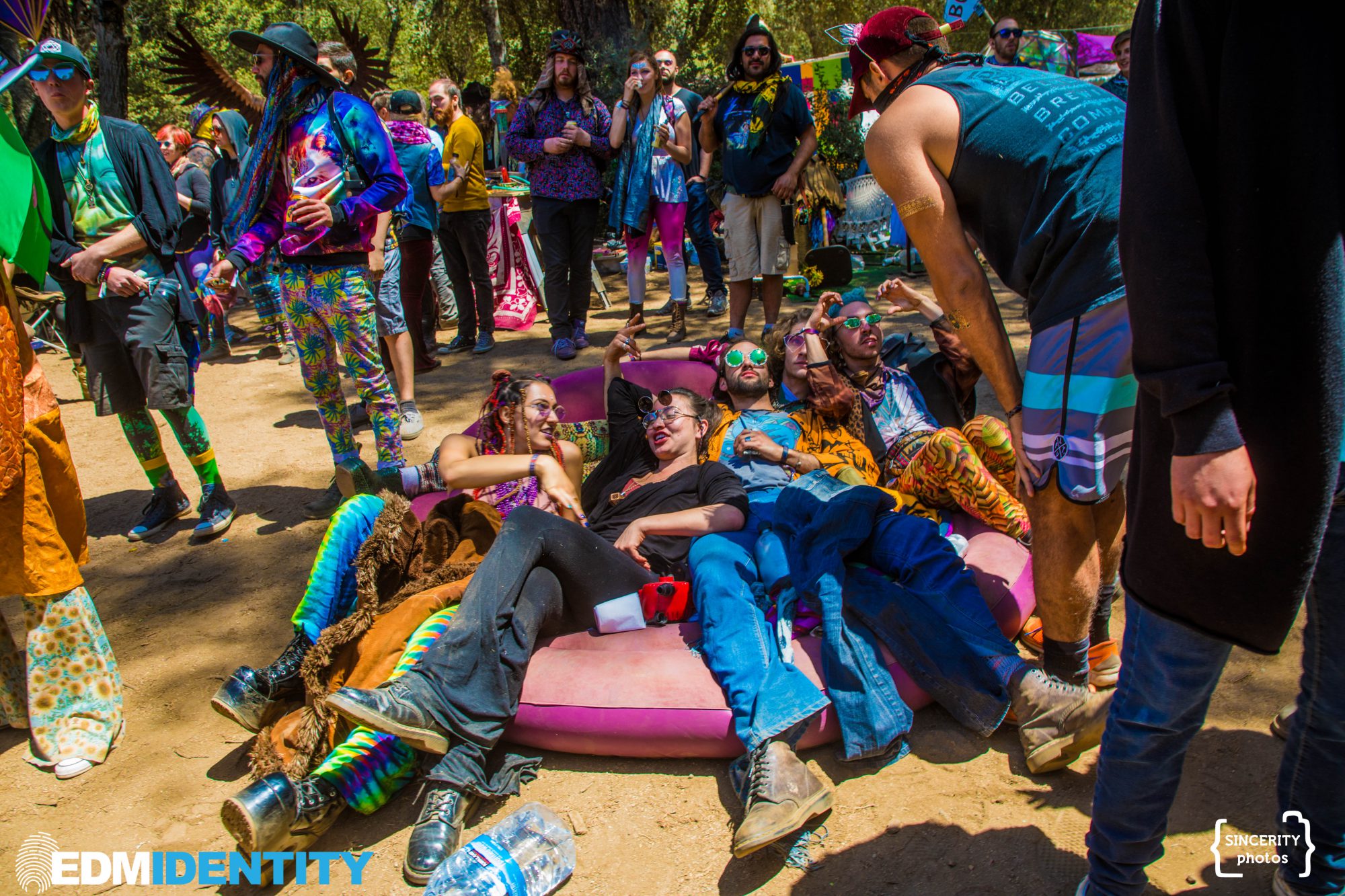 More than just the music, art, and production there were the interactions with new and old friends at Desert Hearts Festival.
Dani had lost her backpack on the first day. Well, more forgot where she put it than lost it. She had asked if I had ever gone up the tower to the right of the stage and told me that I should climb it at least once. Once I had made it all the way up to the first level, Dani looked down to see her backpack exactly where she had left it. Phone, wallet, and everything else still inside it, a testament to the type of people who were in attendance at the event.
The things that unite us run much deeper than those that divide us if we just allow ourselves to be honest.
While I was there I was standing next to a woman who was just staring out at the crowd, "it's incredible, isn't it?" I had asked, not really sure what she would say back. She opened up about how she had just gotten divorced and decided to come to this last-minute. She had experienced so much love and kindness, you could tell it had been so impactful and it was only the second day.
I told her why I loved the Desert Hearts family and what I think it means for all the strange and wonderful people below us. How our differences fall away at events like this and we can all just be our truest selves. Tears were streaming down her face before I even knew what was happening. She thanked me, I'm not really sure what for, but I told her I'd see her at Lightning in a Bottle and we parted ways.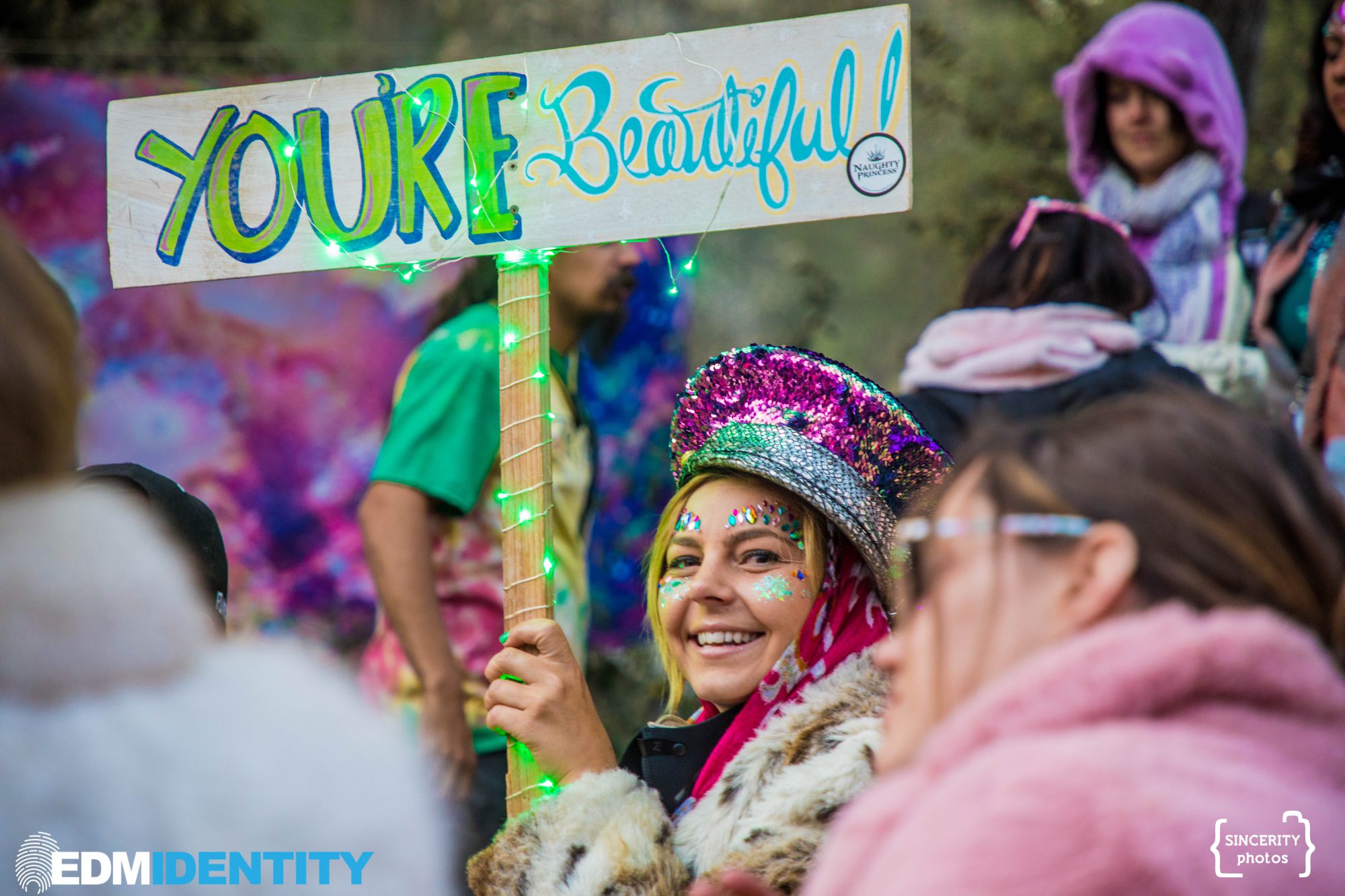 This event, this weekend, meant something different to everyone and that experience is what makes this festival so captivating.
Throughout the weekend I would cross paths with various souls from all walks of life and it was incredible. I met a guy who was trying to open a dispensary in the newly legal market of California. I ran into Ryan a friend I made from the first Desert Hearts event I attended last year.
I found a couple of guys from Colorado that attended the event as their first festival and finally I found a guy who had traveled by himself not knowing anything about the event. I actually found him on the last day and you could not only see the gratefulness for the weekend but you could tell that it had opened something up in him that was probably not there before.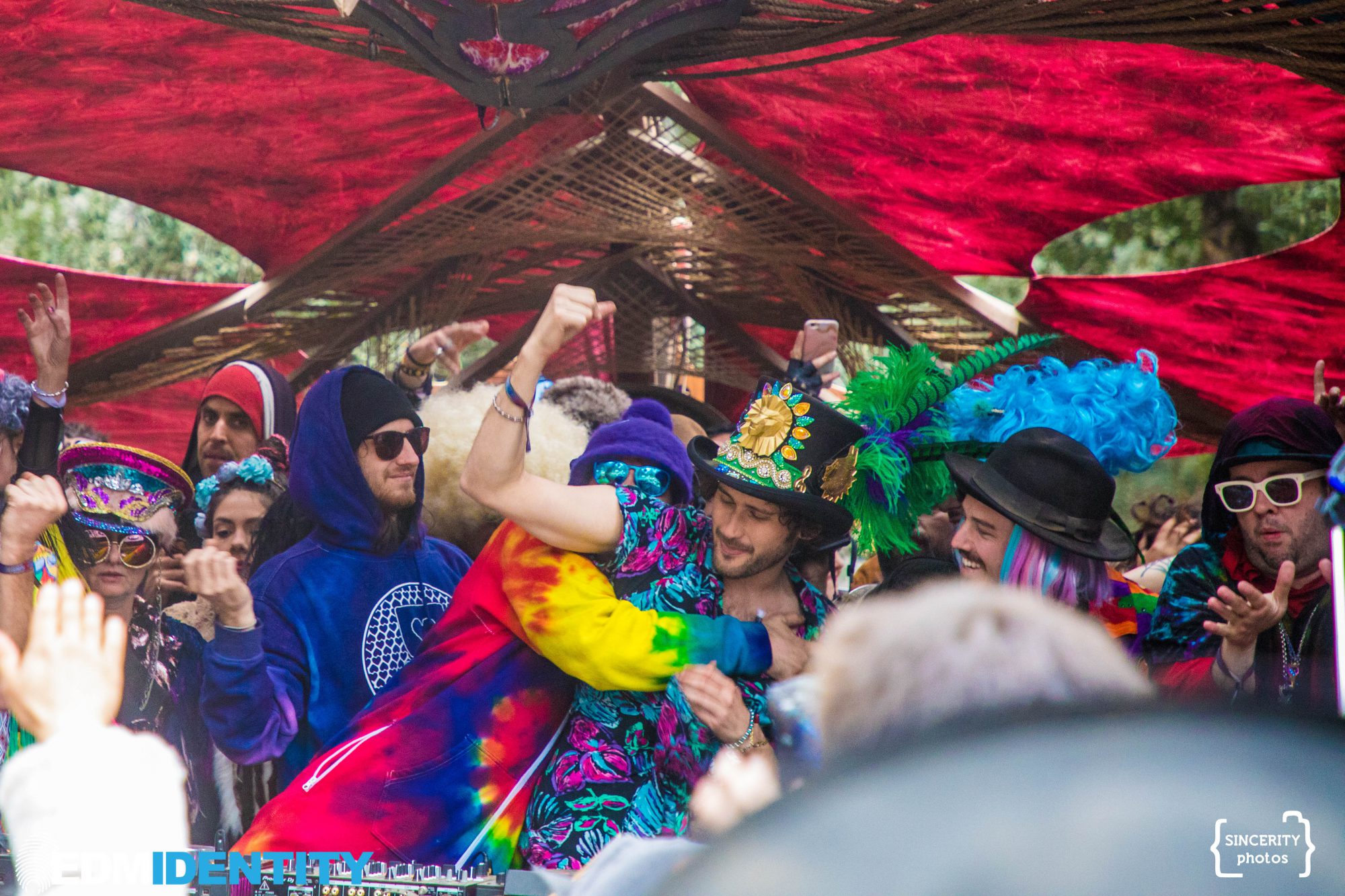 Time may be a social construct, but its effects on people are raw, beautiful, and real.
House, techno, and love is quite possibly one of my favorite tag lines of any event. The weekend was full of hugs, kisses, whips, whistles, licks, and so many other forms of connection. The Desert Hearts Festival is a transformative festival by almost any measure and each year I go it continues to grow my soul and heart. The non-stop party with the family that you chose is quite the experience indeed. We are all Desert Hearts and I can't wait to be reunited under their banner soon, I hope to see you there!
---
Connect with Desert Hearts Festival on Social Media:
Website | Facebook | Twitter | Instagram | SoundCloud