Gale-force winds and low temperatures did little to dampen the incredible production and vibes of another stellar Countdown NYE.
---
As 2018 drew to a close, Insomniac's annual New Year's Eve festival Countdown NYE returned to the NOS Event Center for its fourth iteration. Reduced to a one-day festival from the previous year's two, it boasted a brand new alien-inspired theme and a stacked lineup of heavy hitters that promised a little something for everyone. Despite some disappointing sets and unavoidably bad weather, Countdown NYE was still an absolute blast.
This year's festival brought a slew of interesting changes that were either going to be great editions or total bummers. Reducing the festival to just one day was a worrisome but understandable change, what with New Year's Eve falling on a Monday and last year's anemic attendance on Day 1. Audiotistic SoCal was meant to pick up a little of that slack, and it largely did, boasting a smaller festival two days before Countdown NYE.
Beyond the structural changes, Countdown NYE also launched a bold new theme, the first large stylistic change since its inception. Dressing the event with Area-51-esque production that could easily have turned out overbearing and cheesy, I was interested to see how all these new elements would shake out.
In the end, all that mattered was the music.
Heading into this year's festival, I had a few must-sees. Number one with a bullet was Herobust, whose set I caught at EDC 2017 and was blown away by despite having no strong love for bass music. Next was CamelPhat, for fairly obvious reasons; they're one of the biggest names in house music right now. OMNOM was a Dirtybird up-and-comer; Tiesto was an oldie but a goodie; and everyone and their mothers told me to check out k?d. CID and Loud Luxury rounded out the pack, ideal but inessential.
Little did I know that by the end, almost none of them would rank among my favorite sets of the night.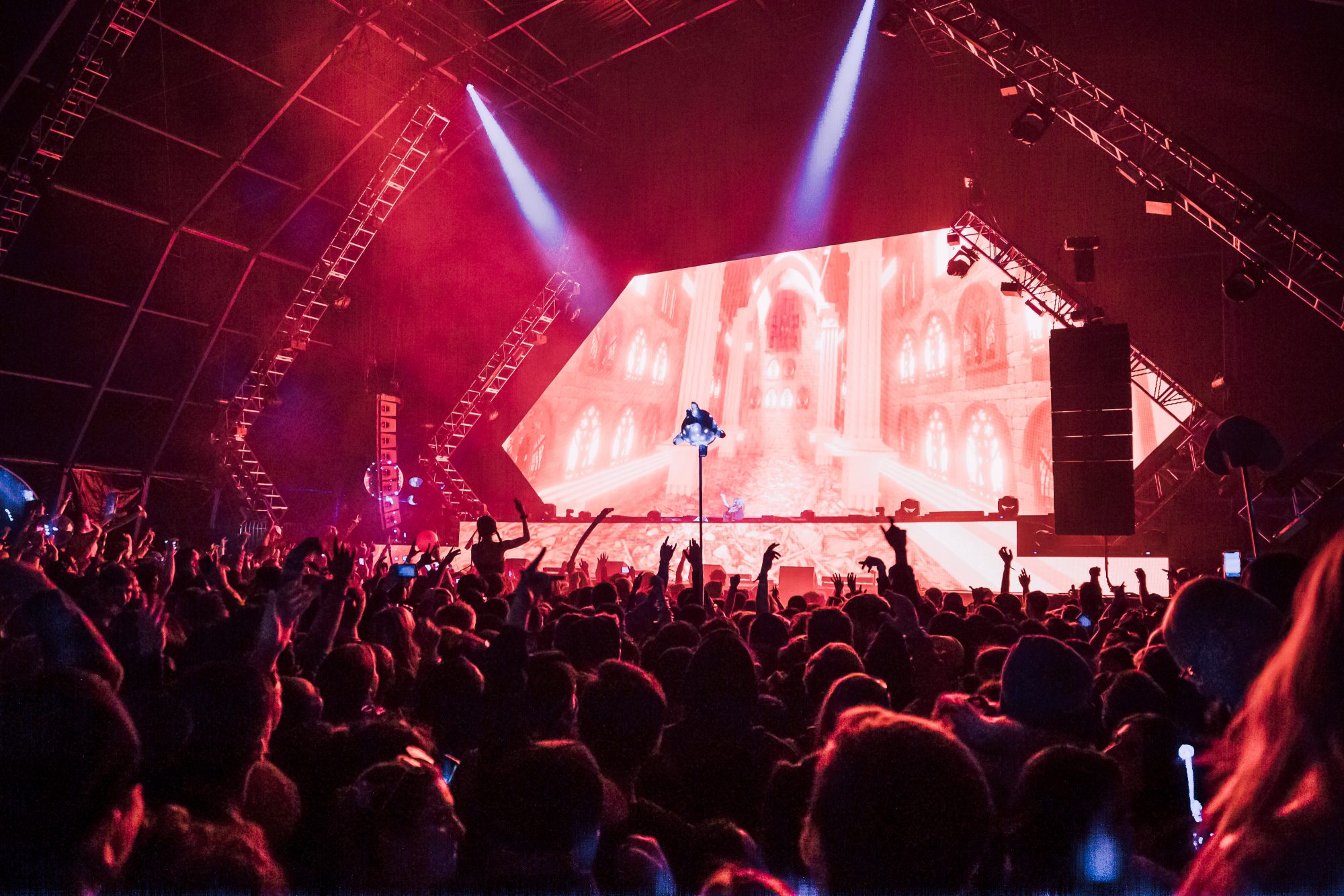 We got our first taste of what the evening would be upon arriving in San Bernardino.
When I got out of my car, I discovered the first complication of the night: the weather sucked. Freezing cold winds battered about at upwards of 20 mph, cutting through my meager jean jacket and chilling me to my bones.
We ultimately got to NOS a little later than I'd hoped. I took a hard right turn into a sketchy, $20 parking lot with no visible security and decided to risk it. Hoping that my car contained so little of value that its windows wouldn't be worth busting, we joined the throngs of people crossing the streets and heading into the venue. That walk down Arrowhead is always tough, but it was doubly so on the way back when the winds picked up and our limbs were exhausted.
A ticketing snafu separated my friend and me at the entrance, so we split up, promising to meet up at the Bass stage, Area 51. It was around this time I realized I'd miss both CID and Loud Luxury; the first disappointment of the night. I entered through the VIP line, with virtually no wait time.
This was my first time doing VIP at a festival, and it made getting in a breeze.
Thanks to the expedient entrance time, I was able to head to the House stage, Twilight Zone and catch the ending of OMNOM's set. "Fo Free" was one of my favorite songs of last year and I was eager to see what he had in store. It was a bummer that we arrived when we did because what I heard of his set was fire. I caught the end of "Fo Free" and the last four songs, each of which were a blast.
The start of the next set was fire, but I kept my commitment to my friend and tore myself away. I walked over to Area 51, where the drum & bass act The Prototypes were currently playing. They were on the bass-ier side of DnB, throwing down head-bangable hit after head-bangable hit. I'm not a huge DnB fan, but I really liked what I heard.
I headed to the VIP section and found it almost completely deserted. Despite the quality of the set, there didn't seem to be a ton of VIP drum & bass fans. Area 51 was maybe a third full, but those who were there were having a great time. Headbanging hurts my head, so despite how much I was enjoying the set, once I met my friend, we decided to move on and head back to the Twilight Zone.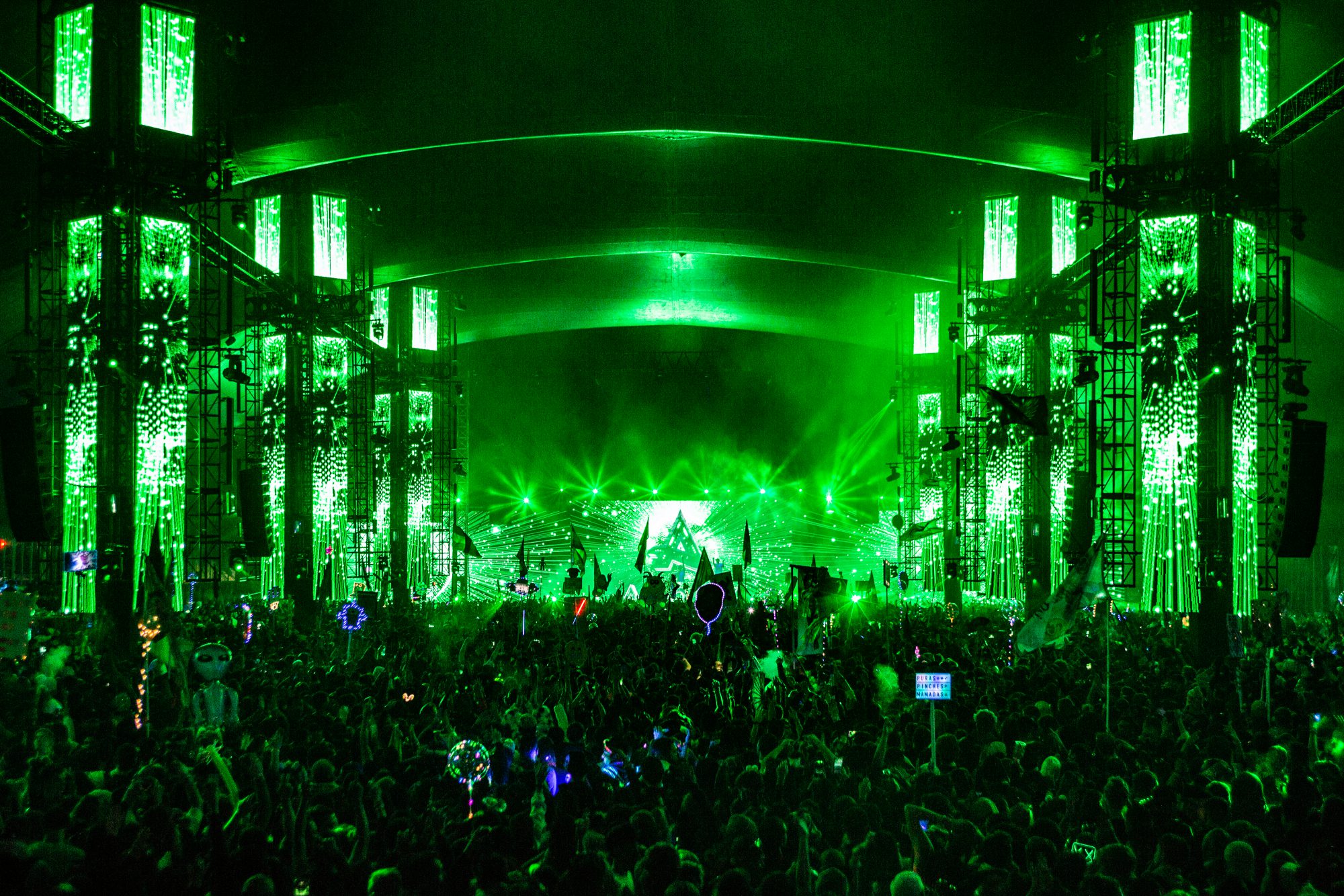 Sage Armstrong and Bruno Furlan played a fun b2b hampered severely by technical issues.
We returned while Sage Armstrong and Bruno Furlan were about halfway through their b2b. I quickly got into a good groove, wooed by their killer choice of songs, but small mistakes kept throwing me off. Songs faded out awkwardly, transitions felt straight-up broken, and there was at least one instance of a loop that never seemed to end. It left myself and a lot of the other dancers looking around, wondering if this was intentional or not. The duo looked a little worried in the booth as well, so it looked like they were feeling the pressure as people started losing interest and leaving.
J. Phlip came on next, and her set was straight-up odd. Similar problems to the previous one–odd transitions, overlong songs, unending loops–abounded, but she controlled them with a little more finesse. I kinda liked what she was going for—repetitive, percussive beats that flowed over each other in odd and almost dissonant ways—but couldn't always tell if it was intentional or not. It felt like an incomplete patchwork of different genres of house that never quiet weaved together as well as they could. The crowd was not feeling it, however, and was reduced to just the front few rows by the 20-minute mark.
Since the set wasn't grabbing us, we decided to wander the grounds and check out Insomniac's new productions. From UFO rides and 50's-inspired signs to aliens in vats and three-breasted women, Insomniac's commitment to and execution of their theme phenomenal. I absolutely loved the care they put into making this year's festival feel distinct, in sharp contrast to the bland stylings of Audiotistic SoCal and the previous Countdown NYEs.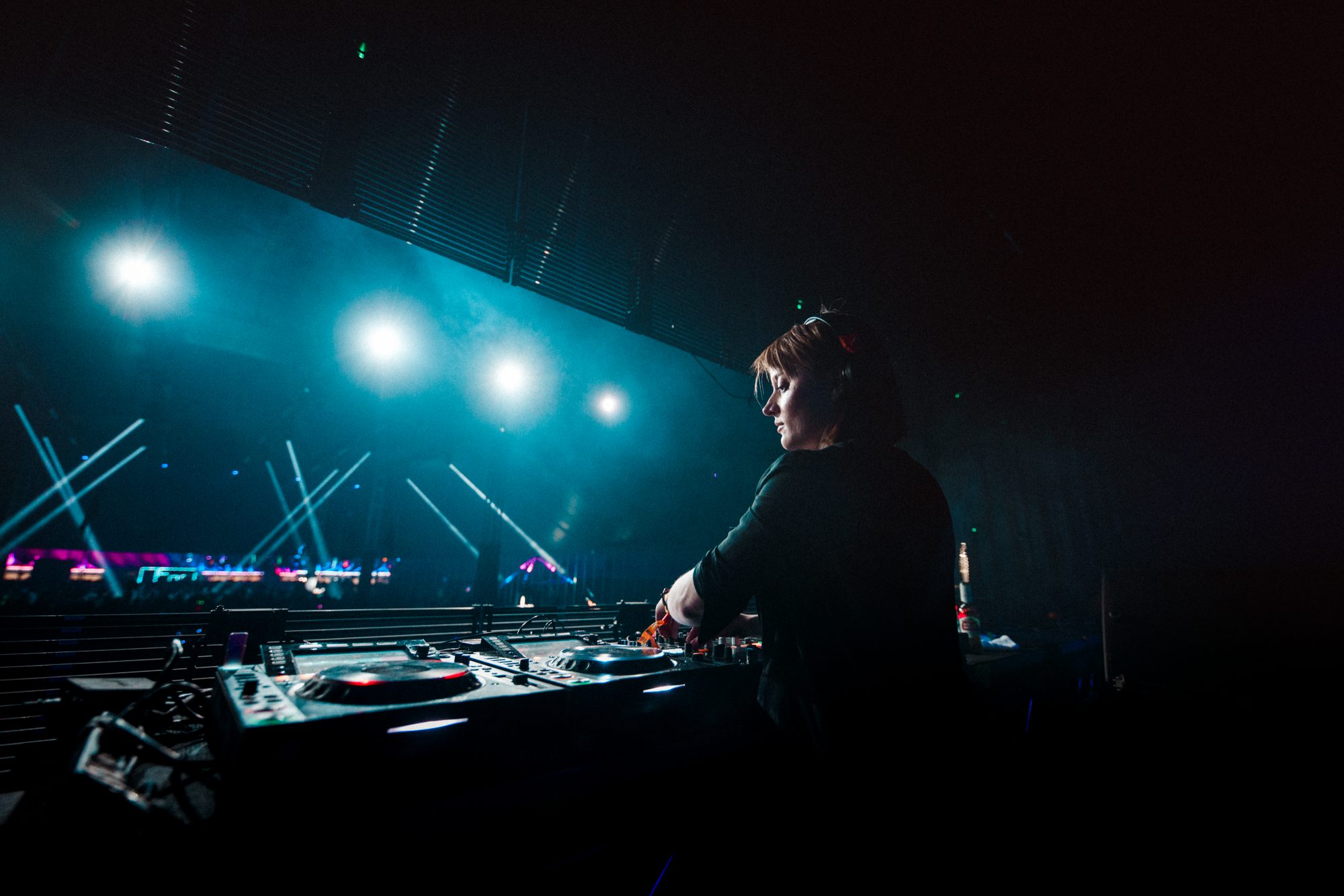 Simply put, Insomniac's production department knocked it out of the park.
As we wandered, an unexpected set caught our ear and pulled us inside. Zeke Beats b2b Champagne Drip was nowhere near our normal interests, but it turned out to be the surprise favorite of the night. Dropping a varied mix of bone-shattering bass, the set was truly elevated by Zeke Beats' incredible DJing skills. He performed live scratching of nearly every song, infusing each drop with dynamism and electricity that you can only get from a live performance. Where I find most bass music to be boring and slow, he made every song a thrilling, unpredictable journey. Champagne Drip wasn't bad either, with solid song selection, but he just couldn't compare to the energy that Zeke Beats brought to the hour.
Next up was a big question mark: Solardo. Despite bouncing off a lot of their songs (Too slow! Too boring!), I still had faith that they could put together a mean set. More than anything, I wanted to listen to some good house music. Tallying it up in my head, I realized that my favorite sets of the night were all… bass sets!? The Prototypes did an awesome job of starting my night off right, and now Zeke Beats b2b Champagne Drip blew me away.
A horrible thought crossed my mind. Do I actually like bass music? Am I growing to like it? The possibility disturbed me to my core. I'm a house music man through and through, but so far the night's offering left me wanting. Solardo needed to hit, and hit hard, or house music at Countdown NYE was on track to be a total bust.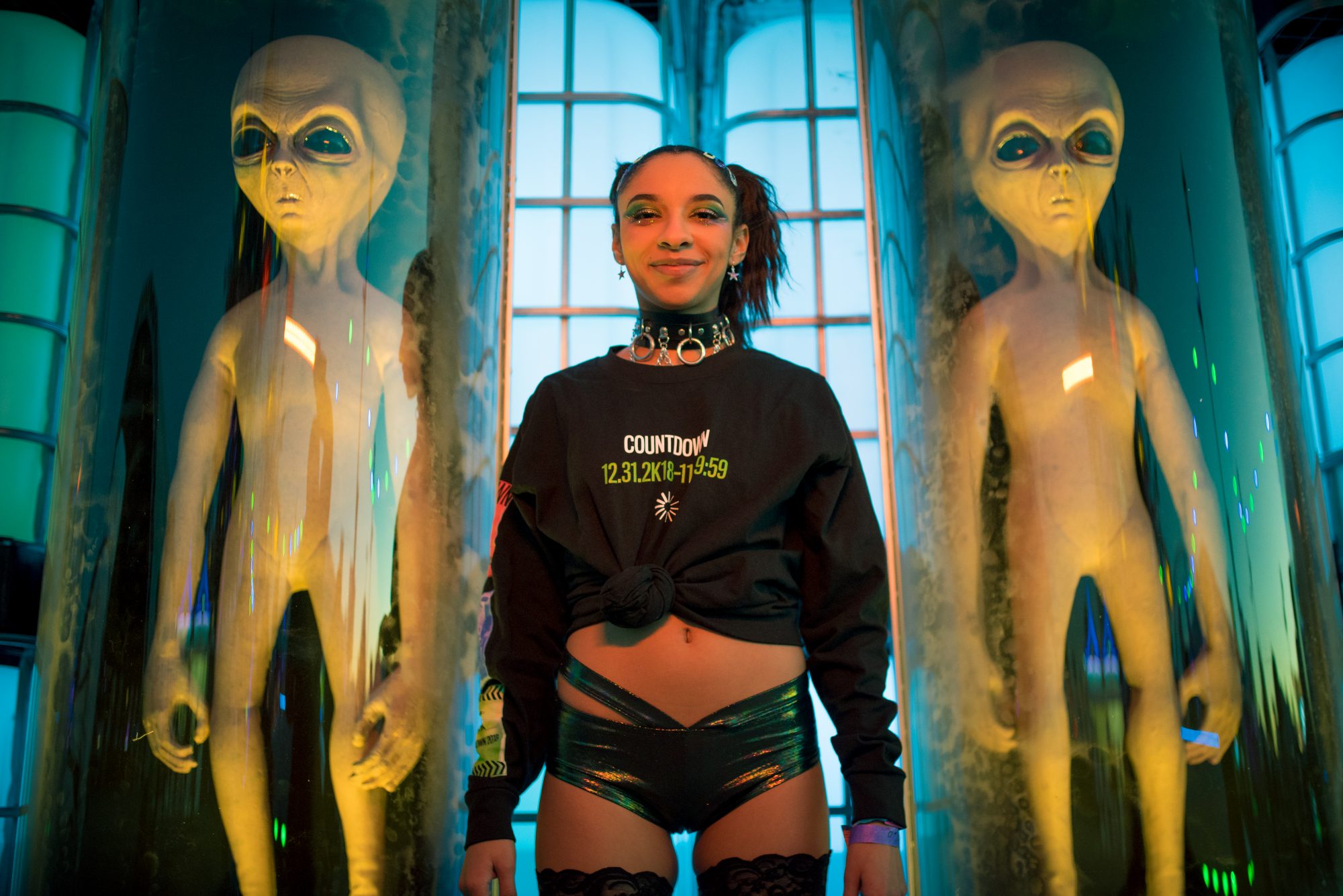 I was in luck, then, that Solardo delivered a virtually-flawless tech house set.
Playing to a packed Twilight Zone, the two-man group created a seamless journey full of fantastic songs. My favorite sets at festivals are ones you can lose yourself in: devoid of breaks, stops, or callouts, they let me give myself over to the music and dance my ass off. So far these moments at Countdown NYE had been few and far between. But Solardo delivered exactly what I wanted, and I and my trusty pixel whip lost ourselves in an hour of pure tech house perfection.
Uneager to tear myself away but getting reports that Andrew Rayel was killing it at the mainstage, I reluctantly headed over to the Mothership. I was more reluctant still once I arrived and found Rayel playing an incredibly mediocre set. Initially interested to see how he would translate his trance-ier sounds to the mainstream, it all faded once the sounds of big room hit my ears.
Now, listen: I like big room way more than I probably should. Big room is fucking dumb and the lyrics are always terrible and every song sounds exactly the same and I love it. Big room isn't the problem. Big room sets, on the other hand, tend to be the antithesis of my favorite sets, as I described earlier. Lots of starts and stops, lots of "LET ME SEE YOUR FUCKING HANDS," and very little flow or cohesion. Some DJs can pull off good sets, or at least sets that I like, but they're few and far between (we'll talk about Tiësto later).
Andrew Rayel's set, sadly, wasn't tight enough to be good and wasn't good enough to be memorable.
Playing like a car with a stick in its clutch, Rayel's set jerked back and forth, up and down, hitting some fleeting highs before fading out, hyping the crowd, and fading back in. The songs were fine: not bad, not unlistenable, just aggressively mediocre. I was a little pissed at my friend — I missed CamelPhat for this? — but she assured me that it had been much better before I showed up. Did I curse Andrew Rayel's set? Probably not, but either way, it wasn't exciting.
We soon ditched the Mothership and headed over to Nebula, where k?d was playing. On our way, we passed Dion Timmer, another bass act that I initially overlooked. He was absolutely slaying his stage, throwing down a good amount of different types of bass that piqued my interest.
Although I didn't stay for long, K?d's set impressed me with its variety and smooth transitions.
I mostly know k?d from "Fourth Impact," his colossal collab with REZZ that helped put both of them on the map. His future bass sound has always been super appealing to me, but I've never dug deeper into his discography. Catching his set made a good case for it though: beyond a recognizable tune when we entered, he played a surprising variety of different music.
People were going absolutely crazy over it, too; they were rowdy. I don't know if everyone was just extra excited for k?d or what brought the extra aggressiveness, but there was enough pushing and shoving to make it hard to secure a spot. The tent was packed to the brim too, with overflow at each entrance.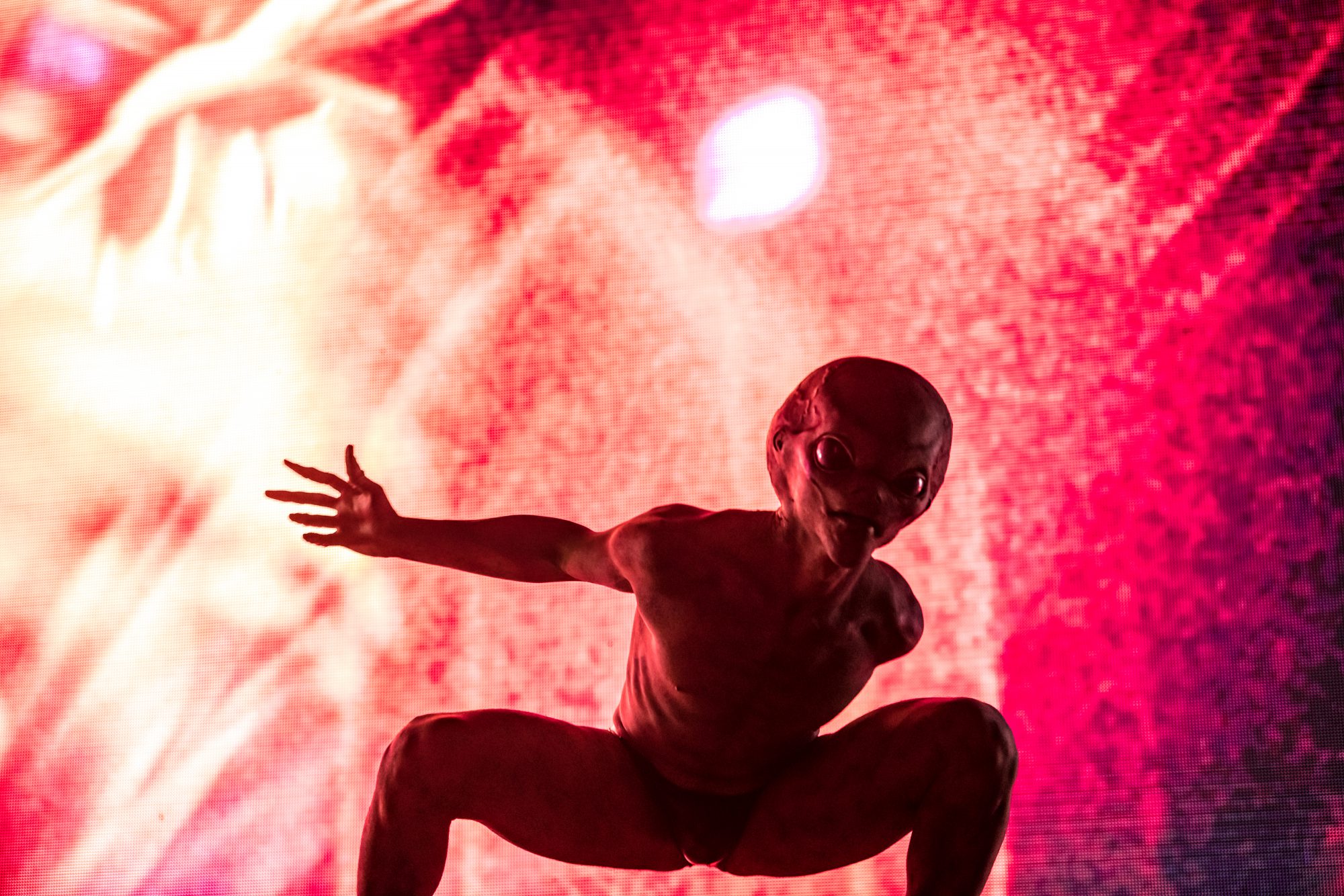 The vibes were notably chiller back at the Twilight Zone, where CamelPhat was already half an hour into their set.
Ready to be transported in the same way Solardo did for me earlier, I was a little disappointed considering their pedigree. It's CamelPhat! They made "Cola"! The power of their original work notwithstanding, their set was strangely slow. Maybe it was because I've been weaned on the cerebral insanity of tech house, but their mainly house set felt a little boring by comparison. It was fine, really, and I got into a good groove after a few minutes, but it didn't grab me by the neck like Solardo's set did.
("Breathe" still slaps, though.)
Next up was my most anticipated set of the festival. As I walked over, I was nervous: would it be another disappointment to add to the handful so far?
Upon entering the tent, I knew I was dead wrong.
Bass was having a hell of a night, and Herobust was the jewel in its crown.
There's something about Herobust's music that reaches across the divide between me and bass and throws me to the other side. His drops are so immediate, so brutal, so reminiscent of the heavy metal riffs that I used to go gaga over as a teen. Through it all, there's an underlying, danceable tempo, a rhythmic sway you can latch on and move to when you're not banging your head.
Herobust's set perfectly captured everything I love about his music and more. Song after song after song hit with the same ferocity and brutality. He kept things fresh, remixing old classics and throwing in new drops. The mixing was flawless, careening from one track to the next in a controlled chaos that never felt sloppy or awkward. It started at 120 mph and never slowed down.
All good things must come to an end, however, and I'd promised my friend I'd meet them at Tiësto for the ball drop. I tore myself away from walls of bass and sound and headed over to the Mothership.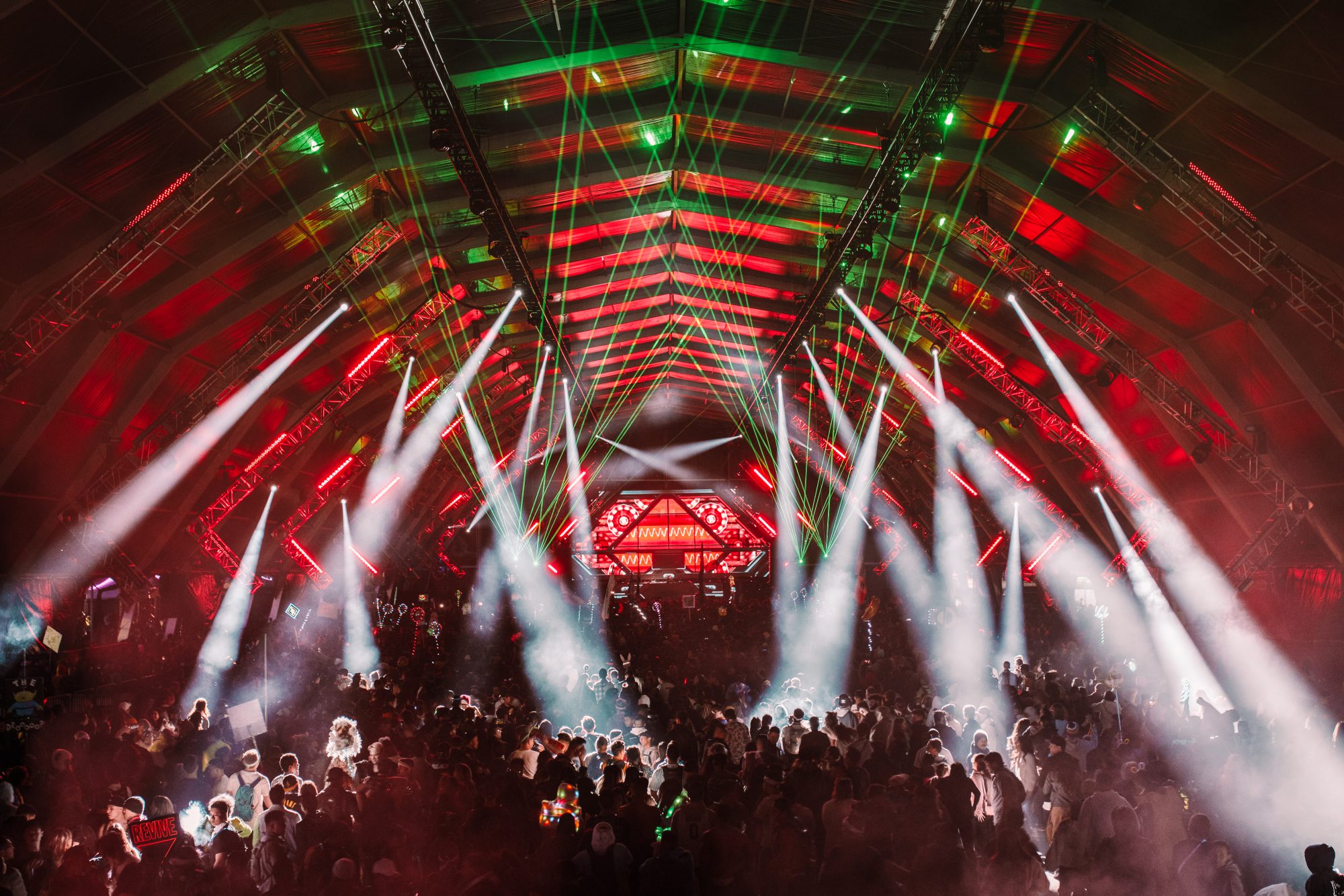 Tiësto was exactly what I expected, and for that, he was perfect.
I'd already seen him at Escape 2017 and knew he had the DJ chops to pull of pretty much anything he wanted. What we got was a super fun set of mostly big room and electro house that mashed up famous songs in inventive ways to keep things fresh. It was full of all the songs I listened to when I was first getting into EDM: "Secrets," "Wasted," "Sky High," "Chemicals," "Wombass," and so on. Made me nostalgic as hell, in the best way. He would then take those old, classic songs and remix them with something new and fresh: I can't remember what it was exactly, but Fisher's "Losing It" showed up in an extremely hype way.
Then the ball dropped, 2018 became 2019, and he played… "Jackie Chan". Yes, that fucking song. The first thing I heard in the new year was Post-fucking-Malone. An ill omen for the next twelve months if there ever was one.
The rest of the set recovered from that astronomical bummer by shooting off into a bunch of different directions.
Bass music! Hardcore! "Adagio for Strings"! Humble brags! "The first big festival like this I played at, 20 years ago," Tiesto said, a boyish grin across his face signaling that yes, he's been famous for longer than most of the crowd had been alive, "I played this song. Enjoy!"
I have no idea what it was, and neither did anyone else, this slow, rising trance ballad that went nowhere and just sort of faded away. People in the front looked bored and tired, not into old-school trance in the wee hours of the new year, but damn if I didn't love it. Tiesto was just vibing now, playing whatever came to mind, and it was a weird and wild ride to the finish line.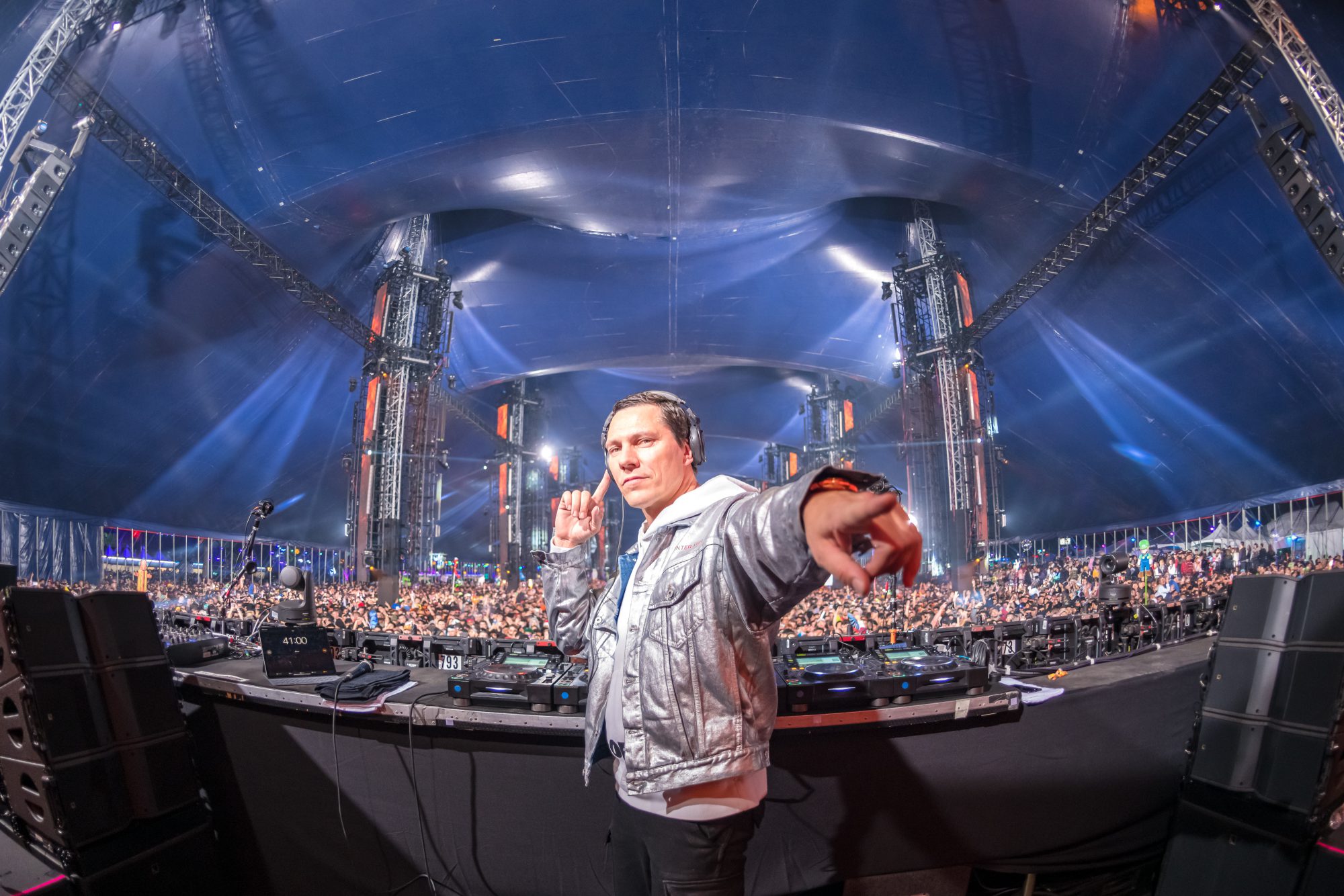 The freezing weather and non-stop exercise finally caught up to us: it was time to go.
When he finished, with a fade-out anti-climax, my friend signaled to me that she was in serious pain. There was still unfinished business—RL Grime and Shiba San kicked off in a few minutes—but as we shuffled off the Mothership we both realized how broken our bodies were.
So, with the wind dropping down into what felt like the teens and our feet hurting more with every step, we put Countdown NYE in our rearview and headed back to our car. Taunting us on our walk back up Arrowhead was RL Grime's set, its sound bleeding out loud enough to know that we were missing something special.
Overall, despite some disappointments, I had a terrific time at Countdown NYE 2018.
An incredible bass lineup blew me away and (might) make me appreciate bass music like never before. Act after act practically took control of my body and forced me to headbang, appealing perfectly to the part of my brain long trained on metal riffs and sludge drops. I won't become a headbanger overnight, but Countdown NYE made as good a case as any.
The other genres left me a little bit wanting, however. House was a big, obvious disappointment: I missed some early sets and was let down by the later ones. House tents are always the ones I go to first at a festival and the ones I find the hardest to leave. But here there were multiple sets that just didn't grab me, either because of rough technical issues or just straight-up bizarre mixing.
However, the sets that did deliver really delivered, and I left with a handful of memorable moments under my belt. That and the best-in-class production for the brand new theme sold me on this year's Countdown NYE. Beam me up, Insomniac, and bring on 2019.
---
Connect with Countdown NYE on Social Media: