With legendary sets from deadmau5 and Porter Robinson and a festive flair, Insomniac Events nailed it with Countdown NYE.
---
Ah, New Year's Eve – the last holiday of the year, or the first (as long as you make it to the end of the night, that is). For years, I've been in search of the perfect event for New Year's. I've tried everything – from club events to one-off shows and even other festivals, but nothing ever seemed quite right. So this year, once I saw that deadmau5 would be headlining Countdown NYE, I knew that was where I had to be.
First, let's talk about the lineup – I am not a bass music aficionado by any means, so I was a little bit of a stranger in a foreign land.
I'll be honest – I initially punched my ticket to Countdown NYE after the announcement that Porter Robinson and deadmau5 would be headlining the event. Deadmau5 has long been one of my absolute favorite artists, and the idea of ringing in the new year with him at an Insomniac event seemed like a match made in heaven.
When the initial wave of lineup announcements after the headliners hit, I can't say it was exactly what I was expecting. While I try to be open-minded about all forms of electronic music, I've found myself gravitating away from bass-heavy lineups in recent history, choosing instead to explore more artists in the house, trance, and techno arenas, most of which were nowhere to be found when the lineup was released.
Still, after digging deeper into the artists that would perform at Countdown NYE, I found that there was a greater depth and breadth of styles and genres than I had initially thought at first glance. In the weeks ahead of the festival, I excitedly made my schedule, looking forward to sets by French house producer Shiba San, dubstep legend Flux Pavilion, and what was sure to be an incredible b2b2b set by drum & bass DJ/producers Kasra, Ivy Lab, and Emperor.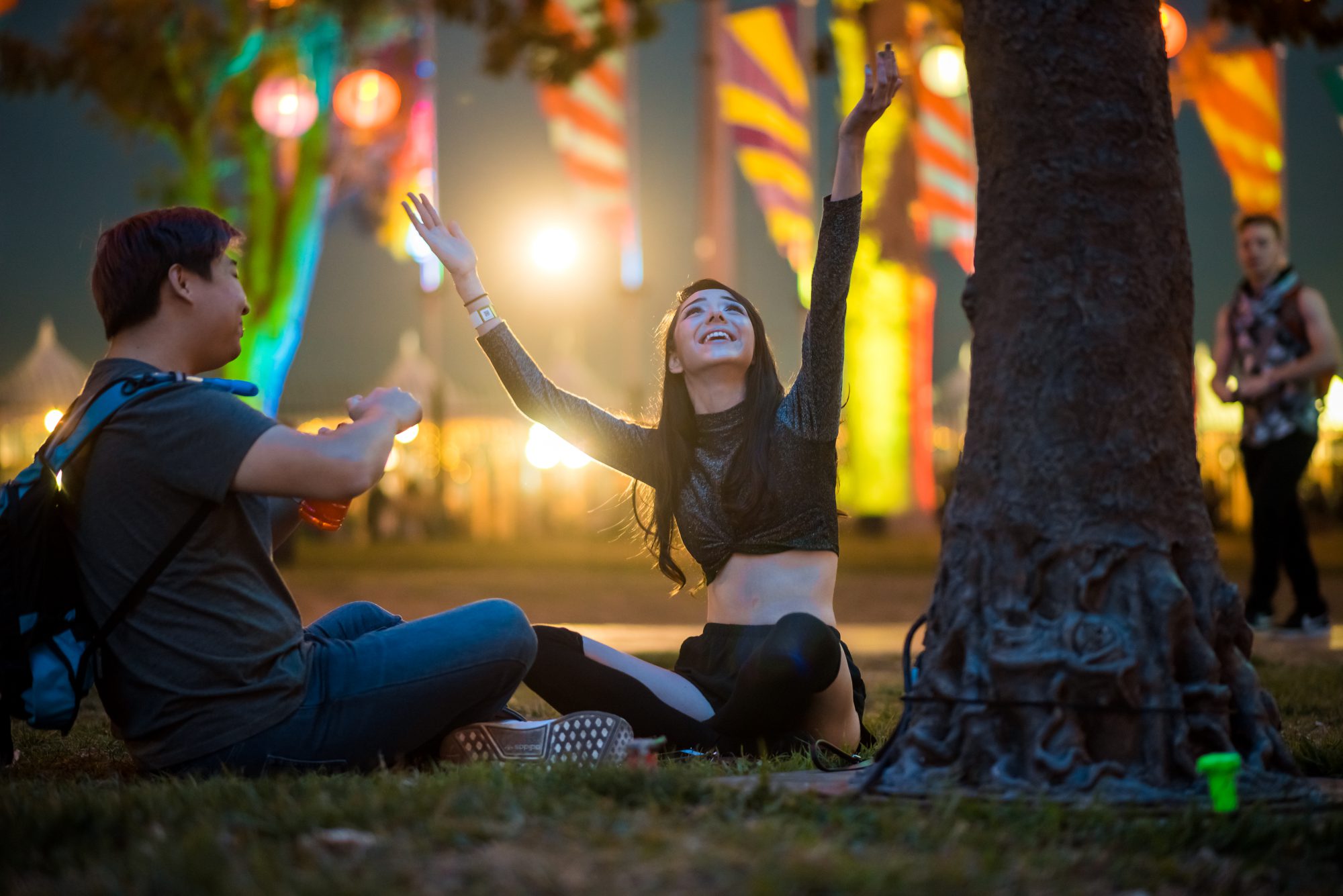 Having never attended an event at NOS before, I was pleasantly surprised to see how Insomniac had made use of the massive space.
When I arrived at the venue, the first thing that struck me was just how huge the venue was. I walked across a good bit of the NOS Events Center to get to the Resolution Stage, passing by the various different structures along the way, marveling at the sheer amount of production that had gone into filling the space. From dazzling light up trees to the reflecting pool, there was always something to look at, giving the entire area a festive feel appropriate for the holiday.
That extended to the actual tents themselves, as well – as I moved from set to set, I was met with a dazzling array of lasers, gobos, and confetti of all kinds. From one end of the venue to the other, the entire place was lit up like it was… well, New Year's Eve. Nailed it!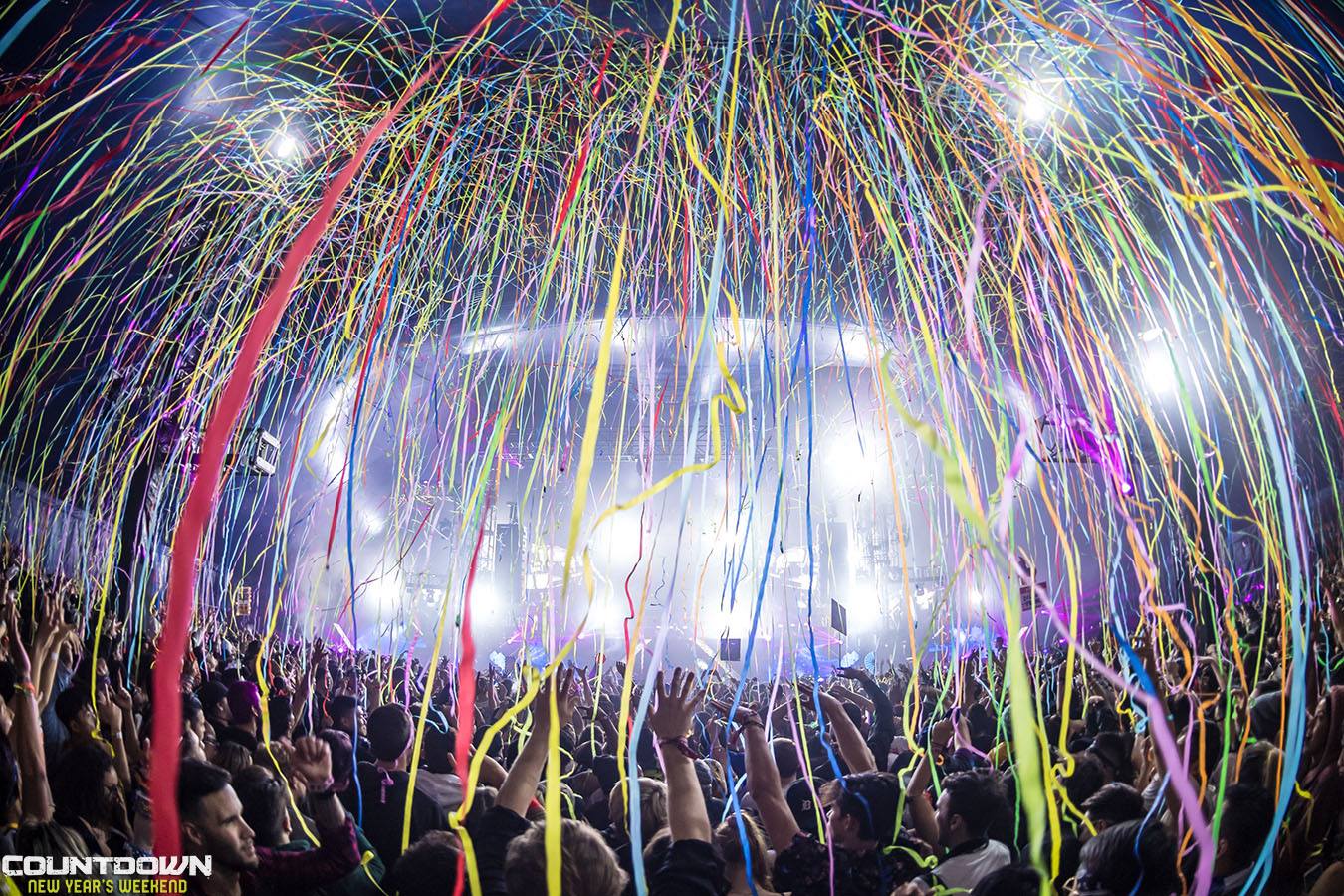 Like any good festival, there were plenty of food and drink options, and all served up reasonably quickly, to boot.
One of my ultimate pet peeves about events is when they either phone in the food and drink options or you have to wait in huge lines to get anything, thereby chewing up valuable minutes. Fortunately, Countdown NYE was completely absent of either problem – the food and drink options were great, and I never waited more than a minute or two to get literally anything there.
I didn't eat a lot at the festival, but the Shake Ramen that I had was delicious and pretty reasonably priced. The alcohol lines were reasonably quick, too, and had a wide variety of options in terms of beer, liquor, and mixers. The bars were also pouring champagne in honor of the holiday, which I thought was a nice touch.
I'd be remiss if I didn't mention the VIP amenities, which were, in one word, fantastic.
I only do VIP at festivals occasionally, although as I've gotten older, I've found that I really enjoy having an opportunity to escape the crowd when I need a breather. After experiencing the VIP accommodations at Countdown NYE, I can assure you that they are well worth the price, and I will absolutely spend the extra money at any Insomniac festival that I attend in the future to get the upgrade.
The VIP area Resolution Stage was by far the largest, and with its twinkling lights and reasonably chill bar area, it became one of my favorite spots of the weekend. From free donuts to unlimited hot chocolate to a few signature cocktails and an absolutely delightful glitter bar that I made sure to visit on New Year's Eve itself, it was a nice little respite.
One of my favorite things about attending Insomniac hosted events has always been that they execute everything flawlessly, even down to the tiniest of details, and that was especially true in the VIP area. From a pretty and poignant lighting installation where attendees could make their New Year's resolutions to party hats and horns and a champagne toast at midnight, they really pulled out all the stops, and it made for a festive experience befitting the holiday.
The first day was a completely different experience from the second and was generally a bit quieter overall.
Perhaps it's just something about New Year's Eve festivals, but the crowds tend to be a bit thinner and less energetic, and the sets are almost always better on the actual holiday itself. That didn't stop us from seeing some great music on the first day, though there were also a few that I wasn't terribly impressed by.
My favorite set of the night was, surprisingly, a tie between Shiba San and Porter Robinson.
Shiba San has been one of my favorite artists for some years now, so when I saw his name pop up on the lineup, I was beyond excited. His set was a bit heavier than some others that I have heard from him in the past, but that seemed appropriate given the lineup. The tent was packed for his set, and everyone was dancing, even though the volume did seem a bit lower than I would have liked.
After that, we caught a little bit of What So Not, and he completely blew my mind by dropping Toto's "Africa," which had the whole crowd singing and dancing along. We left to head over to catch part of Ganja White Night, which was a little too sleepy and reggae-focused for my liking. Flux Pavilion played right after, and although he threw in some classics like "Bass Cannon" and "I Can't Stop," the energy just wasn't where I wanted it to be, and we soon departed.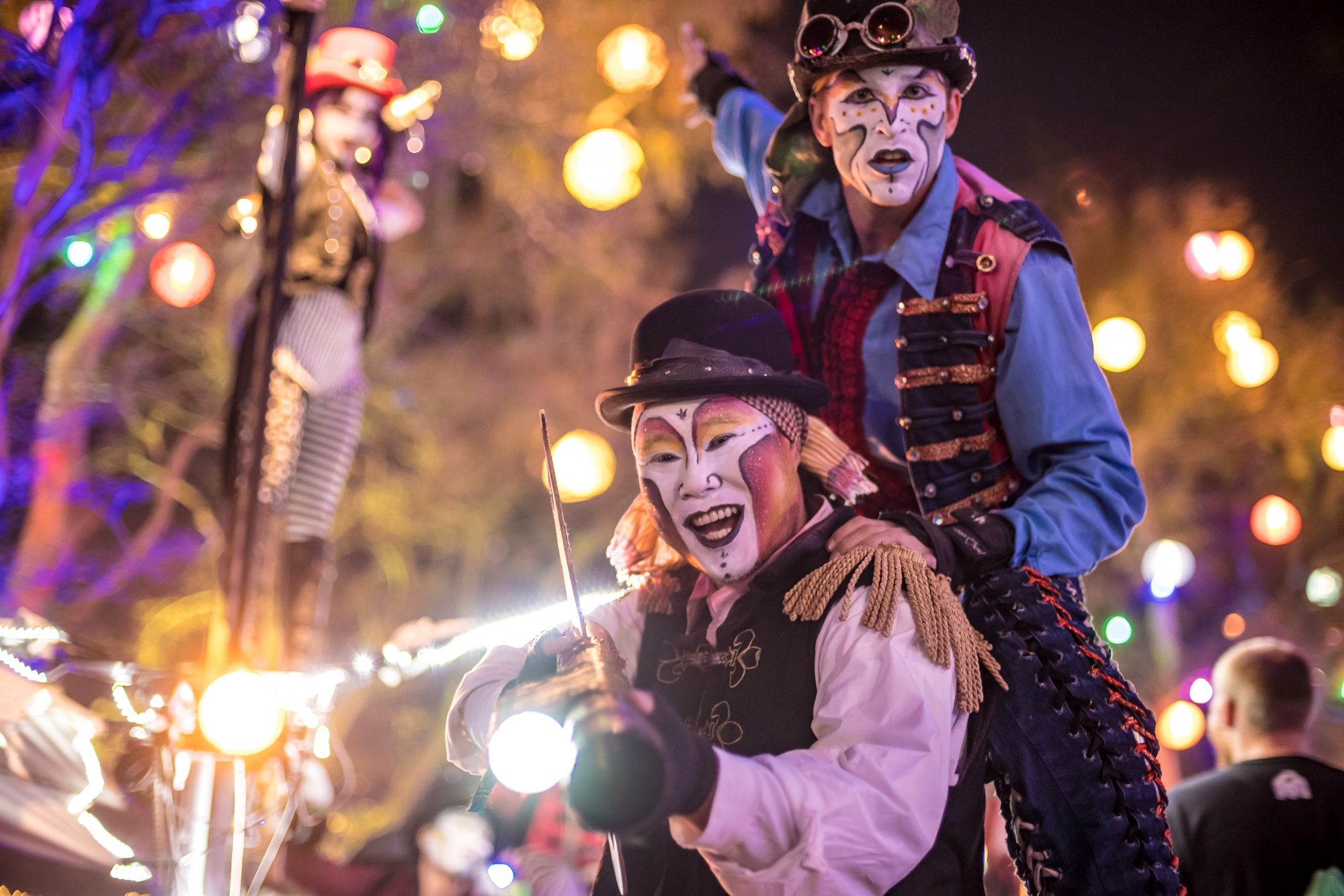 Maybe it's just that I'm not that into bass music, but the one thing the event could have used was a just a little bit more musical diversity to change up the energy.
Fortunately for us, there was some excellent house music going on at the Dome Tent all weekend long. We took a bit of a breather and listened to Stranger throw down some dirty beats. We'd later return to just that spot to catch Cats 'n Boots on the second day, and I must say, it became one of my favorite places of the weekend.
As we headed to see Porter Robinson, my expectations were fairly low. While I've enjoyed some of his music over time, I'm not too into his live performances, instead preferring when he takes the decks and throws down a DJ set – which is exactly what we got at Countdown NYE, and I was pleasantly surprised.
Porter started off with a mashup of "Sad Machine" and "Easy," his phenomenal collaboration with Mat Zo, and then cycled between the more emotional parts of his catalog like "Fellow Feeling," and some darker tunes from artists like Boys Noize and Gesaffelstein. It was exactly what I tend to like about Porter's DJ sets – quite a bit of variety in terms of the music he's selected with a few surprises thrown in to keep you on your toes.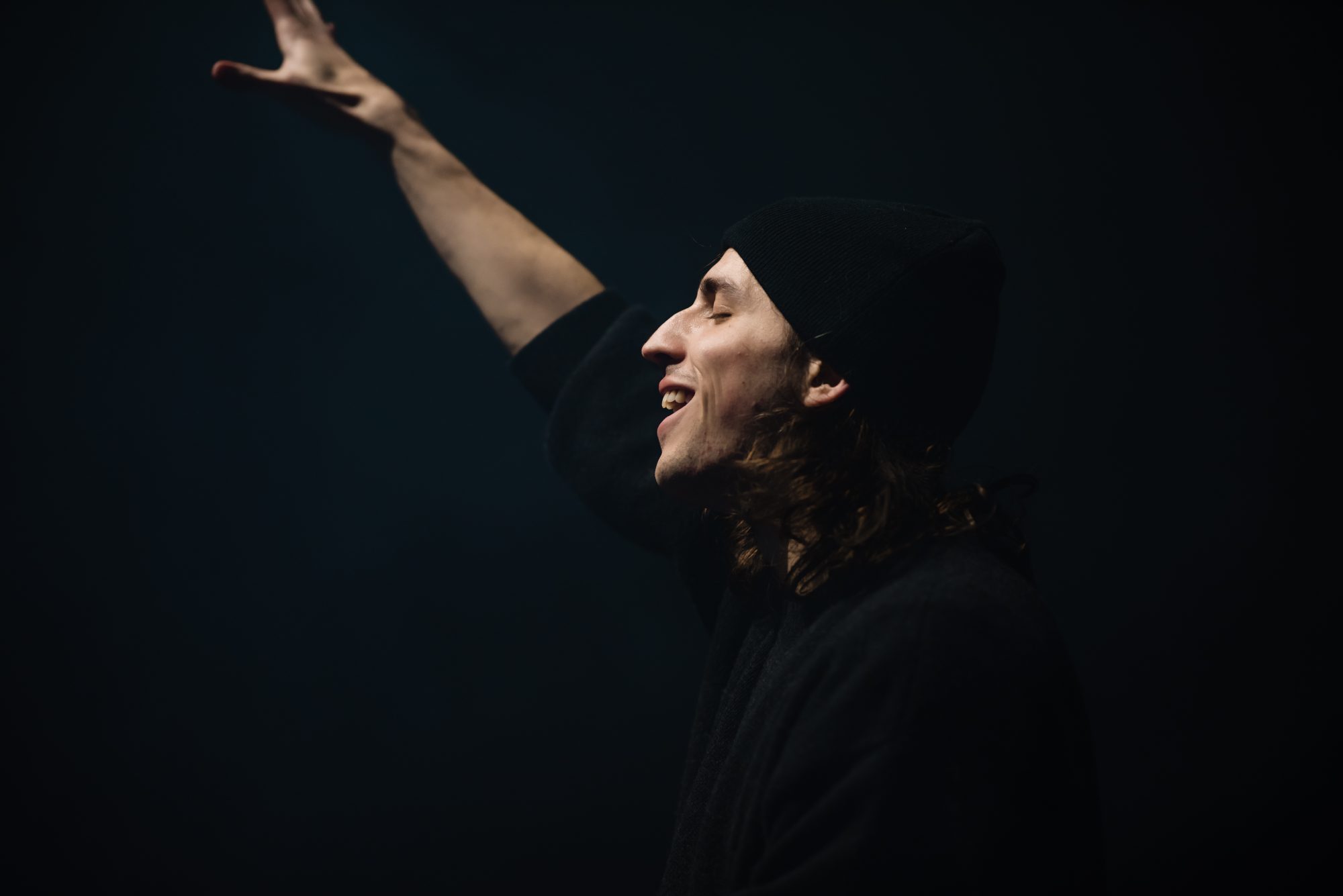 On the second day, it was like the volume had been turned up to 11 on literally everything, and that's when the party truly began.
We opted to take a Lyft to the festival rather than driving, which resulted in a pretty substantial walk with a massive horde of people that actually ended up being kind of fun. Lucky for me, I had my VIP wristband, so I zipped through security, but some of my friends were caught in what ended up being a very long GA line, which was a bummer. Fortunately, that would be the end of our problems that day.
If there was one non-music-related thing that stuck out to me on New Year's Eve, it was just how festively some of the attendees were dressed.
Perhaps it's the fact that it wasn't zero degrees outside like it always is in Denver or Chicago, where I've spent most of my New Year's Eves to date. Maybe it's the SoCal raver attitude of wanting to sparkle and shine as much as the lights on stage. Or it could be that I usually go to house and techno events, and most people there get dressed up by wearing a ton of black. Whatever the cause, many of the people at Countdown NYE were dressed to the nines, and it was wonderful to see everyone getting so into the holiday spirit!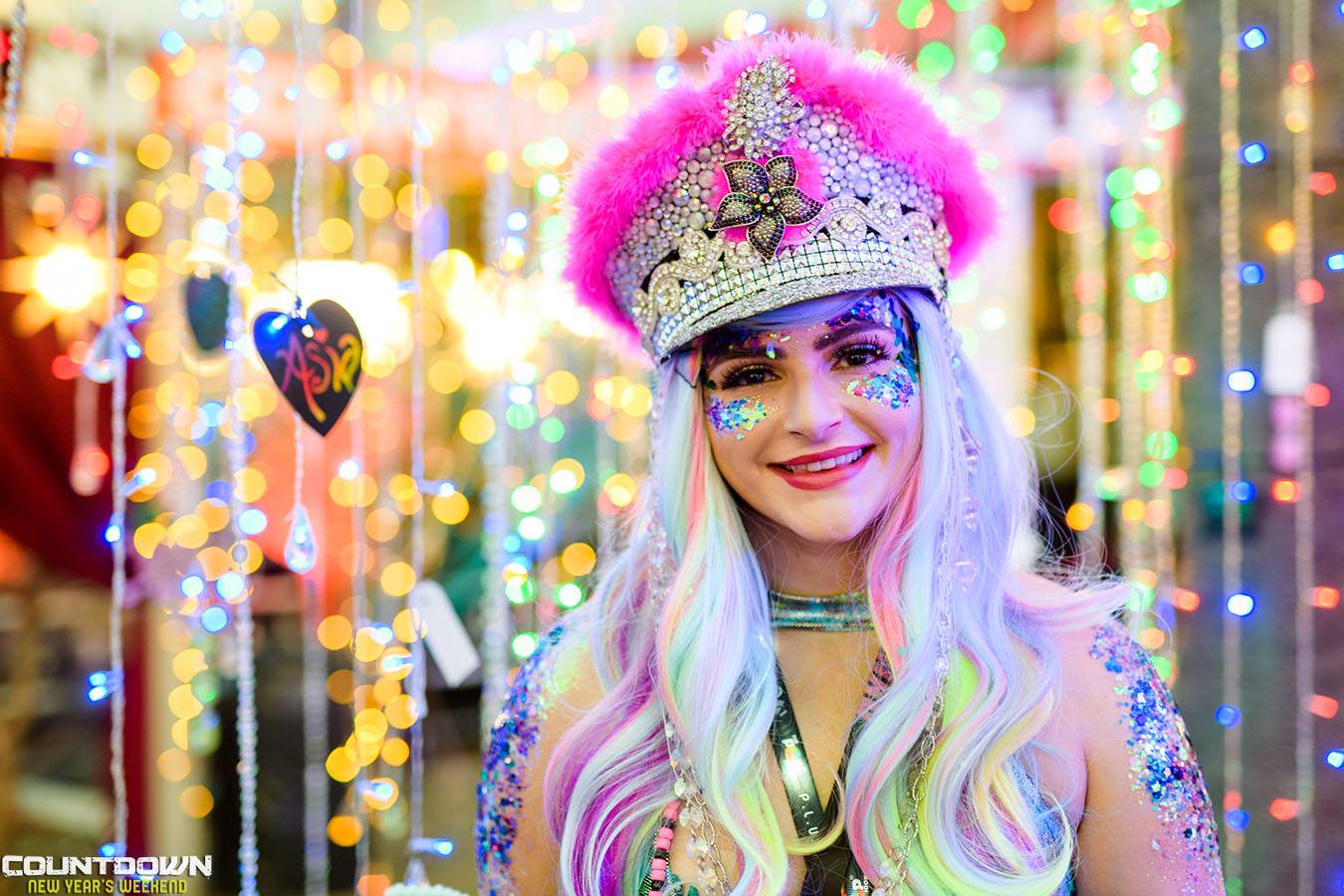 The second night of music was undoubtedly my favorite, thanks to some great drum & bass, an epic set by Diplo, and of course, the legendary deadmau5.
I started my night at the Continuum Stage and witnessed a fantastic b2b2b set by Kasra, Ivy Lab, and Emperor that I only wish had gone on longer than it did. If I could level one complaint against most massives, it's that drum & bass truly does not get the recognition it deserves on most major lineups, and I was pleased to see that this was not the case here. These guys tore it up, and I hope to see more festivals follow Insomniac's lead on this.
JOYRYDE wasn't really on my schedule, but I'm glad we wandered over to the main stage a bit early, because his set was worth navigating the packed crowd to see. What really blew my mind, though, was Diplo. I've seen Diplo quite a few times in the past, and I never know quite what to expect – some of his sets are some of the best sets I've seen, while others just don't seem to compare.
Well, I'll just shut my mouth about that, because his set was arguably one of my favorites of the entire weekend. He mixed in basically everything you can possibly think of – Darude's "Sandstorm," The White Stripes' "Seven Nation Army," Green Velvet's "Flash," and even Cascada's Eurodance mega-hit "Everytime We Touch." It was probably one of the most fun sets I've seen in a long time, and definitely the biggest surprise of the festival for me.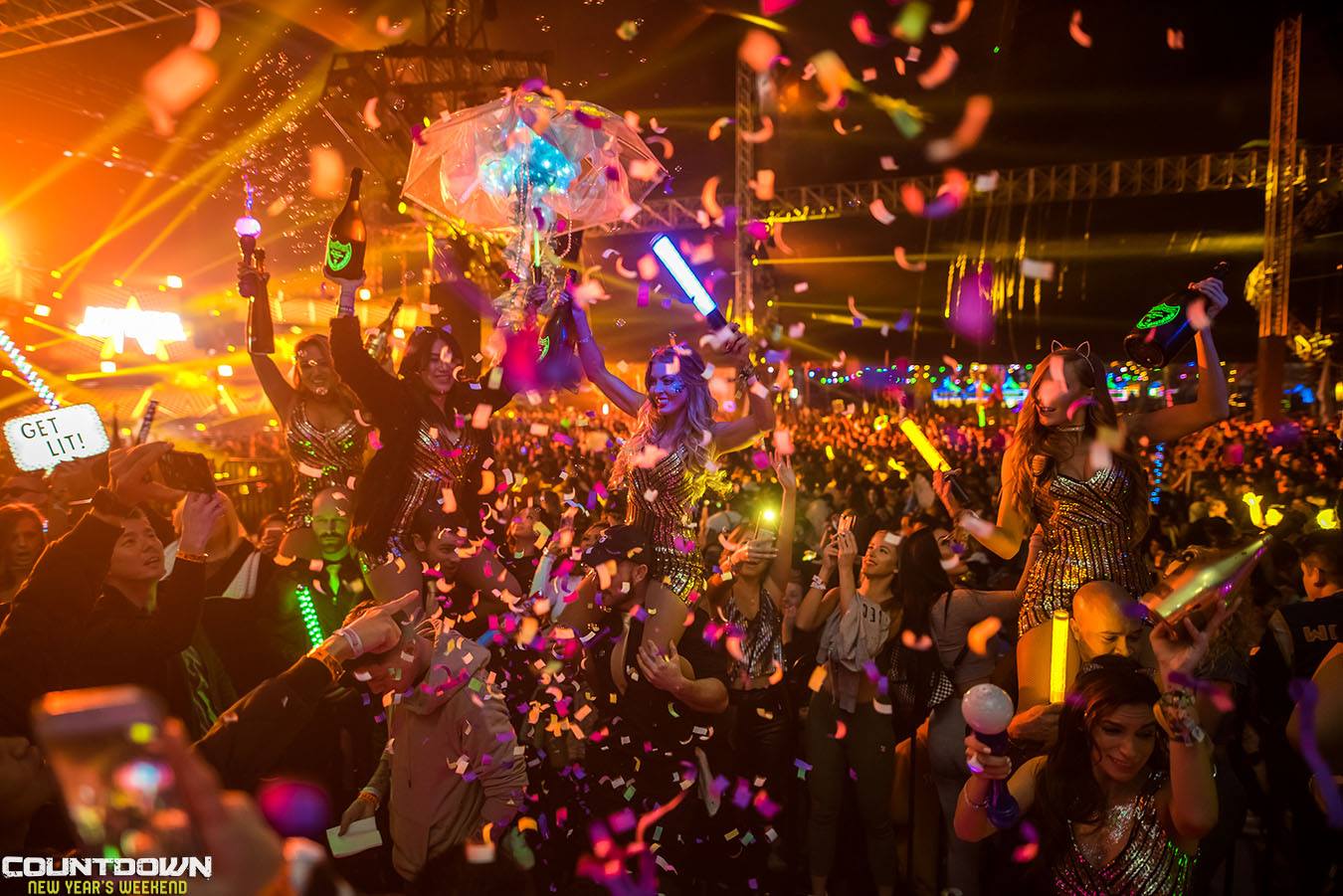 I've seen deadmau5 more times than I can count – and even still, his set at Countdown NYE was probably my favorite that I've seen so far.
When 11:10 finally rolled around, I was beyond ready to see what I had bought my ticket and flights to see – and deadmau5 absolutely did not disappoint. After catching him twice on his 'lots of shows in a row' tour, I wasn't sure if we were in for a similar set, but I was thrilled when he started off with something completely different.
For the first 40 minutes or so, the Canadian producer took us through a whole host of his own originals like "Three Pound Chicken Wing" as well as some deeper cuts like Tony Rohr & Layton Giordani's "Careless Suggestions." Ever since deadmau5 started mixing more and more techno into his sets, I've always wanted to catch one, and I was thrilled that he started off his set that way.
As we edged closer to midnight, we got more fan favorites, and the crowd was amped up in anticipation. When he dropped into "Moar Ghosts n Stuff," I don't think there was a single person in the room that wasn't cheering and dancing along. And as for the countdown, well – if you haven't seen the videos of the hysterical Rick & Morty New Year's Eve countdown that our favorite masked producer put together with some help from a few very talented friends, do yourself a favor, and go watch it. I can't do it justice, but suffice to say that this will probably go down as my very favorite way to ring in the new year ever.
Perhaps uncoincidentally, as soon as the countdown ended, we were treated to "Legendary," deadmau5's track with UK hip-hop artist Shotty Horroh, which seemed perfectly fitting given what had just happened. He finished out with his stunning new track, "A Seed," which he premiered during the second part of his 'lots of shows in a row' tour. I can say one thing for certain – deadmau5 still has plenty of tricks up his sleeve, and I'm excited to see where he's headed in 2018.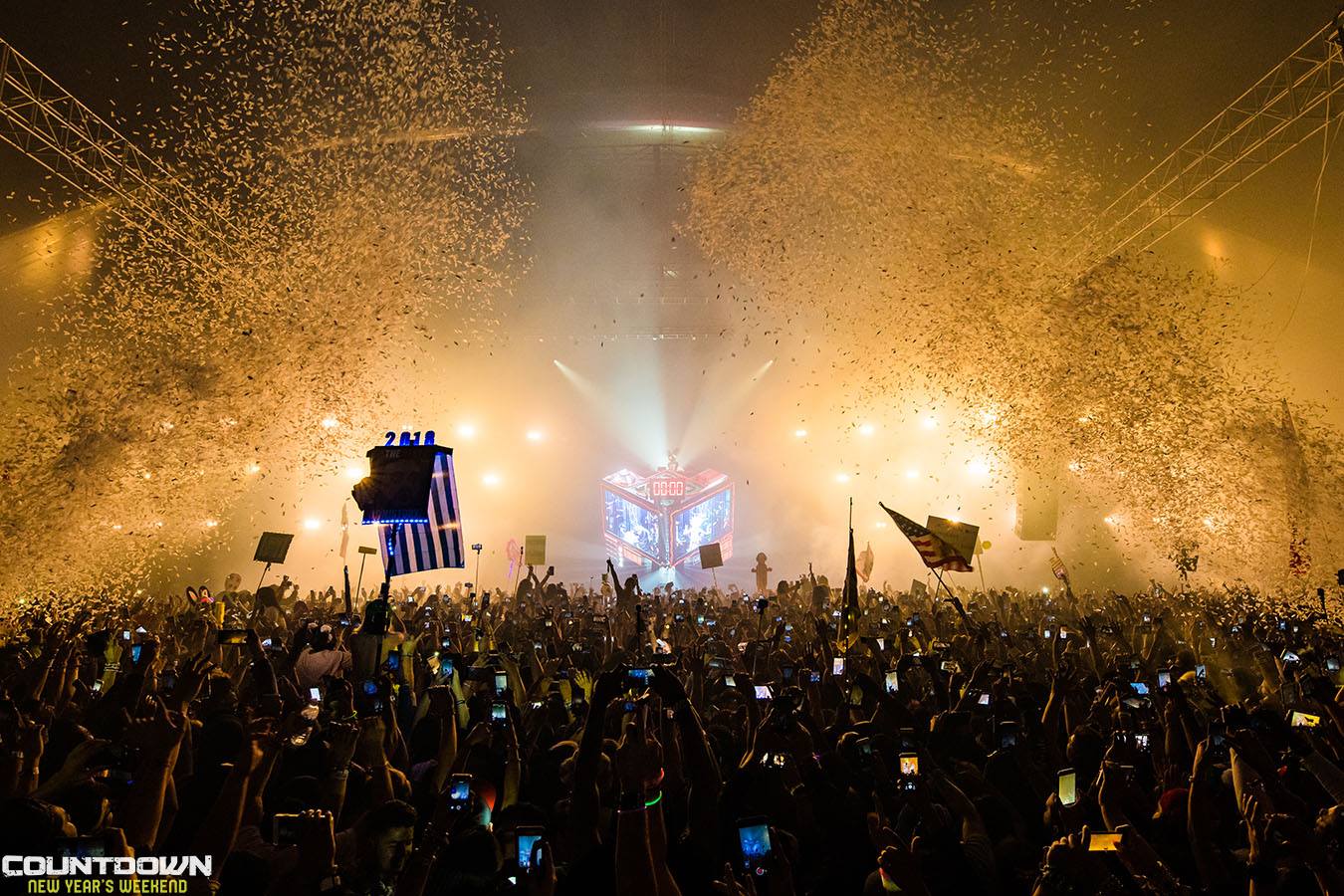 I said before that the devil is in the details, and Insomniac stuck the landing, even providing great accommodations for the Uber and Lyft lots at the end of the night.
This may seem like a small detail to some, but one of the things that impressed me most about the setup of the event was that Insomniac had gone the extra mile to not only designate a dedicated pickup spot with lettered rows where attendees could catch their rideshares home, but they even set up port-a-potties and had staff there directing people.
Speaking as someone who has frozen my tail off trying to get a ride on New Year's Eve more times than I can count, this was without a doubt the best-executed pickup and dropoff area that I've seen, and it's exactly that sort of attention to detail that will encourage attendees to use these services again next year rather than trying to brave a less-than-sober drive home. Bravo.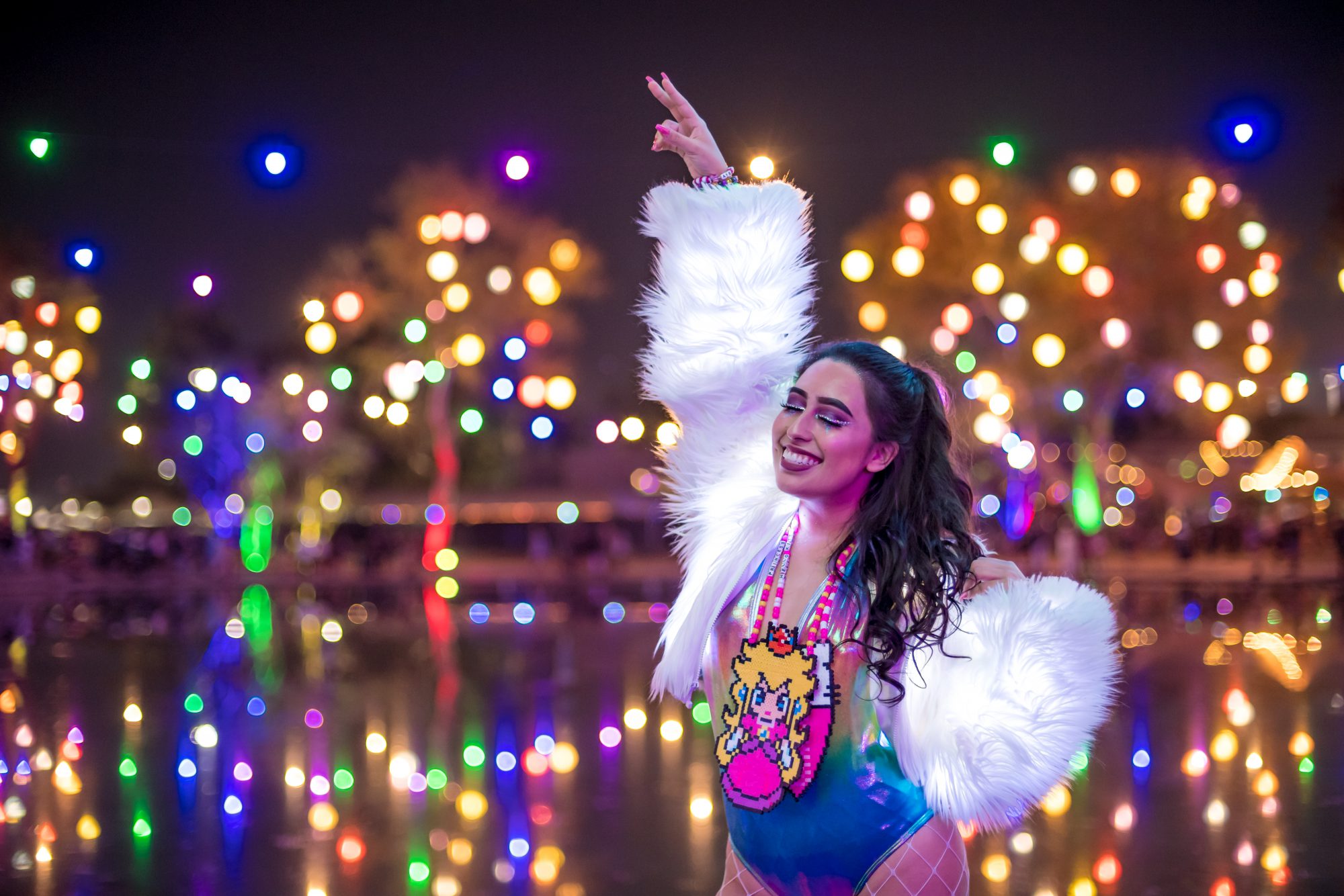 Even if the lineup wasn't exactly what I was anticipating, I can say without exaggeration that Countdown NYE is the best New Year's Eve event I've attended.
From the sparkling decor to some epic sets from my favorite artists (and even some that surprised me), Insomniac Events hit another home run with Countdown NYE, and I'm happy to have spent my weekend being ushered into 2018 there with great friends. I don't know that I'd go back to see a similarly bass-fueled lineup given my usual musical tastes, but I can confidently say that Insomniac knows how to throw one hell of a New Year's Eve party, and it's well worth your while to attend.
---
Connect with Countdown NYE on Social Media: