With some of the biggest names in dance music in tow, Audiotistic SoCal returned to the NOS Events Center with a lineup from heaven. 
---
The end of 2018 heralded the return of Insomniac's storied Audiotistic festival to the NOS Events Center on December 29 in San Bernardino, where sixteen artists played across two stages. Despite the reduction in size from previous editions of Audiotistic SoCal, their return featured one of the best lineups I've ever seen.
With performances from artists like Porter Robinson and Chris Lake, set after set delivered heart-pounding beats and innovative mixes. Incredible visuals elevated technically proficient performances into unforgettable experiences. Not a single artist disappointed — well, except one, but I'll save that for later.
Audiotistic SoCal impressed me from the moment I walked through the gates. 
My night started at 6:30, around thirty minutes after doors opened. It took longer than I expected to get through the entrance line, but after twenty minutes or so I was in. Before hitting up the tents I walked around, getting the lay of the land.
The last edition of Audiotistic SoCal held at the NOS Events Center back in 2011 had four stages; now, only two stages remained, and the smaller grounds reflected that. It reused many materials and stages that would be featured just a few days later at Countdown NYE. The tents, the vendors, and even most of the art were identical. You could even see the rest of Countdown NYE sitting behind chain link fences.
The only unique entertainment I could find were artists painting graffiti-inspired portraits on four huge canvases. While it was cool to look at, I honestly never thought about them again once I entered the stages. Still, the vibe at Audiotistic SoCal was much chiller than Countdown NYE and didn't need flashy art to succeed. It just might have been nice to have something more to make the event feel distinct.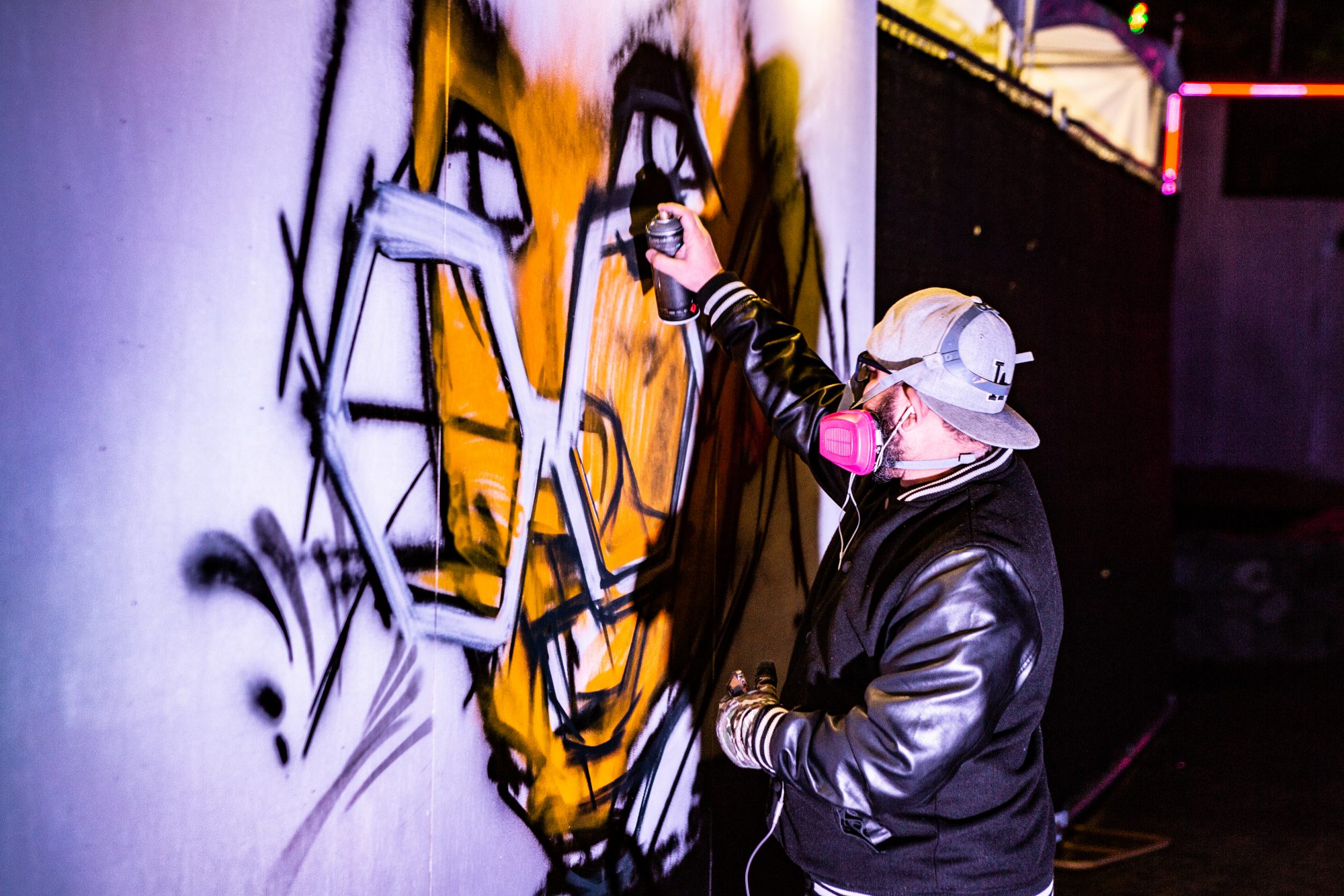 Once the music started, however, any issues I had with the festival's presentation melted away.
Heading over to Frequency 2.2 to catch Phlegmatic Dogs, I stopped by Frequency 1.1 to catch an eclectic and catchy set. DJed with precision by Sober Rob, what started as a standard bass set morphed into brand new territories as I listened. I hung around and jammed for a while, despite my hurry to be there when Phlegmatic Dogs started.
Finally pulling myself away from Sober Rob, I finished my journey to Frequency 2.2 where Steady Rock's set was in its last ten minutes. Although it was nothing special, it was still solidly mixed Tech House set that got the crowd warmed up. Compared to some of the other names coming up, however, it was small potatoes.
Up next was the first Night Bass name of the night: Phlegmatic Dogs.
A killer purveyor of bass and G-House, Phlegmatic Dogs was one of my most anticipated acts. His set delivered big time, with a nonstop flow of terrific tracks expertly mixed that got the whole tent grooving. I had a great time dancing along with his heavy bass house tracks but got a bit bored by the end. A lot of the songs sounded very similar. It wasn't enough to stop the energy of the set, but everything did start running together.
The acoustics here are partially to blame: I was front stage left, and the speakers were weirdly muted, with the bass barely coming through at all. Once I changed to the back middle, things cleared up, so it luckily didn't have too big of an impact. Nothing as bad as the entire left speaker going down during Lane 8 at DAY MVS, but not ideal either.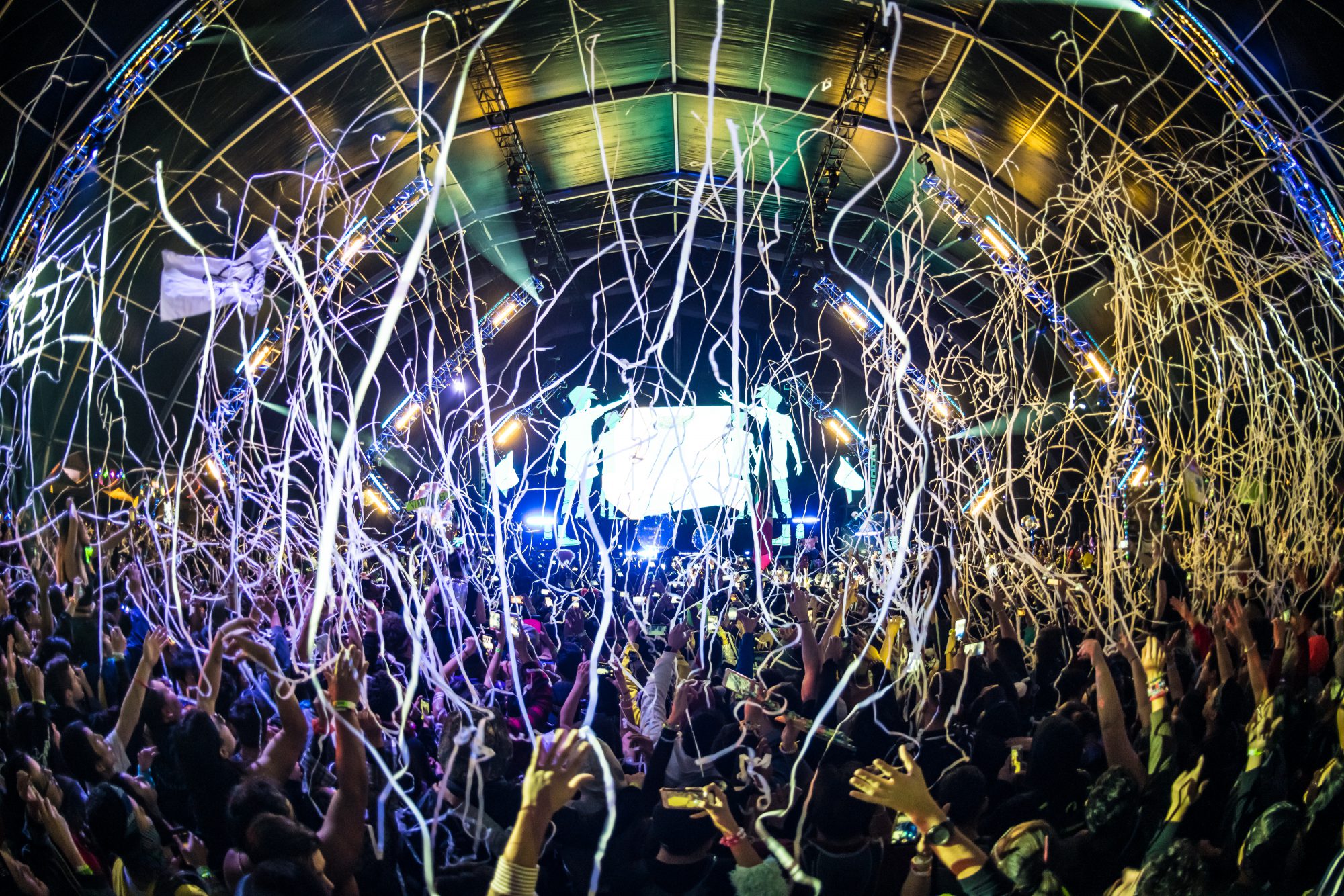 After that set, I hung around to see Born Dirty, who I confused with Dirty South.
While I was all ready to be lulled to sleep to the sounds of his "No Captain" remix, I got a rude awakening once the OWSLA hit "Daddy" came through the speakers. "Oh, Born Dirty," I thought. "This guy." Instead of chill vibes, Born Dirty started with a blast of House and Bass House that hit hard and was awesome to dance to.
After twenty minutes or so, however, "goosebumps" signaled a hard left-turn into…whatever Born Dirty was feeling like. Travis Scott. Daft Punk. Latin music. The set became a jukebox, flipping between a bunch of different styles and songs at a steady clip. It was fine, but I was bummed he deviated from the seismic energy of the first twenty minutes and drifted off to Drezo to get my Night Bass fix.
I've been following Drezo for a while, ever since he dropped "Malice" in mid-2016. His sound is powerful and unique enough that I feel like he should have blown up a while ago, similar to how Joyryde did in 2017. His production is there, with great songs like "Guap" and "Jaded", but despite his talent, he's never quite achieved mainstream success.
Perhaps it has something to do with his live shows: I've seen him twice before, and both times I left disappointed. While his songs were good, he was having trouble mixing them seamlessly, and endless stops and starts took me out of the performance. So I wasn't super excited to see him tonight: I thought he was a known quantity. Boy, was I wrong.
For me and just about everyone else who saw him, Drezo played the best set of the whole night.
Housed in the larger, more dramatic Frequency 1.1, Drezo blasted out sinister beats perfectly mixed that whipped the entire crowd into a frenzy. I found a perfect spot by a rail and raged harder than I had in a while, completely entranced by his set.
The visuals, a truly demonic set of graphics that rank among the best I've ever seen, complimented the songs perfectly. Glitched out monsters and weird, distorted faces evoked horror movies and were actively disturbing at times. They were a perfect personification of Drezo's dark, hard-hitting sound. Checking his Twitter after the show, I had some suspicions confirmed: "seeing kids in the crowd genuinely being afraid of my visuals is my favorite".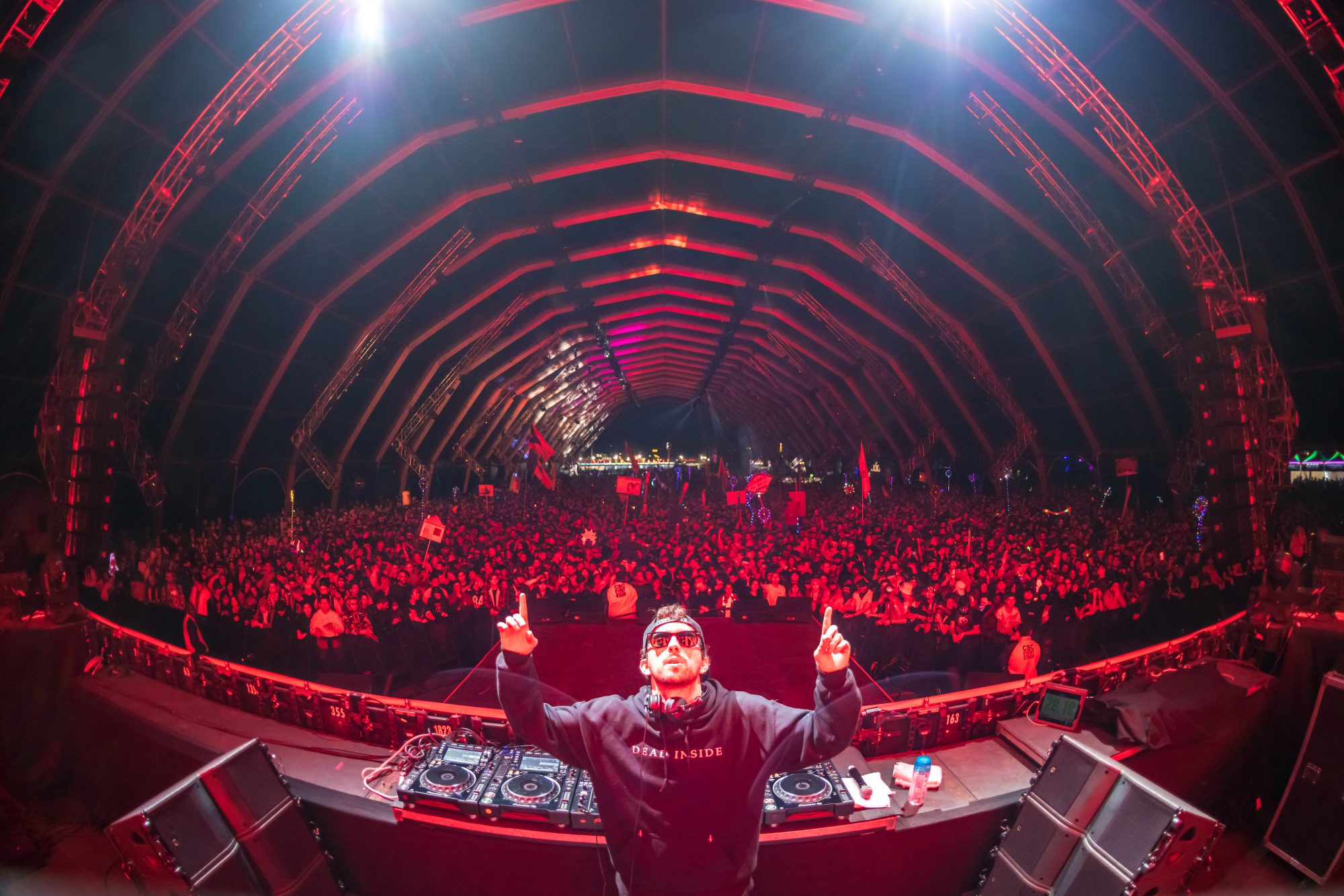 Chris Lake was next, and there was no way I was going to skip his set.
After being forced to leave EDC Las Vegas in 2018 before his b2b with Fisher and forgetting to buy tickets to the Black Book tour, I would finally be able to see him after six months of missed connections. Once he came on, he did not disappoint. He's great: Tech, Acid, House, all combined and mixed perfectly into a flawless set that soars and dips expertly. What's more to say? He's one of the top House producers in the game right now with a legendary reputation; of course, his set is flawless.
But Audiotistic SoCal offered me an embarrassment of riches: not one but TWO chances to see Chris Lake, right now and at the end with his Chris Lorenzo project, Anti Up. So, figuring that checking out Anti Up might be a more interesting show, I took a bold decision and left Chris Lake early. I knew I would catch him again later, and another concurrent set intrigued me even more than this one.
Call it professional curiosity, but I had to see Lil Xan's performance for myself.
Ever since the late '90s, Audiotistic SoCal has had a focus on hip-hop as well as EDM (check out my history of the festival to learn more about that). In 2002, the lineup was mostly hip-hop, with everyone from Outkast to Talib Kweli to even Kanye West making an appearance. Hip-hop is core to Audiotistic's post-'00s DNA. But this edition reduced the presence of hip-hop to two Lil's, Xan and Uzi Vert. Confused, I hoped Lil Xan's set would give me insight into why rap continued to be part of the festival despite it feeling like an afterthought.
In the end, however, it did little to help me understand hip-hop's place at Audiotistic. No one attended his set: only a hundred or so people huddled towards to the stage, easily taking the crown for the most deserted artist of the night. The few people there seemed to enjoy themselves, but from my perspective, I had no idea why.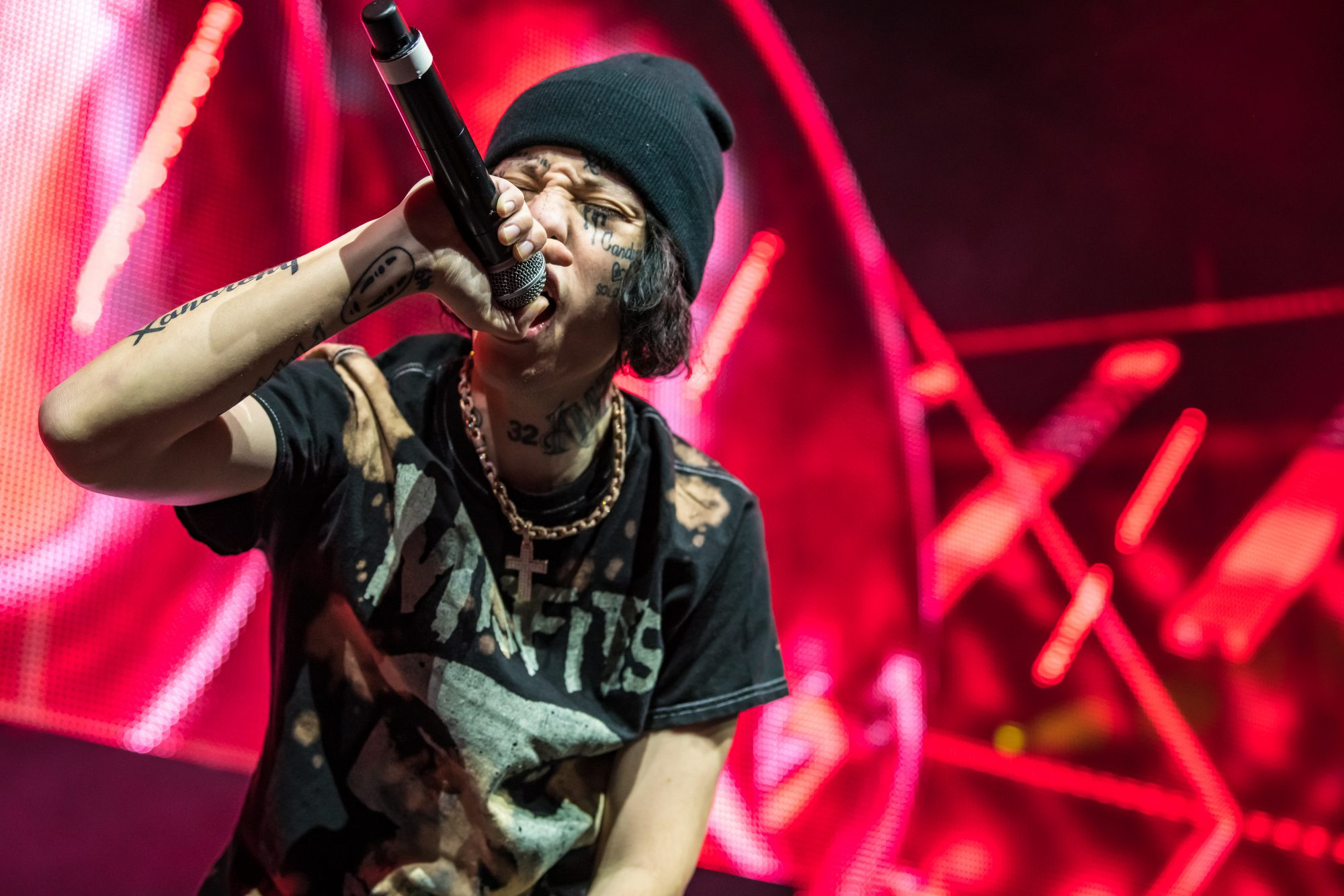 Despite playing a reduced 45-minute set, Lil Xan's set was mostly filler.
His hype man dominated the first ten minutes, DJing other rapper's songs and trying to get the crowd to sing along. He shouted everything from, "I WANT TO SEE YOUR HANDS IN THE AIR!" to, "ARE YOU FUCKING READY FOR LIL XAN!" to desperately goose people into excitement. Samples of Lil Xan's signature catchphrase "XANARCHY" where repeated ad nauseam for no reason in particular. Finally, after even the dedicated crowd seemed to lose interest, Lil Xan came onstage to renewed applause.
Once there, he split his time evenly between rapping and talking to the crowd, trying to impart his wisdom. "I am one of the most nicest, most humblest dudes you'll ever meet," he said, right before grabbing a phone from the crowd and taking a selfie with it. Seriously, though, enough dunking. Though Lil Xan is an easy target, he seems like a cool enough dude, and his music was fine, for the five or so songs he played. He was wearing kandi, which was nice to see and definitely endeared me to him without knowing anything about his music.
But who was this for?
With barely anyone there, the performance felt niche at best and completely superfluous at worst. For someone who has a certified platinum single, it was oddly deserted. Maybe Lil Xan was just a miscalculation; maybe ravers just aren't onboard with XANARCHY; either way, it was definitely a weird experience and not sure it satisfied anyone outside a small group of people. Luckily, the stage rebounded with Dombresky, who was next.
Combining psychedelic and soothing visuals with a beautiful selection of non-stop House bangers, Dombresky dropped one of the best sets of the night.
As a long-time fan of Dombresky's work, I was unsure which direction this set would take. His work is evenly split behind dark, bass-y House in the vein of Tchami's Confessions label and groovy, feel-good, disco-tinged House. His latest song, "Futurmastic", is one of my favorites of the year; the one before that, "Rave Alarm", is one of my biggest disappointments. So I really had no idea what direction it would go.
Everyone cleared out after Lil Xan, so I managed to worm my way to the front of the stage where the acoustics were stellar and the views were perfect. Once he started, it quickly became clear that this set was something special. There's a concept in DJing called "Beatmatching the Heartbeat", where the BPM of the song is meant to sync up with your own heartbeat to create a more unifying experience. I'm not sure if this is exactly what happened with Dombresky's set, but it sure felt like it. The rhythm of the pounding bass drum, lifted with melodies that ranged from funky horns to glittering keys to acid synths, put me in a magical, emotional place. At one point, I nearly cried.
So yeah, one of the best sets of the night. Don't sleep on Dombresky.
After that incredible high, nearly anyone would seem disappointing. It's good, then, that Chris Lake and Chris Lorenzo aren't just anyone. Joining forces for their Tech House project Anti Up, the two superstar producers promised one amazing show. I wasn't as blown away by their debut EP as most people, but I was still excited to see what two of the best of the best could produce.
Although it took them a bit to find their flow, Anti Up delivered a stellar Tech House set.
The first few songs were a little shaky, with the mixing coming in fits and starts and weird audio glitches keeping the set from taking off. The Chrises looked a little nervous, especially after a few bizarre skips and bad transitions. But once Chris Lorenzo grabbed a vodka bottle and started drinking it straight down the hatch, the set began to pick up. Buoyed by huge originals like "Pizza" and "Concentrate" and kept interesting by inventive mixing, Anti Up soon won me over and got me grooving with ease.
Still intrigued by Audiotistic SoCal's rap offerings, I decided to check out of Anti Up early and head over to Lil Uzi Vert. Would his attendance be better than the pitiful Lil Xan show? A packed Frequency 1.1 quickly confirmed my suspicions. Thousands of headliners crowded the stage from end to end, singing along to each song. Despite only catching the last ten minutes, Vert's set seemed much more consistent than Xan's, with more rapping and less speechifying. And "XO TOUR Llif3" is still a fantastic song that truly set the crowd alight.
I eagerly awaited AC Slater's set all night, but it ended up being the most disappointing act in the lineup.
The Night Bass boss was my most anticipated artist of the festival, but in the end, those grand expectations let me down. Like Chris Lake, I'd been trying to see him for months, but the dates never worked. Now, I was ready to give my undivided attention over to him for an hour of unforgettable music. And… it was pretty forgettable, unfortunately.
The set was bizarrely bland, lacking the spark that nearly every artist before him shared. His transitions were awkward, his song choice forgettable, and his visuals didn't grab me. After 20 minutes, I became bored and tired, and left, my limbs aching from seven hours of dancing.
I stopped by Porter Robinson for a few minutes before leaving the venue for good. He seemed fine. Robinson knows how to construct a good set; I've seen him twice, so I didn't have much interest in seeing him again. Still, the amount of variety he packed into a set full of the "typical" Porter Robinson sounds impressed me.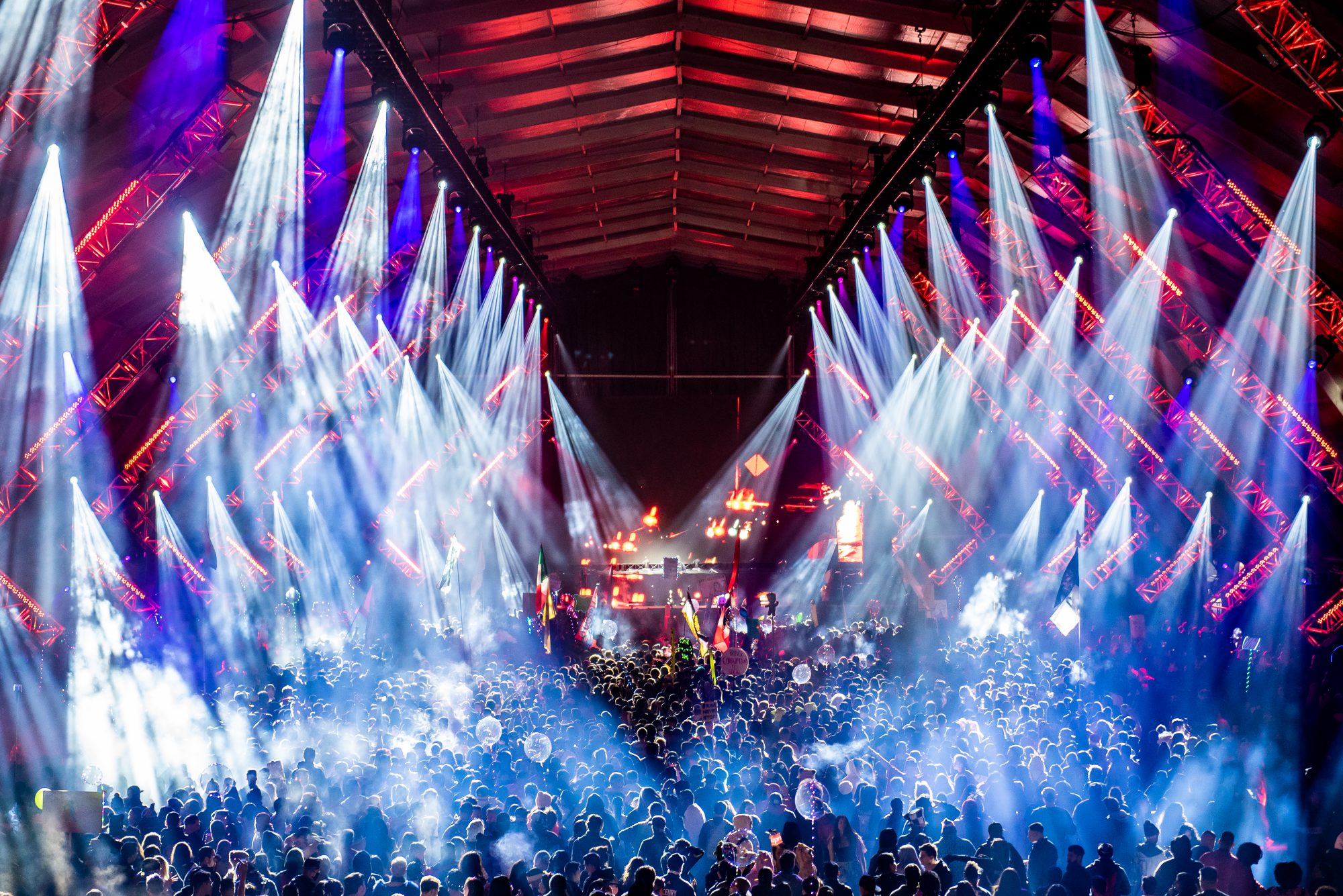 Heading back to my car, I realized how much fun I'd had at my first Audiotistic SoCal.
Nearly every set I saw delivered, and among those are some of my all-time favorites. Drezo proved that he's ready to be a household name, and Dombresky spun an hour of House music heaven. Sure, the less said about Lil Xan the better, but he still managed to play some good songs. Other than AC Slater, not a single artist let me down.
Insomniac built a mean and lean list of artists that came and played their best. Despite that, I would love for the festival to carve out its own identity. If they can add a few more up-and-coming rappers and entertaining pieces of art, I think that would help the festival feel a little more unique.
Overall, I loved the return of this event, and can't wait to see if they can top themselves this year.
Even if it didn't quite reach the variety of its original few years, Audiotistic SoCal ended up becoming one of my favorite festivals of 2018. It acted as a perfect appetizer for Countdown NYE, a short and sweet event that stuck to the basics and executed them to perfection. If they can tighten up their production and diversify their lineup, the 2019 edition will be absolutely essential.
---
Connect with Audiotistic on Social Media: