Treasure Fingers begins 2019 with an outstanding year-end compilation that puts his brand high on our radar! Enter Psycho Disco! '18!
---
Treasure Fingers is a purveyor of feel-good house music, a funk connoisseur, and a true southern gentleman, and now he can add Psycho Disco! '18 to his list of head-turning accomplishments. Out now on Atlanta-based Psycho Disco! Records, a blossoming label that Treasure Fingers built from the ground up, house music fans can rest assured that the brand is on the fast track to supreme and unyielding success.
Featuring 33 tracks that equal nearly 90 minutes of Psycho Disco!'s biggest and best offerings of 2018, Psycho Disco! '18 shines as the representative of the booming underground Atlanta scene with its effect spanning far across the globe. So stop what you're doing and plan for an instant dance party as musical visionaries including GAWP, Lucati, Sage Armstrong, Steve Darko, BOT, VNSSA, and a vast array of established and up-and-comers alike will scoop you up from the wintery trenches and put the pep back in your step! Enough talk for now. Let's get to the music!
Purchase or stream Psycho Disco! '18 on your favorite platform!
Stream Psycho Disco! '18 on SoundCloud:
---
The general feel of the compilation has me twisted with energy and elation!
Right from the jump, I am blasted in the face with a flirtatious bounce that simply can't be denied. Choosing to begin with GAWP's "Who Is She" and Lucati's "Inertia" was nothing short of a brilliant move as it set the pace for a journey full of endorphin-pumping swag and lighthearted emotion. And let's not forget to mention the groove! Psycho Disco! '18 has all the groove that you have been searching for and more. It offers up the type of rhythm that inspires the body to grind low, swaying to the beat as the vocal offerings lead the way to pure and unadulterated dance floor bliss.
By the time we reach "Bounce That B" by Funk Manchu, I am ready to unleash my inner wild child. Placing "Bounce That B" at this very moment is a style choice that I must tip my hat to. The mood has begun to shift, bringing us one step deeper into the underground and opening us up to "Back2Business" by option4. Have we reached a new layer of the rabbit hole? I would like to think so!
My mind begins to warp with trippy visions of late nights under the strobe lights while "Do Your Thing" by LA Riots injects a sultry shift of character, pulling me deeper into the sexy side of house. This track was certainly made for the lovers among us! I want to stay in this moment forever.
But wait! It's time to get lifted!
As if a light switch was just flipped on, Eyes Everywhere & Dead Space ignite the festival feels with "What It Is". This is the type of track that was made for the big speakers and one of my personal highlights of Psycho Disco! '18. Flawlessly falling into "Twenty-Four Seven" by Proper Villians, it seems as if we have left the rabbit hole far behind us, leaving nothing but a celebratory house jam session in its wake.
As we travel through the quirky essence of "Rave Slang" by Black Girl / White Girl, we hit another fork in the road and dive into something a bit more classic. Yes, "House Is A Feeling", and with LA Riots back for go-round number two, this title could not be more relevant.
Quickly, though, we make a sharp turn back into a darker corner to expand our mind with "Elevate" by John Summit, "Addicted" by E.R.N.E.S.T.O., "Everybody" by BOT & VNSSA, "Becky" by FOOLiE, "Bumps" remix by Codes, and "Rabbit Hole" by Kendoll. In an instant, I have found the group of tracks that make this compilation pop with the vibes that I have always been searching for.
Bring on the weird and wacky!
The aforementioned tracks deserve a round of applause as they drip in what modern-day house is all about. Through the alienistic auditory traits, sideways character, mind-boggling melodies, and unpretentious flair, these tracks represent why I fell so deeply in love with this genre. How can you not have a great time when these tunes are bumping through your speakers? It's simply impossible.
Just when I thought it couldn't get any more deliciously ridiculous, Treasure Fingers throws in an array of tracks that seem a touch more simplified all the while staying true to the essence of fun! "B.F.B." by Zendlo, "Slip N Slide" by E.R.N.E.S.T.O. & Hunter Reid, "Froze Up" by Ocean Roulette, and "When I Dance" by Sly Turner & Nick Siarom are all prime examples of the block of tracks that prove that less can truly be more.
With that being said, there does arrive a moment in which I begin to feel like we are nearing the end of the compilation. As Burn1 arrives with "Frisco", in a sense, I feel like we have hit a plateau. Where do we go from here? Maybe it's just a matter of personal preference in sound, but it isn't until "Bae Area" by Steve Darko & So Metta that my attention fully comes back around.
Closing out the mix with "Goldbrick" by Hood Rich & Mike McFly and "Go Down" by Codes, I come to the conclusion that what goes up must come down.
Determining that Treasure Fingers wanted to build the energy in the beginning for a smooth comedown, the lyrics "there is nowhere else to go but down" resonate through my soul. In the end, I have nothing but great feelings about this mix, even in the latter moments when I felt like I needed a bit more. Kudos for a perfect closing track and I wish nothing more than a bright and brilliant future for the Atlanta-based record label that will one day rule the world!
---
Psycho Disco! '18 Mixed By Treasure Fingers Tracklist:
1. GAWP – Who Is She 
2. Lucati – Inertia 
3. Pass The 40 – All We Came To See 
4. MKJAY – First Ride 
5. Gettoblaster & Missy – Bounce Back 
6. Funk Manchu – Bounce That B 
7. Option4 – Back2Business 
8. Lux Groove – Setup 
9. John Summit – Touch Me 
10. LA Riots – Do Your Thing 
11. Eyes Everywhere & Dead Space – What It Is 
12. Proper Villains – Twenty-Four Seven 
13. Aylen & Torres – Bomb 
14. Black Girl / White Girl – Rave Slang 
15. LA Riots – House Is A Feeling 
16. John Summit – Elevate 
17. E.R.N.E.S.T.O – Addicted 
18. BOT & VNSSA – Everybody 
19. FOOLiE – Becky 
20. Codes – Bumps (Codes 2018 remix) 
21. Kendoll – Rabbit Hole 
22. Zendlo – B.F.B. 
23. E.R.N.E.S.T.O & Hunter Reid – Slip N Slide 
24. Ocean Roulette – Froze Up 
25. Sly Turner & Nick Siarom – When I Dance 
26. Burn1 – Frisco 
27. Gettoblaster, Fuzzy Cufflinxxx, ZXX – Knock Knock (Treasure Fingers remix) 
28. Holt 88 – Hoo Dow 
29. Sage Armstrong & Astronomar – Up Down Left Right 
30. Treasure Fingers – Bodyrocking 
31. Steve Darko & So Metta – Bae Area 
32. Hood Rich & Mike McFly – Goldbrick 
33. Codes – Go Down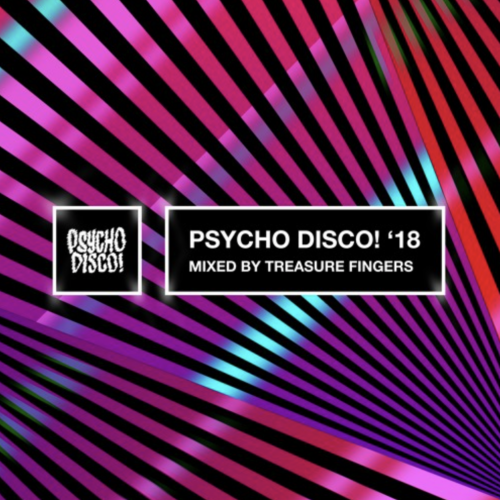 ---
Connect with Treasure Fingers on Social Media:
Website | Facebook | Twitter | Instagram | SoundCloud
Connect with Psycho Disco! on Social Media:
Website | Facebook | Twitter | Instagram | SoundCloud