Luminosity Beach Festival just dropped its Phase 2 lineup for 2019 featuring major names like John O'Callaghan, Orkidea, and Gareth Emery. 
---
Hosted over the weekend of June 27-30, 2019, in Bloemendaal aan Zee, the upcoming edition of Luminosity Beach Festival is intent on continuing with their tradition of bringing some of the top names in trance for an unforgettable weekend. While the Phase 1 lineup dropped some heavy hitters like Markus Schulz, Ferry Corsten, and Paul van Dyk among others, today's announcement is absolutely jampacked with talent.
Today, Luminosity Beach Festival released the second phase of their 2019 lineup and it features some of the top names in the trance scene today. Artists like John O'Callaghan, Orkidea, Sean Tyas, and Giuseppe Ottaviani stick out immediately as artists you won't want to miss. The lineup also features some rising stars that have all seen some recent success with Craig Connelly, Saad Ayub, Ciaran McAuley, and Simon O'Shine joining in for the festivities.
Upon closer inspection, there are also a few billings that stuck out as extra special that should be taken note of. Judge Jules and Mario Piu will both be playing some classics at the festival, along with a three-hour Tiësto classics set coming from Marc Simz. On top of that, John Askew is set to play an astonishing 10-hour OTC set during Luminosity this year, which is surely going to be one hell of a ride from start to finish.
Tickets for Luminosity 2019 are on sale now. If you haven't bought yours yet, definitely scoop them up soon via their website! 
---
Luminosity Beach Festival 2019 Phase 2 Lineup: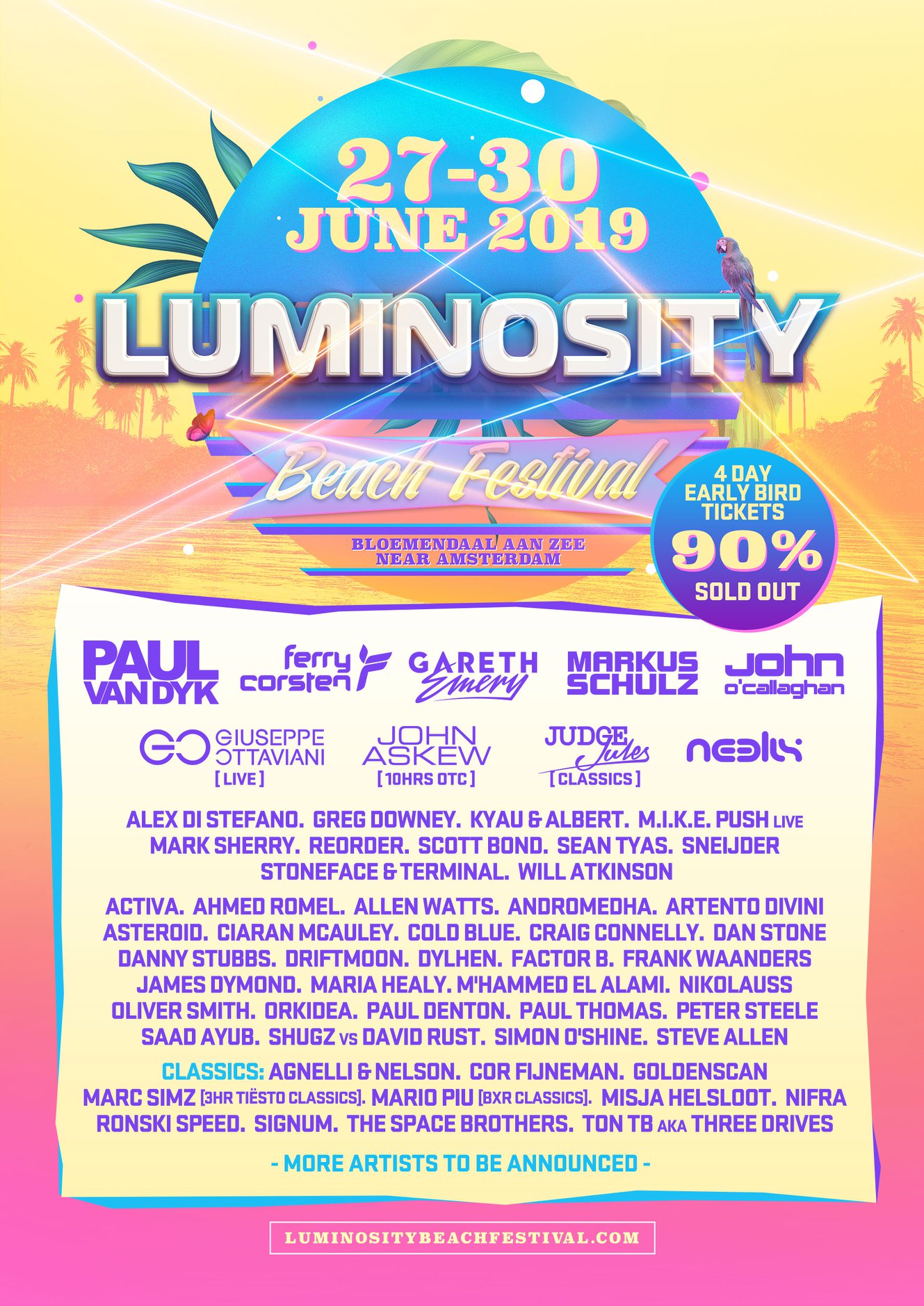 ---
Luminosity Beach Festival 2019 Phase 2 Lineup by Artist:
Activa
Agnelli & Nelson
Ahmed Romel
Alex Di Stefano
Allen Watts
Andromedha
Artento Divini
Asteroid
Ciaran McAuley
Cold Blue
Cor Fijneman
Craig Connelly
Dan Stone
Danny Stubbs
Driftmoon
Dylhen
Factor B
Ferry Corsten
Frank Waanders
Gareth Emery
Giuseppe Ottaviani LIVE
Goldenscan
Greg Downey
James Dymond
John Askew (10 Hours OTC)
John O'Callaghan
Judge Jules (classics)
Kyau & Albert
M.I.K.E. Push LIVE
M'hammed El Alami
Marc Simz (3hrs Tiësto classics)
Maria Healy
Mario Piu (BXR classics)
Mark Sherry
Markus Schulz
Misja Helsloot
Neelix
Nifra
Nikolauss
Oliver Smith
Orkidea
Paul Denton
Paul Thomas
Paul van Dyk
Peter Steele
ReOrder
Ronski Speed
Saad Ayub
Scott Bond
Sean Tyas
Shugz vs David Rust
Signum
Simon O'Shine
Sneijder
Steve Allen
Stoneface & Terminal
The Space Brothers
Ton TB aka Three Drives
Will Atkinson
---
Connect with Luminosity Events on Social Media: